Gluten Free Meal Delivery Services
As an Amazon Associate and member of other affiliate programs, I earn from qualifying purchases.
Sometimes cooking is difficult. Whether you're recovering from surgery, just had a baby, or have concerns about elderly parents, sometimes you just need someone else to do the cooking. The companies on this list of gluten free meal delivery services can help meet those needs.

Food Prep Questions To Ask Gluten Free Meal Delivery Companies
In my search for companies offering gluten free meal delivery services, many companies offered gluten free "options." However, I wanted to find companies that ONLY made gluten free meals. Why? Because while gluten free ingredients are great, the conditions in which meals are prepared are equally important. Therefore, I asked companies the following questions:
– Do you use certified gluten free ingredients?
– Do you test your meals for the presence of gluten?
– Are your prep kitchens 100% free of wheat, rye and barley?
– Do you use oats, and if so, are they purity protocol or certified gluten free?
Not all gluten free meal delivery companies answered prior to publication. However, I wanted to share those who advertise as a strictly gluten free company. Also, during this time of COVID, some companies are just trying to keep their heads above water. Therefore, their lack of response may not mean that their not safe. It just may mean they're swamped with orders.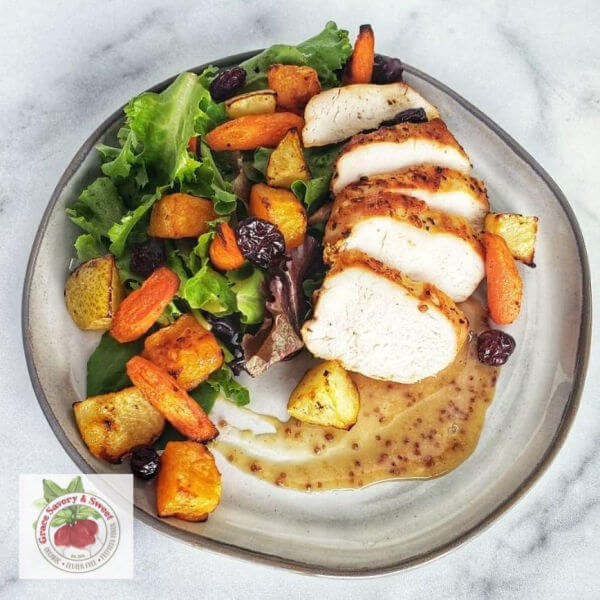 Grace Savory Sweet (Metro Detroit, MI only)
Grace Savory Sweet is based out of Livonia, MI. When they answered my above questions, they stated they use naturally gluten free ingredients, and they check all labels. Wheat, rye and barley are not present in their ktichen. They use gluten free flour blends and nut flours, but sparingly. They are not certified gluten free, nor test for the presence of gluten. Because of this, they express caution for those with Celiac Disease. Please reach out to them with further questions.
COST: $11.95 for individual meals. Other items offered a la carte.
Snap Kitchen (100% Gluten free)
I first learned about Snap Kitchen when I visited Houston. They have storefronts in Texas and Pennsylania. They recently started shipping their meals as well. While their meals are not certified gluten free, "all of our ingredients are gluten-free and there is no gluten in our prep kitchens, nor do we use wheat in any of our meals." They told me they hope to add certification in the future. Read Gluten Free Philly's review of Snap Kitchen for more information.
COST: $11.67 per meal for 6 meals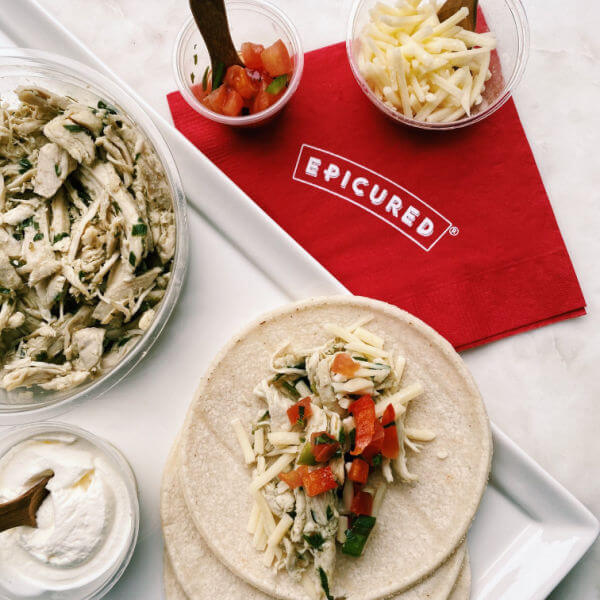 Epicured (Low FODMAP)
Epicured meals are not only gluten free, but also created to meet the Low FODMAP diet. This diet may help those with IBS, Chron's and Colitis. They partner with Mt. Sinai Gastroenterology team, and use local and organic ingredients when possible. They prepare their meals in a dedicated gluten free kitchen, and even use purity protocol oats.
COST: Varies per items order. Order a monthly bundle, or individual meals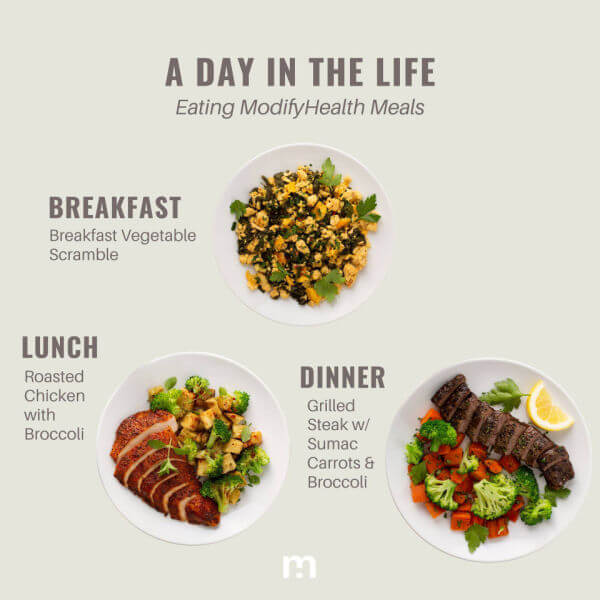 Modify Health (Low FODMAP)
Modify Health also focuses on Low Fodmap meals, which also happen to be gluten free. Modify Health uses certified gluten free and organic ingredients. I am impressed that they work closely with grastroenterologists and dietitians. For instance, Dr. William Chey, University of Michigan gastroenterologist, is on their medical advisory board. If you'd like to try their meal delivery service, use the code "60OFF" at checkout, to save $60 of your first three weeks of meals. (So, save $20 / week.)
COST: t $7.90 per breakfast entree, $11.75 per lunch / dinner entree. Includes the cost of shipping.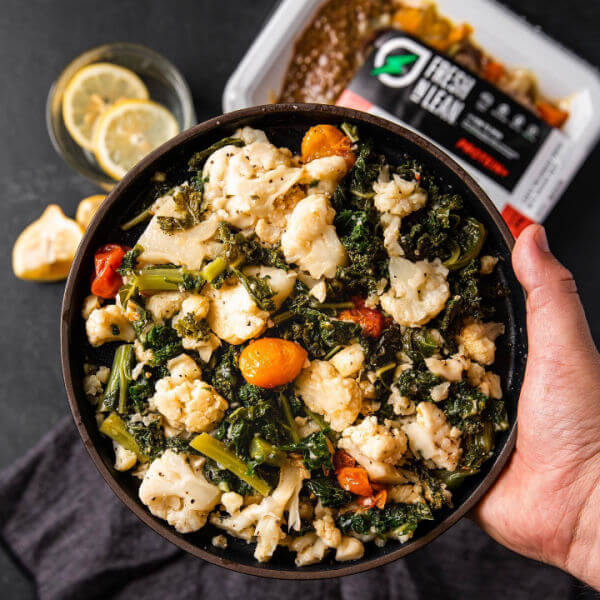 Fresh N' Lean
The Fresh N' Lean website claims all their meals are 100% gluten free, non-gmo, and mostly dairy free. Their website also states they offer free nationwide delivery. While all meals are gluten free, they offer different meal plans, such as Keto, Vegan, and Paleo. Nutritional information, such as calories, protein, fat and carbs, are listed for each meal on their website. Meals arrive fresh and can be stored in the fridge. As of publication, I had not received a reply to my questions.
COST: $9.33 / meal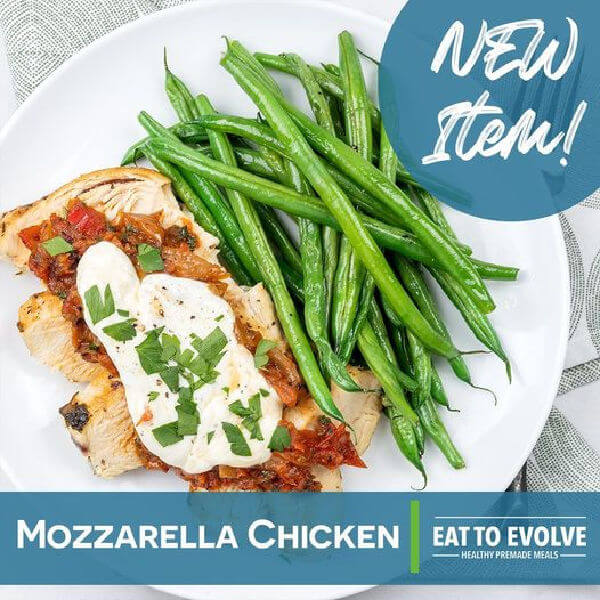 Evolve
Evolve gluten free meal delivery service offeers paleo, keto and Whole 30 meals.Menu options include dishes like almond flour fried chicken with spaghetti squash, pork carnitas, and egg roll in a bowl. You can also order a la carte items, including breakfast. I've contacted the staff with my questions, and they should get back to me shortly. Celiac Dietitian (on Instagram), recently tried them and many of the meals enjoyable.
COST: Varies based on the gluten free meal delivery plan you choose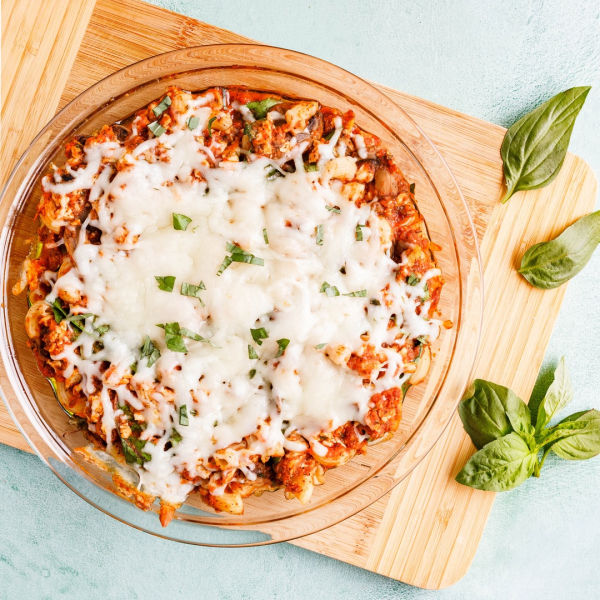 Thistle – Available in Pacific Northwest Only
The Thistle website claims that all meals are 100% gluten free and dairy free. While they don't focus on specific macronutrients, their lunch and dinner options contain about 400-550 calories. Breakfast options contain 250-400 calories. While not 100% plant based, their meals are "plant forward." (I've sent them an email about ingredients and food prep, and am waiting to hear back from them.)
COST: $11.50 per meal. Delivers locally to the San Francisco Bay Area, North Bay, Sacramento, Davis, Los Angeles, San Diego + Orange County. Also Las Vegas. Thistle also ships across California and parts of Arizona, Idaho, Nevada, Oregon, Utah, and Washington.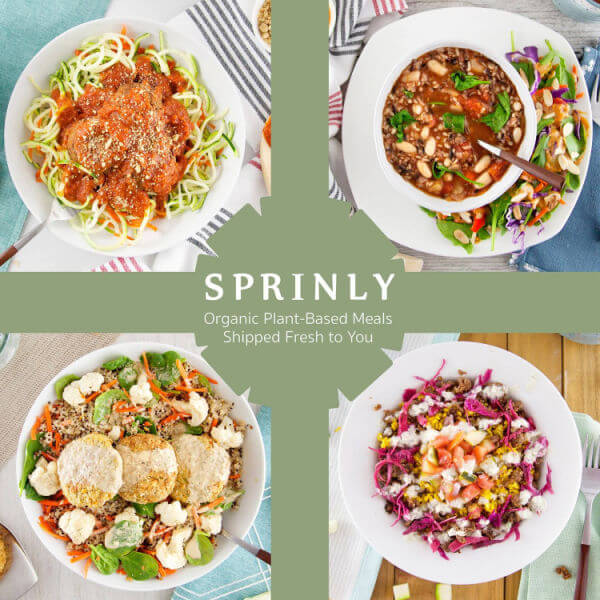 Sprinly (Plant Based) Available in the Midwest and East Coast
Sprinly freshly prepared meals contain no animal products. Meals are prepared in a gluten free kitchen, with certified gluten free ingredients. They are not currently certified gluten free, but hope to be in the future. Certain meals do contain oats, which are certified gluten free. Sprinly uses organic ingredients, and no refined sugars. Read Sarah's Sprinly review on her website, Endless Distances. They now deliver nationwide.
Cost: 6 meals / week for $115, 12 meals / week for $220, 18 meals / week for $325 ($18-$19 per meal)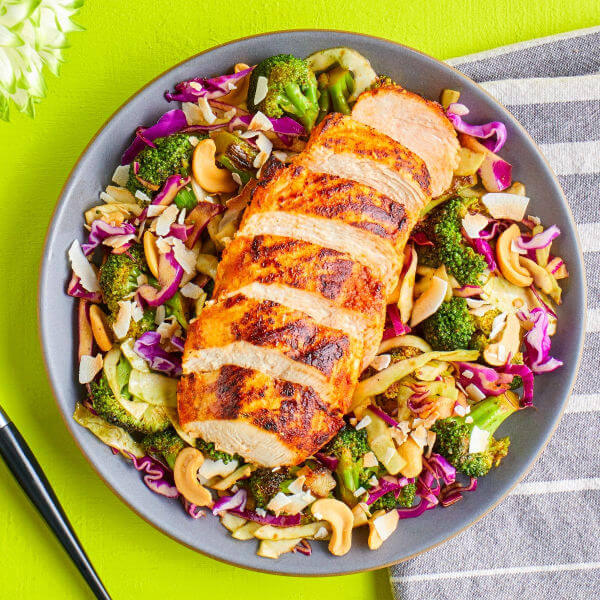 Green Chef – Meal Prep Kit
Unlike the other gluten free meal delivery services mentioned in this article, Green Chef kits contain ingreidents. You, in turn prepare the meals. However, their Keto plan IS certified gluten free thru GFCO. I've tried them myself, and they're ok. However, we can't eat pork or shellfish, and found many of the Keto meals didn't fit our other dietary needs. While this review is a bit dated, GF Jules shared her review of Green Chef, in 2017.
COST: $12.99 per serving
Magic Kitchen
As I was finishing working on this post, I came across Magic Kitchen in an internet search. While I'm unsure about their food preperation methods, something caught my eye. I noticed on their site that they state they work with Area Agency on Aging organization. If you're unfamiliarn with AAA, this organization coordinates Meals on Wheels programs. They may be worth further investigation. They state these are meals made with "gluten free ingredients."
COST: Varies Based On Meals Ordered
Hopefully this list provided you some options, and some peace of mind, should you need to order from delivery companies. As Celiac Disease and gastro disorders becoem more known, hopefully more companies will seek to serve us, safely. Have you tried any of these companies? Please share your thoughts in the comments below!
** All images shared from Facebook content from individual companies. I am not paid nor reimbursed by any of these brands in this post. This post is for informational purposes only. Always research ingredients and food prep. **