Gluten Free Christmas Cookie Kits
As an Amazon Associate and member of other affiliate programs, I earn from qualifying purchases.
Want to decorate Christmas cookies, but don't want to bake? Or need a gluten free option for a child to decorate during a class or event with friends? I've compiled a list of Gluten Free Christmas Cookie Kits being offered by Michigan bakers. Don't live in Michigan? Sweet Encounter and Third Coast Bakery ship nationwide!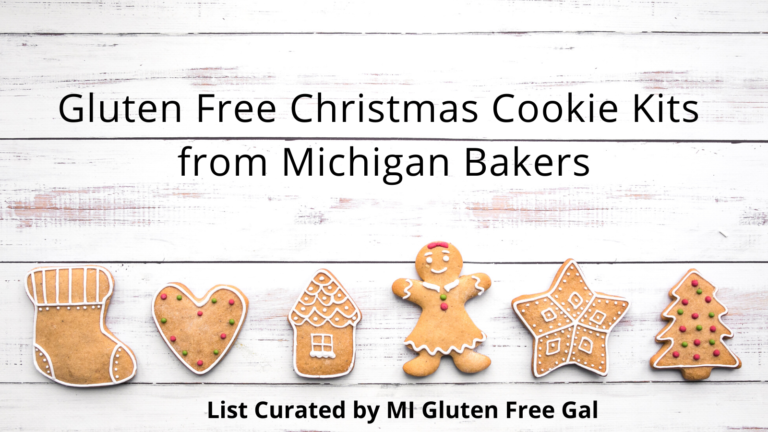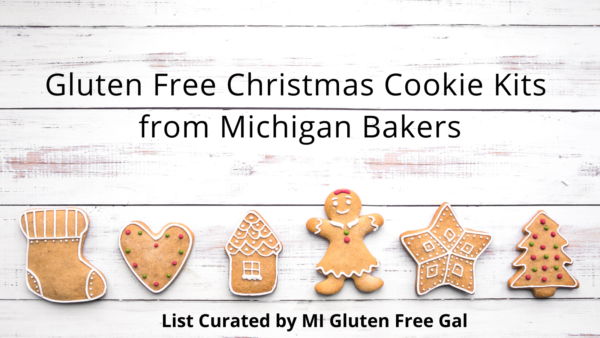 Tips on Ordering Gluten Free Christmas Cookie Kits
First, I am not a baker. If you email through the contact form on this page, you will not get connected to a bakery. The email will come to me, and you cannot order from me. And then we'll have to play tag, and ain't nobody got time for that. (lol)
Second, each business is linked to the interview I did with them. Their contact information is AT THE BOTTOM of their respective interview. That includes links to their website, email and social media accounts, as well as their physical store address, if they have one.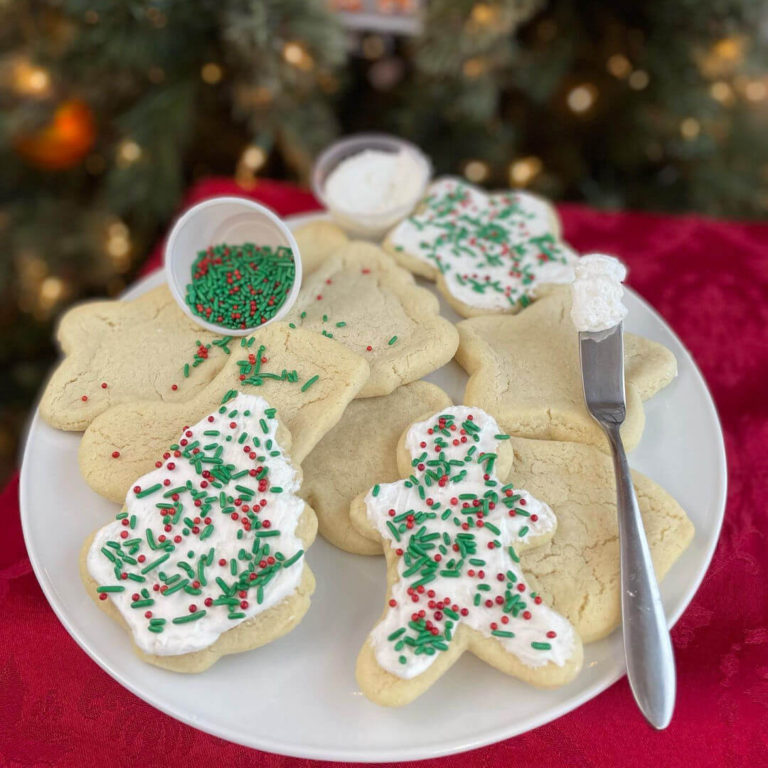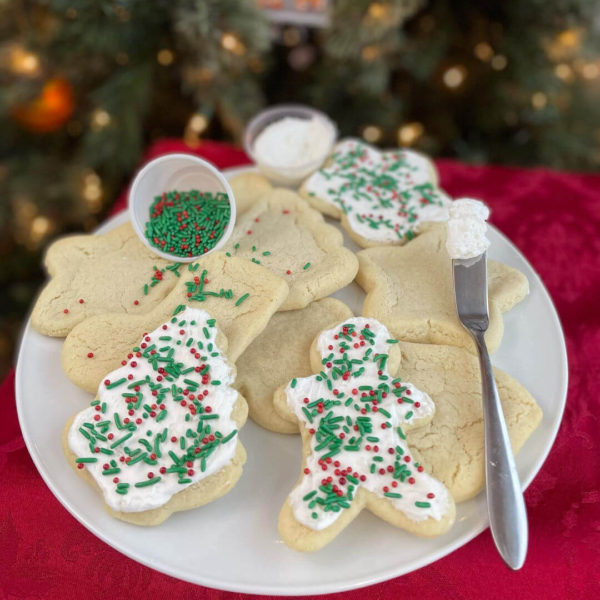 Kind Crumbs (Grand Rapids) – Ordering Deadline: December 19th
"They include 12 ounces of cookies (about 10-12), three containers of vegan vanilla frosting, and festive Christmas colored sprinkles!
The kits are gluten-free and dairy-free. The sprinkles do contain soy.We have a vegan, soy-free, and dye-free sprinkle option available upon request.
They will be available in many grocery stores and coffee shops in the area as well as on our website. Orders must be placed two business days in advance, and all orders must be placed before Monday December 19 to guarantee availability before Christmas."
Cost $25 (NO SHIPPING) No Shipping. Order online for in store pick up.
Rise Authentic's gluten free Christmas cookie kit includes 6 gluten free and vegan sugar cookies, frosting and sprinkles.
Cost $20 (Order Online) No Shipping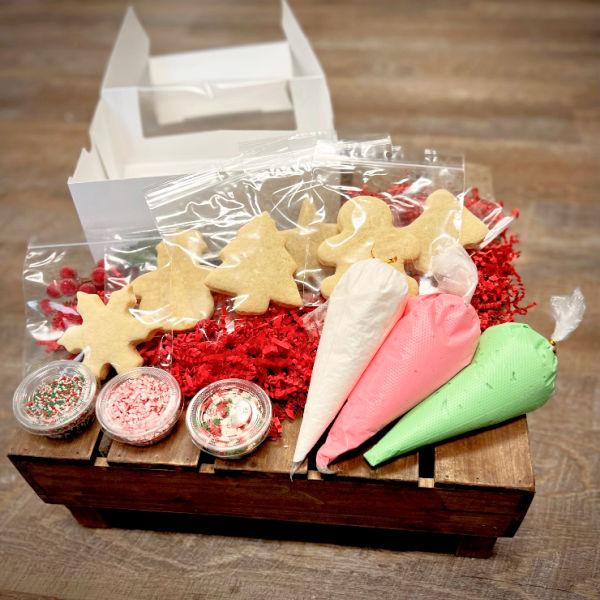 Gluten Free Sensations (Three Rivers) – Ordering Deadline: December 12th
They have Sugar Cookie and Gingerbread Cookie Decorating Kits. The kits come with 6 cookies, 3 colors royal icing in piping bags, plenty of sprinkles and instructions. Cost- Available in store only. Visit store for details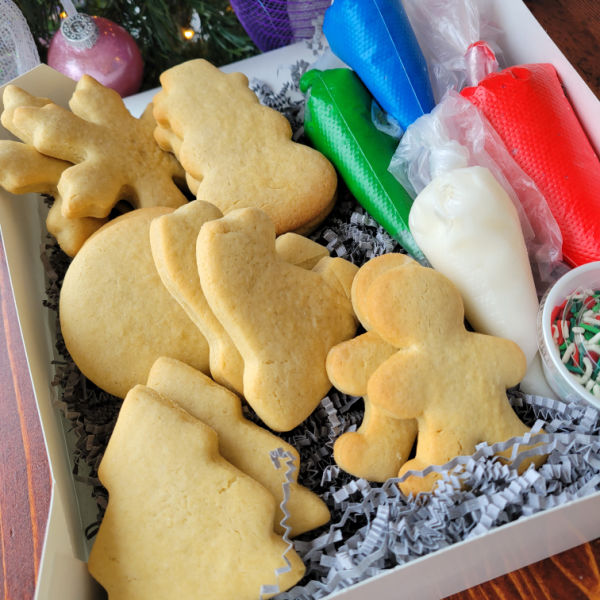 Sweet Encounter Bakery (Lansing) – Ordering Deadline: December 18th
Sweet Encounters Gluten Free Christmas cookie kits includes one dozen cookies, royal icing, and sprinkles.
Cookies are gluten and peanut free. Vegan option available.
Cost- $36-40. Order Online or email. SHIPPING AVAILABLE
Golly Gee Gluten Free (Lansing) Ordering Deadline: December 13th
12 Unfrosted Sugar Cookies – No Frosting or Decorations
Cost- $15. Order via FB Messenger. No Shipping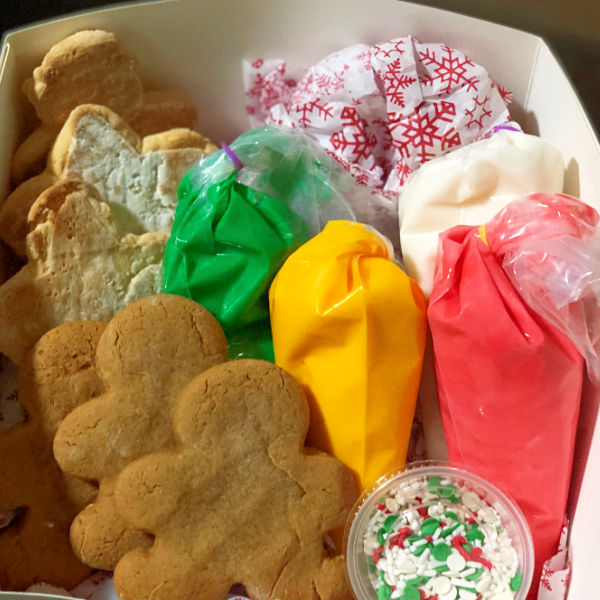 Meadowview Acres (St. Johns) – Ordering Deadline: December 18
Gluten Free Christmas Cookie Kits – Choice of Gingerbread or Sugar Cookies
Includes 4 icing bags and sprinkles
Cost- $25. Order via Facebook Message or Email No Shipping
Yum! Baked Goods (Mt. Pleasant) – Ordering Deadline: Unknown
Cost: 1/2 Dozen Sugar Cookies- $9 ; One dozen Cookies – $18; 3 colors of buttercream- $6.75
Follow link to find out how to order (No Shipping)
Call for details (989) 572-9469. No Shipping
Rumi's Passion (Plymouth) – Ordering Deadline: December 16
Rumi's Passion kit includes 8 gluten, dairy and nut free cookies with two kinds of frosting and 3 kinds of sprinkles.
Cost- $29.95 Place order at store or call (734) 335-7145, No shipping
Sweet Freedom (Plymouth) – Ordering Deadline: Varies Depending on Pickup Date
Small Kit includes 6 cookies, 3 bags of icing, and assorted sprinkles
Large Kit includes 12 cookies, 6 bags of icing, and 2 containers of assorted sprinkles
Shapes Options – Hanukkah (Dreidel, Menorah and Star of David), Let It Snow (Snowflake), or Ugly Sweater
Cost – Small Kit $20. Large Kit $38 Order online. No Shipping
**Further Updates will be coming later this week.
32 oz. Gluten and Dairy Free Cookie Dough Cost – Visit store for details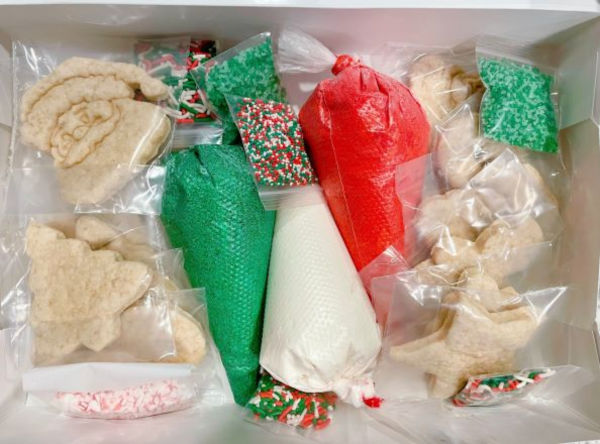 Each Top 8 Allergen free Christmas Cookie Kit Contains: 12 Christmas cutout shapes (snowman, trees, snowflakes, candy canes, etc..) varies per kit . 3 Frosting Colors (red, green, white) in easy to use piping bags and 2 festive frosting sprinkle varieties
Cost – $35 (Order Online) NO SHIPPING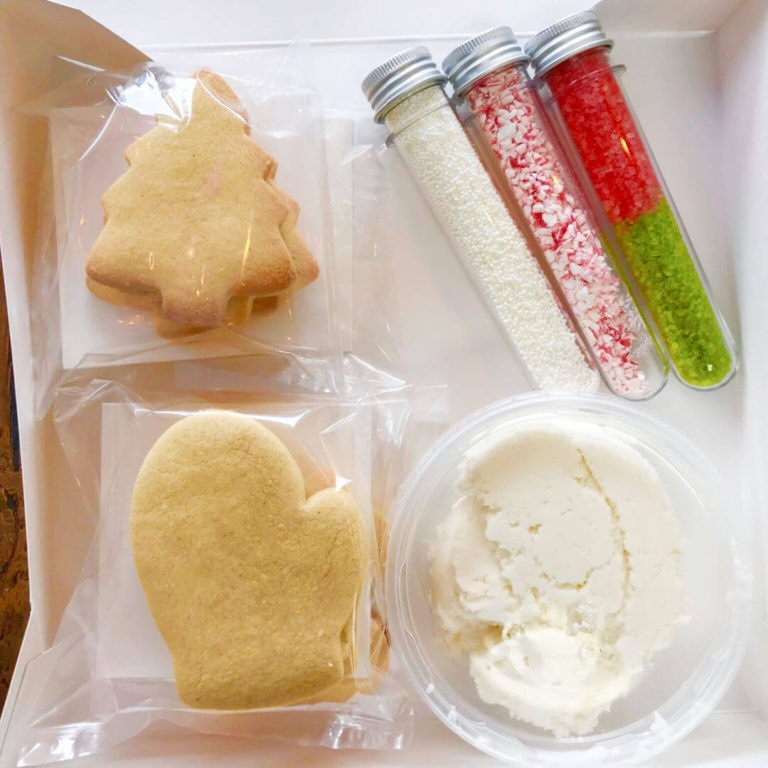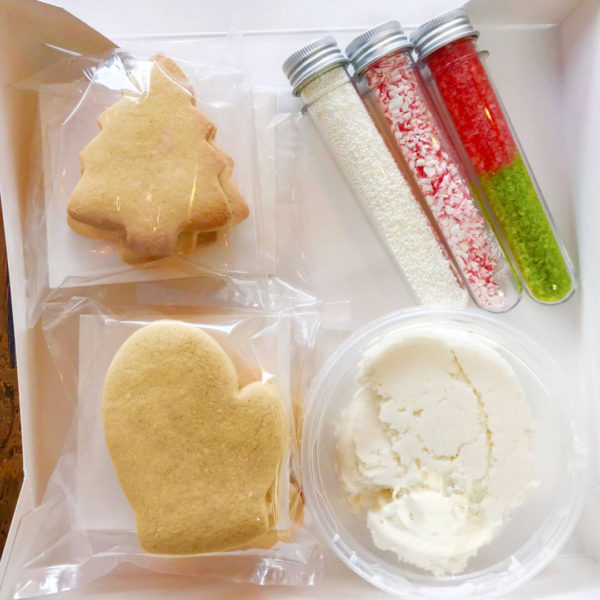 Third Coast Bakery (Traverse City) – Ordering Deadline:
12 Gluten and Dairy Free Holiday-Shaped Sugar Cookie Cutouts . Includes 1 Container of Vanilla Frosting – Just add your own food coloring, 1 Tube of White Pearl Candies, 1 Tube of Organic, Crushed Peppermint Candies and 1 Tube of Decorating Sugar (Red/Green Blend)
This kit (pictured above) is entirely gluten-free, dairy-free, soy-free, egg-free, GMO-free and vegan. Plus, the peppermint candies and decorating sugars are naturally colored with plant-based pigments. Nothing artificial!
Cost – $34.99 Available In Store and Online SHIPPING AVAILABLE
NATIONWIDE BUSINESSES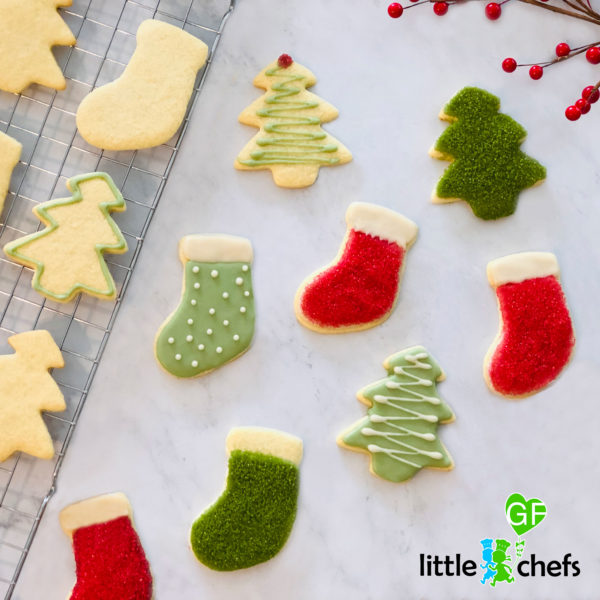 Little GF Chefs – These kits include mixes to bake your own cookies.
The Top 8 Allergen Free Christmas Cookies Baking Kit Includes:
Sugar Cookie Mix
2 Cookie Cutters – Christmas Tree and Stocking
Icing Sugar
Green plant-based food coloring
Red plant-based sanding sugar
Green plant-based sanding sugar
Piping bag
COST- $38.25. Order online. Save 10% with code MIGFGAL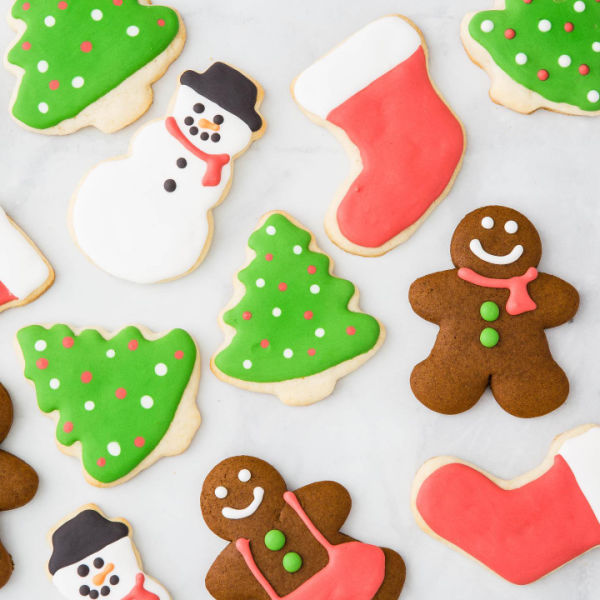 Kits include recipe card, dry ingredients, and cookie cutter
Cost– Snowman: $27.95 (Dairy Free $29.95) ; Gingerbread $28.95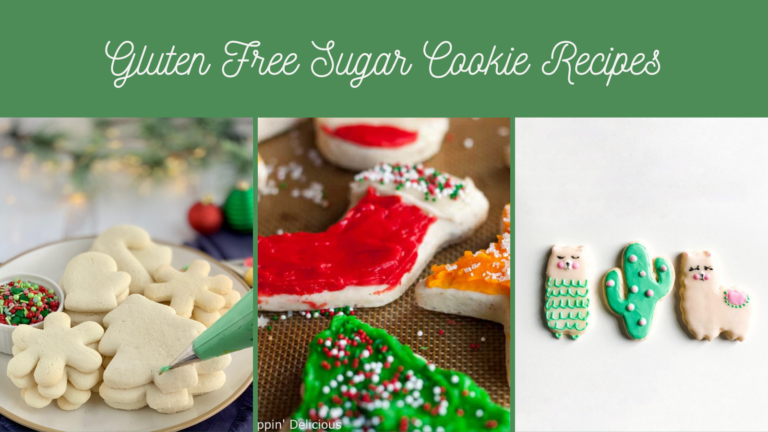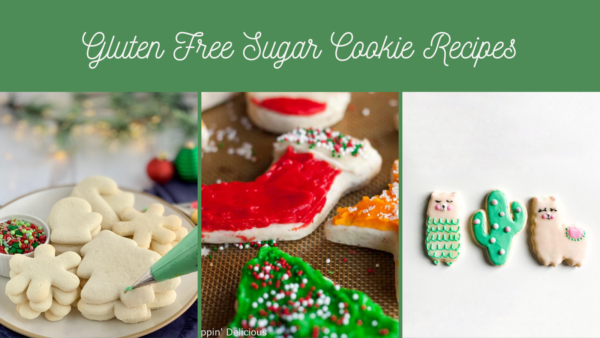 Gluten Free Christmas Sugar Cookie Recipes
Want to make cookies from scratch? Here are the recipes I recommend.
Flippin Delicious Gluten Free Sugar Cookie Recipes (Contains Eggs and Dairy)
This is my go-to sugar cookie recipes. The blog post is long. However, this is because Flippin Delicious has taken the time tto answer just about any question one could ask. She does give tips on making this recipe egg free and dairy free. She also discusses which flour blends have worked best for her.
Eating Gluten and Dairy Free Softest Sugar Cookie Recipe (Dairy Free. Contains Eggs)
I have not tried this recipe. However, this website has increasingly been my go-to for recipes that are dairy free. It does use sweet rice flour, and not a traditional gluten free flour blend.
This Dairy Free & Gluten Free Sugar Cookie recipe from What Molly Made uses Bob's Red Mill 1:1 Flour (Blue Bag)
I adore Allergylicious. And I love her adorable llama sugar cookies. If you need cookies that are gluten, egg and dairy free, this is the one I would recommend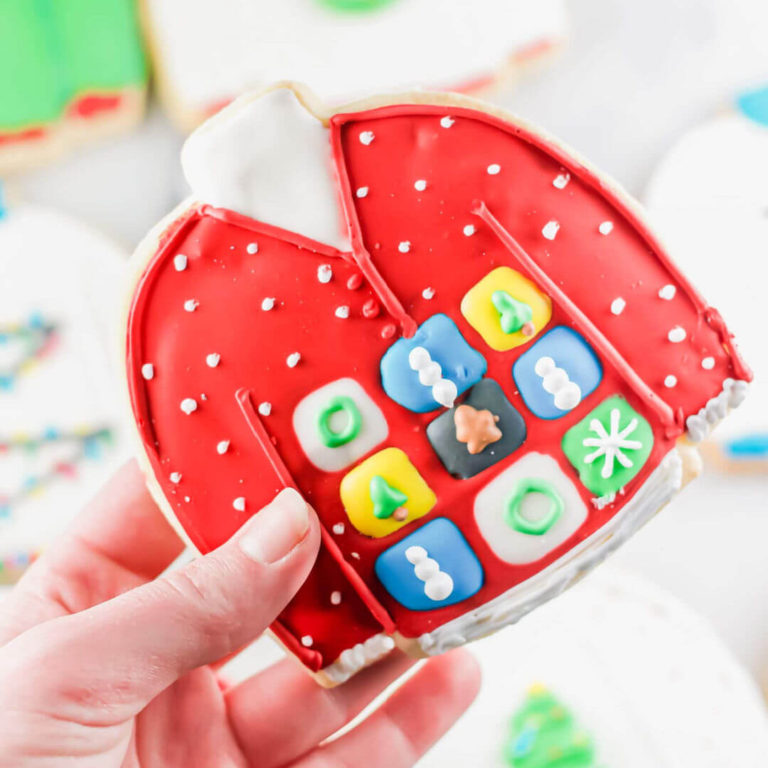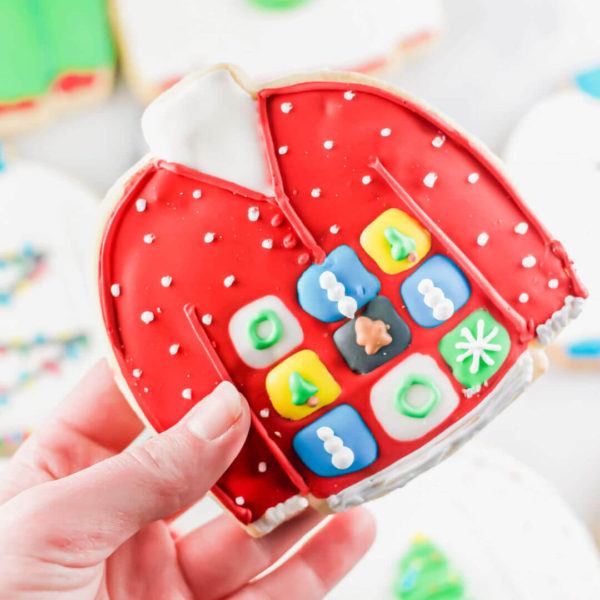 Tips on Decorating Sugar Cookies
My friend Megan from A Dash of Megnut is the QUEEN of decorated sugar cookies. Follow this link for her archive of all her gluten free decorated cookies. She gives recipes for royal icing, and more.
Cookie Decorating Tools
I am a huge fan of all things Wilton. Above are some of my favorites for decorating cookies, plus the Pampered Chef Mini Spatula that I SWEAR by. Please be advised that this contains Amazon affiliate links. I do earn a (very) small percentge in advertising revenue. However, it does not impact what you are charged. I also earn commission on the items you buy thru the search box as well.
Hopefully this helps you make some great memories, plus allows you to support Michigan small business owners. If you know others who would benefit from this information, please share it on your social media channels.
Wishing you a Happy and Healthy Holiday Season.