Gluten Free Veggie Pizza with Bloomfield Farms
As an Amazon Associate and member of other affiliate programs, I earn from qualifying purchases.
Potlucks and family gatherings abound with appetizers and crudites. Impress your guests with this gluten free veggie pizza made with Bloomfield Farms gluten free, yeasted pizza dough.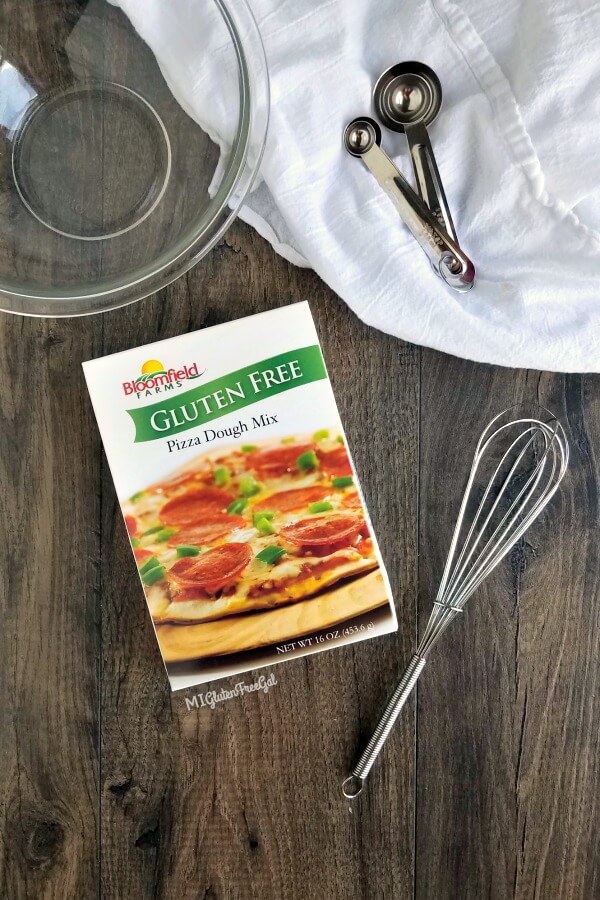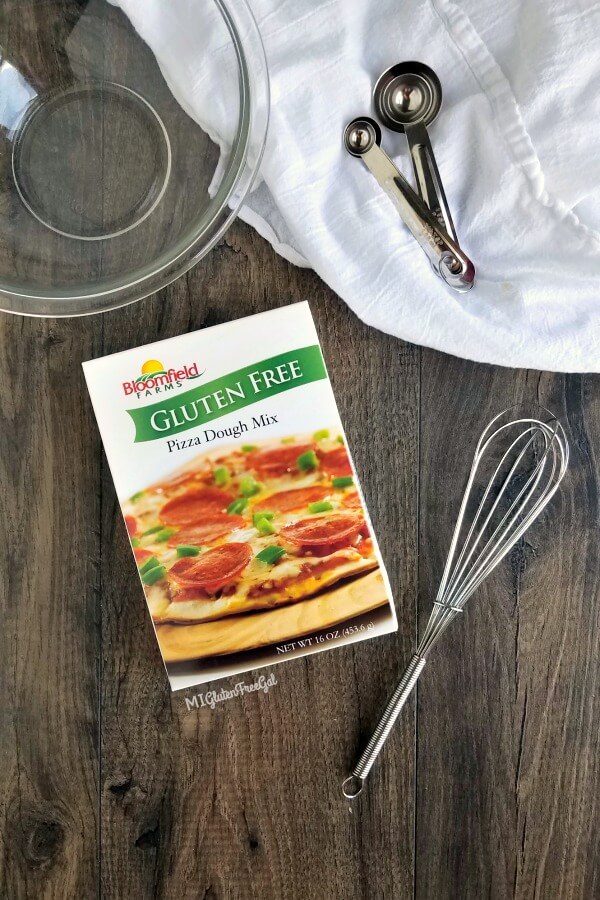 Bloomfield Farms Gluten Free Pizza Dough Mix
I love a bargain. I scour clearance shelves and bargain sales like it was an Olympic sport. One day while looking over the Kroger "WooHoo" Great Deal section, I discovered this Gluten Free Pizza Dough mix. This company makes an assortment of mixes, doubly certified gluten free by GFCO and National Celiac Association.
Let's talk ingredients. Bloomfield Farms Gluten Free Pizza Dough mix uses no bean flours. Ingredients include rice flour, potato starch, tapioca dextrin, non fat dry milk, whole egg, sugar, salt, baking powder (contains non-gmo corn starch), xanthan gum and guar gum. All of their products are made in a dedicated nut and gluten free facility.
The Why and How of Yeast
A traditional veggie pizza uses premade, refrigerated crescent dough. However, a gluten free version doesn't exist. Therefore, I chose to follow the recipe on the back of the box for yeasted "thick crust" directions. As opposed to the thin crust directions, this recipe adds yeast, egg, milk and oil.
Years ago, yeast and I had a love- hate relationship. However, after some instruction, I feel confident using yeast in the kitchen. For instance, when proofing yeast, you need to feed it. Specifically sugar and warm water. I temperature check my water at 110.* For proofing the dough, I put it in a warm , but turned off oven, to rise.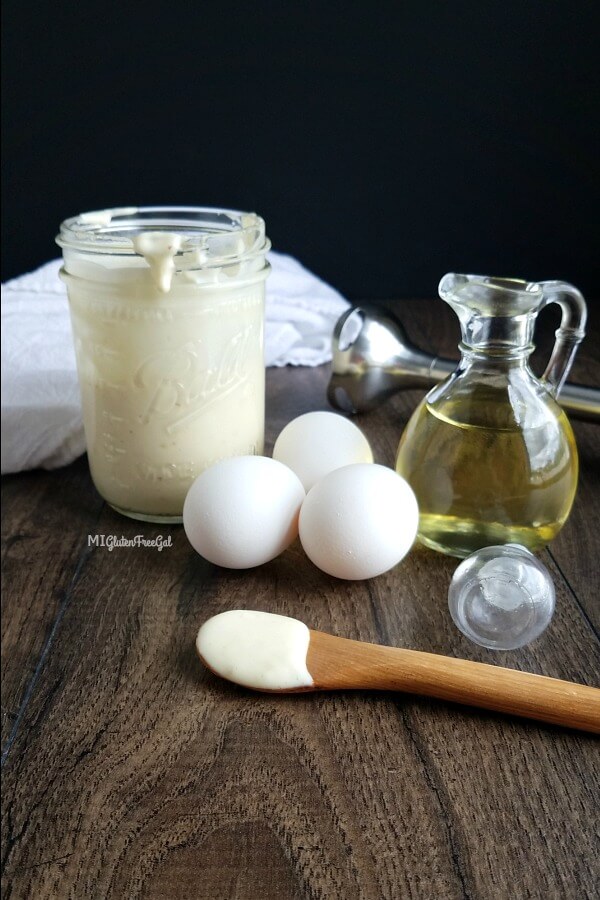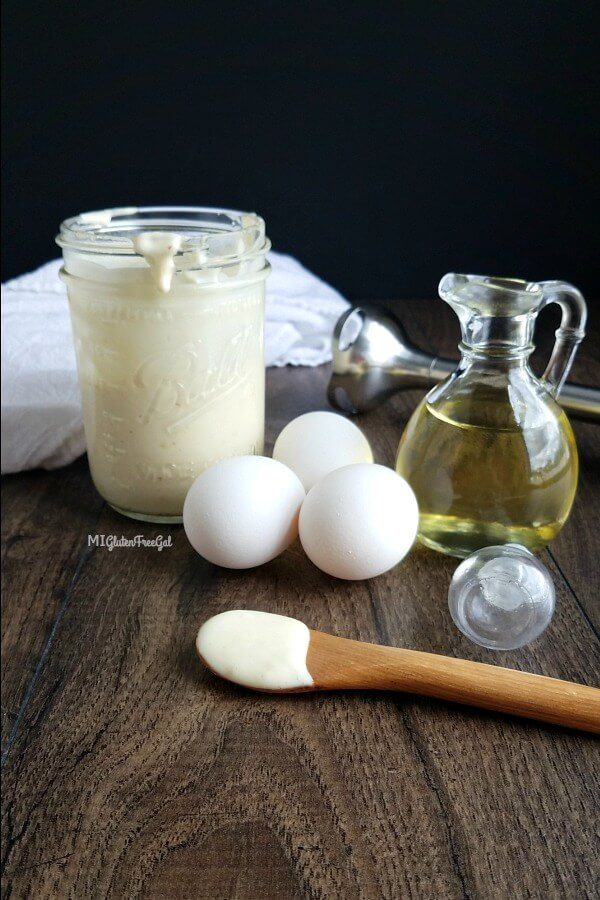 Homemade Mayonnaise
The creamy base for a gluten free veggie pizza consists of softened cream cheese, mayonnaise or Greek yogurt, and ranch seasoning. On this day, I had no mayonnaise in the refrigerator. Therefore I followed my new favorite homemade two-minute mayonnaise recipe from Serious Eats. Only four ingredients and you have deliciousness!
Whaddya do if you don't do eggs? For the "sauce," many vegan mayonnaise options exist. For instance, I like Follow Your Heart's Veganaise. Thrive Market, Chosen Foods and even Hellman's also makes vegan mayo.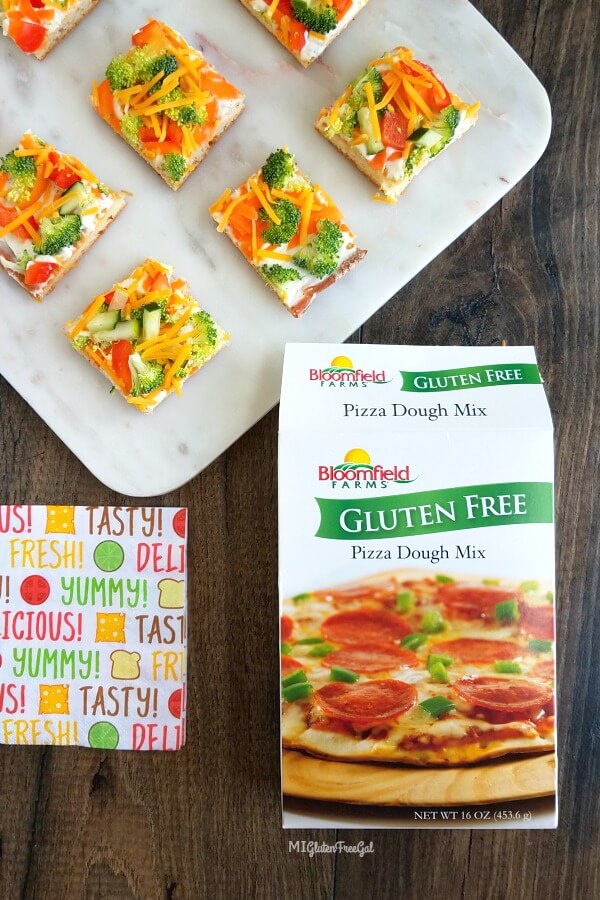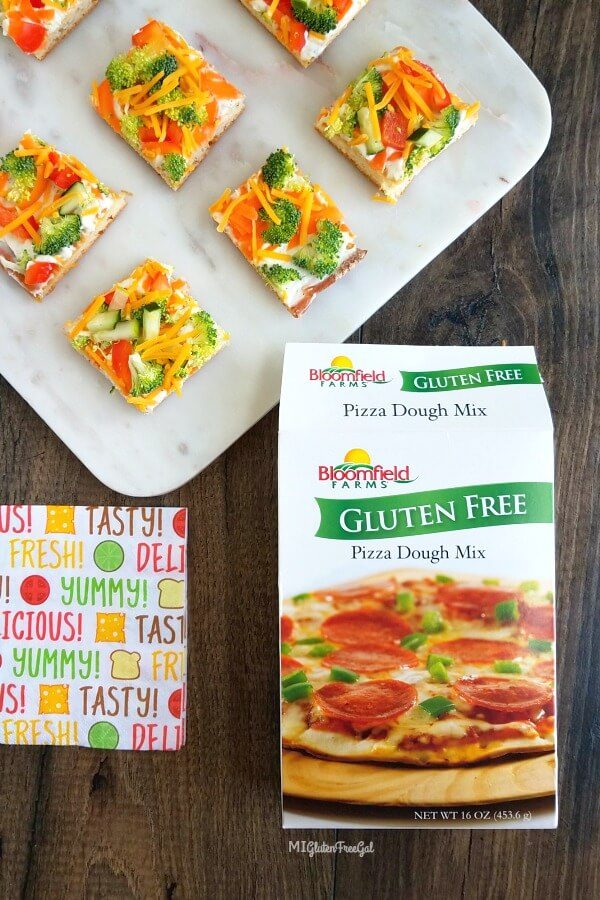 Vary Your Veggies
I originally wrote this post in 2015. I wanted to update the pictures, and I gotta say I liked the pizza crust much better this time. The yeasted crust was soft, while having a great "chew." I daresay it rivaled anything I remember of those "whack and unwrap" dough products!
For this gluten free veggie pizza, you can use whatever veggies you like! I chose broccoli, carrots, cucumbers and red pepper. Why? Because it's what I had in my fridge. You may also like mushrooms or cauliflower.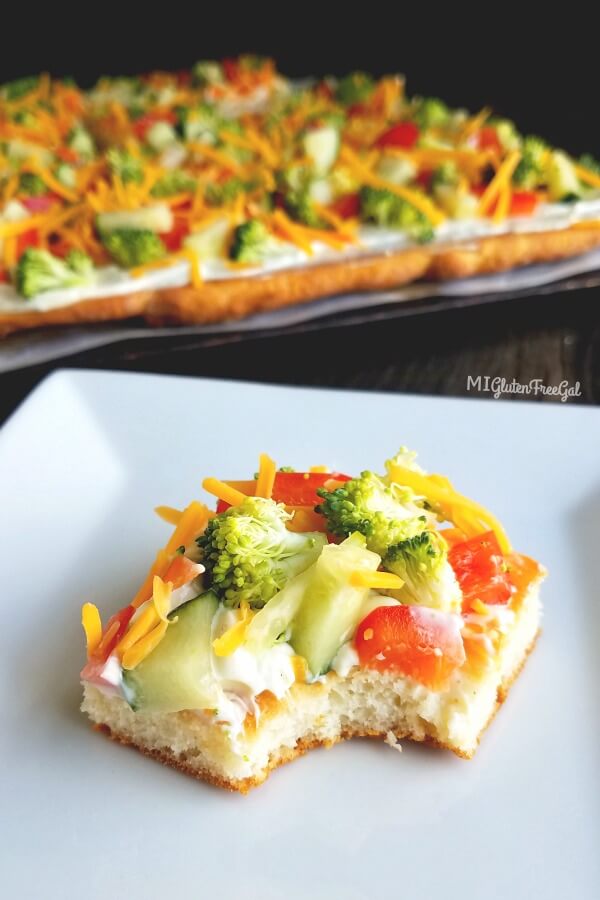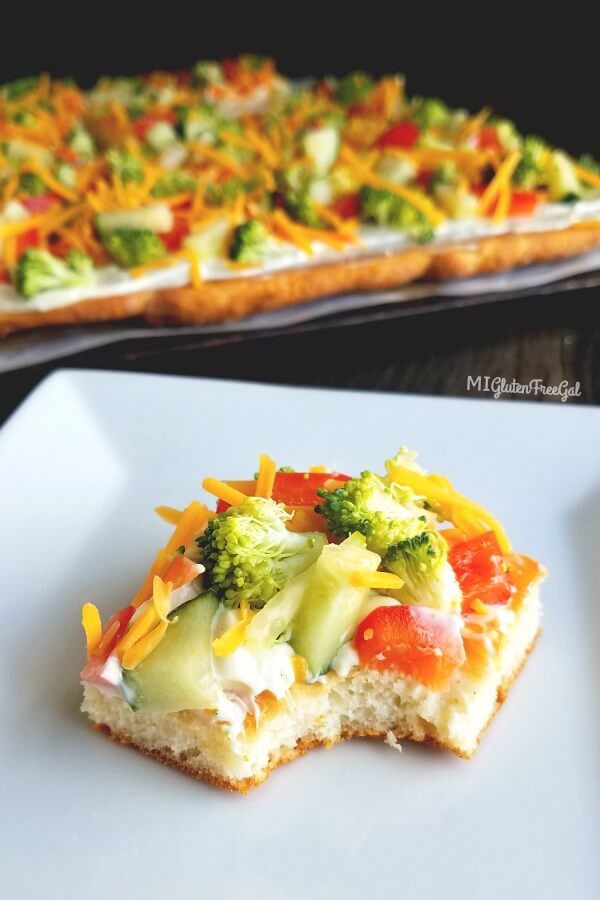 Other Gluten Free Appetizers
This gluten free veggie pizza works great for any time of the year. Great for family picnics, it pairs well with all sorts of chips and dips. I love these Gluten Free Chip and Guacamole Bites from My Gluten-Free Kitchen. Check out this list of gluten free game day appetizers from What the Fork or this list of gluten free appetizers from Fearless Dining for even more ideas! For mini sized one for kids, try these Rainbow Mini Pizzas from Valerie's Recipes.
You may also like my recipe for gluten free meatballs, gluten free enchilada cups, or El Salvadoran pupusas!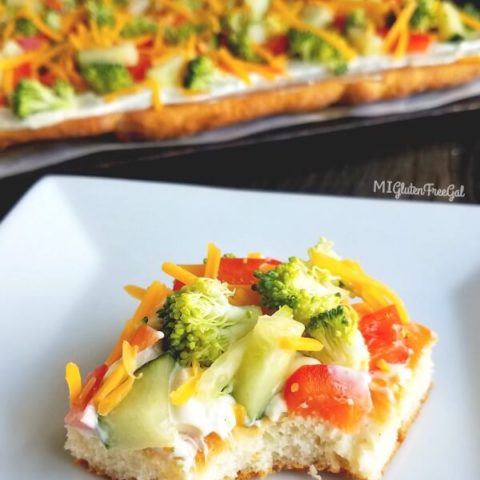 Gluten Free Veggie Pizza with Bloomfield Farms
Ingredients
One gluten free pizza crust, prepared
1 8 oz pkg cream cheese or neufchatel
1/2 c. mayonnaise, purchased or homemade
1/2 pkg Hidden Valley Ranch seasoning packet
1 broccoli crown, cut into florets
1/2 red bell pepper, diced
1/2 -1/3 cucumber, diced
1/2 carrots, julienned (or cut into strips with peeler)
1/2 - 3/4 c shredded Cheddar cheese
Instructions
If making crust from scratch, prepare and let cool. Store bought gluten free crusts can also be used, such as Schar shelf stable crusts.
In a mixing bowl, combine softened cream cheese, mayo, and seasoning. Use a hand mixer to whip together and spread over prepared, cooled gluten free pizza crust.
Cut up your preferred vegetables and arrange over cream cheese mixture. I started with my carrot "peels" on the bottom so they would stick to the veggie pizza better.
Top veggies with shredded cheese. Many suggest chilling this to allow flavors to meld and cream cheese to set up.
Have you tried any of the other Bloomfield Farms mixes? What's your favorite way to use them?