Gluten-Free Meatballs: A Secret Family Recipe
As an Amazon Associate and member of other affiliate programs, I earn from qualifying purchases.
These gluten-free meatballs are perfect for any gathering or dinner. Serve them as finger food for New Year's, make them up with spaghetti, or add sweet and sour for an Asian inspired meal. The sky's the limit!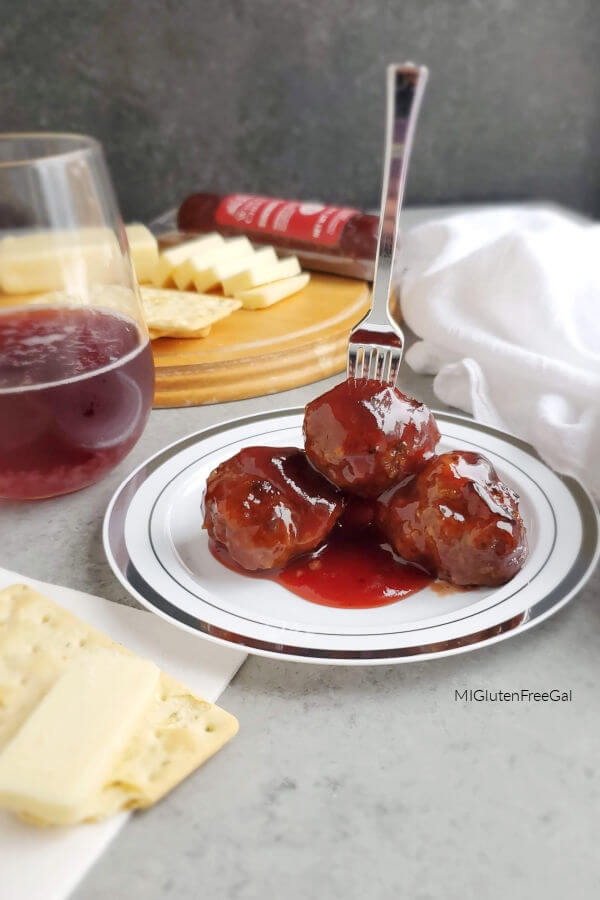 Secret Family Recipe
My dad was known for one signature dish. Every family gathering, you can almost bet that he would bring his gluten-free meatballs. These juicy meatballs were present at every Christmas party, family potluck, and any other time there's good cause for a celebration.
My dad claimed them as a "secret family recipe", but I'm choosing to pass this on to you! So welcome to the family, and make a batch of these great meatballs. I hope your family enjoys them as much as we have.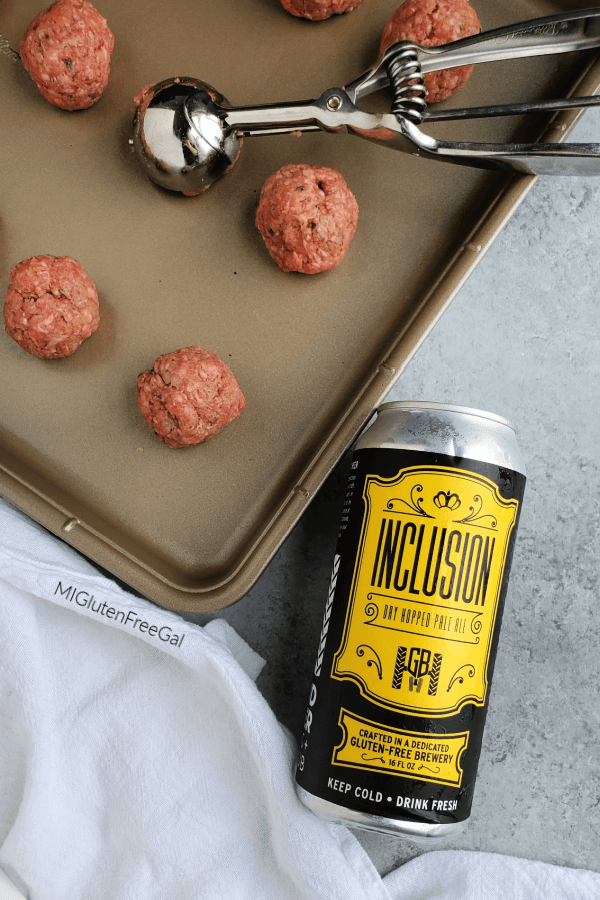 Gluten Free Adaptations
In all honesty, this recipe for gluten-free meatballs underwent some alterations since its inception. In my younger years, my dad made these with beer, Kellogg's Corn Flakes, and Lipton's Onion soup mix. Fast forward to post celiac diagnosis, and regular beer is a no-no. (As is Lipton's Onion Soup Mix.) You can leave the beer out, if you want. If you choose to use beer, make sure it is made from gluten free grains, not a gluten removed one like Omission or Space Rock.
Gluten Free Beers You Could Safely Use
– Redbridge
– New Grist
– Green's Beer- Any flavor
– Glutenberg
– Ground Breaker Brewing
– Ghostfish
– Alt Brew (in Wisconsin)
Gluten Free Onion Soup Mix
– Simply Organic French Onion Dip Mix
– Mom's Place Gluten Free Onion Soup Mix
– Homemade Dry Onion Soup Mixfrom The Country Cook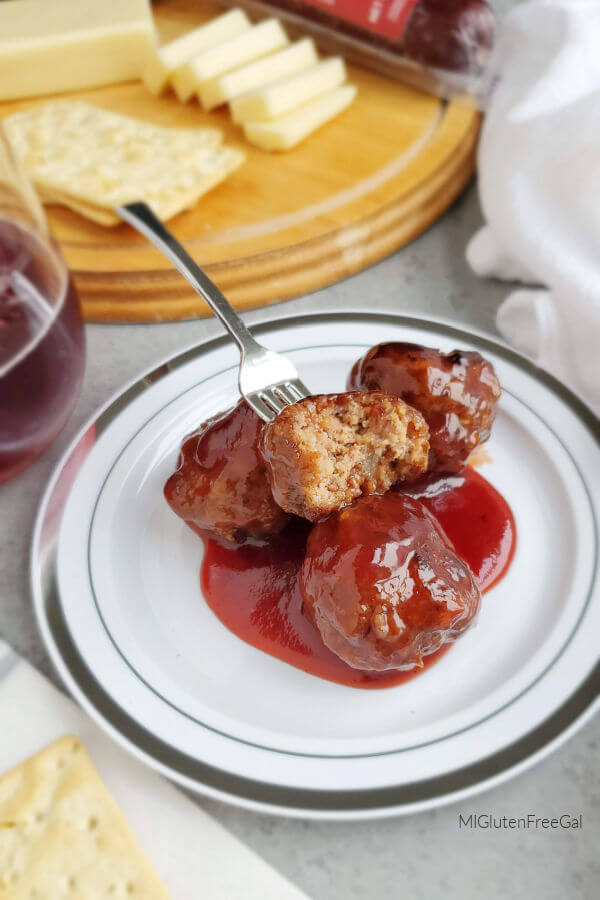 Gluten Free Corn Flakes & Breadcrumbs
Kellogg's Corn Flakes are not gluten-free because they contain malt. Instead, look for corn flakes that are truly gluten-free, such as the one manufactured by Nature's Path or Arrowhead Mills. Another great possibility is to used crush Corn Chex. Chex underwent a huge reformulation years ago and took out all the malt from their cereal. I use crushed Corn or Rice Chex all the time in recipes.
Now, I don't even use corn flake crumbs. I am in love with Aleia's Gluten Free Breadcrumbs. They come in various flavors. I would stick with the plain breadcrumbs if you plan to add barbecue sauce to these. However, if you plan to pair them with spaghetti, I highly recommend using their Italian Seasoned Breadcrumbs. They're my absolute favorite!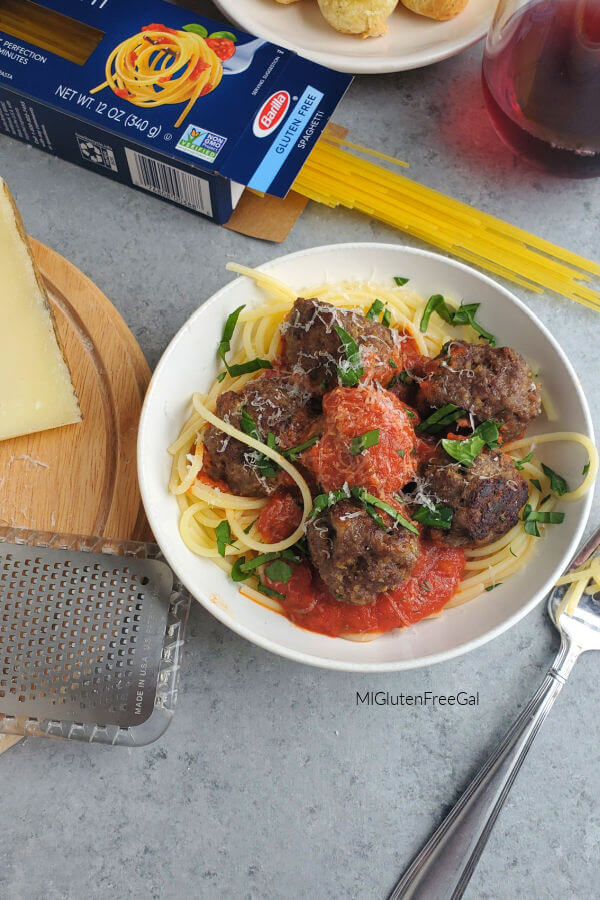 Sauce It Your Way
While these gluten-free meatballs are used best with my dad's signature sauce, they're pretty versatile. You could add other seasonings based on how you'd like to use them. Add Italian seasoning and serve them with marinara and spaghetti. (They'd work great as a meatball sub this way too!) Or prepare The Cookies Rookie's Swedish Meatball gravy with a GF flour blend, and serve these meatballs over hot gluten free noodles
Add a pinch of Chinese Five Spice and serve them with a sweet and sour sauce over rice. One could also leave them plain and place them in a kid's lunch with dipping sauce for a fun hands-on meal. The possibilities truly are endless. These freeze and thaw really well, sans sauce, so make up a batch in advance for your next gathering!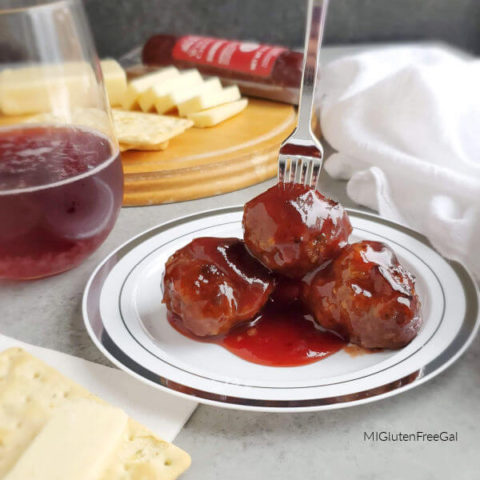 Gluten Free Meatballs
Ingredients
Meatballs
4 lbs ground beef (I used ground sirloin, my dad uses ground chuck)
1/4 c chopped onion
4 eggs
1 c gluten-free beer (OPTIONAL)
1 tbsp garlic salt
1 1/2 tsp salt
1/2 tsp black pepper
2 pkg gluten-free onion soup mix (I used Riega)
2 c gluten-free corn flake crumbs
Sauce
3 c ketchup
3 c grape jelly
1/4 c bbq sauce (I prefer Stubb's)
Instructions
Line cookie sheet with tinfoil and coat with cooking spray.
Mix ingredients in large bowl with fork or potato masher. (You can mix with your hands as well. If so, I highly suggest removing rings first.)
Using a 1 oz (#40) scoop, gather a portion of the gluten-free meatball mixture. Drop in the palm of your hands and roll into a ball.
Bake gluten-free meatballs in the oven, one sheet at a time, at 350 for 15 minutes. I highly suggest flipping them after 7 minutes.
Remove baked meatballs from cookie sheet and place in crockpot or dish with lid. Repeat until all meatballs are cooked.
In a medium sauce pan, combine ketchup, grape jelly and barbecue sauce. (The barbecue sauce is optional, but I highly suggest it to cut the sweetness of the sauce.) Cook until jelly melts completely. Allow to cool.
Finally, layer cooked meatballs and sauce in slow cooker. Cook on low heat for at least 4 hours. Stir occasionally so sauce does not burn.
Looking for recipes for other types of meatballs? Sweet and sour or Swedish meatballs? Check out this post from Fearless Dining that lists
14 gluten free meatballs recipes
!
**This post is NOT sponsored by any of the above named brands. However, this post does include Amazon Affiliate Links. This provides me a small commission fee. However, this does not influence the cost of your purchases. Thank you for helping to support this website!**