Wing Lauk : Gluten Free Cantonese Deliciousness
As an Amazon Associate and member of other affiliate programs, I earn from qualifying purchases.
The words "Wing Lauk" roughly translate to "always happy." With an extensive gluten free menu and caring staff, this restaurant in Waterford, Michigan truly is my happy place!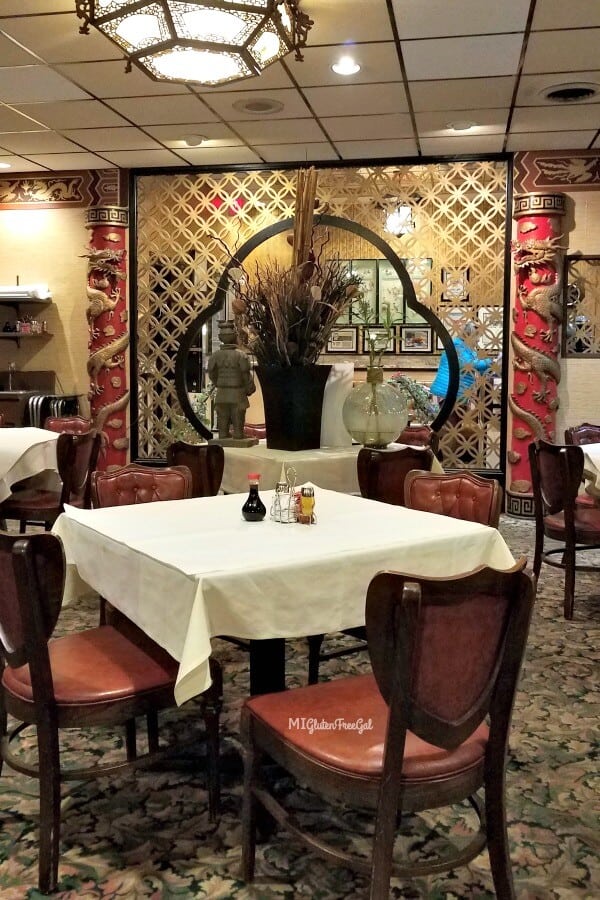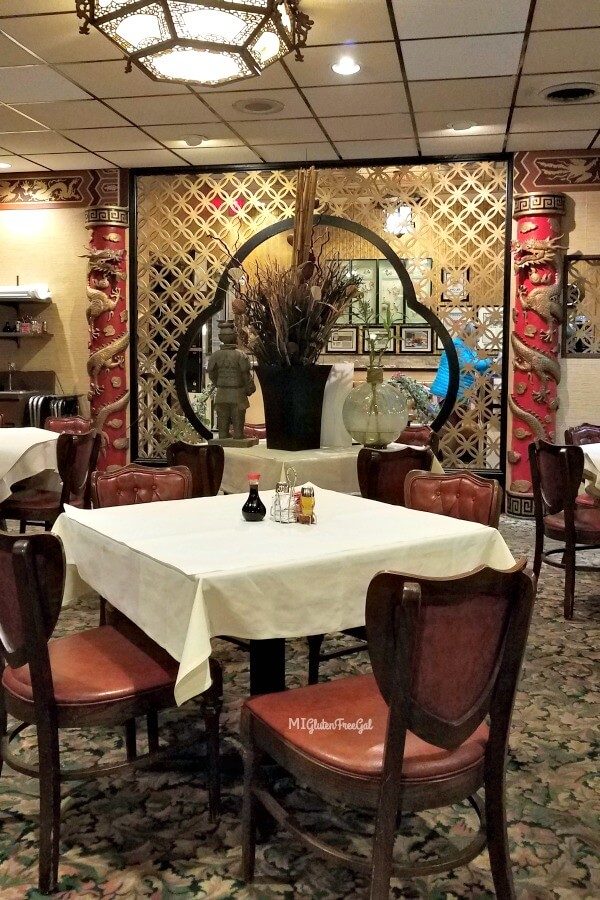 Rekindling Traditions
In college, my husband developed a tradition with his roommate. Since dining halls were closed at Michigan State University on Sundays, they dined at their favorite Asian restaurants. Every Sunday. For a while, we continued that tradition. That is, until I realized that most restaurants use wheat based soy sauce. That tradition quickly came to an end.
Lucky for us, there are places like Wing Lauk in Waterford that cater to those with Celiac Disease and other food restrictions. I reached out to my Facebook followers, after hearing great things about this place. They all gave glowing reviews, so I drove 30 minutes from Flint to try it for myself!
Wing Lauk's Gluten Free Menu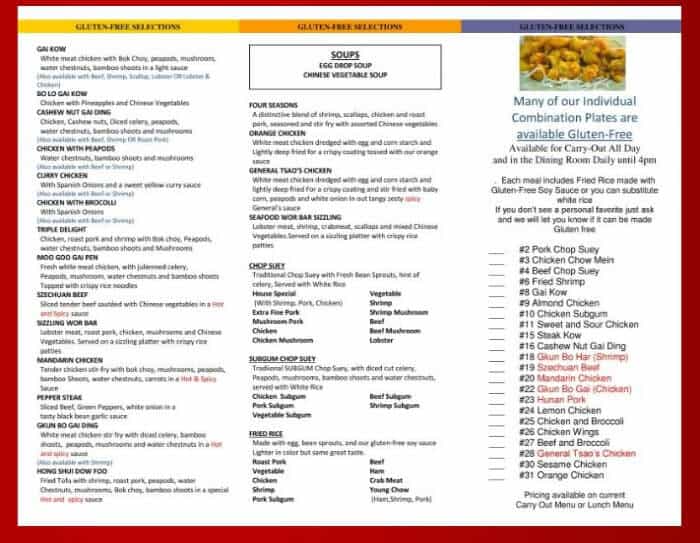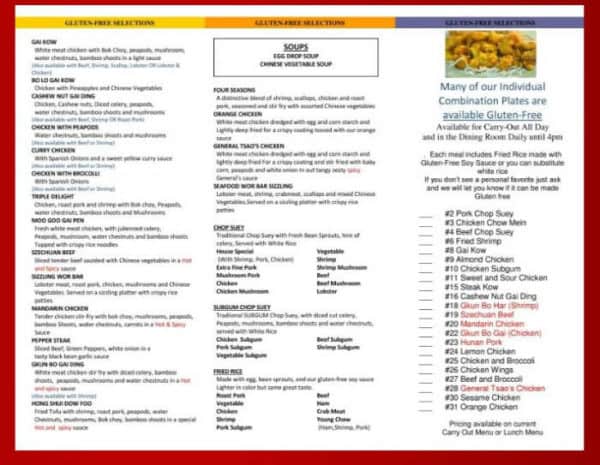 I have to admit, the three page gluten free brochure at this restaurant offers is impressive. More impressive is their dedication to learning about the needs of gluten free diners. This special menu started after they learned a customer's children had Celiac Disease. They learned from that parent, and the local Celiac Disease support group, how to take prepare food safely for their guests. They print the following on their gluten free menu.
Wing Lauk Gluten Free Preparation Practices
When ordering, please inform your server you are ordering from the Gluten-Free menu.
Wing Lauk uses corn starch to thicken their sauces.
Gluten Free dishes that call for soy sauce, Wing Lauk uses wheat-free soy sauce.
Wing Lauk sues fresh vegetable oils to prevent cross contact with wheat flour batters. They cook gluten free items in a separate fryer.
If you have a favorite dish not listed on the Wing Lauk gluten free menu, please ask. They are willing to modify a dish to suit your gluten free needs.
If you have other food sensitivities (such as msg), please ask for Tony or Diane, and they will make sure your dish is prepared properly.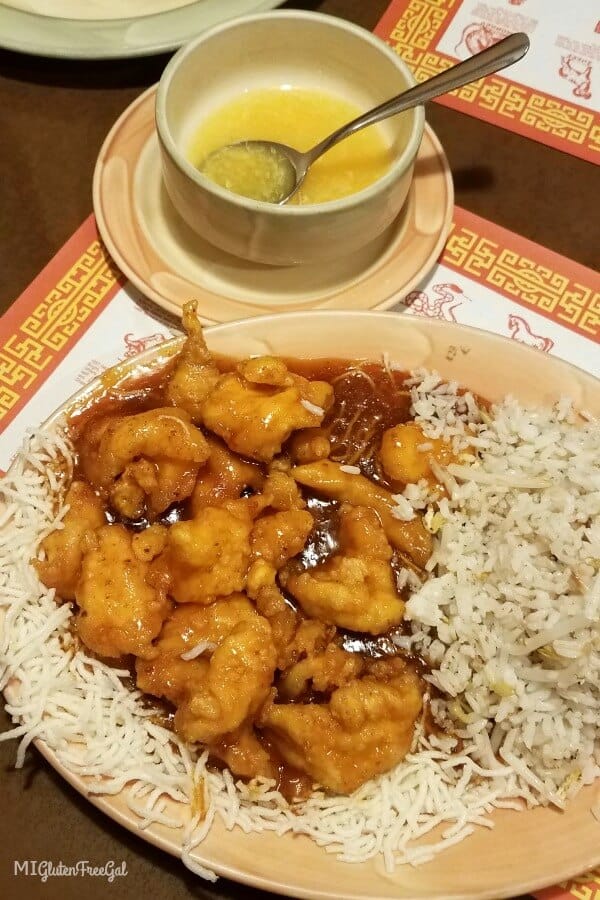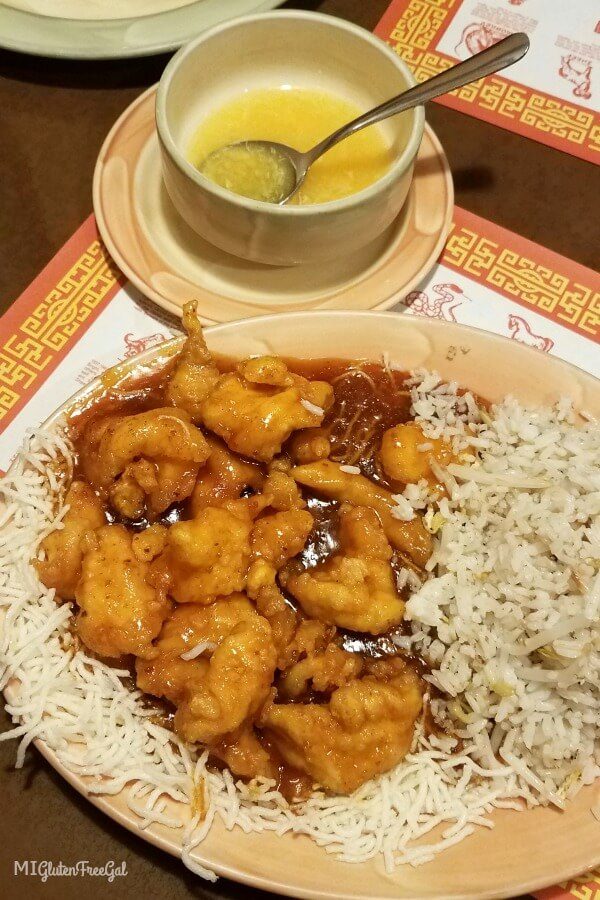 So Many Gluten Free Options
With such a large menu, it took my husband and I a while to decide what to order. We both started with soup. I chose the egg drop soup, while he chose the Chinese Vegetable Soup. While mine was good, I really enjoyed his! I finally decided on the gluten free Orange Chicken, and he chose the gluten free General Tsao's.
Knowing how much I love Gluten Free Orange Chicken recipe from Flippin' Delicious, I wanted to see how this compared. I was immediately impressed with how crispy the chicken tasted. Coated only in corn starch, it had the perfect amount of crunch. I told myself I would save half my dinner, but couldn't help myself from eating it all.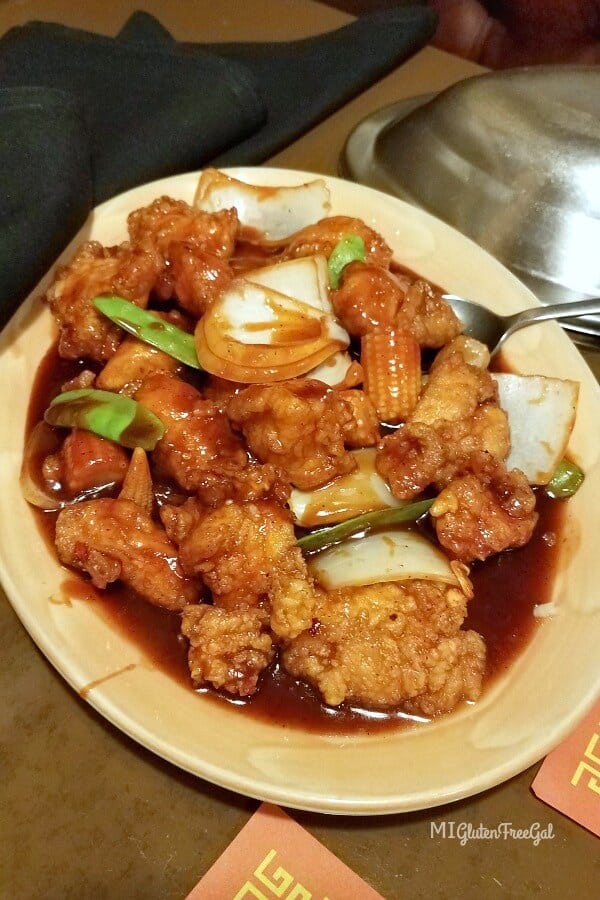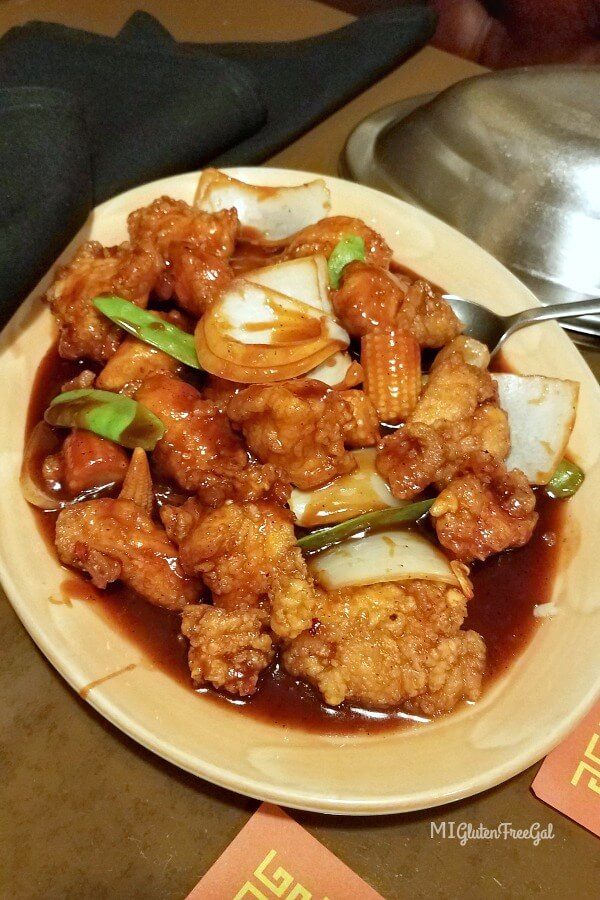 My husband really enjoyed their General Tsao's Chicken. He's so great, and often orders gluten free items, so I an try more than one dish. (Back of ladies, he's mine.) Like me, he couldn't help himself from eating the whole plate. (Want quick and easy General Tsao's at home? It's now a permanent grocery store item at Aldi's!)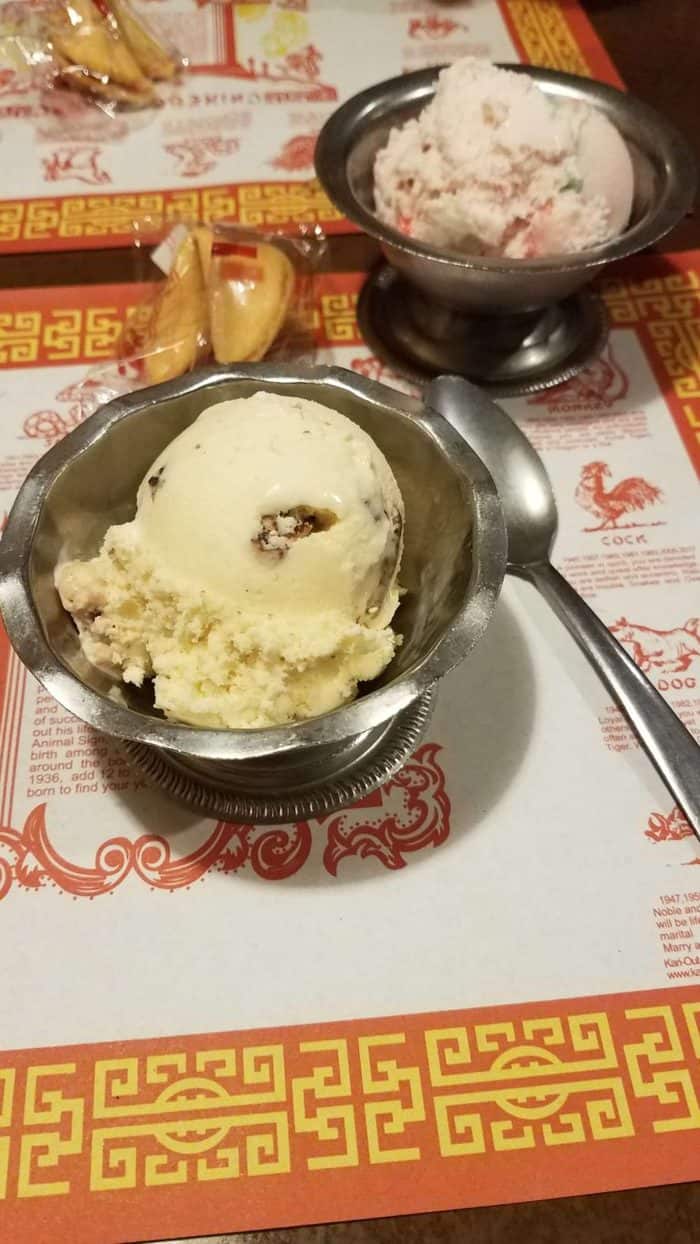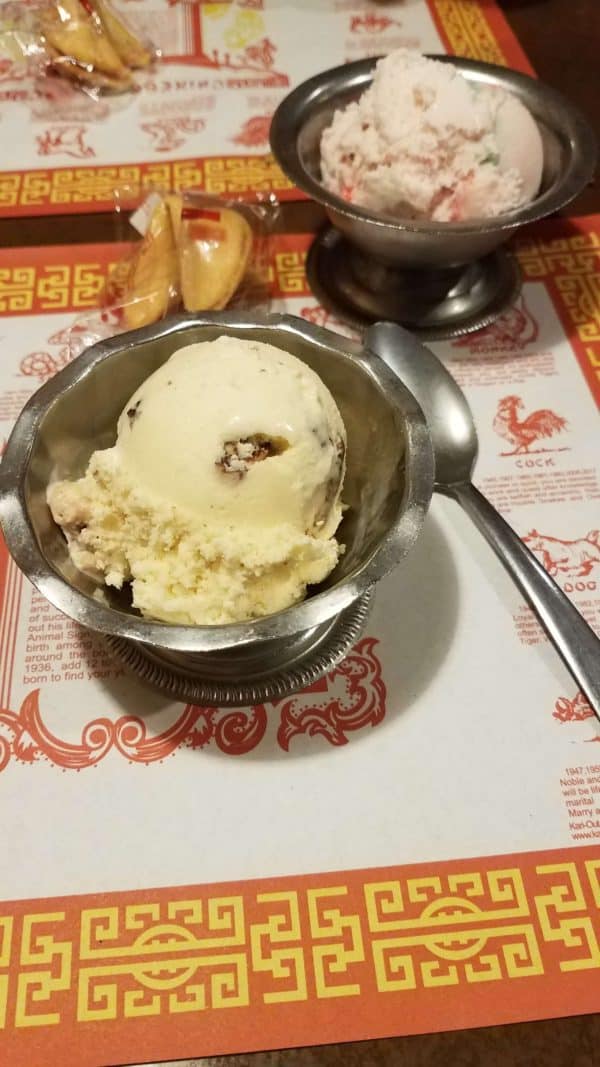 Ask for Tony
I want to mention that we had a fantastic young man as our server. He answered any questions we had, and seemed well versed on the gluten free menu. I did however, have the pleasure of meeting Tony Gee, the owner. So glad I did, as he shared about how this restaurant has been a part of his family for generations.
He stated his family originally moved to the United States to San Francisco in the mid 30's. However, it was his grandfather who made the move to Detroit and started the family restaurant legacy. (Please read more about their fascinating story in their "About" section.) You can tell by sweet notes from kids in the hallway, and always happy customers, that Tony and this restaurant mean so much to the community. He's just so … nice!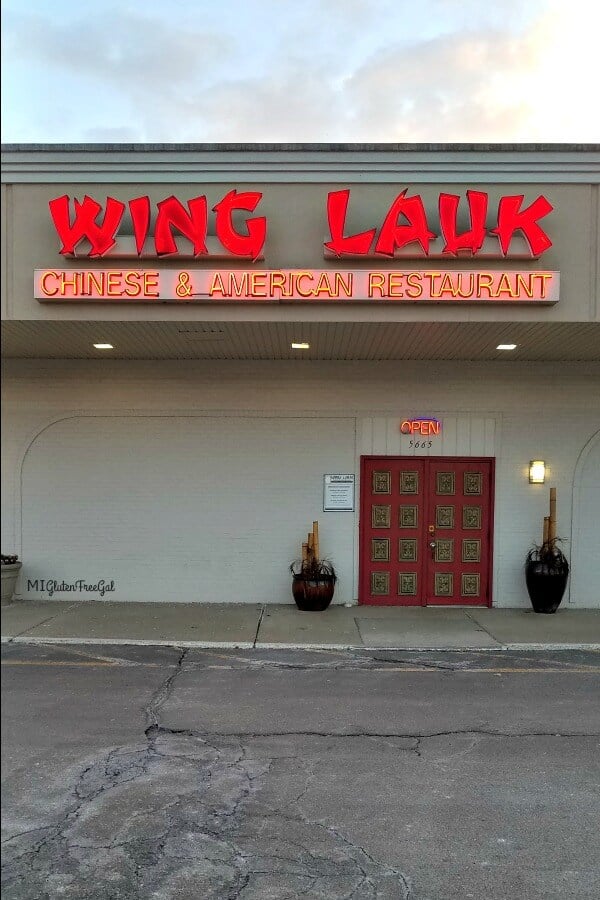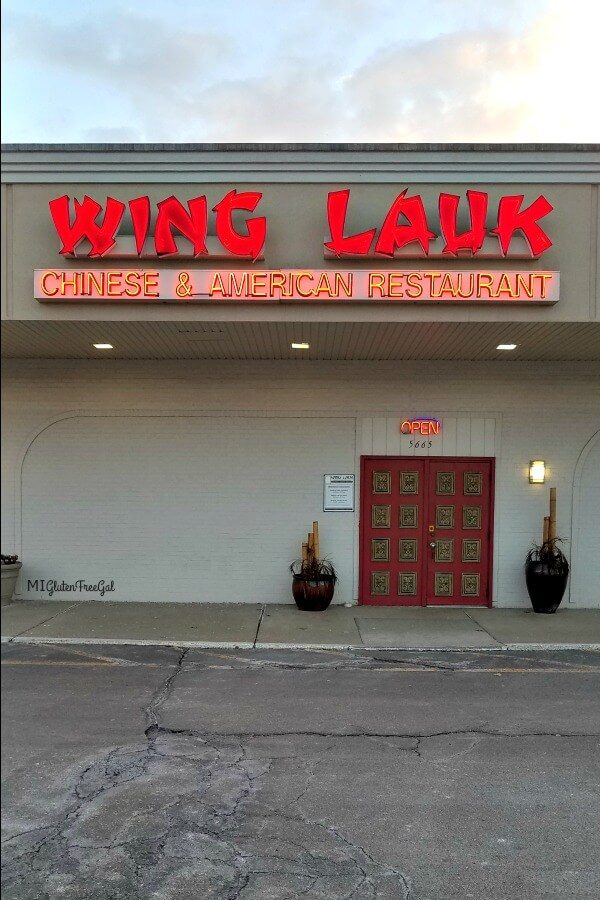 I've dined at Wing Lauk twice now, and I can see us returning again. Only a half hour from my house, Wing Lauk offers an amazing menu and great staff. I also highly recommend stopping in at Neiman's Family Market,!down the street. This grocery store has a great gluten free selection!
Wing Lauk
5665 Dixie Hwy
Waterford Twp, MI 48329
(248) 623-6337
Website | Facebook
What would you order first from Wing Lauk? What gluten free Asian recipes do you miss the most? Try you hand at making some of them at home with this round up of Gluten Free Asian Recipes!
**I paid full price for my meal and was not paid or compensated in any way for this post. All thoughts and opinions are my own. Please click the following link for more Michigan gluten free dining reviews.**