Dining Gluten Free at Michigan State University
As an Amazon Associate and member of other affiliate programs, I earn from qualifying purchases.
Eating out often poses a challenge when living with Celiac Disease. Now imagine being in college, relying on others to cook every meal for you, safely. Due to this, campus dining remains an important deciding factor in choosing a college when living with a food allergy or intolerance. With their recent addition to the FARE College Food Allergy Program, eating gluten free at Michigan State University has become even easier.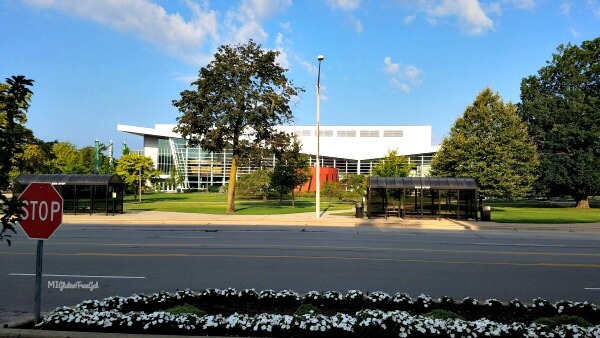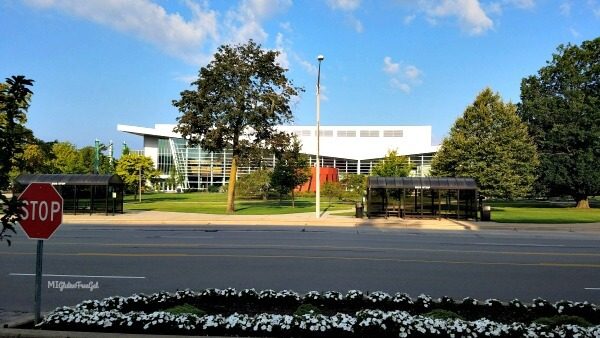 I recently toured Michigan State University with their resident dietitian, Gina Keilen. Prior to her joining the staff, MSU lagged behind in being food allergy conscious. About the same time Gina was hired, executive chef Bryan Latz also joined the staff. They, along with the corporate chef Kurt Kwiatkowski, revamped the menu campus-wide. Now the 45,000 meals daily served on campus are prepared with food allergies and intolerances in mind. They create menus focused on using as few allergens as possible.
Not only is it safe to eat gluten free at Michigan State University, those with additional allergens and preferences are accommodated as well. In addition to labeling for the Top 8 allergens, meal menus also note if dishes contain coconut, sesame, beef, pork, and alcohol. MSU takes the health of the students and staff very seriously. In addition, MSU recently became home to the Facility for Rare Isotope Beams, a.k.a the FRIB. As only the second such facility in the world, the dining staff realized they feed not just students, but researchers from across the world. Michigan State University seeks to feed all, regardless of food allergy, disability or religious preference.
Statistics on eating with Celiac Disease and/or Food Allergy On Campus
This forethought is necessary. In 2016, only two years ago, Beyond Celiac reported that most students feel that can't eat safely on campus. Beyond Celiac stated that forty-two percent of college students surveyed stated they felt college personnel were not knowledgeable about gluten free needs. In addition, thirty percent of students reported missing class at least once in their college career due to accidental gluten ingestion. Finally, Beyond Celiac states that sixty percent of students said they would not recommend the university they attended. Therefore, colleges need to make dietary restrictions a priority.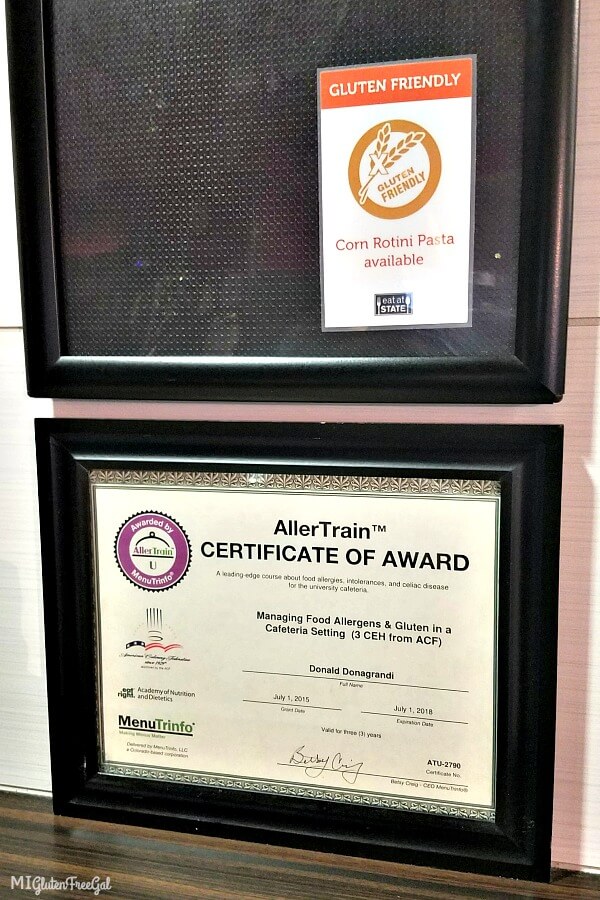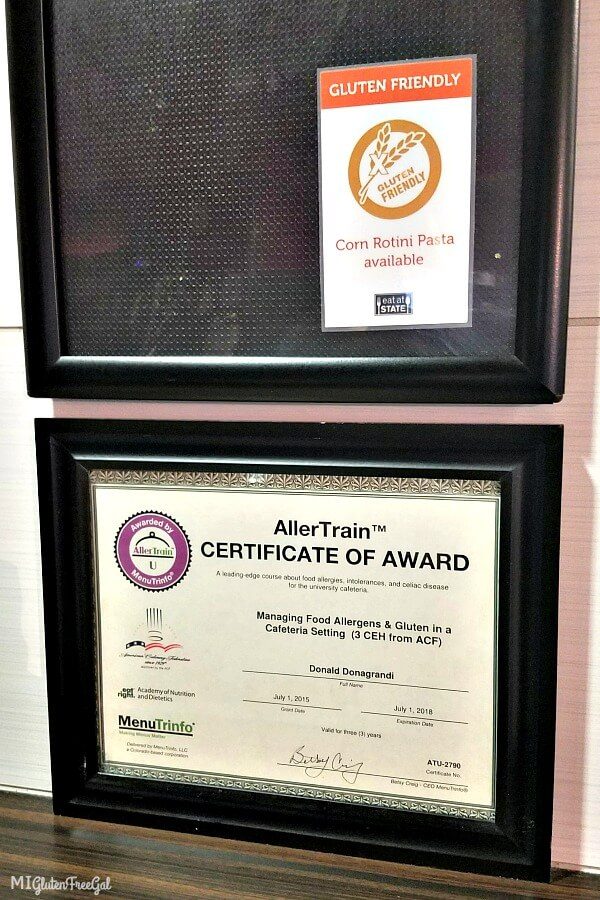 Keeping gluten free dining at Michigan State University starts with the head chefs, but doesn't stop there. ALL kitchen staff undergo training through AllerTrain, which has been easier to accomplish since joining the FARE program. This certification requires renewal every five years. As all menus are based with food allergies and intolerances in mind, staff know that recipes must be followed to the T. This insures that any dish, regardless of which dining hall you're in, keeps it free of gluten or allergens as specified on the Eat At State website.
Gina stated many staff deal with Celiac Disease or food allergies and intolerances in their own life. This is personal. They know first hand the anxiety that comes with trusting others to cook your food. To rely on someone else with your health. Therefore, they gladly wash their hands, change their gloves, and do whatever they can to help accommodate your health needs. So please don't be embarrassed to ask. Please tell staff what you need. Gina Keilen, the head dietitian reports the failure of students to disclose their needs it the biggest hindrance in helping students safe.
In fact, tell Gina regularly meets with students with food restrictions. During a student's orientation, she will set up a time answer any and all questions about dining gluten free at Michigan State University. She regularly checks in on students throughout the year, and holds small forums to meet with fellow students with dietary issues. She even helps students work with housing services to try to pair them with students living through the same dietary struggles. During my visit, Gina was even approached by someone newly diagnosed with Celiac Disease AND additional allergens. Gina didn't miss a beat and immediately reviewed with her the food options she has and the services available to her.
Let's Eat! What to order gluten free at Michigan State University
So enough back story. What CAN you eat if you're dining gluten free at Michigan State University? For starters, sushi. Yes, sushi, complete with gluten tamari. MSU made with switch from regular soy sauce to tamari when they realized how much more accessible it would be to those with Celiac Disease. Also, all soups on campus are made with bases that are gluten, soy and dairy free. (This does not guarantee the final recipe is free of all those ingredients.) Need things nut free? Holden Hall and Holmes Hall have kitchens that use NO peanuts, tree nuts or coconut in any of their dishes.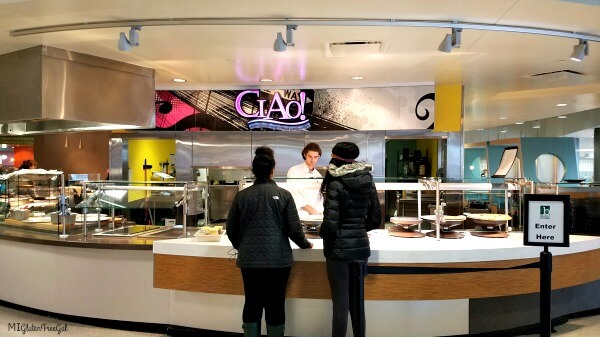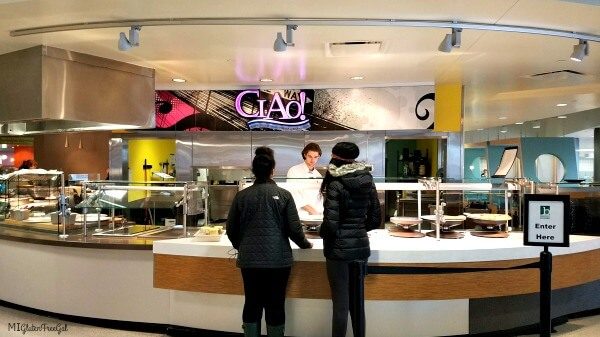 My favorite hall to dine gluten free at Michigan State University is Brody Hall. The amount of options practically boggles the mind. Up until recently, Brody Hall remained the largest non-military dining hall in the United States. (Recent renovations at University of Michigan, also in the FARE program, edged them out for that title.) Brody Hall has multiple themed stations from which you can order some of your favorites. Ciao has gluten free pizza made from fresh toppings, and Brimstone has gluten free buns for hamburgers. In addition, it has the biggest and most amazing salad bar I've ever seen.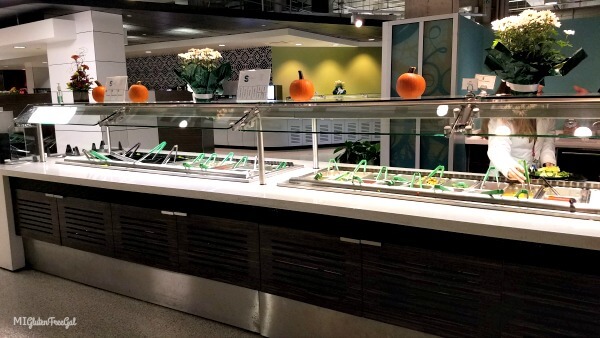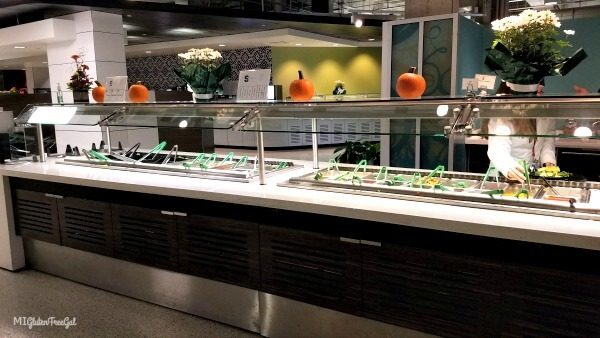 Brody Hall also has a completely vegetarian station, called VegOut. In addition, Monday through Friday, a completely Kosher food station serves locally prepared kosher cuisine. Cayenne's offers Latin American foods, including corn tortillas. Boiling Point offers gluten free pasta, and Homestyle offers baked chicken and potatoes. Can't tolerate dairy? Brody Hall offers the largest soy and almond milk dispenses I've ever seen. In addition, Michigan State University stocks dairy free shredded cheese for pizzas and salads and sandwiches. Living with multiple food allergies? You can collaborate with Gina and the Chefs to coordinate an individualized program for you. This often involves calling 30 minutes prior to arriving to the dining hall, and the team will prepare a meal specifically for you. They will also bring it to you when you arrive in the dining hall.
Other Dining Halls at Michigan State University
There are many more dining halls on campus where you can safely eat gluten free at Michigan State University. Case Hall is the more recently renovated hall and has ample seating. There (as in all other halls) you will find a small fridge stocked with specialty gluten free items, such as Udi's bread and buns and cookies. Some students with food restrictions prefer to eat at Holden Hall. This older and smaller dining hall follows all the same protocols. However, it gets less foot traffic, and allows diners to ask more questions. The gallery at Snyder Phillips, aesthetically, is my favorite open dining hall. Just use the filters at the Eat At State website to help you find what's safe to eat anywhere on camp.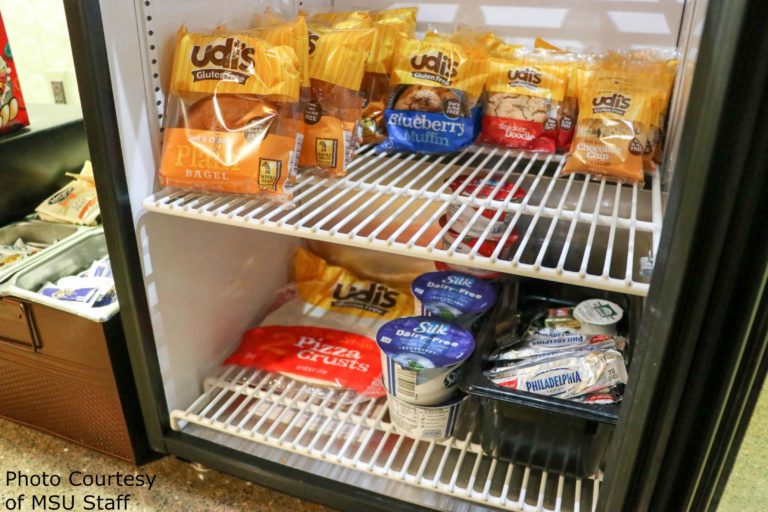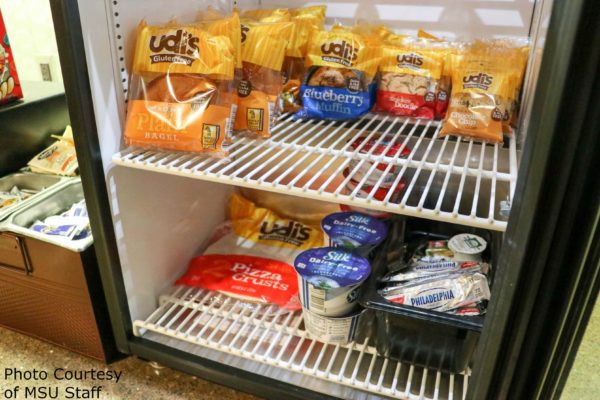 Wanting to cook for yourself? Visit Sparty's Market at 1855 Place on Harrison Road. This small grocery stores has some of the most amazing options for gluten free at Michigan State University. Find Udi's bread and buns for making sandwiches at home. They stock a large selection of Bob's Red Mill products, as well as 1-2-3 Gluten Free baking mixes. Plus, Sparty's Place immediately won over my heart by stocking Michigan-made Ethel's Baking Company decadent desserts.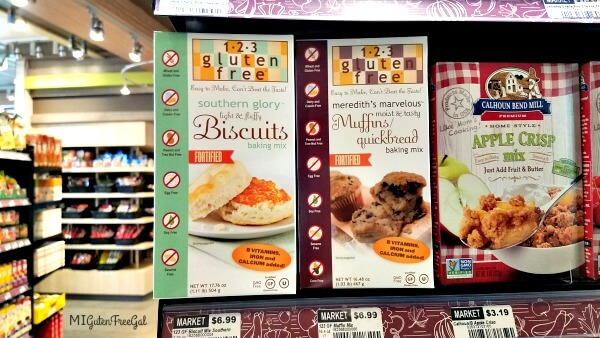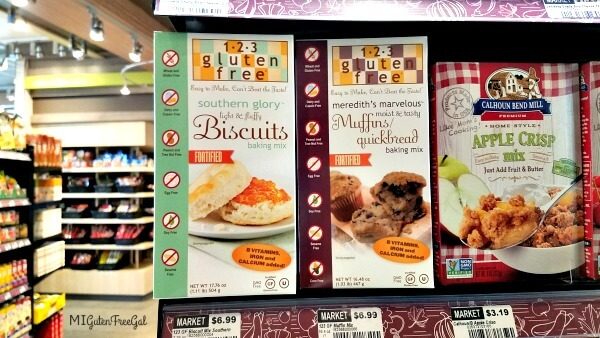 A quick note about desserts. While the dining halls serve Hudsonville hard scooped ice cream and soft serve, every stop at MSU needs to include the MSU Dairy Store. Did you know you can actually watch them make ice cream from the observation deck in Anthony Hall? Staff there is FANTASTIC about pulling out fresh tubs of ice cream to prevent cross contact with other flavors. I've visited numerous times and never has an employee balked at generously meeting my needs in this way. This is why I list them as one of the great places to get ice cream in Michigan!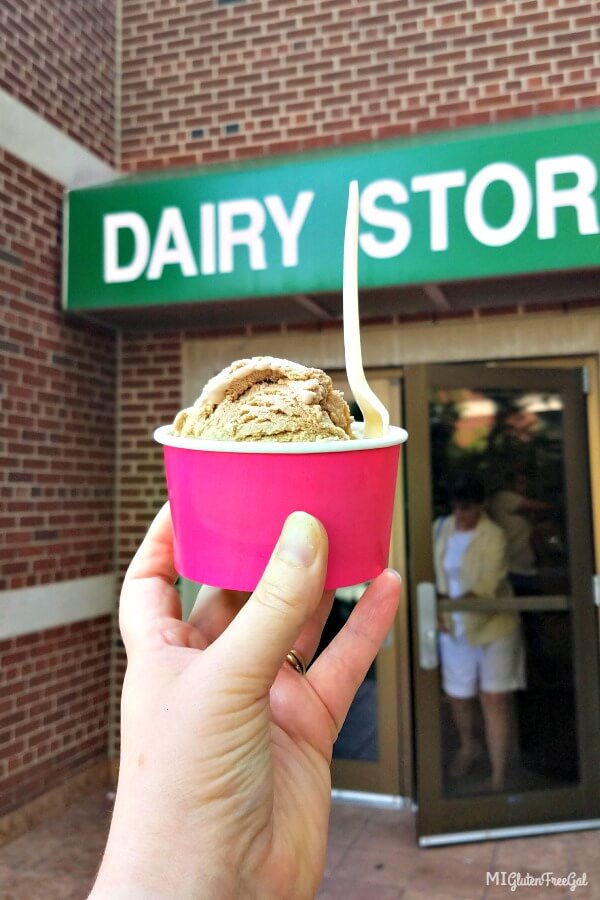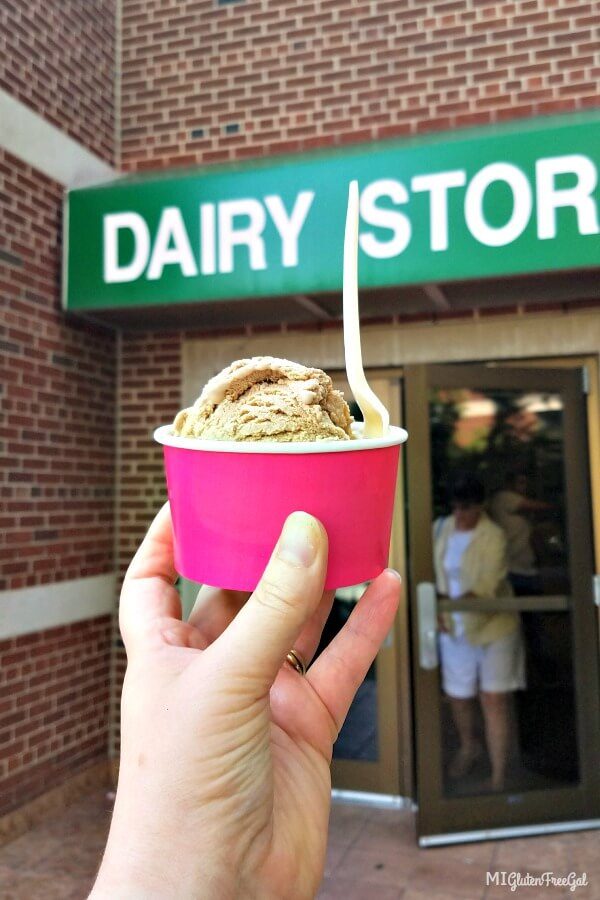 Intentional Dining for the Community
All these precautions for gluten free dining at Michigan State University is not for students alone. MSU is easily the largest employer in East Lansing, Michigan. Therefore, they see themselves as a meeting place for community. So take a bike ride along the Red Cedar River and stop in for lunch. Take in a midday basketball game and stop in for dinner. Stop in for Sunday Supper after church or meet up with your card club for brunch. Send your son or daughter for one of the many academic and sports camps offered here.
Have you or a child been to Michigan State University? Are you considering them as a potential location for their future college career? Please feel free to call or email staff to ask them any questions you have. A big thank you to Gina Keilen and Bryan Latz and the rest of the chef staff for generously giving of their time and resources so I could share first hand about what it's like eating gluten free at Michigan State University.
** I was given passes for a free meal for myself and my spouse. No other form of compensation was given regarding this write-up, and all thoughts and opinions are my own. Born and raised in Lansing, I love MSU and the amazing opportunities it affords to its students. Go Green, Go White.**