Waffled Chicken and Waffle Sandwich
As an Amazon Associate and member of other affiliate programs, I earn from qualifying purchases.
Chicken and waffles seem to be all the rage. However, no one wants to have to deal with fried chicken and hot oil. Prepared to be amazed my friends. Today, I teach you a way to make chicken that will blow your mind! Behold, the Waffled Chicken and Waffle Sandwich!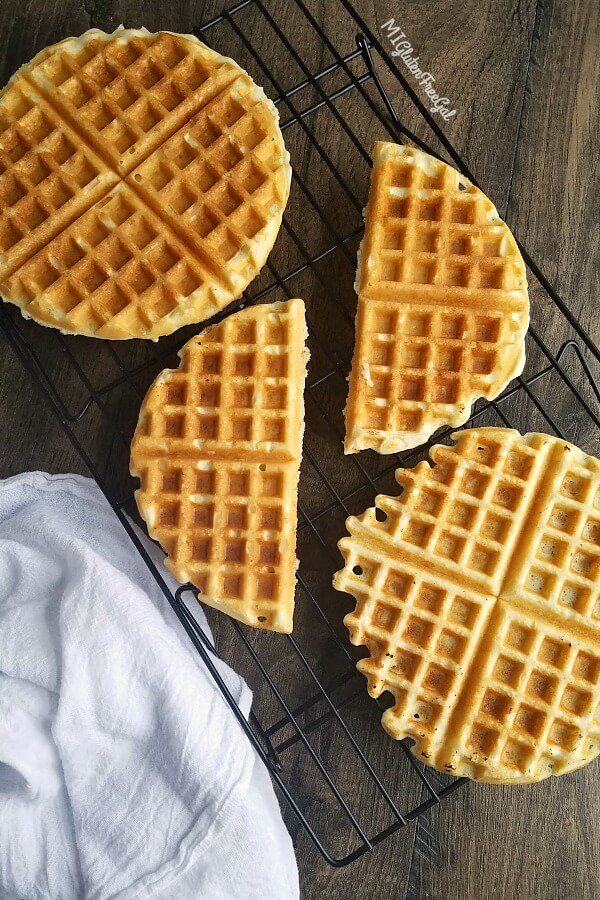 I love to use my waffle maker. Contrary to popular thought, waffle makers are not one hit wonders. I make all SORTS of things in mine. So much so that I recently taught a cooking demo at the Indianapolis GFFA Fest. The title? "Waffles – Beyond Breakfast and Syrup." I appreciate those who attended, as it was my first cooking demo. Lots of lessons learned, both for attendees and myself! I intended the highlight to be my infamous gluten free corn dog waffles. However the real star became the waffled chicken in this Waffled Chicken and Waffle Sandwich.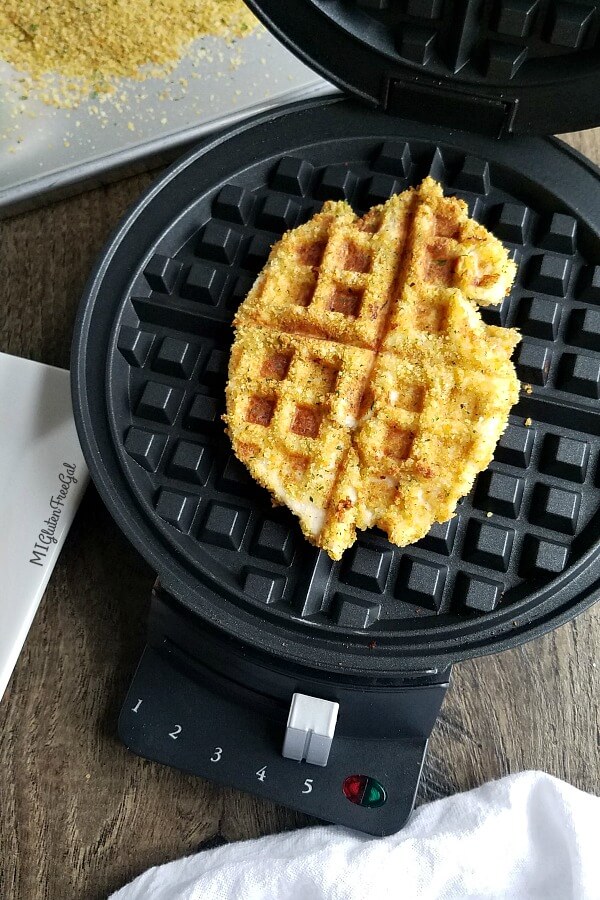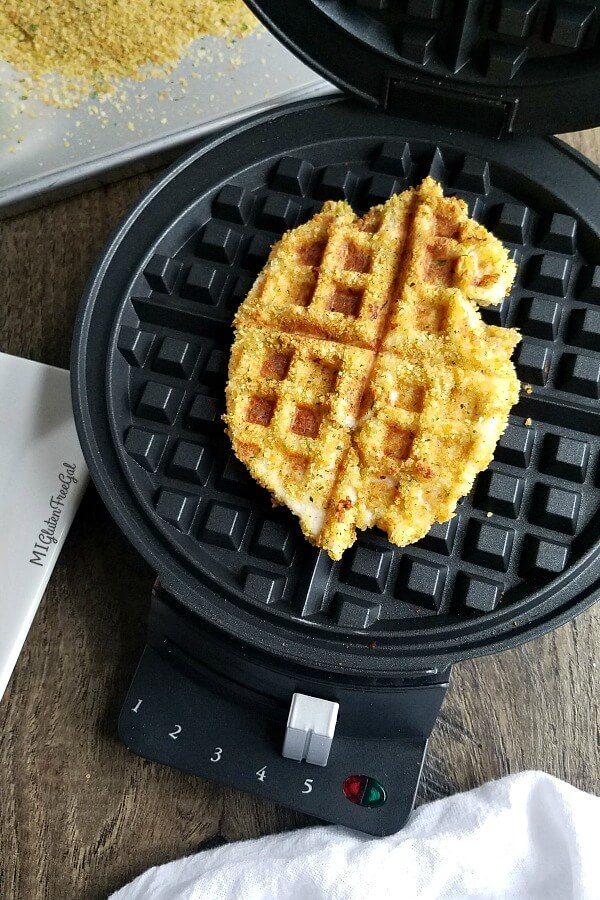 The "Waffled Chicken"
I tried this waffled chicken for the first time just before my presentation. I snagged the idea from the king of "waffling," Daniel Shumski. His book "Will It Waffle" truly opens the imagination to all things possible via a waffle maker. (I downloaded the Kindle version on Amazon for only $1.99!) Friends, I tell you the truth. I never want to cook chicken any other way. It cooks quickly and stays moist and CRISP! Truly the shining star in this Waffled Chicken and Waffle Sandwich. I used Aleia's Gluten Free Italian Breadcrumbs for this, and I think it made all the difference. (Remember my cheese sticks? Yep, same brand.)
When I did this cooking demonstration in Indianapolis, I had 4 waffle makers at my disposal. I know what you're thinking. "She owns four waffle makers?!" Don't be silly. I own three, one was my dad's, ha ha ha. While I own this Presto Belgian waffle maker, I feel the wells stand too deep to evenly cook the chicken. Therefore I bought this "standard" (or American) Cuisinart Waffle maker. It may just be my new best friend. (My third waffle maker fits in the palm of my hand. Available for $10 at Target, Bed Bath and Beyond, and Amazon. Great for dessert waffles!)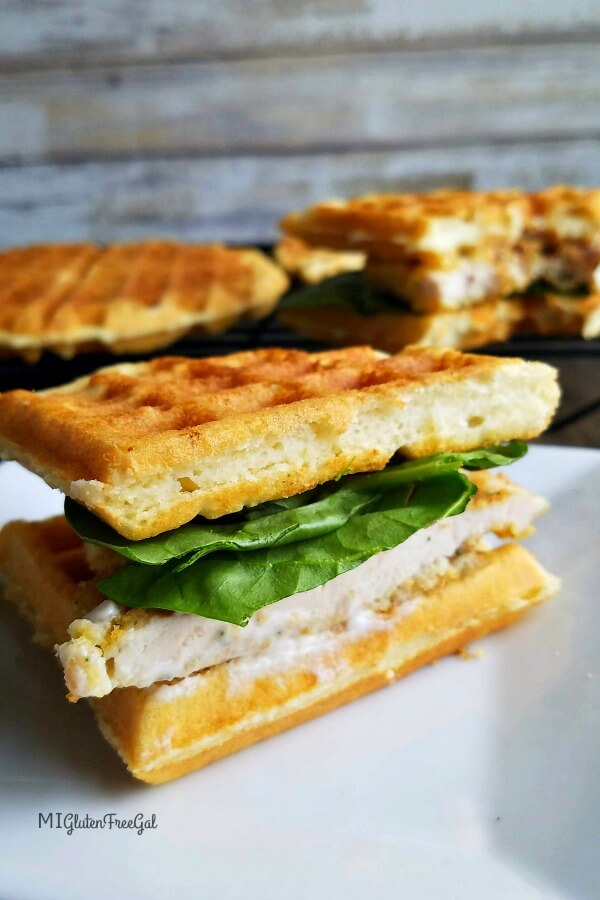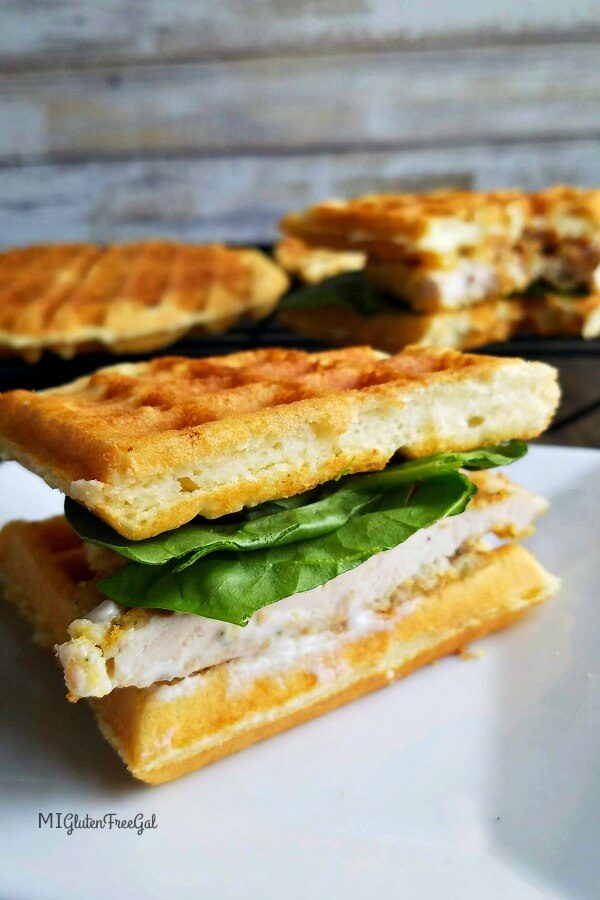 One attendee asked me "What's the most creative thing you've made in your waffle maker?" To date, this Waffled Chicken nd Waffle sandwich may take the proverbial cake. However, my website and brain are full of other waffle ideas.
Other Creative Uses for Your Waffle Maker
Waffle Corn Dogs
Brownie Batter (ice cream sandwiches anyone?)
Hash Browns (topped with cheese curds and beef gravy makes for excellent poutine!)
Waffled (Fried) Eggs with runny yolks (Great for Bi Bim Bap!)
Omelettes
Cookie Dough (not my favorite use. Cookie gets over cooked)
Muffin Mix
Corn Bread
Banana Bread Batter
and so many more ideas I WANT to try! (Waffled Mac and Cheese? Oh yes….)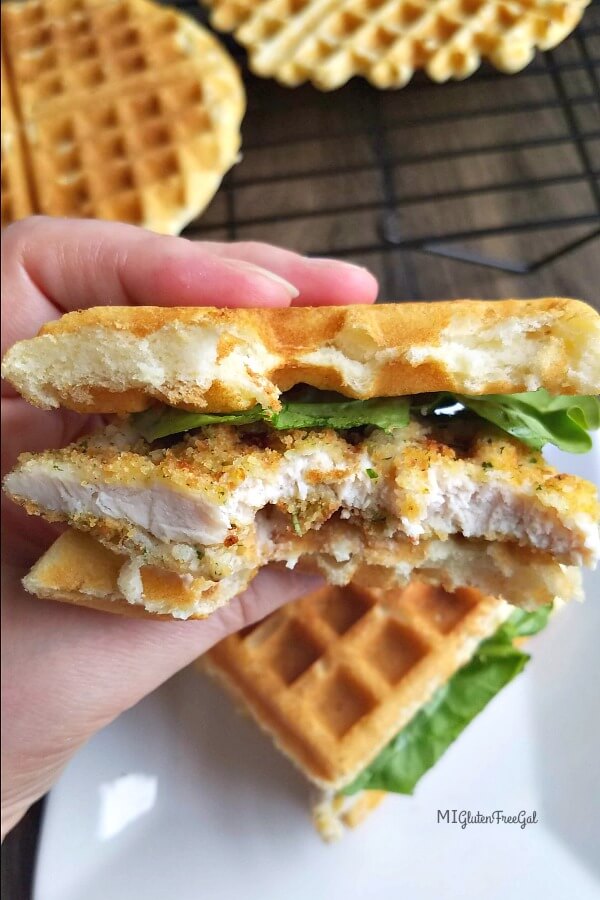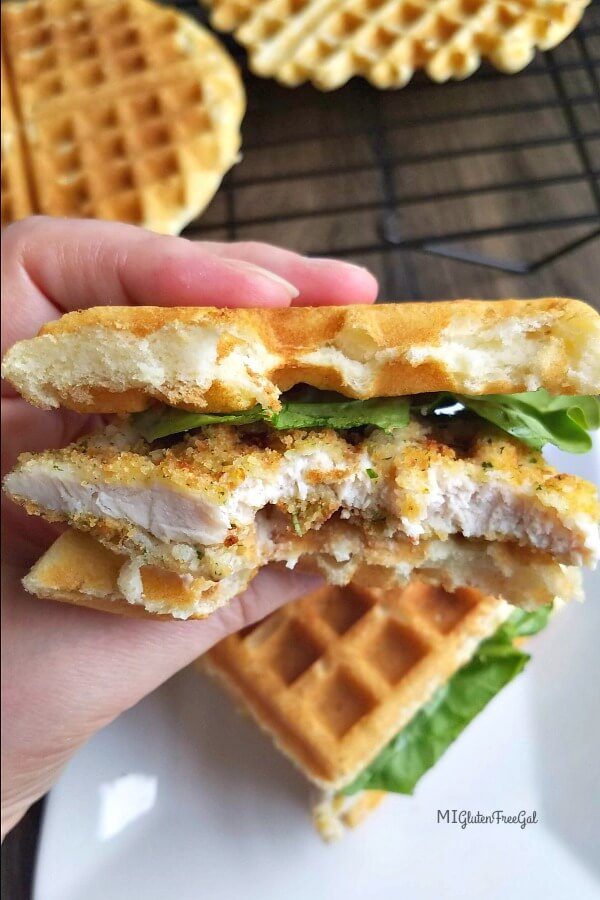 I drizzled a homemade sauce on my Waffled Chicken and Waffle Sandwich, trying to recreate a sandwich I tried at Noble Restaurant in greater Grand Rapids. It comes with the most amazing maple aioli. However, we don't keep mayonnaise in our house. Therefore I used Greek yogurt. When we had leftovers for dinner, ranch dressing also tasted great on it. These basic waffles really do make great "bread" for any sandwich. Sliced lunchmeat, egg salad, the skies the limit. Totally portable and perfect for lunches too! (Which now makes me want to waffle a grilled cheese. Be right back……)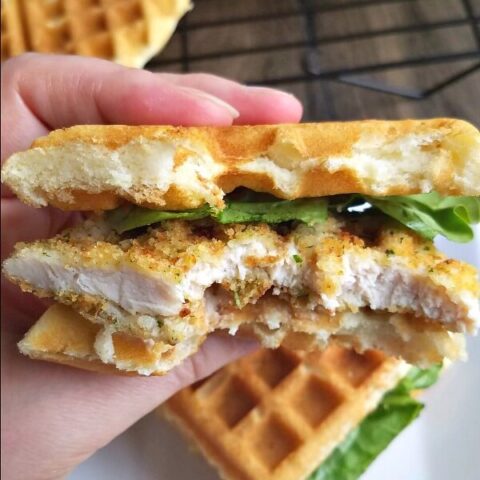 Waffled Chicken and Waffle Sandwich
Ingredients
For The Waffles
1 cup Gluten Free Flour (I used King Arthur Measure for Measure)
1 tbsp sugar
1/2 tsp baking powder
1/4 tsp salt
7 oz milk (if a doubled recipe, you use 1 3/4 c milk)
1 tbsp apple cider vinegar
1 egg (room temperature)
3 tbsp melted butter or oil
For the Chicken
1 chicken breast or thigh, sliced in thin portions
1 egg
2-3 tbsp Bob's Red Mill White Rice Flour
3/4 cup breadcrumbs (I used Aleia's Gluten Free Italian Style Crumbs)
For the dressing
2 tbsp Greek yogurt (or mayonnaise)
1/4 tsp garlic powder
1/2 tsp maple syrup
Instructions
Combine milk and apple cider vinegar. Allow to set for at least 5 minutes. Make sure egg has been removed from the refrigerator and allowed to come to room temperature.
In a small dish, melt butter and allow it to cool.
In a large bowl, combine flour, sugar, baking powder and salt.
To the dry ingredients, add curdled milk, egg, and melted and cooled butter. Mix until thoroughly combined. Allow to rest for at least 5 minutes. Meanwhile, plug in / turn on waffle maker to warm.
Cook waffles according to waffle maker directions. Once cooked, keep warm in oven set at 200 degrees.
While the waffles are cooking, prepare the chicken. Either thinly slice a regular chicken breast, or purchase thinly sliced breasts and pound them until flat.
In a wide, shallow bowl, whisk one egg. In a quarter sheet pan (or cookie sheet) pour rice flour on one side and bread crumbs on the other.
Coat raw chicken breast in rice flour. Then dip both sides in egg. Make sure excess has dripped off. Then, coat each side with bread crumbs. Place coated chicken on plate while coating the remaining breast pieces.
After waffles are finished cooking, cook the breaded chicken. I cook mine in my Cuisinart Standard Waffle Maker, on level 3, for 3 minutes. The chicken will not need to be flipped, as the waffle maker is cooking it from both sides.
To build sandwich, place one piece of cooked, breaded chicken on half of waffle. Top with spinach or desired toppings (such as the sauce above), then top with remaining half of waffle. Cut down the center and enjoy!
Have you experimented with your waffle maker? What creative culinary items have you created? Leave me a note in the comments so I can try them too!
(Please note that this website contains Amazon affiliate links. A small advertising fee gets paid to me from Amazon, but doesn't influence your cost. Purchasing through my links helps offset my website costs, so thanks for supporting my work!)
**While I was not paid for this post, Aleia's did give me a package of their gluten free Italian Breadcrumbs for free.**