Gluten-Free Corn Dog Waffles
As an Amazon Associate and member of other affiliate programs, I earn from qualifying purchases.
These Gluten Free Corn Dog Waffles are a lunch time favorite. They fit great in a lunch box, and require no stick or deep frying.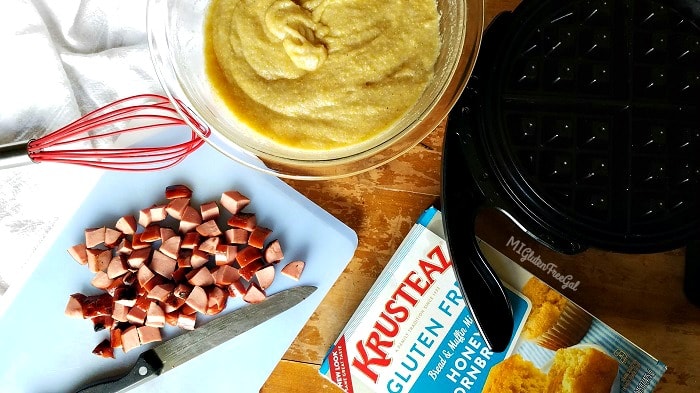 Waffled Corn Bread – Absolute Game Changer
Want to know my favorite way to cook cornbread? In a waffle maker. Seriously, it's quick, easy and you don't have to heat up your whole oven and kitchen. (A unique way to provide "bread" for Thanksgiving as well!) Even better, it becomes an excellent vehicle for making a child hood favorite.
These gluten-free corn dog waffles are a cinch to make and freeze exceptionally well. Which is perfect for those mornings I oversleep and run late on packing lunch. Oh what's that? I'm not the only one that happens to? Glad to know I'm not alone.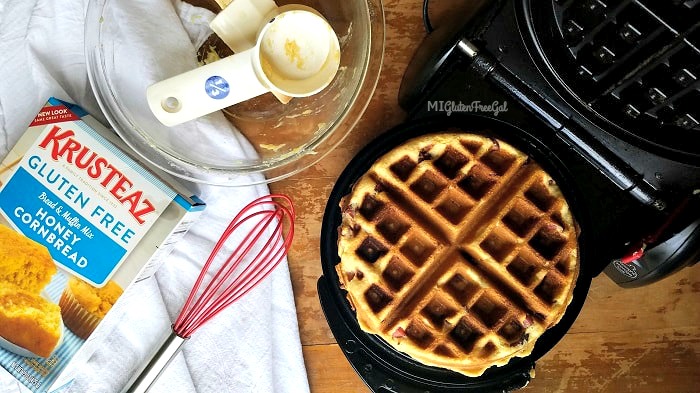 What Brand of Cornbread Mix/ Hot Dogs Should I Use?
You could use any corn bread batter for these gluten-free corn dog waffles. If you want to make them from scratch, try my favorite recipe from Bette Hagman. However, when the school year gets started and I'm running behind, this Krusteaz Gluten-Free Honey Cornbread mix sure comes in handy. Krusteaz makes regular (non gluten-free) items, which makes me grateful that their gluten free line of products are certified gluten free thru GFCO. Vegetarian? Dearborn Brand as gluten free vegetarian hot dogs at Kroger.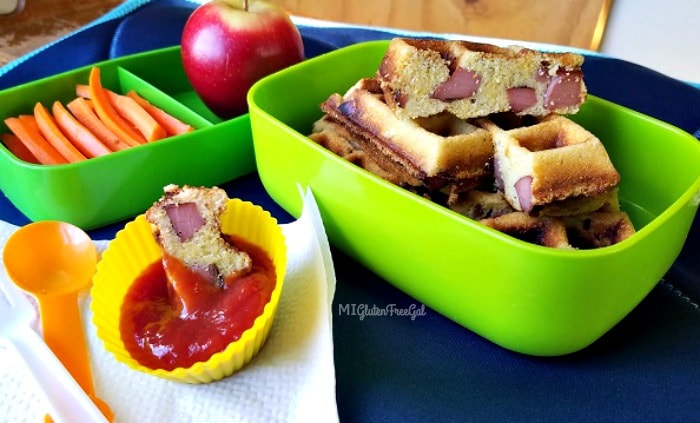 What Kind Of Waffle Maker Should I Use?
I make these gluten-free corn dog waffles in a Belgian waffle maker. A Belgian waffle maker creates these thick strips that are perfect for dipping. These gluten-free corn dog waffles will impress your kid's friends. (Or your husband's co-workers, as the case may be. My husband once had a fellow teacher tell him they wish they had a wife like me!) One important note- Make sure that the hot dogs you use are gluten-free. We like Hebrew National (as we are a pork-free household) and Applegate.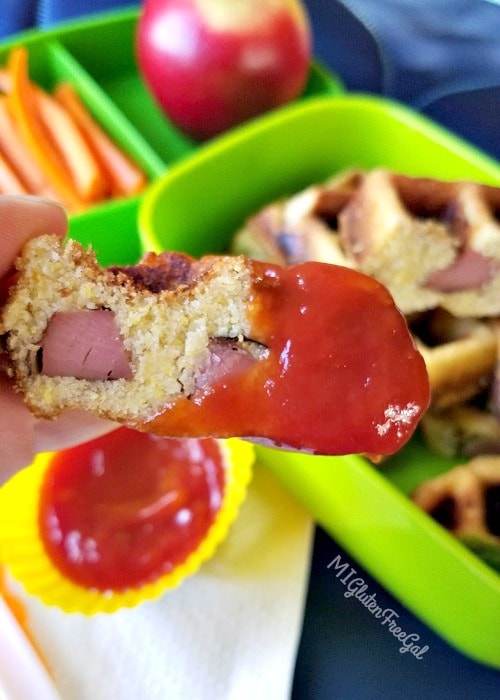 Other "Waffled" Recipes
These gluten-free corn dog waffles only touch the edge of what you can do with a waffle maker. Love pizza? Then you should try these gluten-free pizza waffles from My Gluten-Free Kitchen! Make an epic turkey sandwich with waffled stuffing. Or bump your your brunch game with these Hash Brown Waffles from Mama Loves Food. What else do you like to prepare in your waffle maker? (Besides breakfast waffles, of course!)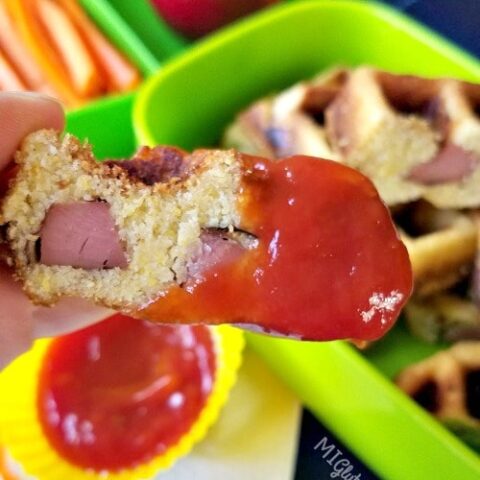 Gluten-Free Corn Dog Waffles
Ingredients
1 box Krusteaz Gluten Free Honey Cornbread Bread & Muffin Mix
1 cup milk (as directed on box)
1/3 cup vegetable oil (as directed on box)
1 egg (as directed on box)
4 hot dogs, cooked and quartered and cut in 1/2" pieces
Instructions
Mix batter according to directions. Add up to 3 tbsp extra water if batter is too thick.
Cook hot dogs until heated through. Cut up hot dogs and add to cornbread batter.
Plug in waffle maker and spray lightly with cooking spray. Heat until warming light turns off.
Add 1 cup of batter to waffle maker and bake for at least 4 minutes, or until steam stops escaping from waffle maker.
Gently remove cooked waffle and lightly spray waffle maker and reheat prior to baking next waffle.
Cook until all batter used. If planning to freeze for later, allow gluten-free corn dog waffles to cool completely prior to placing in freezer.
Krusteaz generously supplied me with their products. I was not otherwise compensated and all my thoughts and opinions are my own. This post does contain Amazon affiliate links. Anything you purchase thru them will convey to me a small adverising commission. It will however, not impact your purchase price. Thank you for supporting my website!