Sweet and Sour Tofu – Baked Tofu
As an Amazon Associate and member of other affiliate programs, I earn from qualifying purchases.
Not a fan of tofu? I wasn't a fan either, when I was younger. However, after coating and baking tofu in the oven, I fell in love. It works great in this Sweet and Sour Tofu recipe!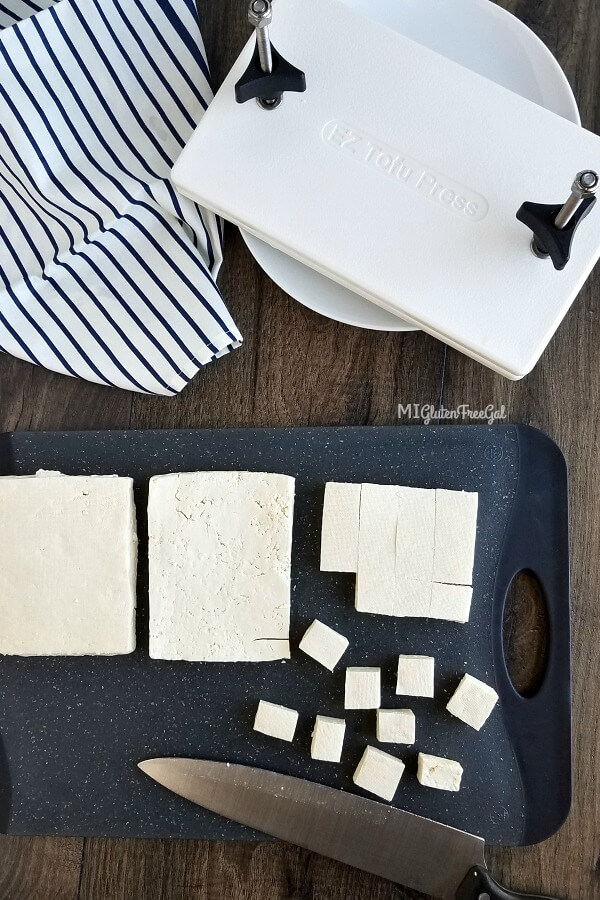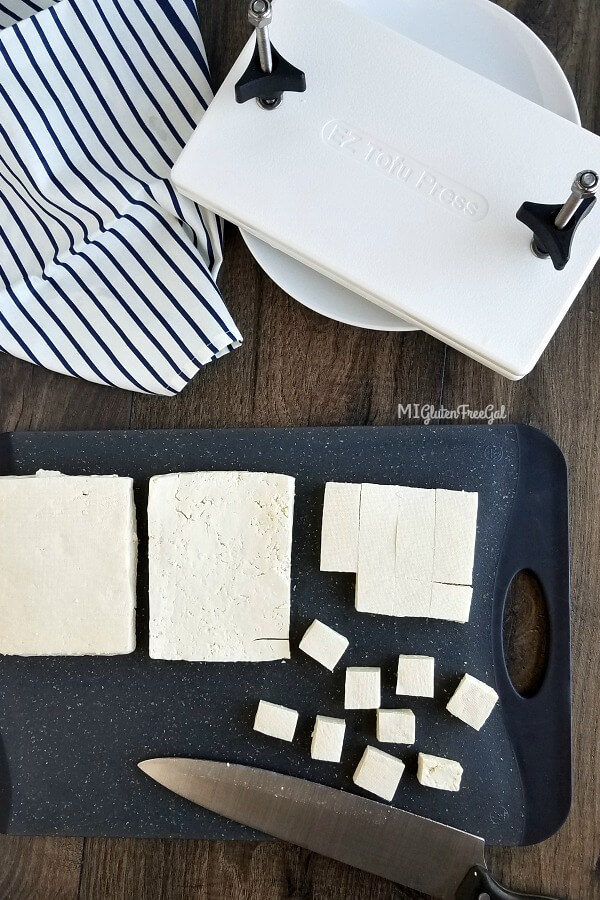 Appreciating Tofu
In college, I lived with my friend Sarah, who eats a vegetarian diet. I remember trying tofu then, and not enjoying it. She also fed us a variety of recipes from her Enchanted Broccoli Forest cookbook. (I noticed she still has it, when we visited her in Houston.) However, since college, I've come to appreciate tofu so much more.
Much of my knowledge of tofu comes from my friend Cindy, author of VegetarianMamma. Are you curious to learn more about it? She wrote a great beginners's guide to understanding tofu! She also introduced me to the E-Z Tofu Press, which I won in one of her giveaways. It works great at pressing out the extra water in a block of tofu.
One reason I really like tofu is because it's inexpensive. I buy the Simple Truth Extra Firm Organic Tofu from my local Kroger. It costs under $2 for 14 ounces. You can't get beef or chicken for that cheap! I cut my block of tofu into 72 pieces, first by slicing the block of tofu horizontally, in 3 sections. Then I cut each section into 24 cubes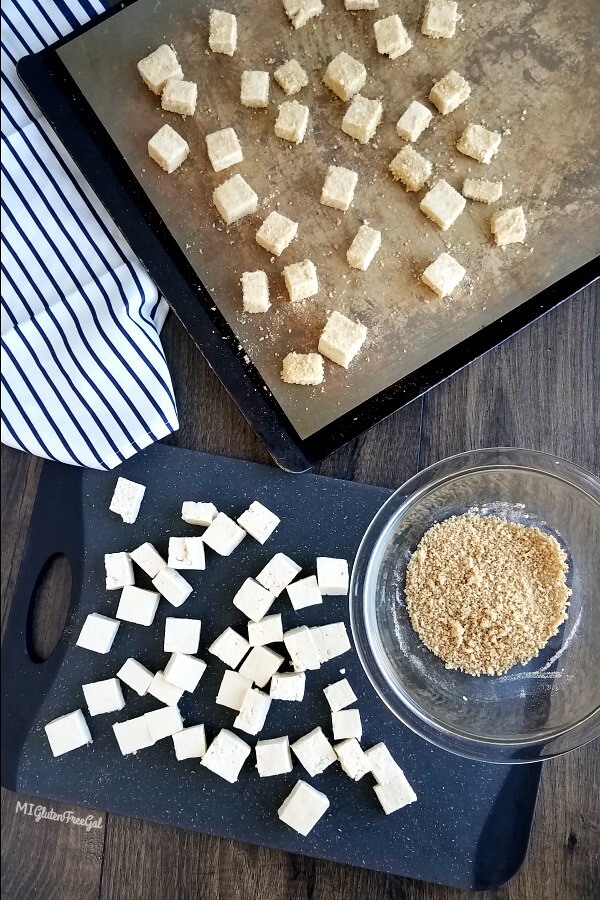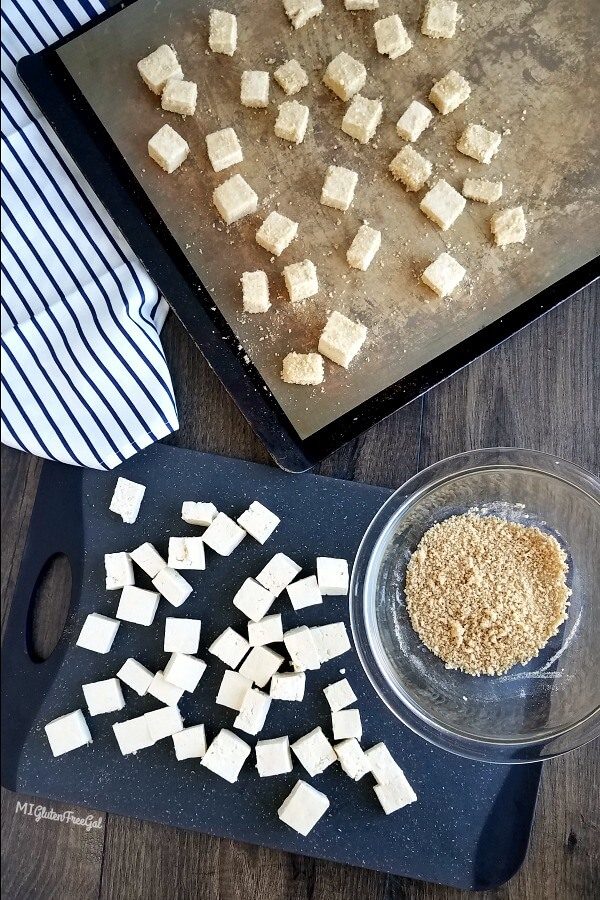 Baked Tofu
I always struggle at getting tofu crispy on the stovetop. Finally one day, I wondered what would happen if I coated and baked cubed tofu. The outcome was delicious! While I originally coated it in gluten free corn flake crumbs, I now coat it crushed Corn or Rice Chex. It's so easy.
This crispy baked tofu works perfectly for my Sweet and Sour Tofu recipe. Because the outside of the tofu stays crispy, the tofu doesn't fall apart once combined with the sauce. Baking tofu makes your hands free to do the rest of your cooking, too. It cooks on its own while you're making the sauce for this delicious Sweet and Sour Tofu.
Have an Air Fryer? Skip my step for baking in the oven and try this Best Air Fryer Tofu from Vegetarian Mamma!
CAN YOU USE THIS BREADING ON CHICKEN? I have not tried this method for chicken.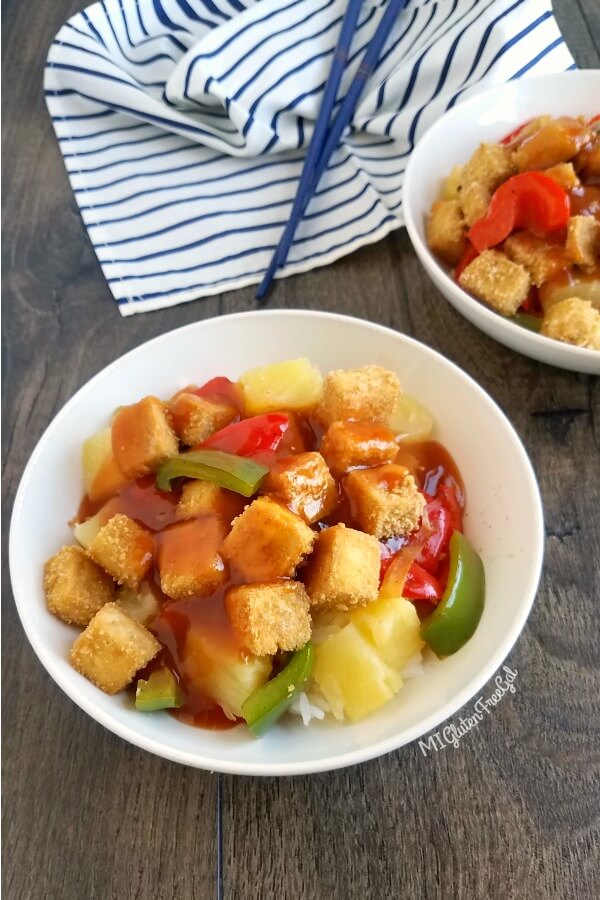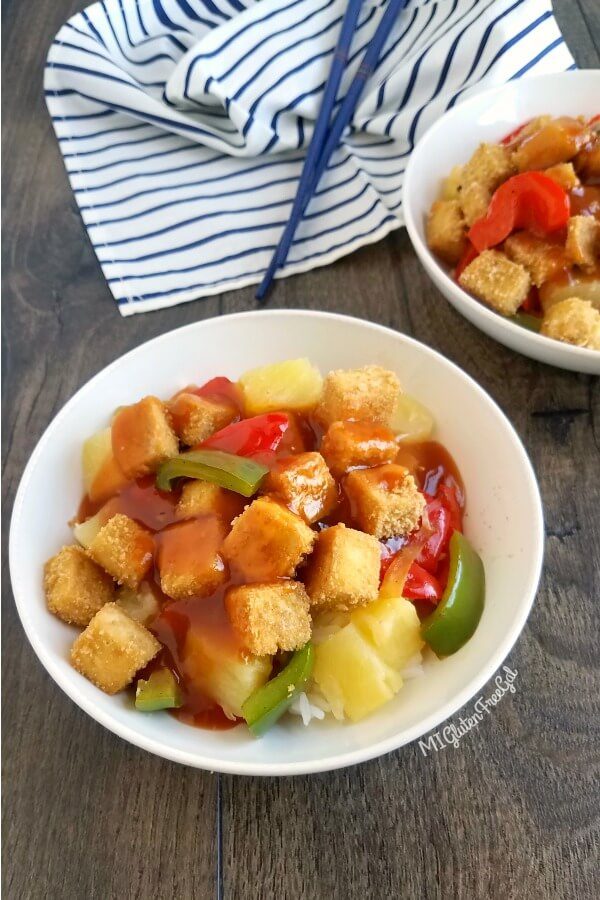 Hitting the Sauce
Asian recipes are my favorite. For the longest time, I made the Sweet and Sour Chicken from Simply Recipes. However, I felt the sauce was missing something. After eating Flippin' Delicious Gluten Free Orange Chicken , I discovered the similarities between the two. After combining the best of both recipes, I finally perfected my Sweet and Sour Tofu.
You could put this sauce on any protein you like. I use this homemade sauce for Sweet and Sour Chicken at our Michigan Gluten Free Kids Camp. The kids eat it right up! In fact, you could serve it alongside chicken nuggets. Or, use it as a dipping sauce for my Rice Paper Egg Rolls. (Or buy them premade from Feel Good Foods!)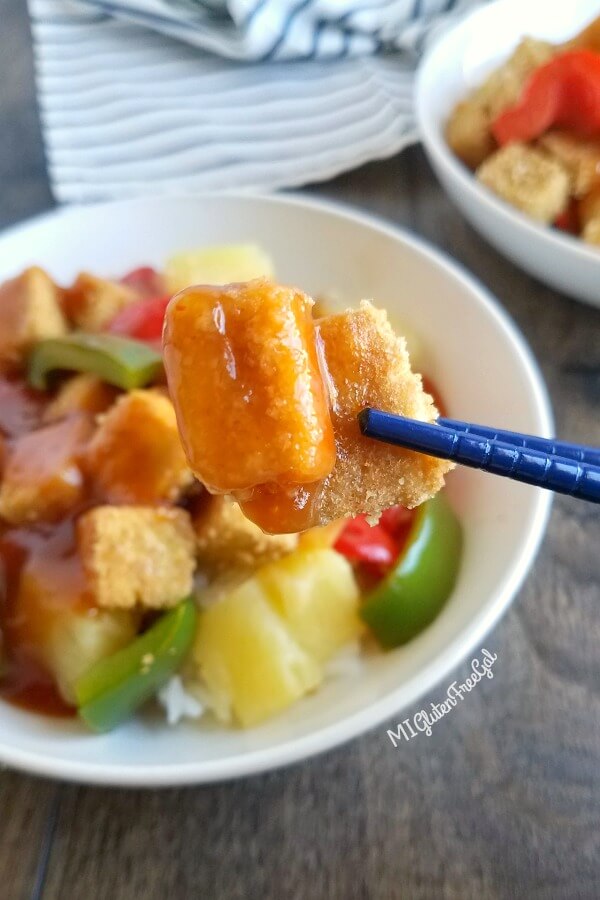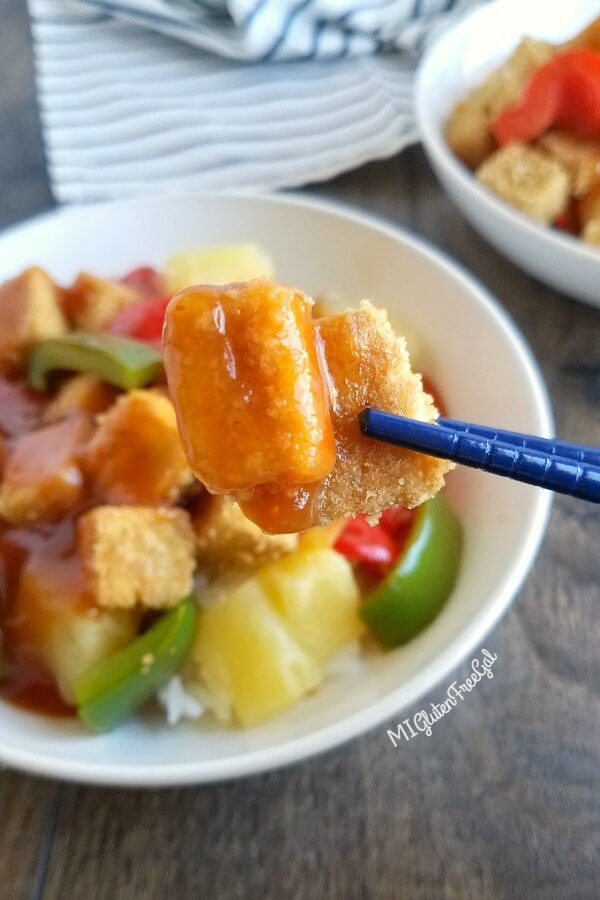 Dinner is Served
I like to serve this Sweet and Sour Tofu over Jasmine rice. I fell in love with it after trying it from Delta Blues in my Bi Bim Bap. It smells so sweet and fragrant! Plus, it cooks so quickly in just 15 minutes. I put my rice on to cook the same time I put the tofu in the oven.
Craving a different type of Asian recipe? Check out my round up of over two dozen gluten free Asian recipes. Looking for other tofu recipes? Again, I highly recommend checking out all the tofu recipes on Vegetarian Mamma's website. I know I'm eager to try her tofu based Vegan Thai Lettuce Cups!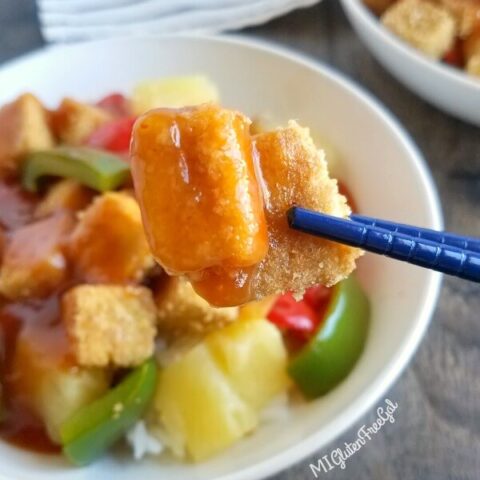 Sweet and Sour Tofu
Ingredients
For the Baked Tofu
1 14 oz pkg Extra Firm tofu, cut into cubes
1/3 Chex cereal crumbs (1 1/2 cups pre ground)
1/2 tsp salt
1/2 tsp garlic powder
Vegetables, etc
1 green pepper, cubed
1 red pepper, cubed
1 onion, cubed
1 c. pineapple chunks (from can)
For the sauce
2/3 c pineapple juice (from can of pineapple)
1/3 c ketchup
1/3 c rice wine vinegar (Apple cider vinegar works, too)
2 tbsp San J tamari
3 tbsp brown sugar
2 tbsp corn starch, dissolved in
1/3 c water
Instructions
Open package of tofu and press out extra water. I do this in my tofu press, and let it squeeze for 15-20 minutes.
Preheat oven to 350 degrees, and pulverize cereal into crumbs. Do so in a food processor or blender so the crumbs are as fine as possible. To that, add salt and garlic powder.
(If making rice, start it now.)
After tofu is pressed and most of the water is out, cube tofu. I slice mine in thirds from the side when it's flat, and then cube each third into 24 pieces from the top side. (Hopefully the picture in my post explains this better.)
Next, toss the mostly dry tofu in the cereal crumb mixture. Place coated tofu on a baking sheet, and spray with cooking spray. (If you want, you can recoat the tofu if you like yours extra coated.)
Place tofu in oven and bake for 30 minutes, rotating the pan halfway through.
While the tofu bakes during the first 15 minutes, prepare the sauce recipe. Combine the pineapple juice, ketchup, rice wine vinegar, tamari, and brown sugar in a medium pot. Heat until almost boiling. In a small dish, combine the 2 tbsp of cornstarch with the 1/3 cup of water. Mix until cornstarch is completely dissolved. Add to sauce mixture on stove, and cook until it thickens.
After the sauce is prepared, work on cooking the vegetables. I cut my peppers and onion in rather large chunks, and cook over a low temperature so as to prevent burning. (Coat the vegetables with cooking spray to avoid burning, also.) I find they cook well enough if I put them on during the last 15 minutes while the tofu cooks. I also find they taste best with just a sprinkle of salt.
I used canned pineapple chunks for this recipe. However, I find the pieces to be larger than I like, so I usually cut each piece in half. (I use a 20 oz can, and only use half the pineapple and juice from the can.)
To serve, place a scoop of rice on the bottom of the bowl. Then top with cooked vegetables and pineapple chunks, then baked tofu. Pour hot sauce over each portion and serve.
** I was not paid or compensated for this post. It does however contain affiliate links.
Purchases made through those links help support this blog with no extra expense to you. Thank you for your continued support!**