Bi Bim Bap – Korean "Mixed Rice" Bowl
As an Amazon Associate and member of other affiliate programs, I earn from qualifying purchases.
Korean Bi bim bap is my favorite meal in the world. It literally means "mixed rice, and it's topped with an egg. Life doesn't get much better than that. Thank you to Delta Blues for sponsoring this post and sending me your fragrant Jasmine Rice!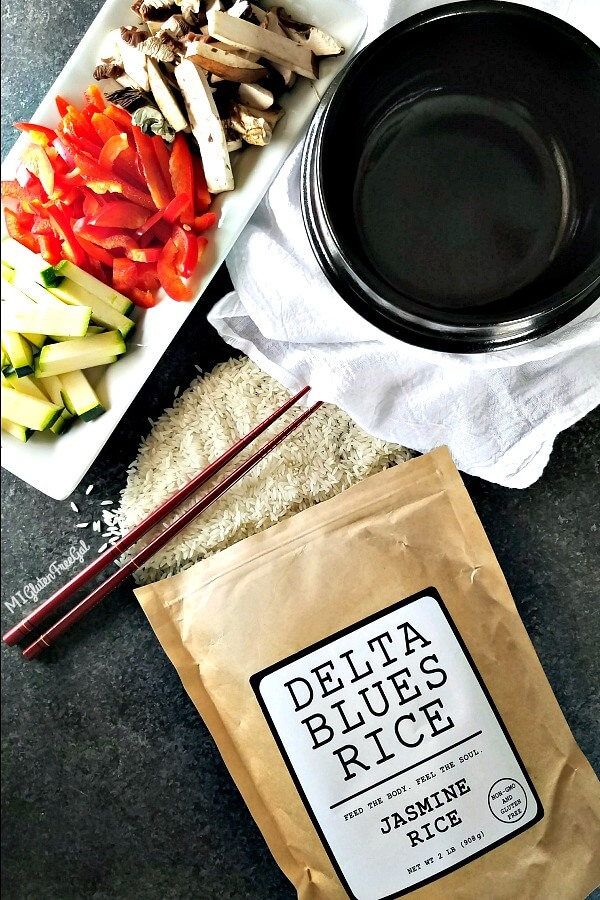 My Introduction to Korean Cuisine
I vividly remember my first encounter with Korean food. My then-fiance, soon to be husband, wanted to expand my culinary palate. We visited a small Korean restaurant, a stone's throw from the high school where we both fell in love with foreign languages and culture. I was at a loss for what to order.
Our waiter, full of humor and not missing a beat, stated – "Just like Raymond, everyone love Jap Chae." My husband and I still laugh about that 15 years later. This recipe however, is not for Delicious Beef Jap Chae. Today I share my love for Bi bim bap, the Korean's version of a burrito bowl. Only better because you #PutAnEggOnIt.
A Labor of Love
To be honest, I don't remember the first time I had bi bim bap. I do however remember my husband making this dish for me. This dish, IMO, is a labor of love. While not difficult, bi bim bap requires lots of little steps. Little steps that create a mouthful of flavor. (I've included a video link in my recipe if you're a visual learner.)
This dish uses loads of vegetables, a bit of protein, and sits on a bed of rice. Make sure you use a good rice- no "minute rice." I chose Delta Blues new Jasmine Rice for this dish. I wish I could open the bag under your nose. It is SO incredibly fragrant. I also love their white rice, which I used for my Tres Leche Rice Pudding, and their Rice Grits, which I used for my Bits and Grits Waffles.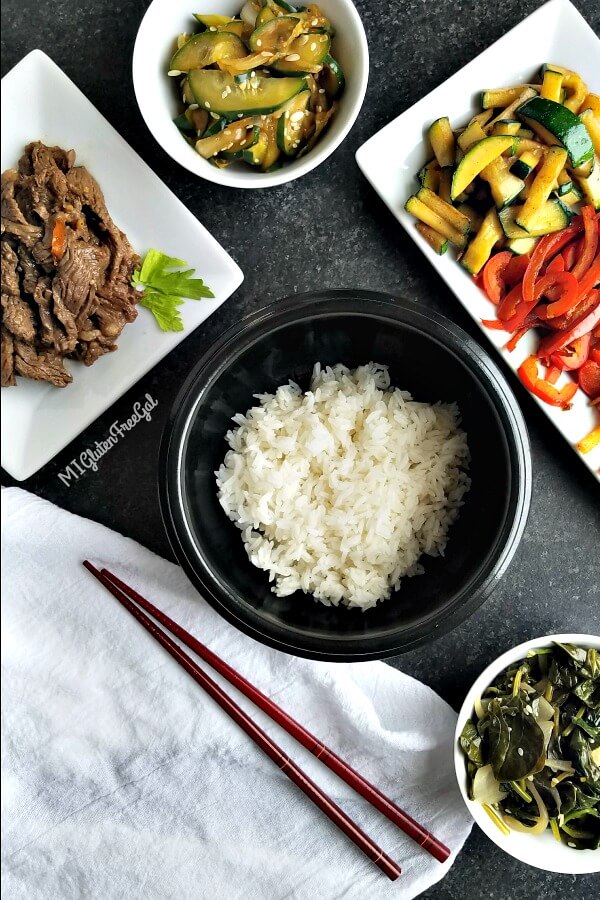 What is Bi Bim Bap
Bi bim bap is the perfect dish for this time of year. It is traditionally eat on the eve of the Lunar New Year. Why? Because Korean tradition believes that leftovers are bad luck going into the New Year. Therefore, this dish uses up all the bits of leftover vegetables and meat so you start the New Year fresh.
I don't know about you, but I'm all about "refrigerator clean out." In addition, I love the idea that meals like this cut down on food waste. For example, did you know that America leads the world in food waste? We pitch up to 50% of our produce! Maybe we can change that, one bowl of bi bim bap at a time.
My Favorite Gluten Free Substitute for Soy Sauce
Because bi bim bap features vegetables and rice, it becomes a dish almost naturally gluten-free. There are a few key ingredients that you want to verify though. First, the marinade for the meat, as well as some of the vegetables, traditionally call for soy sauce.
I always use low sodium San-J tamari instead. Their line of products bear the GFCO certification seal and taste AMAZING. In addition, bi bim bap traditionally includes go chu jang as a side sauce. However, most go chu jang pastes on the market contain wheat. Therefore, I only buy Chun Jung One. I snagged a bottle at my local Meijer, but you can buy it on Amazon.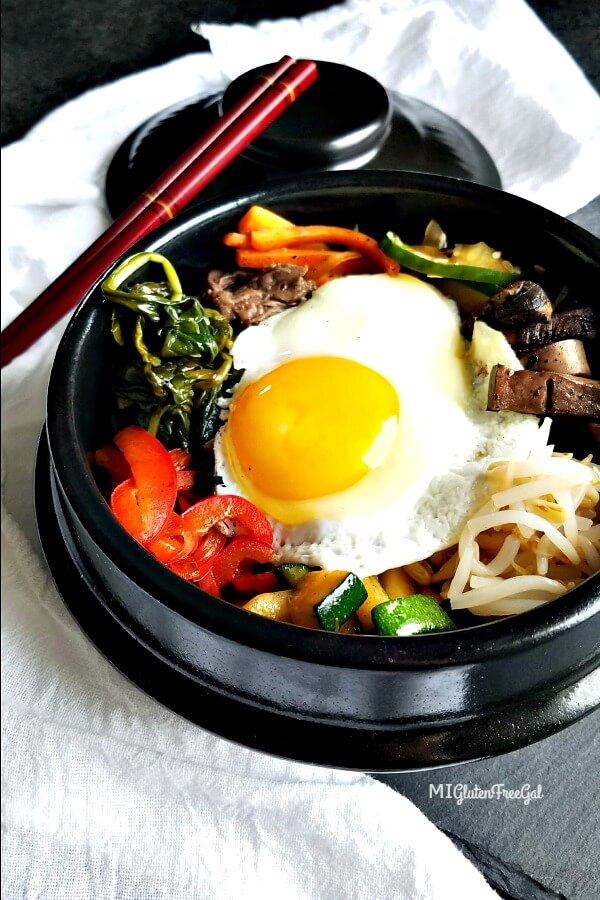 How Do You Serve Bi Bim Bap?
The visual appeal is one of the highlights of bi bim bap. While you can use any vegetables for protein you like, the idea is to place vegetables of different colors next to each other. For example, I used green vegetables such as zucchini, cucumber and spinach.
However, I made sure not to place them next to each other. Or more accurately, my husband made sure I didn't place them next to each other. You can serve bi bim bap in any bowl, but I invested the money in a "dolsot" bowl. This bowl can be heated over the stove. which crisps the rice in the bottom of the dish. If you're a fan of "crunchy bits" in a meal, then I highly suggest getting one.
How Do You Eat Bi Bim Bap?
Of course, all that presentation goes out the window when you prepare to eat. As stated before, the dish translates into cooked rice (bibim), mixed (bap). Crack open that gorgeous yellow yolk and mix it into the dish for a taste that's hard to beat.
While you can eat this dish with a fork, we prefer to use chopsticks. Did you know that Korean chopsticks are different than Chinese or Japanese chopsticks? Korean chopsticks feature a "roughed up" or ridged end. This helps you hold the food better! I just love learning about foreign cultures and food, don't you?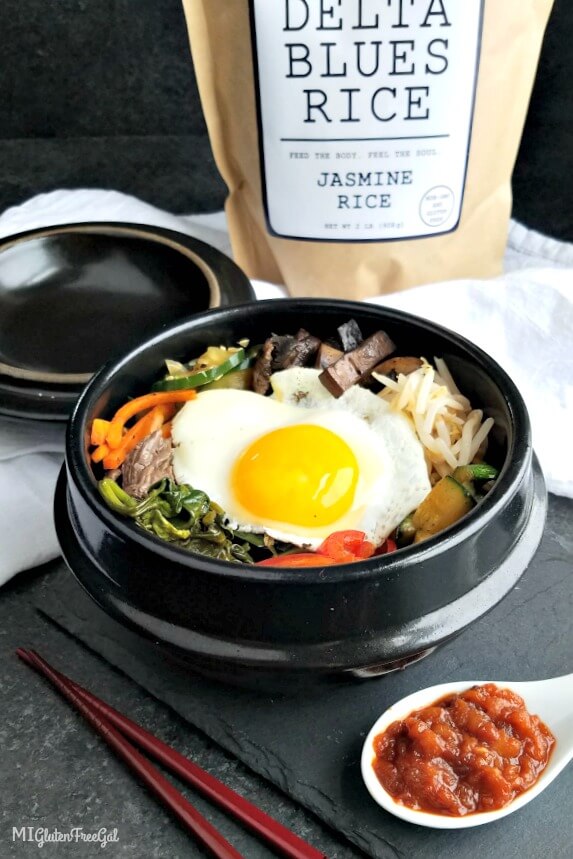 More Authentic Gluten Free Korean Recipes
Looking for other great Korean inspired meals? Try The Woks of Life's recipe for JapChae. For authentic Korean cuisine, try any of these 33 Vegan & Gluten Free Korean Recipes from KimChimari. Find more authentic gluten free Korean recipes on the Crazy Korean Cooking website.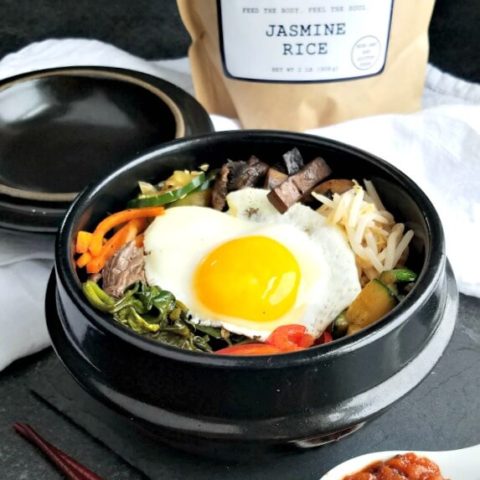 Bi Bim Bap
Total Time:
1 hour
5 minutes
Ingredients
1 cup Delta Blues Jasmine Rice, uncooked
2 cups water
For the beef
3/4 - 1 lb ribeye beef or chicken breast, thinly sliced
3 tbsp tamari
2 tbsp sesame oil
1 tbsp rice vinegar
1 tbsp brown sugar
3 cloves garlic, minced (1.5 tsp)
For the marinated cucumbers
1 cucumber, cut into thin circles
1 tsp sesame oil
1 tbsp tamari
1 tbsp rice vinegar
1 tsp sesame seeds
For the spinach salad
4 oz spinach
1/4 yellow onion, thinly sliced
1 tbsp sesame oil
1/2 tsp minced garlic
1 tsp rice vinegar
salt and pepper to taste
sprinkle of sesame seeds
Other vegetables
1 red pepper, thinly sliced
1 zucchini, thinly sliced
1 carrot, cut into matchsticks
1 pkg fresh portabella mushrooms, diced
1 can LaChoy Bean Sprouts
3-4 eggs, fried or poached
Instructions
Marinate beef (or protein of choice) in ingredients listed and let set while other vegetables are prepared.
Prepare cucumbers in marinade and let set until preparation of bi bim bap. Prior to assembling the bi bim bap bowl, drain ad squeeze out excess liquid.
Cook Delta Blues Jasmine rice in water. Boil for 15 minutes, and then allow to set for 10 minutes to continue absorbing water.
Prep remaining vegetables by slicing them then. Cook them separately, sauteing 4-5 minutes in a clean non-stick skillet of wok. I used canola oil to cook my vegetables so it would not discolor them and keep the colors vibrant. Lightly salt each vegetable after cooking. Cook mushrooms last, as they are the darkest.
Quickly prepare spinach salad, quickly sauteing spinach and onions. Set aside.
In a hot skillet, cook thin sliced beef on a high temperature. Do so quickly, no more than 5 minute, until all the deep red is gone.
In the bottom of a dolsot bowl coated with sesame oil, place a helping of rice. Arrange the vegetables around the edge of the rice, and place the beef on top of the rice. Top the beef with the fried or poached egg.
Place dolsot bowl on top of heat and cook until you hear the rice sizzle. I suggest cooking 5-10 minutes on an electric stove.
If you don't have a dolsot bowl, simply place components in regular bowl and serve.
**I am a visual learner If you are too, I highly suggest watching this YouTube video. https://youtu.be/Y8CD283Xu6o
What ethnic foods are your favorite? What dishes would you most like to try? Leave me a note in the comments and I'll see about crating an International Gluten-Free Recipe RoundUp!
**This post was sponsored by Delta Blues Rice. I was provided free product for recipe creation and monetary reimbursement for my time and energy. My thoughts and opinions are completely my own, and I have been a long time fan of Delta Blues Rice. This post also contains affiliate links.**