Gluten Free Roasted Vegetable Pasta Salad
As an Amazon Associate and member of other affiliate programs, I earn from qualifying purchases.
During the summer, I love to make meals full of fresh vegetables. This gluten free roasted vegetable pasta salad adds a depth of flavor with roasted vegetables, balsalmic dressing, and feta cheese!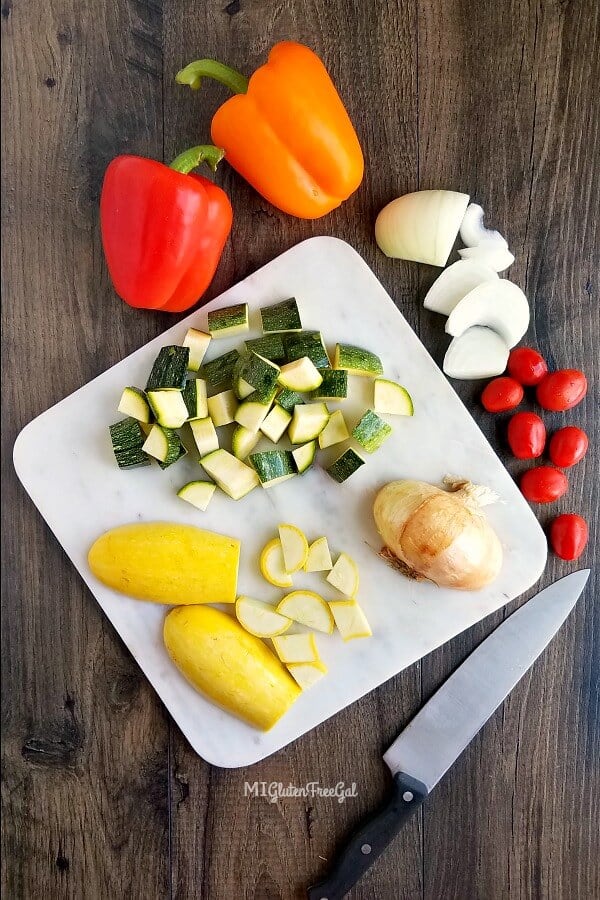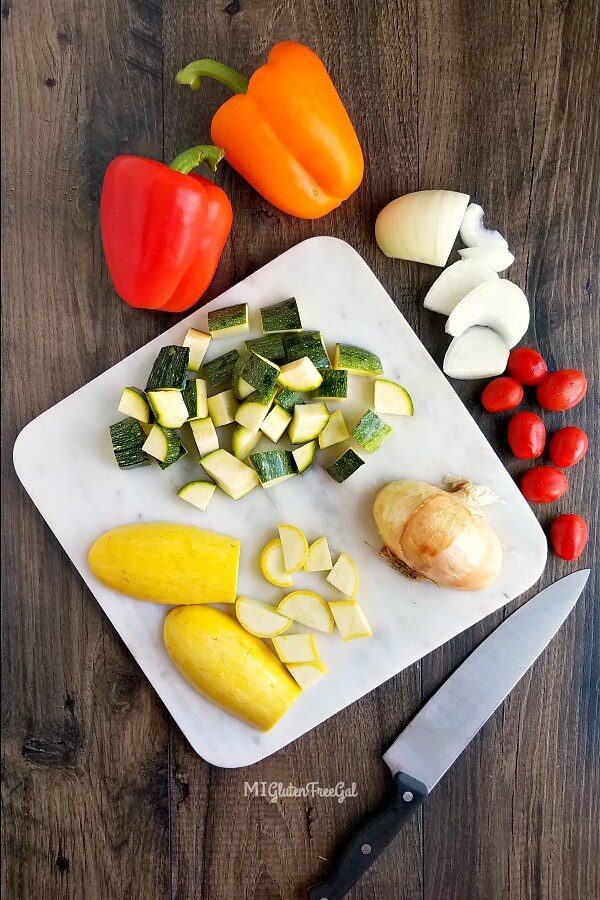 How to Cut and Roast Vegetables
I first stumbled across this idea for a gluten free roasted vegetable pasta salad at AllRecipes.com. If you're unfamiliar with the site, only recipes are printed there. No blog posts, JUST the recipe. (Comments are allowed, and people do give tips on how they're altered a dish.) They utilize a great ingredient search engine, allowing you to exclude ingredients you're allergic to.
However, sometimes I need back story. Trial and error. That's why I like sites like The Kitchn. They write many "how to" posts, that explain the ins and outs of cooking. I really like their tutorial on how to roast any vegetable. It influenced greatly how I cut and roasted my vegetables for this gluten free roasted vegetable salad. Long story short, high heat, in chunks, with lots of room on the pan so the water can escape.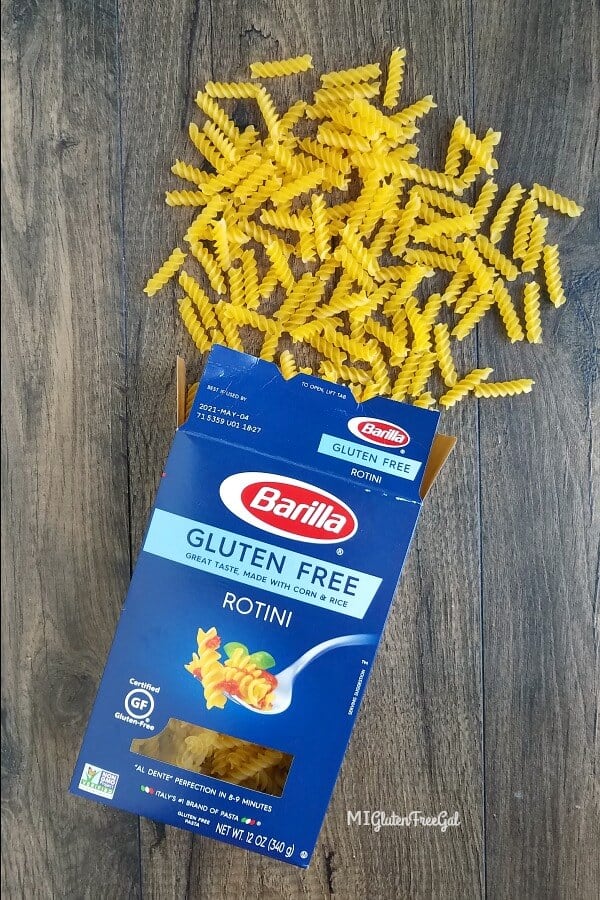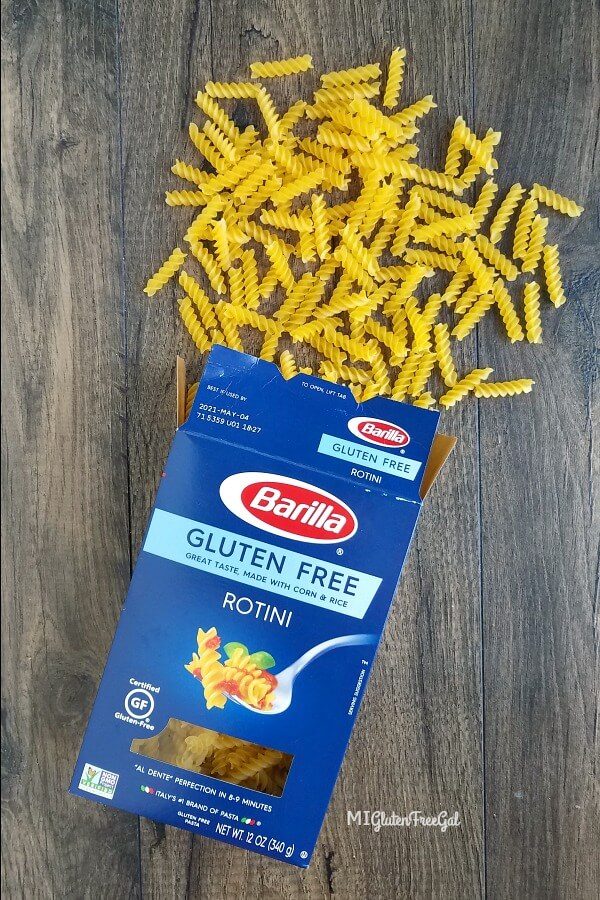 Favorite Gluten Free Pasta and Cooking Tips
Over and over in Facebook groups people ask, "what's your favorite…." If you've been reading my blog for a while, you know I'm not a fan of that question. Why? Because we all have different taste and texture preferences, and sometimes you need to just experiment with trial and error. When it comes to YOUR favorite, there's no wrong answer.
If I may put my two cents in, I recommend Barilla. Are there better gluten free pastas? Probably. However, Barilla doesn't fall apart, is readily available in most grocery stores, and is economical. While I used rotint for this post, I'd reommend using elbow pasta instead, because it's sturdier.
When it comes to cooking gluten free pasta, take care to not overcook it. Especially if using in a pasta salad. I recommend slightly undercooking it. In addition, IMMEDIATELY rinse the cooked pasta in cold water. This stops the cooking process. I've been successful in cooking gluten free pasta ahead of time in this manner, and using it later in a dish. All while not disintegrating. (It worked great in my Gluten Free Tuna Macaroni Salad.)
An alternate way to boil pasta – Boil the pasta for only 3-5 minutes and let it soak for 15 minutes. Perfect every time!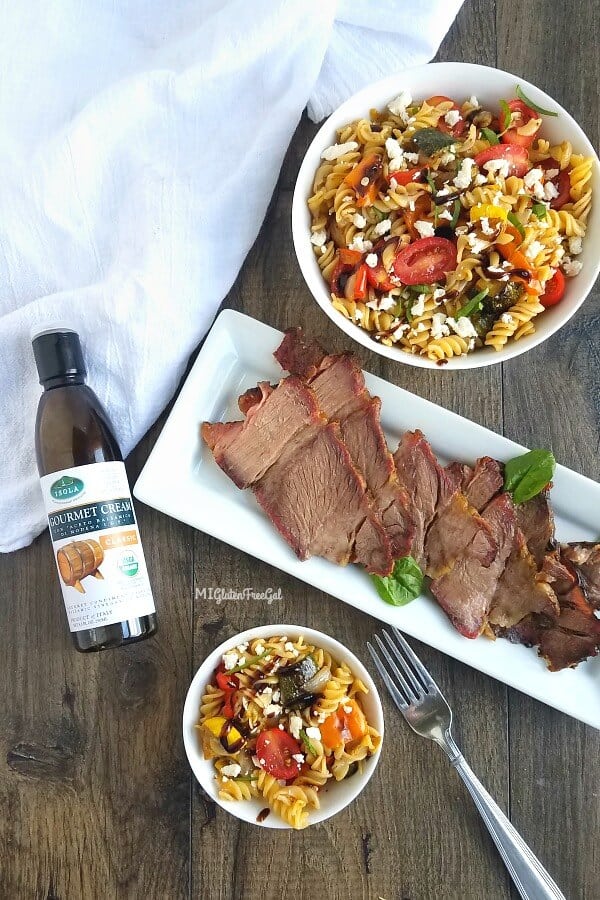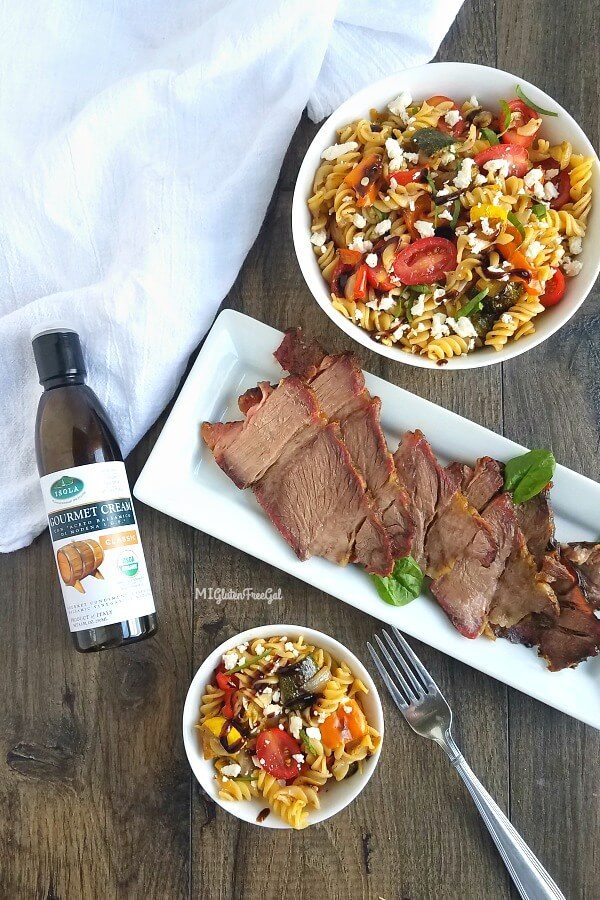 Best Served With….
Recently, I made this gluten free roasted vegetable pasta salad to share with friends. We paired it with a beef roast that my husband smoked overnight on our charcoal grill. It makes for the most amazing tasting meat. I recommend trying it yourself. Weber Grill wrote a great post on how to smoke on a charcoal grill. (For a visual tutorial, visit this video by "Break It Yourself.")
Of course, you can pair this with any grilled meal. Pair it with simple chicken breast or even fish. Or make my favorite Grilled Pizza, for another great shareable meal. Looking for more ideas? These 25 Gluten Free Grilled Main Dishes from My Gluten-Free Kitchen are a great start. Just remember to use a clean grill or use foil to to prevent cross contact from gluten.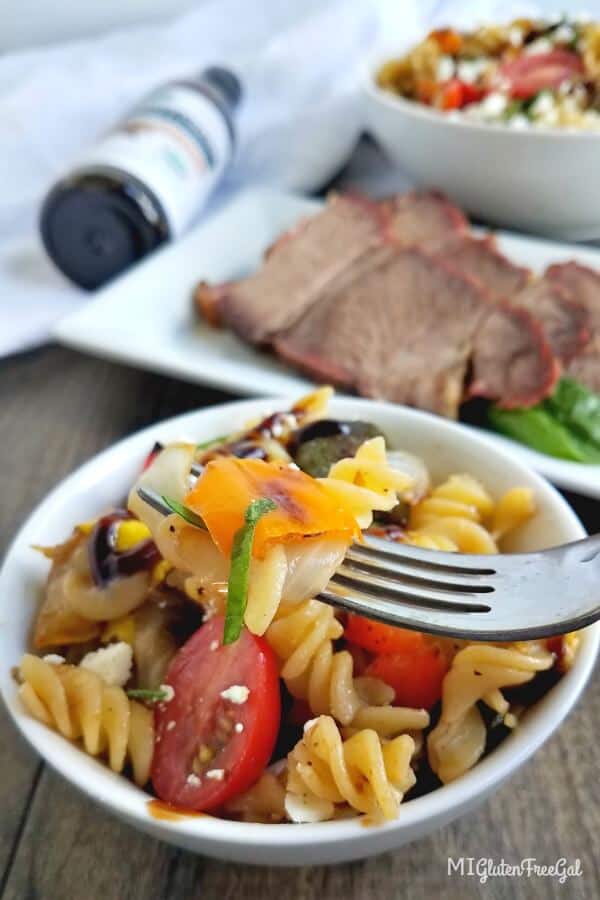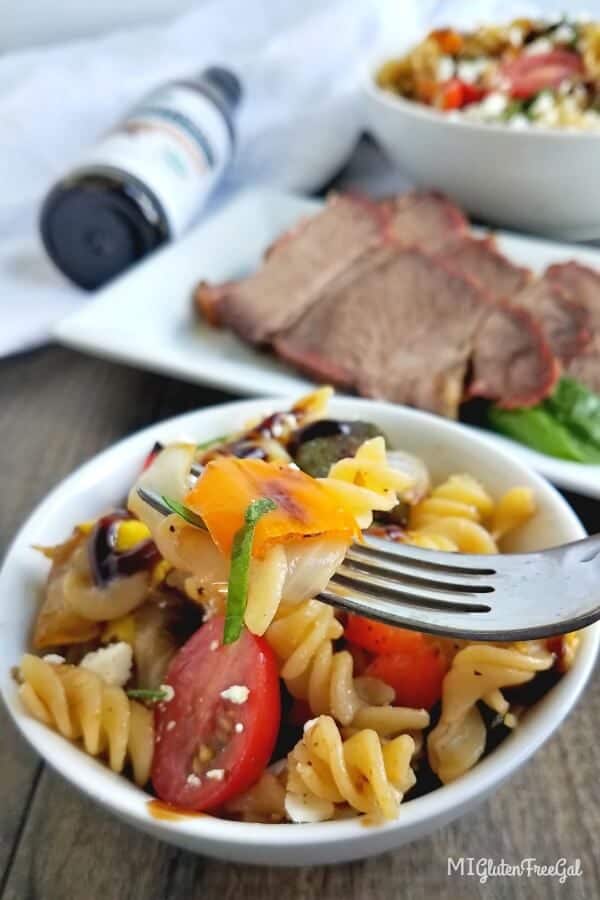 More Zucchini Recipes
One reason I love making this gluten free roasted vegetable pasta salad is because it uses zucchini. If you plant your own garden, you know that zucchini proliferates quickly! If you have eggplant, I highly recommend making this Oven Roasted Ratatouille from Budget Bytes. Don't want to turn on your oven? How about this Crispy Gluten Free Pan Fried Zucchini from VegetarianMamma?
Of course, zucchini works great in sweet treats as well. I love making my Gluten Free Blueberry Zucchini Bread, especially with fresh blueberries i pick at Montrose Orchards. Looking for something egg and dairy free? Try these Allergy Friendly Chocolate Chip Zucchini Muffins from Allergy Awesomeness
Dietary Restrictions and Substitutions
As written, this gluten free roasted vegetable pasta salad is vegetarian, egg free, nut free, and soy free, depending on the salad dressing and pasta that you use. Should you need it to be grain free, I recommend Banza pasta as a replacement. However, I have NOT tried it in a pasta salad.
The recipe does call for feta cheese, which contains dairy. You can sub with a shredded dairy free cheese, such as Daiya or Follow Your Heart. Miyoko's Kitchen Garlic Herb Cheese Wheel, crumbled, might work well in this recipe. Should you want to be creative, try Go Dairy Free's recipe for homemade dairy free almond feta cheese.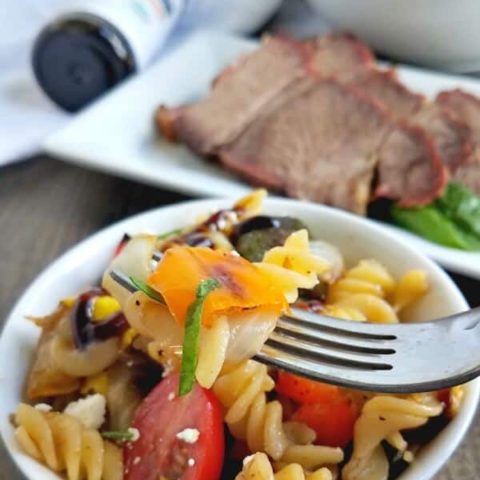 Gluten Free Roasted Vegetable Pasta Salad
Ingredients
1 zucchini, cubed
1 yellow squash, cubed
1 onion, cut into chunks
2 bell peppers, chopped - 1 yellow, 1 red
2 tbsp. olive oil
8 oz. gluten free pasta - I used Barilla (try elbow pasta)
2 tomatoes, chopped (or cherry tomatoes, halved)
5 oz. feta cheese (feel free to use more if you like!)
1/2 c. balsamic dressing
Instructions
Preheat oven to 425 degrees
Combine vegetables (minus tomatoes) in a roasting pan. Top with olive oil and and bake for 35-40 minutes. Remove from oven and cool.
Meanwhile bring a large pot of lightly salted water to boil . Cook pasta according to package directions.
Combine vegetable mixture, cooked pasta, tomatoes and feta cubes. Add salad dressing to taste and toss until well mixed. Chill for a few hours to mingle flavors. Enjoy cold!
**
This post contain affiliate links.
Purchases made through those links help support this blog with no extra expense to you. Thank you for your continued support!**