Gluten Free Tuna Macaroni Salad
As an Amazon Associate and member of other affiliate programs, I earn from qualifying purchases.
As a child, my family ate gluten free tuna macaroni salad any time of year. It's especially perfect in the summer time, and picnics! While you may pair it with burgers and hot dogs, it goes well with fish, too.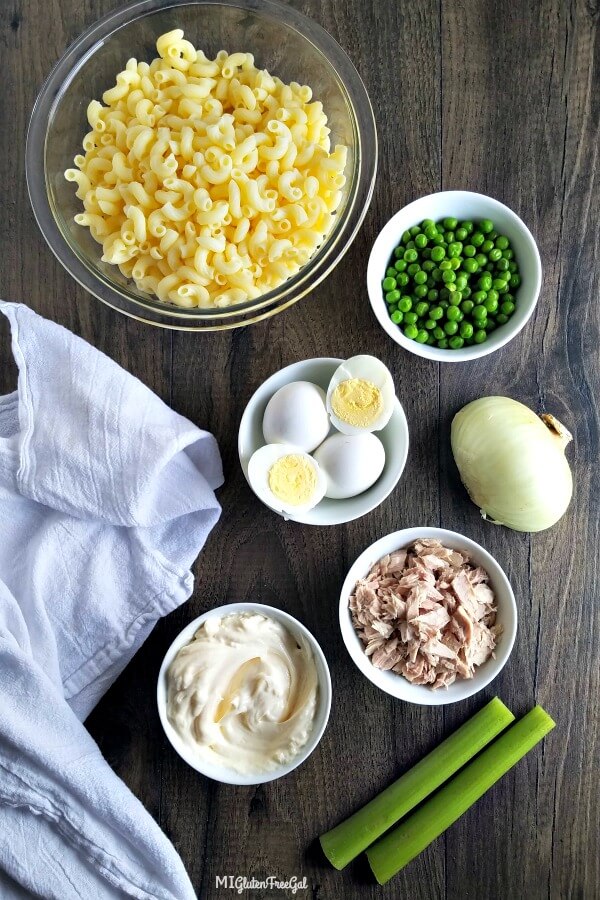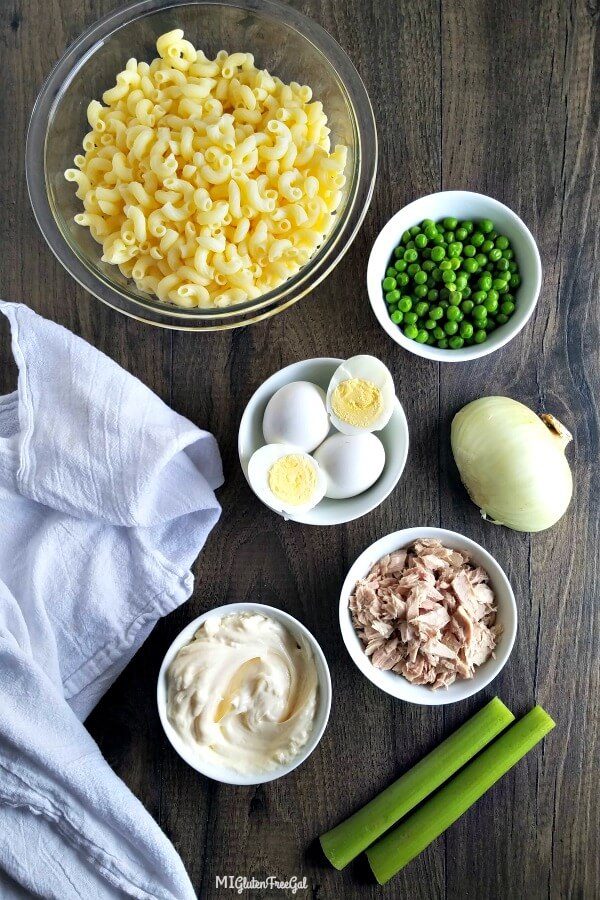 Gluten Free Tuna Macaroni Salad : A Family Recipe
This pasta salad hss been a staple comfort food in my family for years. I remember my mom making it in droves. While I wasn't really sure what to call it, my family calls it Tuna Macaroni Salad. It really is a pasta salad that's "a little of this, a little of that." Rarely do we measure anything, so nailing down the right proportions was a bit perplezing.
Therefore, I called my grandmother and asked how she makes it. One summer, after my freshman year in college, I lived with her. We made this all the time. So after much discussion, Grandma Millie and I finally settled on the Gluten Free Tuna Macaroni Salad recipe I'm sharing with you today.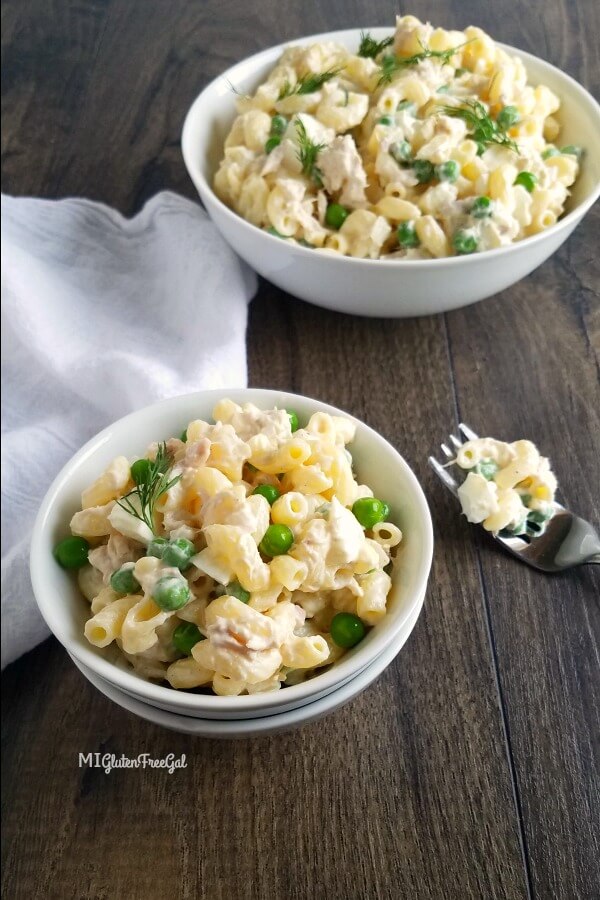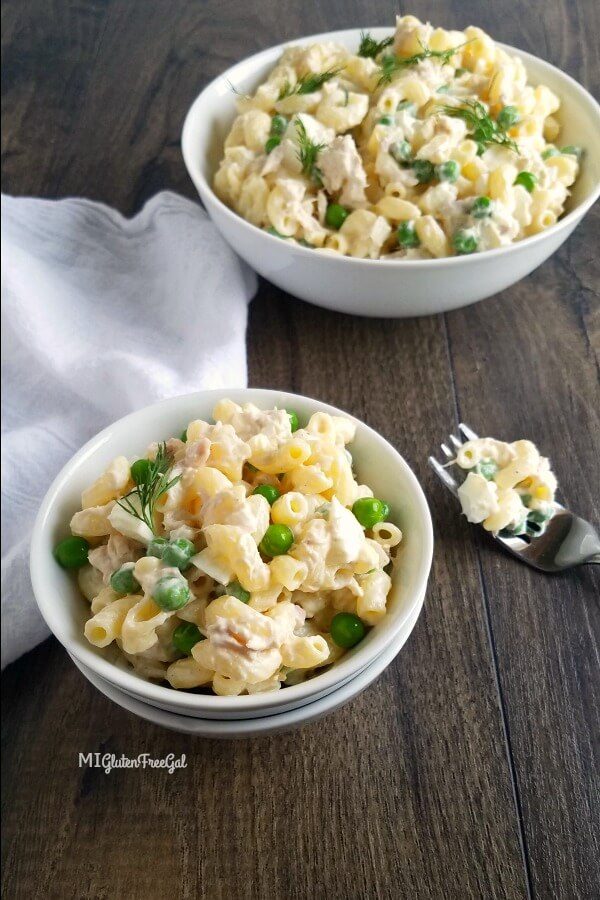 Best Gluten Free Pasta for Cold Pasta Salads
I use Barilla pasta for just about all of my pasta dishes, hot or cold. From lasagna noodles to fusilli to elbow macaroni, it's the pasta I recommend most. If you want to use it in a pasta salad, here's my best tip. Once you cook the pasta and drain it, rinse it in very cold water to stop any residual cooking. Once it's fully cooled and rinsed, place it in the fridge until you're ready to make your pasta salad.
Looking for other gluten free pasta salad recipes? Try my Roasted Vegetable Pasta Salad. The feta in this recipe gives the salad a rich flavor. Looking for something with meat and a bit of zip? Try Iowa Girl Eats' Best Pasta Salad. This BLT Ranch Pasta Salad from Evolving Table, sounds like a great summer time salad, too!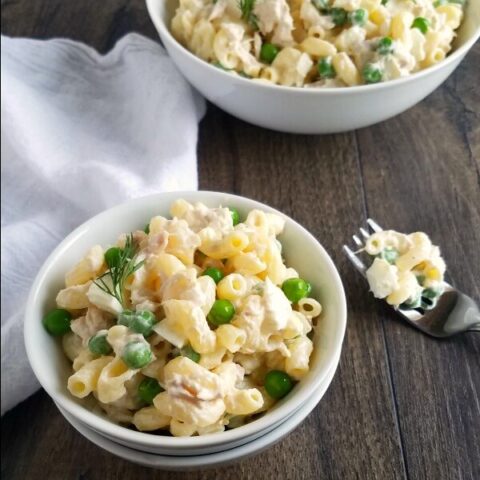 Gluten Free Tuna Macaroni Salad
Ingredients
8 oz gluten free pasta (I used Barilla)
Half of one sweet onion, chopped and soaked (1 cup)
1 16 oz bag of frozen peas
1 large can of tuna
2 stalks celery, chopped (optional)
15 oz container of mayonnaise (I used Hellman's)
3 large eggs, boiled and chopped
Salt and Pepper to taste
Instructions
Fill large pot with water and bring to a boil. Add gluten free pasta, and cook 6-7 minutes, until al dente. Remove from stove immediately, drain, and rinse under cold water to stop cooking process. Leave in colander to continue draining.
Chop onion and place onions in a small bowl. Soak them in cold water for 5-7 minutes. This helps to remove any of the "bite" of the onion that may lead to heartburn. After soaking, drain off water.
Fill a small pot with cold water. Add to it 3 large eggs. Put the pot on the stove, slowly bring to a boil, then turn off and remove from heat. Let eggs sit in hot water for 10 minutes. Then, drain and run eggs under cold water to stop cooking process.
In a large bowl, add gluten free pasta, soaked onions, frozen peas, large can of tuna, celery if using, and mayonnaise. Stir all ingredients together until throughly combined.
Lastly, peel and chop eggs. Add to salad, and gently stir. Add salt and pepper to taste. (I believe I added 1 tsp salt and a 1/2 tsp pepper.)
This pasta salad is best served after it has chilled for a few hours.
**This post contains affiliate links. Purchases made through those links help support this blog with no extra expense to you. Thank you for your continued support!**