Easiest Gluten-Free Breakfast Sandwich Recipe Ever
As an Amazon Associate and member of other affiliate programs, I earn from qualifying purchases.
Need gluten free breakfast meal prep ideas? This recipe for a small yet tasty gluten free breakfast sandwich will make your mornings so much easier!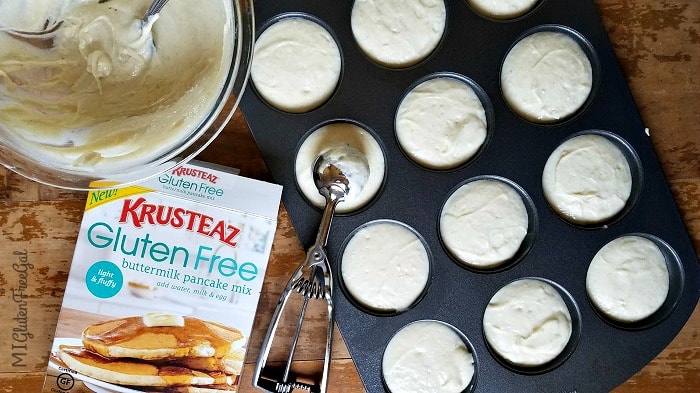 Almost as Easy as Store Bought
Remember when Starbucks used to have a gluten free breakfast sandwich? Yeah, those were good days. However, they were never available in Flint. Therefore I created my own recipe, which starts with a pancake mix. I used Krusteaz, but I think this should work for any pancake mix. (It also works with "made from scratch" pancake recipes.
Only 5 Ingredients
These super simple gluten free breakfast sandwich beauties use only 4 ingredients total. Gather pancake mix, water, milk and eggs, and you're good to go. Sometimes I sub the milk with thinned down Greek yogurt. Why yogurt? It reacts with the baking soda or baking powder in your recipe to provide a lighter and fluffier crumb.
Whip up the batter, scoop two ounces it into your (well greased!) Whoopie Pie pan wells, and you're good to go. Bake in a 350 degree oven for 13-15 minutes, turning the pan once. When they are done, carefully and quickly loosen them and place on a cooling rack.
Can I Make These Without a Pancake Mix?
I made a test batch of these sandwiches, using What the Fork's Fluffy Gluten Free Pancake recipe. (We use this recipe every Saturday morning, for panckes.) I filled each well using my 3 tbsp scoop, which made 8 pancake rounds. They bake up well, but weren't as brown as I would have liked. I'd suggest baking them for 14-15 minutes.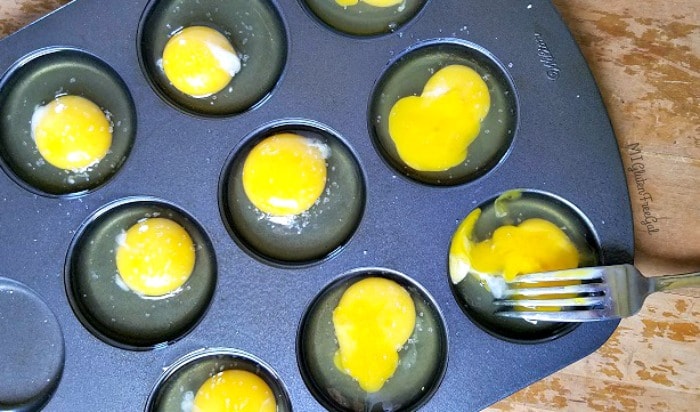 How to Bake Eggs in the Oven
When I did my test run with my gluten free breakfast sandwich recipe, I prepared enough to make nine sandwiches. Therefore I well-oiled my second Whoopie Pie pan, and dusted the wells lightly with rice flour. Then I cracked my eggs into the wells. That's right folks, I'm baking eggs. NO need for all that individual frying and flipping.
The trick to baking these eggs is to pierce the yolks gently. Don't whip them, just poke it so the yolk lightly seeps into the whites. Then, sprinkle those eggs with some sea salt, and pop them in the oven for 10 minutes. Not one second more. Then put the other batch of gluten-free breakfast sandwich pancake muffin tops in the oven.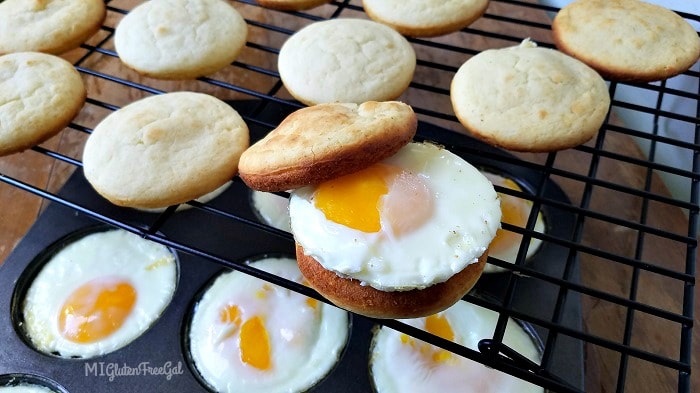 Can I Eat These Baked Pancakes on Their Own?
I can't begin to tell you how AMAZING these taste. Seriously, this endeaveor was a "fingers-crossed, hope-for-the-best" situation, and it was all I dreamed it would be. This Krusteaz gluten-free pancake mix has a hint of vanilla and sweetness to them.
In all honesty, one could just eat the pancake portion on its own, drizzled with fresh maple syrup. (I specifically have these pancake stacks from Noble Pig in mind.) However, they are the perfect base for this gluten free breakfast sandwich, so you may not want to use them for anything else.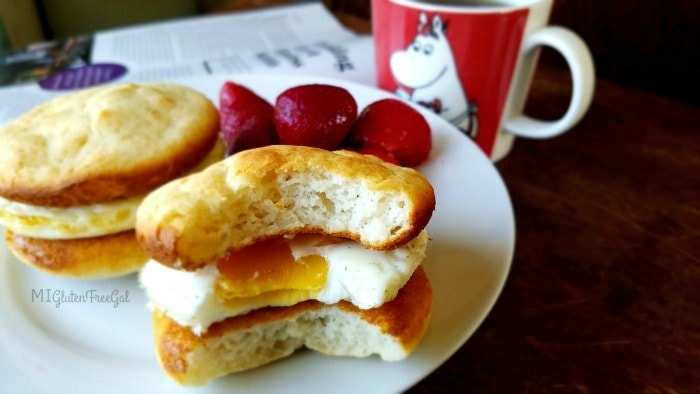 Can You Freeze These Breakfast Sandwiches?
You can have a whole batch of these babies ready in less than an hour. The added bonus? They freeze PERFECTLY! Wrap each one in aluminum foil, place in a gallon size ziploc bag, and you have a quick, ready-to-eat breakfast in just minutes. To reheat, unwrap and microwave for one minute. Otherwise, place them in a 350″ oven to warm for 15 minutes. (Directions for reheating in the recipe, below.)
One of these simple gluten-free breakfast sandwich delicacies would be enough to satisfy and fuel any hungry kiddo. For hungry adults like my hubby, two of these keep him energized all the way until lunch. I like to pair mine with a side of fresh fruit too. Want more morning inspiration? Check out my post on quick gluten free breakfast ideas.
What Else Can I Put on These Breakfast Sandwiches?
If you want to get really fancy, you could top them with my homemade chicken sausage patties. Of course, a slice of cheese is always a good thing! Trying to cut back on grains? Check out these gluten-free Denver Omelet muffins from my friend Boulder Locavore. They look amazing!
I Don't Have a Whoopie Pie Pan. What Else Can I Use?
Another option is to bake your pancakes in a jelly roll pan. When finished, cut them into squares and then use them to build a breakfast sandwich. Use this Sheet Pan Pancakes recipe from Faithfully Gluten Free for more ideas.

Store Bought Breakfast Sandwiches
My recipe for gluten free breakfast sandwiches are easy to prep on the weekend. However, if you still want something store bought, these brands all offer a gluten free breakfast sandwich alternative.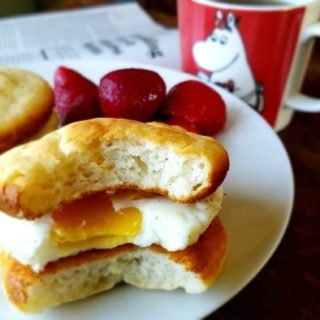 Gluten Free Breakfast Sandwich
Ingredients
Pancake Batter
1 3/4 c. Krusteaz Gluten Free Buttermilk Pancake Mix
1/2 c. nonfat Plain Greek Yogurt
1/2 c. cold water
1/3 c. milk
1 egg
(Homemade Pancake Batter will work for this, too)
Eggs for Baking
Instructions
Preheat oven to 350 degrees. Grease well two Wilton Whoopie Pie pans. (One for pancakes, one for eggs.)
In a large bowl, combine all pancake batter ingredients and blend well. I use a 3 TBSP scoop to portion out my batter. Give the Whoopie Pie pan a firm tap on the counter to even out the batter.
Bake pancake batter for 13-15 minutes, rotating after 6 minutes. (Ovens vary, so keep an eye on them!)
While pancakes are baking, use the side of a bowl to crack eggs. Place eggs in the second well-greased Whoopie Pie Pan. I dusted mine with a bit of rice flour as well.)
Pierce yolk gently and allow yolk to seep into whites. Sprinkle with coarse sea salt. When first batch of pancakes are done, place eggs in the oven for 13 minutes, eggsactly. 🙂
Loosen baked pancakes from Whoopie Pie Pan and allow to cool completely. Once eggs are done, loosen from pan to prevent sticking.
Once all pancakes and eggs are baked, assemble your gluten-free breakfast sandwich. Add cheese, hot sauce, or whatever additional toppings you desire.
If you're prepping for later, wrap each individual gluten-free breakfast sandwich, minus condiments or cheese, in foil. Then, place in a gallon ziploc bag and stick in the freeze. They can later be unwrapped and warmed in the microwave for 30 seconds. I prefer to warm them in the foil for 15 minutes in a 350 degree oven
What's your favorite topping to add to a gluten-free breakfast sandwich? Do you tend to eat a large breakfast or are you an on-the-go kind of person? Share your breakfast tips with me!
Thank you to Krusteaz for sending me free product to play with! This page contains affiliate links as well.