Gluten Free Wacky Cake : Vegan Chocolate Cake
As an Amazon Associate and member of other affiliate programs, I earn from qualifying purchases.
Do you choose to eat vegan? Have dairy and / or egg allergies? Or craving cake, but faced with an empty fridge? Then this gluten free wacky cake fills all those needs! Out of cocoa? Check out my tip at the bottom of the post.

Just Like Mom Used to Make
This vegan chocolate cake goes by many names. Wacky cake. Depression Cake. King Arthur Flour calls it a "Cake Pan Cake." Mainly because you can mix all the ingredients in the pan and bake it. No extra bowls needed. No matter what you call it, it tastes amazing.
I learned to make this gluten free wacky cake from my mother in law. Who in turn learned to make it from HER mother in law. Since we have no offspring, I guess this makes you all my children, and you're learning it from me! On the flipside, this would be the perfect cake to make for YOUR mom on Mother's Day.
NOTE: Cake in picture is recipe, cut in half.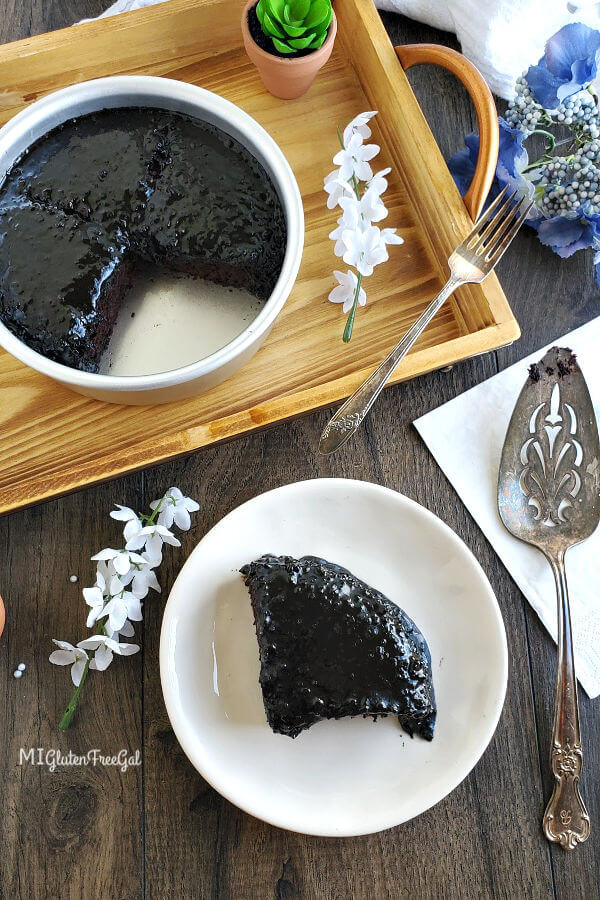 Boiled Chocolate Frosting
I will confess that I lack expert skill in making the one minute boiled chocolate frosting. Disheartened, I told my husband I felt awful that I couldn't get it perfect. It was grainy. Or too soft. Or too hard. Ironically, my husband says in the 40+ years he's been eating it, mom has made the frosting all those ways, and more. So I don't feel so bad.
Mom makes her one minute boiled chocolate frosting with butter and milk. However, since this gluten free wacky cake is naturally dairy free, I wanted to attempt to make the frosting dairy free as well. Therefore, I substituted coconut oil and coconut milk. Want to skip the boiled frosting? Top it with your favorite frosting recipe, or prepared frosting from the store.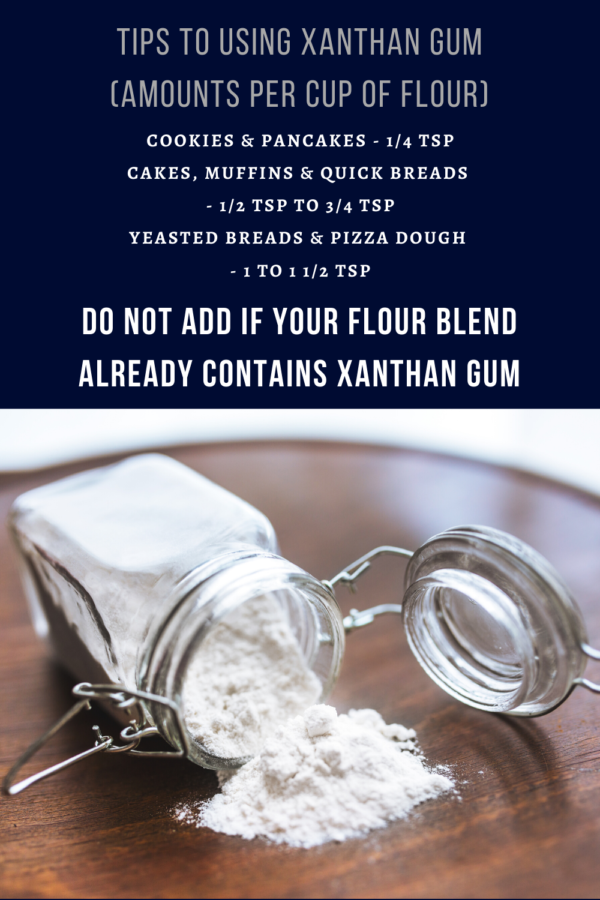 King Arthur Flour and Xanthan Gum
I first wrote this gluten free wacky cake recipe back in 2017. When I first made this vegan chocolate cake, I used King Arthur Flour's All Purpose Flour Mix. That flour blend contains NO xanthan gum. I tried to use the post to teach about xanthan gum ratios.
However, I chose to remake the recipe using their Measure for Measure flour blend. It DOES contain xanthan gum, so you DON'T need to add extra. It does appear to absorb oil and flour slightly differently. Therefore, I reduced the amount of oil in this gluten free wacky cake.
Note – Some in the gluten free community prefer not to use xanthan gum. Alternatives to xanthan gum include guar gum or agar gum. Many give up using gums all together, as they can cause stomach discomfort in some people. My favorite cake artist and friend Linda Fedewa has started using psyllium husk instead.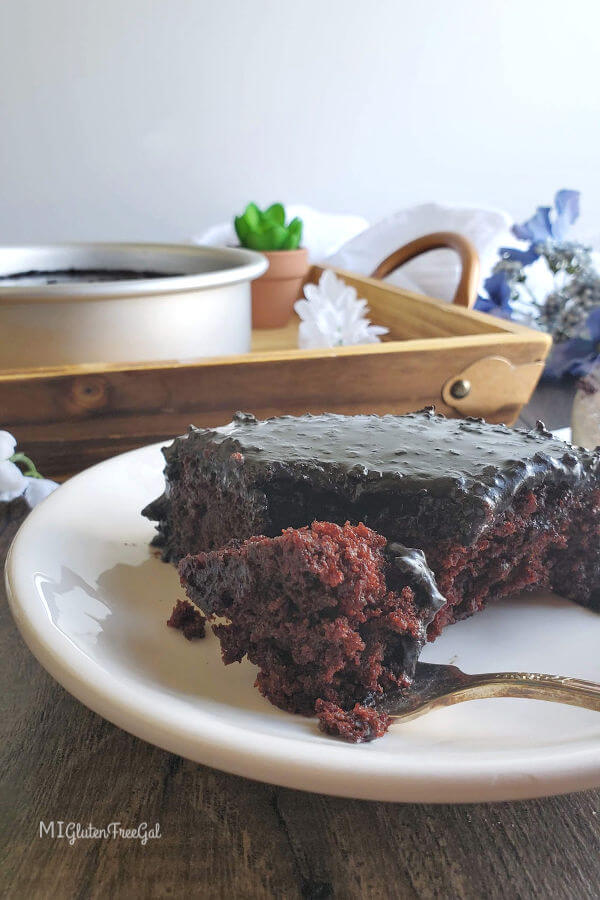 Egg Free and Dairy Free Substitutions
As mentioned this gluten free wacky cake contains no eggs or dairy as written. Mom's original recipe for the boiled chocolate frosting calls for dairy and milk. Feel free to use those if your body tolerates dairy. Want to skip the boiling? Make this Vanilla Buttercream Frosting from What the Fork.
Looking for other gluten free and vegan cakes? These box-mixed-based gluten free vegan Lemon cupcakes from Allergy Awesomeness will make every mouth happy. This Vegan Vanilla Layer Cake from Allergylicious works great with berries. And this Vegan Caramel Apple Bundt Cake from Sarah Bakes Gluten Free is a real show stopper!
SPECIAL NOTE– For this post, I cut the recipes in half. I baked it in a 6″ round cake pan. To "halve" the oil, I used 2 tbsp plus 2 tsp of oil. The rest of the recipe should be easy enough to cut in half.
OUT OF COCOA? – According to this recipe for Vanilla Crazy Cake from Totally the Bomb, you can leave out the cocoa. However, this also means you need to reduce the amoung of vinegar. Instead of 1 tbsp, you use 1 tsp.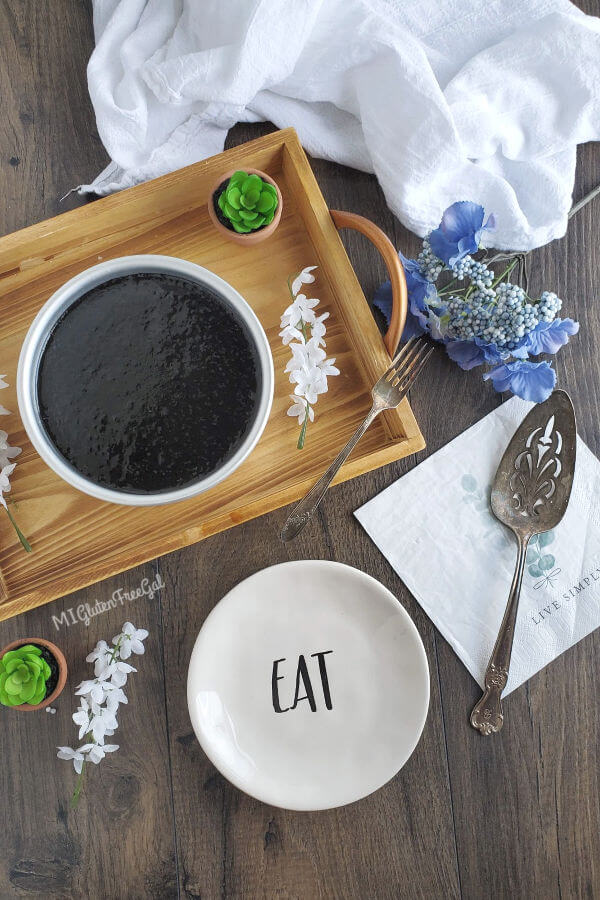 Gluten Free Wacky Cake
Total Time:
1 hour
45 minutes
Ingredients
For The Cake
1 1/2 c King Arthur Measure for Measure Flour
1 tsp xanthum gum (omit if using a flour blend that already contains xanthan gum)
1 c sugar
1 tsp baking soda
1/4 tsp salt
4 tbsp baking cocoa
5 tbsp oil
1 tbsp vinegar
1 tsp vanilla
1 tsp espresso powder - optional
1 c water
For The Frosting
4 tbsp baking cocoa
1 c sugar
7 tbsp coconut oil (or 8 tbsp of butter)
1/4 c. milk of your choosing
1 tsp vanilla
Instructions
Preheat oven to 350 degrees and grease a 9X9 square cake pan with at least 2 inches in height on the side.
In a large bowl, mix together flour, xanthan gum (if not already in your flour blend), espresso powder, sugar, baking soda, salt and cocoa. Mix until all ingredients are evenly distributed.
In a small bowl, mix together wet ingredients (oil, vinegar, vanilla and water). Add wet ingredients to dry, mixing thoroughly. Pour batter into pan and bake for 25-30 minutes. (I baked mine for 27 minutes, but your oven may vary.)
Allow cake to cool completely for an hour or more before attempting to pour on fudge frosting.
To make the frosting, combine all ingredients EXCEPT the vanilla in a medium saucepan. (I prefer to use non-stick.) Cook over low-medium heat and bring to a boil. Allow to boil for 4-5 minutes until it reaches the "soft ball" stage, approximately 240 degrees.
Remove from heat and add vanilla. Immediately pour frosting on cooled cake. DO NOT WAIT FOR IT TO THICKEN BEFORE POURING! The dairy-free fudge frosting will harden as it cools. Allow to cool for an hour prior to serving.
Have you made a version of this gluten-free vegan chocolate cake before? For more recipes from my mother-in-law, check out her recipe for Lemon Curd! What family dessert traditions do you enjoy your family? I'd love for you to share them below!