Personal Gluten Free Deep Dish Pizza
As an Amazon Associate and member of other affiliate programs, I earn from qualifying purchases.
The spring of 2015 marked the first time I tried deep dish pizza. Ever. In my life. With or without gluten. Thank God, all of that has changed. My past attempts all used a non-yeast, thin crust dough. Now I'm stepping up my game, making this personal gluten free deep dish pizza with GF Jules Pizza Crust Mix, with a yeasted dough. Rising to the occasion, as it were.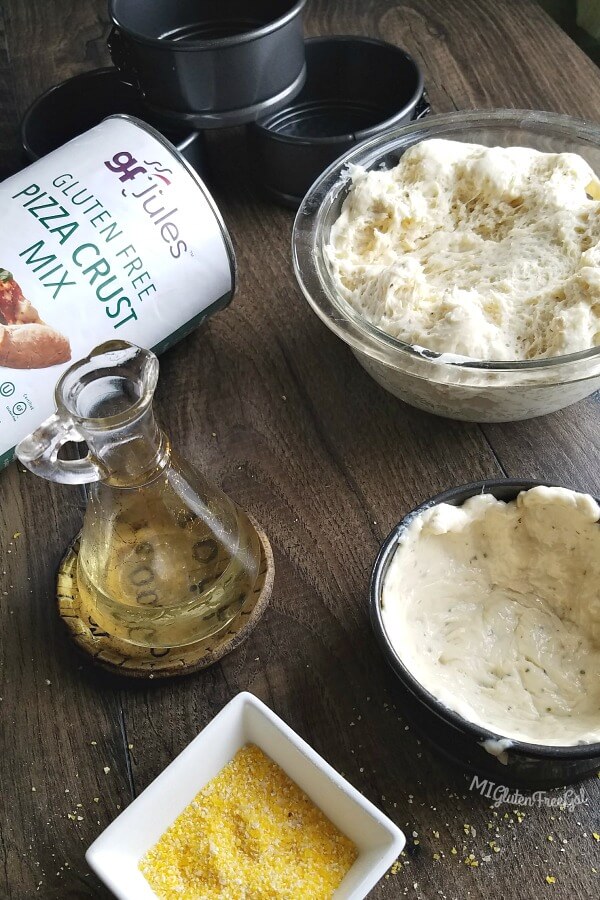 Spring Form Pans for Pizza and Other Uses
Years ago, I used my large spring form pan to make an apple cake. I think it was the first time in our 11 years of married life that I had ever used it. Now my curiosity was totally peaked. What else could one make with a springform pan?
Searches turned up cheesecake, chicken pot pie, lasagna, and GLUTEN FREE DEEP DISH PIZZA. What?! Why had I never thought of that? How come no one ever told me about this wonderful idea? Friends don't keep those kind of culinary secrets from one another!
What Flour Do You Use to Make Gluten Free Deep Dish Pizzas?
This time I used GF Jules Pizza Crust Mix and it was just right. (Feeling a bit like Goldilocks here.) The dough is very wet, and I highly suggest using saran wrap to press it into the pans. However, once this bakes, it may just be the most beautiful gluten free deep dish pizza crust I've ever seen in my life.
How Many Individual Gluten Free Deep Dish Pizzas Does This Recipe Make?
Back to the springform pans. This is not one huge gluten free deep dish pizza. I live in a household of two. Well, four, if you count the dogs. However, regardless of how much I love my pooches, they're not getting my pizza. Some people may make mini pizzas in a muffin tin. That's not a meal. That's an appetizer.
To make this personal gluten free deep dish pizza, you need mini spring form pans. The ones I bought from Wilton are AMAZING ! They work great for making a single serve gluten free cheesecake, as well as making buns or mini loaves of my buckwheat bread.
How Do You Build a Gluten Free Deep Dish Pizza?
Now I must confess, the idea of making a personal personal gluten free deep dish pizza did not originate in my noggin. That bit o' brilliance belongs to Windell and Lenore at Evil Mad Science Laboratories. It was their post about making miniature stuffed pizzas in springforms that got me all excited.
I followed their layering instructions, placing the cheese on the bottom. Then pepperoni, (cooked!) veggies and finally sauce. Gotta cook that spinach and veggies first, or the inside of your personal gluten free deep dish pizza will be a watery mess. I baked these at 375 for 2o minutes. They bake faster since they are smaller.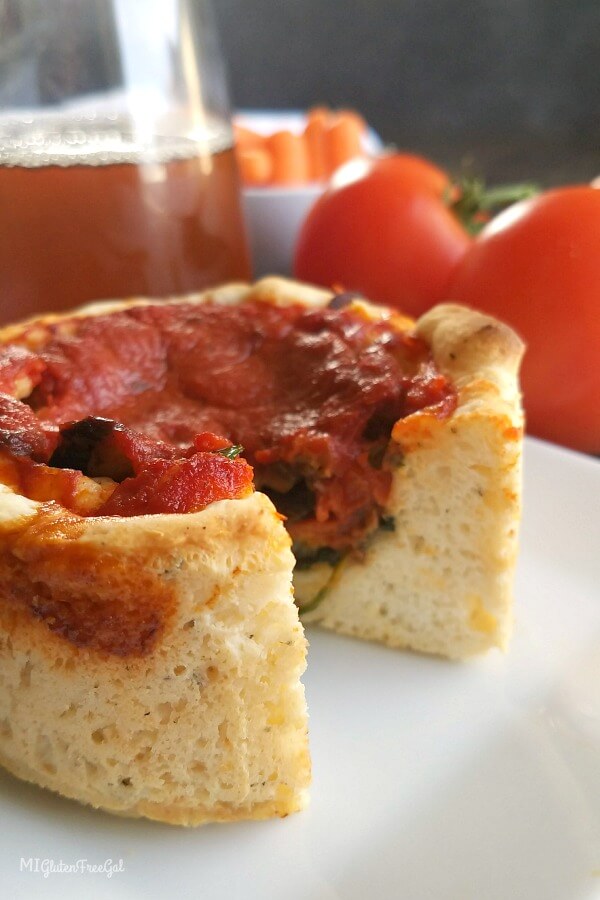 Great for Weekday Lunches
Know what makes for a great lunch? A personal gluten free deep dish pizza! When I recently made these, I used half of the GF Jules Pizza Crust mix in the canister. That much dough was enough for four pizzas. My husband and I each ate one the night I made them. The other two are individually wrapped in foil, inside of a resealable plastic bag. I guarantee his coworkers will be in amazement when they see one of the babies in his lunch next week.
Where Can I Find GF Jules Products?
If you can't find GF Jules Pizza Crust mix in your local store, you can order it online. (There are directions on the canister on how to make it yeast-free as well.) You can also make the dough using her GF flour, following her gluten free stuffed crust pizza recipe. Jules was kind enough to give me this package of pizza crust mix, free of charge.
She also sent me her original cookie mix, which I used in Christmas bark. I have also tried her Cutout Cookie Mix, and her Graham Crackers mix, which I used to make AMAZING gluten free S'mores bars. Find all of her products, her recipes, and informational articles on her gfJules website.
** GF Jules kindly sent me product to try. I was not otherwise compensated for this recipe. However, this post does however include Amazon Affiliate Links. Purchases made through those links provide me a small commission. However, this does not influence the cost of your purchases. Thank you for helping to support this website, and keeping this site pop up free!**