Gluten Free Resurrection Rolls – Easter Object Lesson
As an Amazon Associate and member of other affiliate programs, I earn from qualifying purchases.
For years, I yearned to make these gluten free Resurrection Rolls! Ever since I saw them made with Pillsbury crescent rolls, I knew there had to be a gluten-free alternative. With this simple recipe, gluten no longer needs to hold us back from this fun activity!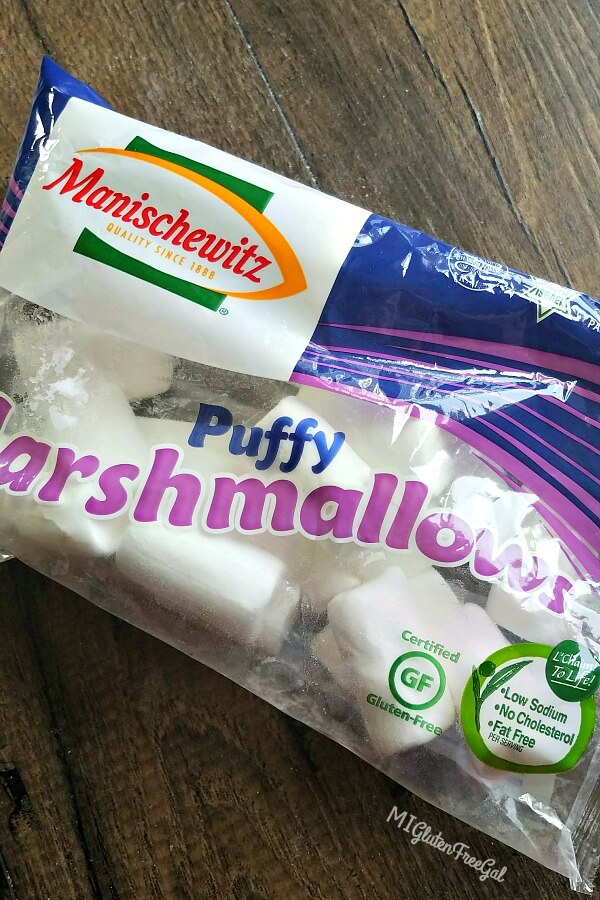 Our Pork, Shellfish and Gluten Free Household
My husband and I make up quite the culinary challenge. Not only must I refrain from eating gluten, but artificial sugars also make me ill. My husband on the other hand becomes violently ill from eating pork and shellfish. He often jokes that regardless of his Christian faith, God still intended him to keep kosher.
Keeping kosher involves more than just avoiding pork and shellfish, though. It involves the ethical slaughter of animals, not eating meat and dairy together, and other culinary guidelines. During Passover, it also involves the restriction of eating items with leavening and frequently involves baked goods devoid of wheat.
Passover = Gluten Free Bonanza
Because many Passover items are free of wheat, it becomes the best time of year to eat gluten free. Many seasonal items hit the shelves that are even certified gluten free, like these Manischewitz marshmallows. I originally bought them for my husband, as they contain no pork.
My plan was to save them for the summer for S'mores him. However, I was in the mood for a fun baking project. I decided this would be the year that I finally made gluten free Resurrection Rolls! What's that you say? You've never heard of gluten free Resurrection Rolls? Well let me teach you about this tasty Easter object lesson!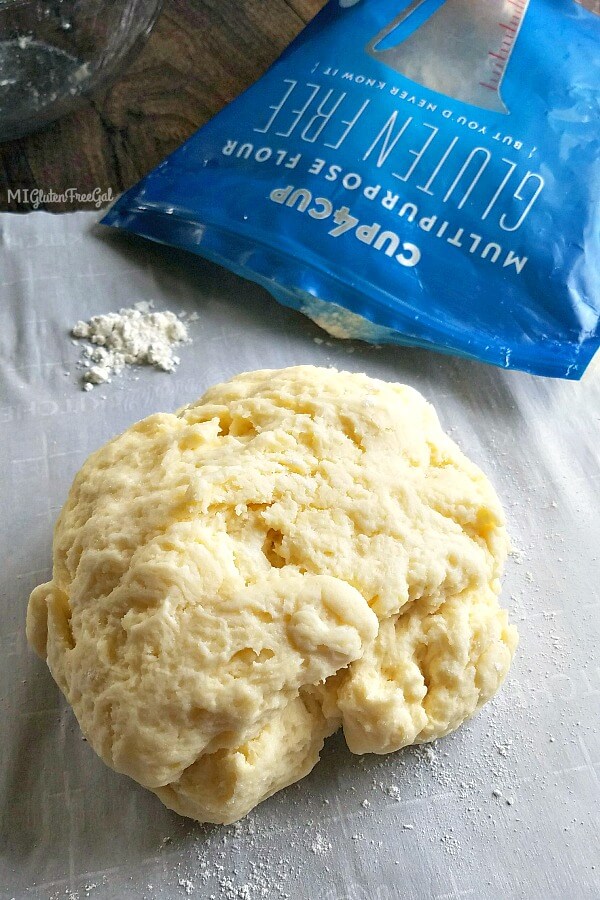 Gluten Free Substitute for Pillsbury Crescent Rolls
If you search for Resurrection Rolls on the internet, all the recipes have one thing in common. Pillsbury premade crescent rolls. Yeah, that's not going to work for us. I knew that if I was going to make my own gluten free Resurrection Rolls, I needed to bravely attempt homemade crescent rolls for the first time. No time like the present, am I right?
So, I consulted our tried and true, old Betty Crocker cookbook. You know, the big red one that lies open flat and has full color pictures? Love that book. I found a recipe for crescent rolls, simply substituted Cup 4 Cup Multipurpose Flour (affiliate link), and set out to make my dough.
Secret Trick For Using Yeast
This dough contains yeast. Nothing makes me panic more than yeast. I'm slowly getting better at working with it, but I still worries me every time. Early attempts in my life yielded flat, short loaves of bread and lack luster pizza crusts.
The trick I learned was to stick the dough in a preheated, but TURNED OFF, oven. The oven's warmth and draft free location is ideal for this. After leaving the dough for an hour, I was pleased to see it had risen. It had risen indeed! Next, roll out the gluten free crescent roll dough for these gluten free Resurrection Rolls! (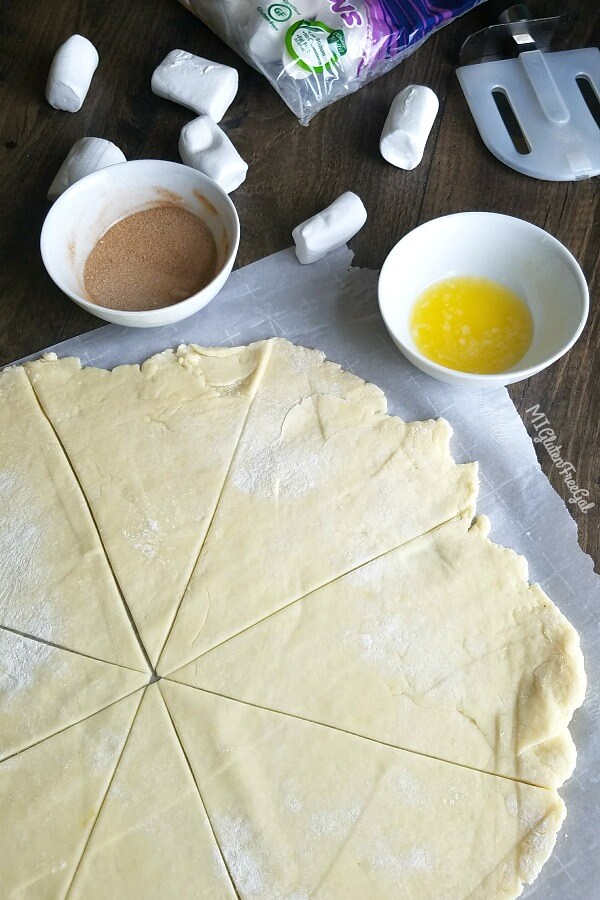 Parchment Paper is Your Best Friend
Just like any dough, you want to make sure you generously flour your work surface. I originally rolled the dough for these gluten free Resurrection Rolls on a silicone pastry mat. I has different circle circumferences outlined for what you want to make.
However, it doesn't take the greatest pictures, so I transferred it to simple parchment paper. Which again, I dusted with flour to prevent sticking. I found it easiest to cut into segments with a pizza cutter. While technically Betty Crocker stated this dough would make 16 gluten free crescent rolls, we need bigger pieces to work with because of the marshmallow we're putting inside.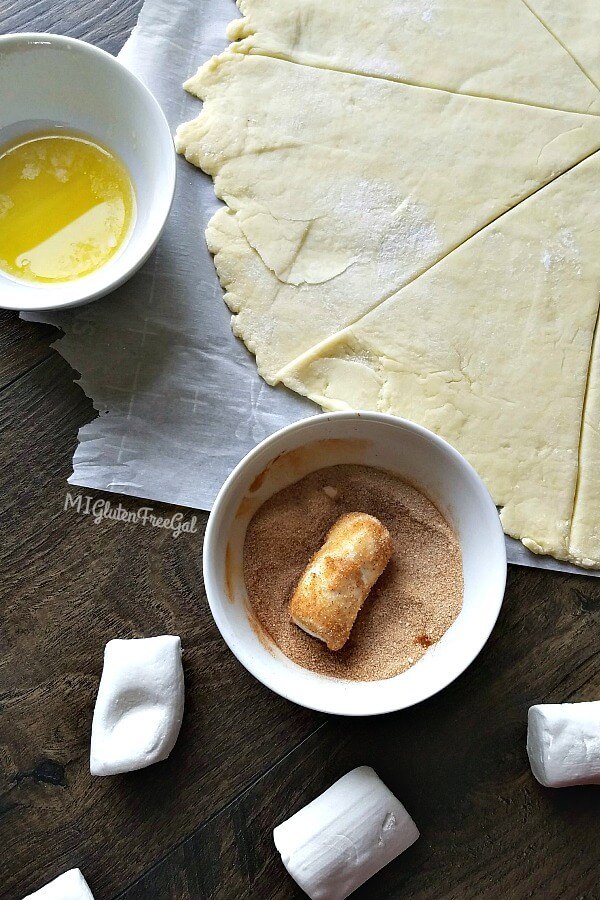 An Easter Story Object Lesson
So what turns these gluten free crescent rolls into gluten free Resurrection Rolls? This fun, edible treat becomes an object lesson for telling about the death and resurrection of Jesus Christ. Each piece represents a part of the Easter story. The dough symbolizes the tomb where Jesus friends placed his body. The marshmallow represents the body of Jesus. (The reason we use a marshmallow will becomes obvious after baking!) The melted butter symbolizes the oil used to anoint Jesus' body after his death. Finally, the cinnamon and sugar blend symbolizes the spices used in burial preparation during that time.
Want to know something fascinating? The traditional burial spice used in those days was myrrh. The same myrrh that the Wisemen gave to Jesus when they worshiped him. Those gifts foretold the life of Christ! The gold, worthy of our Heavenly King. Incense for our Great High Priest, interceding between us and God. Finally, the myrrh foretelling his death and sacrifice for our sins, once and for all. For all time and ALL persons. The sweetest story ever told.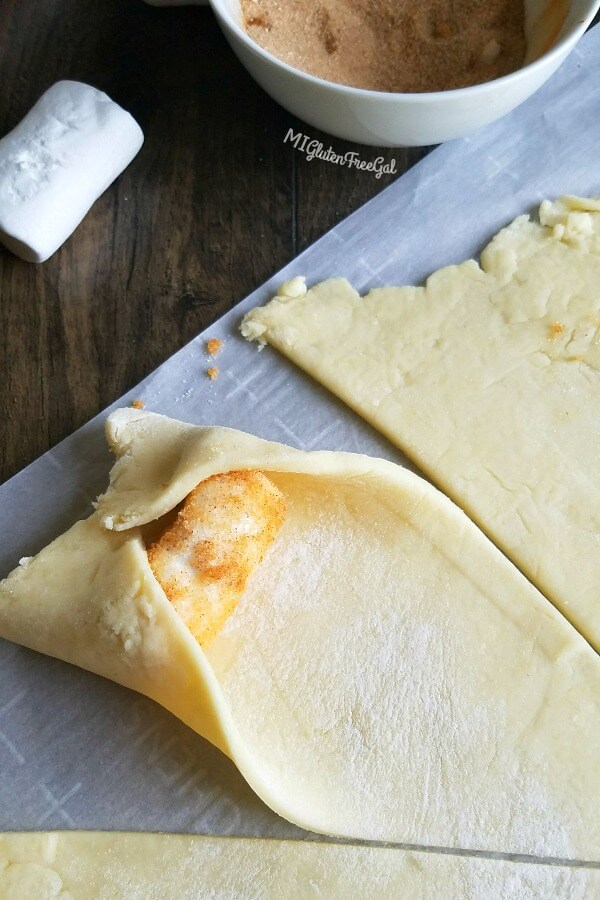 Once, For All
So this is the story we tell while we make these gorgeous gluten free Resurrection Rolls. That Christ died, blameless and without fault, so that we could be reconnected with God. So that no longer must one make ritual sacrifices to atone for our sins. He became our eternal sacrifice. His friends took his body, anointed it in the custom of those days, and completely wrapped his body and placed it in a tomb.
While scriptures foretold this would happen, the disciples did not quite grasp what was about to happen. Even 2,000+ years later, we still have a difficult time grasping Christ's willing to die on our half. To extend such grace and mercy. To forgive our errors with such unfailing love. A grace that you do not have to repay, simply to accept. <3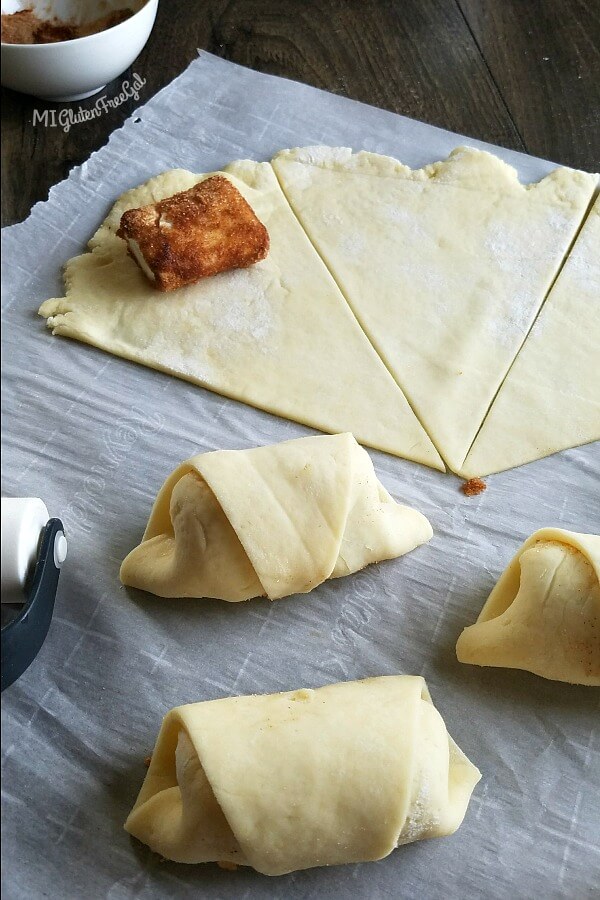 How To Wrap the Marshmallows
Just as they completely wrapped Jesus' body for burial, so must the marshmallows for these gluten free Resurrection Rolls. Otherwise the melting and expanding marshmallows will pop out of every nook and cranny possible. When I baked my marshmallow filled gluten free crescent rolls with the tip barely tucked under, it may have been better to bake them with that tip flipped over on the baking sheet. Some of my gluten free Resurrection Rolls had the tip of the dough lift up as the marshmallow expanded. You may also choose to roll the dough into eight separate circles and cover the marshmallows for baking that way.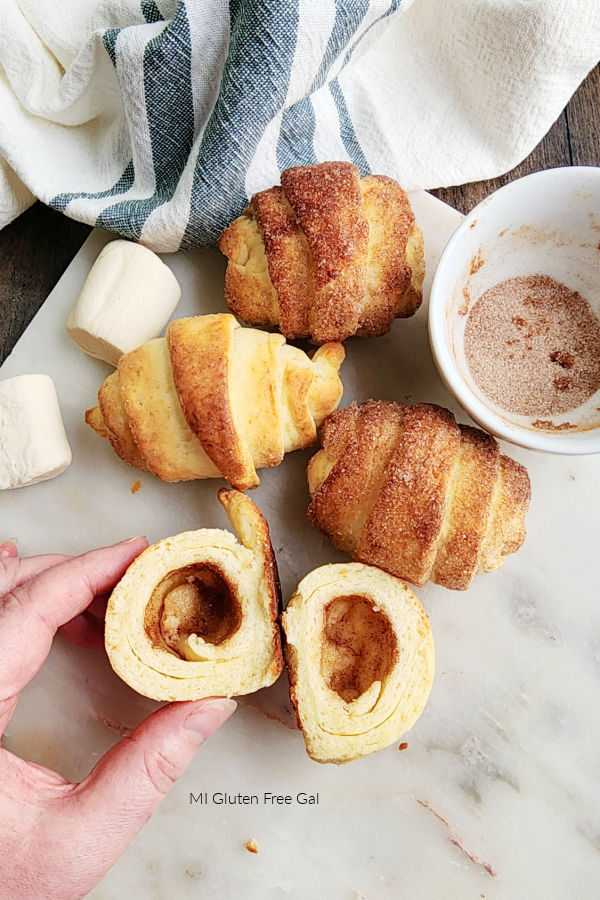 The Tomb is Empty!
So the magic of these gluten free Resurrection Rolls reveals itself when you cut open the roll. The marshmallow disintegrates during baking, leaving a hollow opening in the center. The tomb is empty! He has risen and defeated the power of death.
I am so excited to share this post with you. One, I conquered gluten free crescent rolls, allowing me to finally make these gluten free Resurrection Rolls. In addition, I am joyful to share the story of Jesus' death and resurrection with you. I may not have shared it well, interspersed with marshmallows and cinnamon. However, I'd be glad to talk you at any time if you ever have questions about Christianity. Just know that there is a God who knows you best, and loves you most. A God who "compassionate and gracious, slow to anger, and abounding in love." Be blessed my friend.
Other Uses for This Dough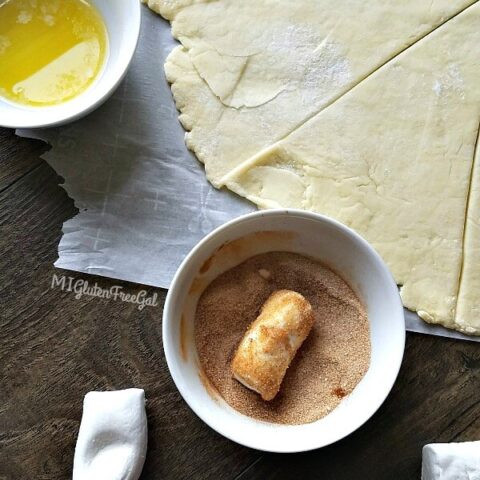 Gluten Free Resurrection Rolls
Ingredients
1 pkg active yeast
6 tbsp warm water (105-110 degrees)
4 tbsp sugar, divided
1 3/4 cup Cup 4 Cup flour
1/4 c. butter, softened, cut into small pieces
1 egg
1/2 tsp salt
For the filling
8 gluten-free marshmallows
4 tbsp melted butter
4 tbsp sugar
1 tsp cinnamon
Instructions
Preheat the oven to 200 degrees. (We are warming the oven to create an environment for proofing the dough. Turn the oven off once it reaches 200 degrees.
To begin, proof your yeast. I use a glass 2 cup measuring cup to do this. Dissolve one tbsp of sugar in the 6 tbsp of warm water. To that, add the active yeast, and stir. Allow to proof for 5-10 minutes. It should easily double in size, if not more.
Meanwhile, in a stand mixer, combine the flour, remaining 3 tbsp sugar, and salt. Mix together. To that, add chunks of softened butter. Mix until all the butter is incorporated without large chunks. (If you don't have a stand mixer, you can do this in a large bowl, and use a pastry cutter to cut the butter into the flour.)
Add egg and mix until incorporated. Finally, add yeast and mix together until a dough forms.
Transfer dough to large glass bowl to rise. Cover with saran wrap and place into warmed (but turned off!) oven to rise. Allow to rise 45 minutes.
After dough has risen, transfer dough to a well-floured flat surface. Roll dough into a 12" circle. Cut into 8 equal wedges.
To make the gluten free Resurrection Rolls, melt butter in a small dish. In a separate small dish, combine the sugar and cinnamon.
Dip a marshmallow in the melted butter, then roll in the cinnamon and sugar mixture. Place coated marshmallow at the edge of the crescent dough. Roll to the center of the wedge, tucking in the sides as you roll. Make sure that the entire marshmallow is covered.
If desired, you can coat the outside of the roll in melted butter and cinnamon sugar mixture.
Bake the gluten free Resurrection rolls in a preheated 350 degree oven for 10-12 minutes. Lightly coat with remaining melted butter when the rolls emerge from the oven. Allow to cool completely before cutting rolls in half to show empty center.
NOTES –
I have only been successful with this recipe using Cup 4 Cup flour. It has NOT worked well with Bob's Red Mill or King Arthur Measure for Measure.
The original recipe calls for shortening. I imagine that Earth Balance buttery sticks would work well in this recipe if you need to be dairy free. However, Cup 4 Cup contains milk powder, so you'd have to use a different gluten free flour. GF Jules flour contains no dairy, and could be a good replacement. (affiliate link)
I have tried using an egg replacer in this recipe, and it has NOT worked. Try this vegan crescent roll recipe instead.
If you need vegan marshmallows, Dandies makes amazing ones, although they do contain soy.
If you want to make rolls without the marshmallows, please see my crescent roll recipe.
I have tried making the dough ahead of time, and chilling it to use the next morning. It works, but not as well.
**I was not compensated in anyway by Cup4Cup or Manischewitz for this post. This page contains affiliate links**