Gluten Free Pigs in a Blanket
As an Amazon Associate and member of other affiliate programs, I earn from qualifying purchases.
Truth. No matter how young or old you are, certain finger foods still reign supreme. For example, I will gladly eat these gluten free pigs in a blanket no matter how old I get. Relive your childhood favorite with this easy recipe.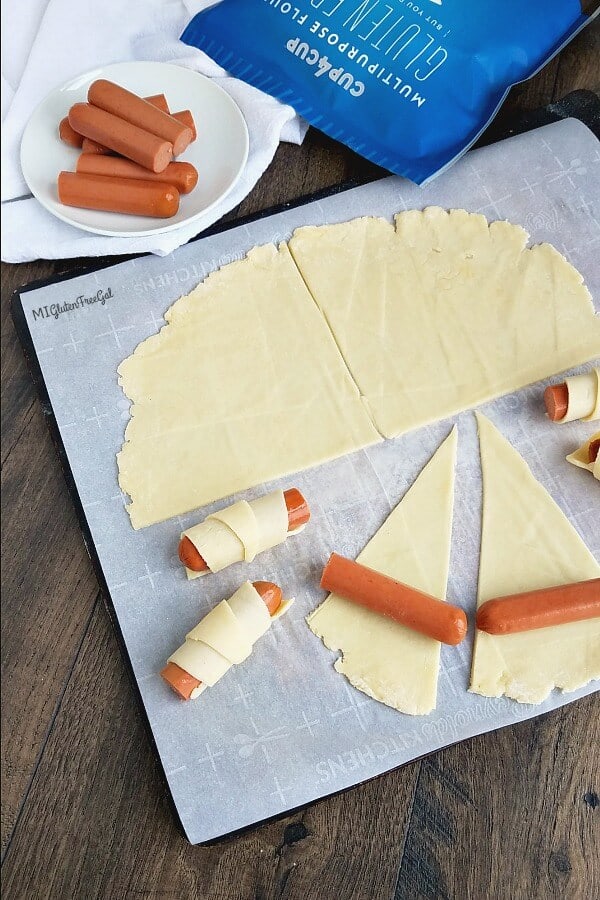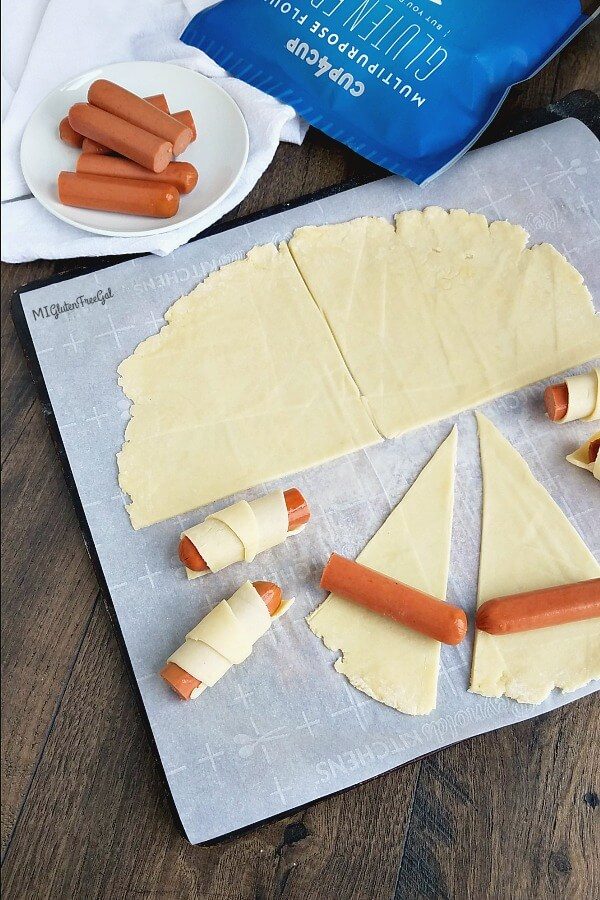 Gluten Free Crescent Dough
While many gluten free brands have recreated what we miss, refrigerated crescent rolls are not one of them. Therefore, this recipe features my homemade gluten free crescent dough. In reality, it's not hard to make. It simple takes time to make and rise. Once you have that, these gluten free pigs in a blanket are easy!
The trick for this recipe is to roll the dough thin. Like pie crust thin. Please note my recipe for gluten free crescent dough makes one pound. Therefore, you'll roll out two separate circles of dough. Once rolled, cut it into 12 (roughly) equal triangles. My package of hot dogs contained 6 links, and I cut them in half. You want to try to make the edge of the dog peeks out over the edge of the dough triangle before rolling.
Can These be Made Dairy and Egg Free? Can I Use a Different Flour?
I have only successfully made my crescent dough using the recipe below, and only with Cup 4 Cup Multipurpose Flour. Cup 4 Cup contains milk powder, and the recipe uses butter & eggs. I tried using Bob's Red Mill Flour, and King Arthur Flour Measure for Measure, and they just didn't turn out the same for me.
Therefore, I would try this recipe for Gluten Free Vegan Garlic Crescent Rolls from Petite Allergy Treats if you need the dough to be vegan. (I'd leave out the garlic filling.) However, please note that she starts with her own gluten free "white mix" flour blend. Please remember that all gluten free flours are NOT the same. If you choose to use a different flour blend, results may vary.
If you want to use Bob's Red Mill 1 to 1 flour, I recommend Peal With Zeal's Gluten Free Pigs in a Blanket recipe.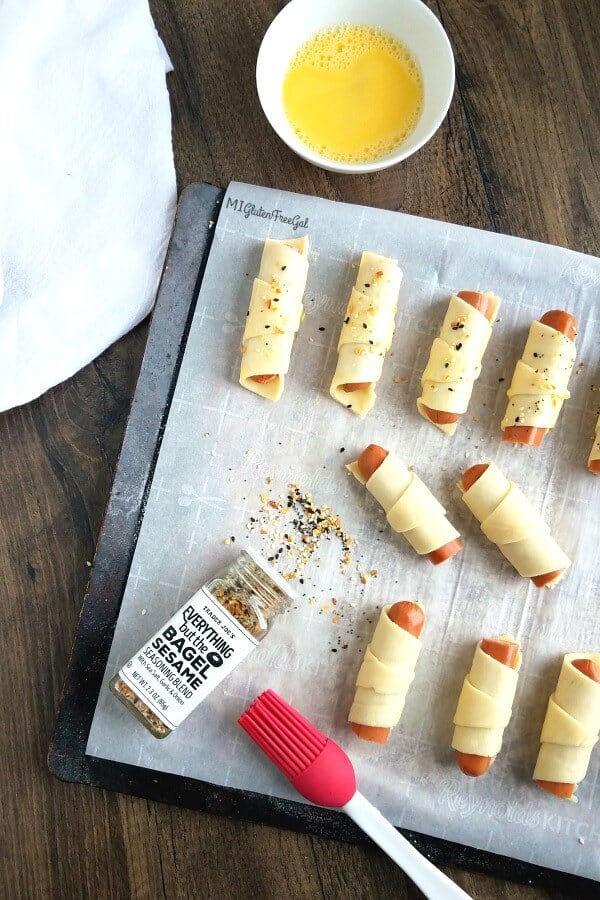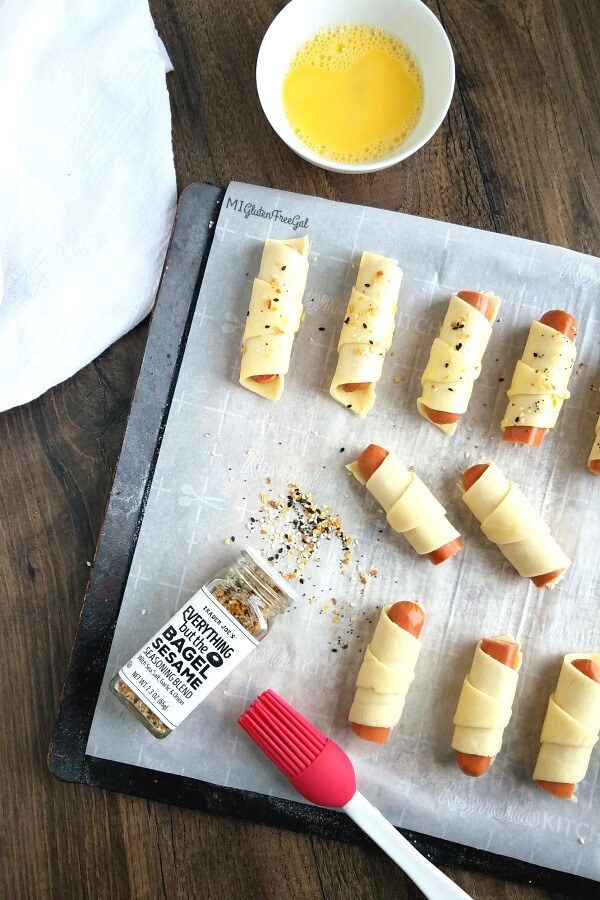 Tips To Yielding the Best Gluten Free Pigs in a Blanket
When I made my plain gluten free crescent rolls, I brushed them with butter. However I think brushing these gluten free pigs in a blanket with egg wash yields a softer "wrap." I saw others season the outside dough with Everything but the Bagel Seasoning. Lemme tell ya, Best. Idea. Ever. These are so good, they may not even need a dipping sauce!
List of Gluten Free Hot Dogs
Looking for gluten free hot dogs? While this list is not exhaustive, these are brands which I mostly trust. While I am not a huge fan of Bar-S, they are safe and offer a cheaper alternative than others on my short list. The first six brands offer beef hot dogs for those looking to avoid pork. For this recipe I used the Nathan's Uncured Beef Franks.
Nathan's Famous Hot Dogs
Hebrew National
Teton Waters Ranch
Applegate Hot Dogs
Boar's Head
Koegel's
Bar S Hot Dogs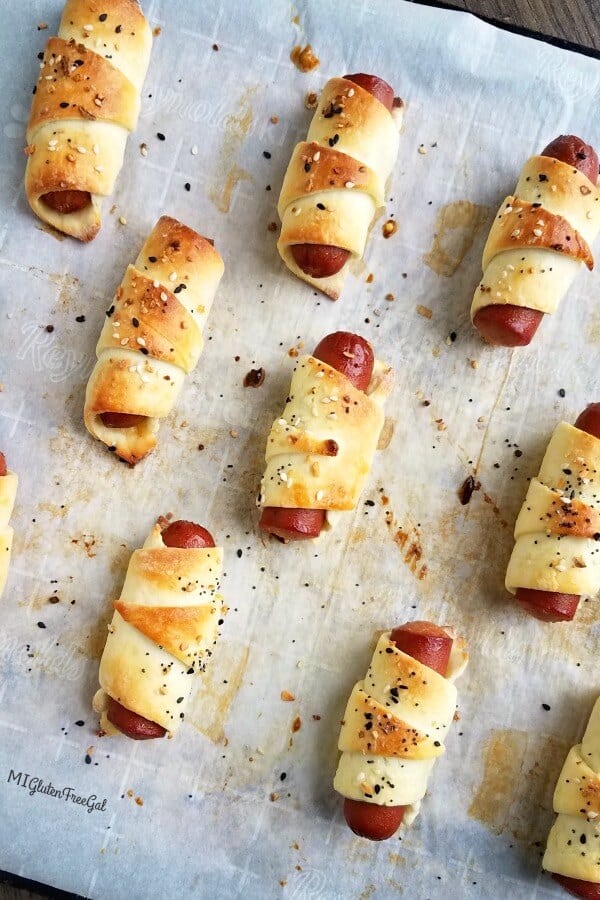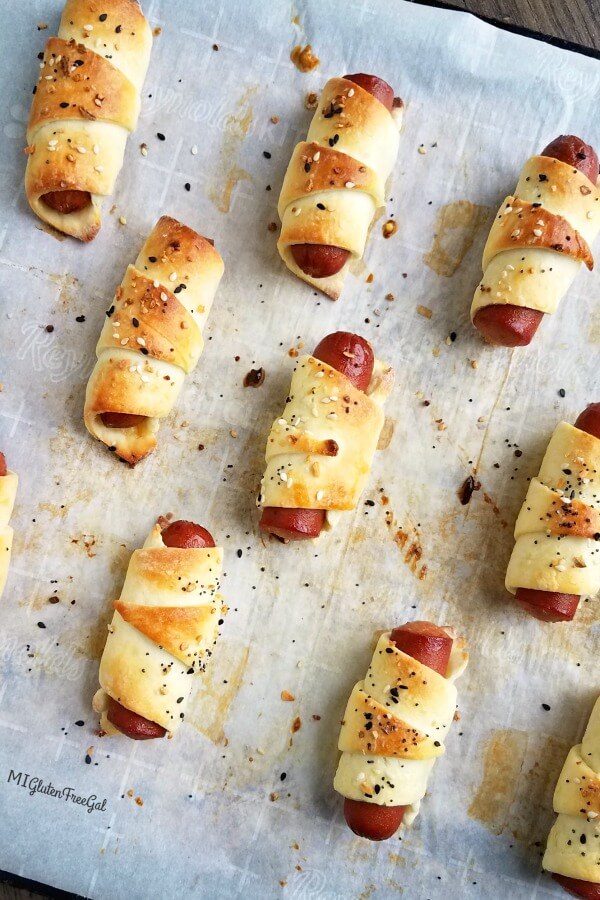 Can I Make These Pigs in a Blanket Early & Reheat Them?
I made these gluten free pigs in a blanket on a Monday, then placed them in the refrigerator. Then, I rewarmed them the next day in a 300 degree oven (sprayed them lightly with oil) for 10 minutes. They turned out just as good as when they first came out of the oven!
Can they be frozen? Yes. To rewarm them in the oven, preheat the oven to 350 degrees. Spray lightly with cooking oil, and bake for 12-15 minutes. I find the dough to not be quite as soft as when they first bake, but still taste great. The main thing is to make sure the hot dogs inside are warmed thoroughly.
Can you microwave them? Yes. After they have been fuly baked, and frozen, you can reheat them in the microwave. I put two in the microwave, at full power for 50-60 seconds. Again, the main goal is to warm the outer dough, and fully reheat the hot dogs in the middle.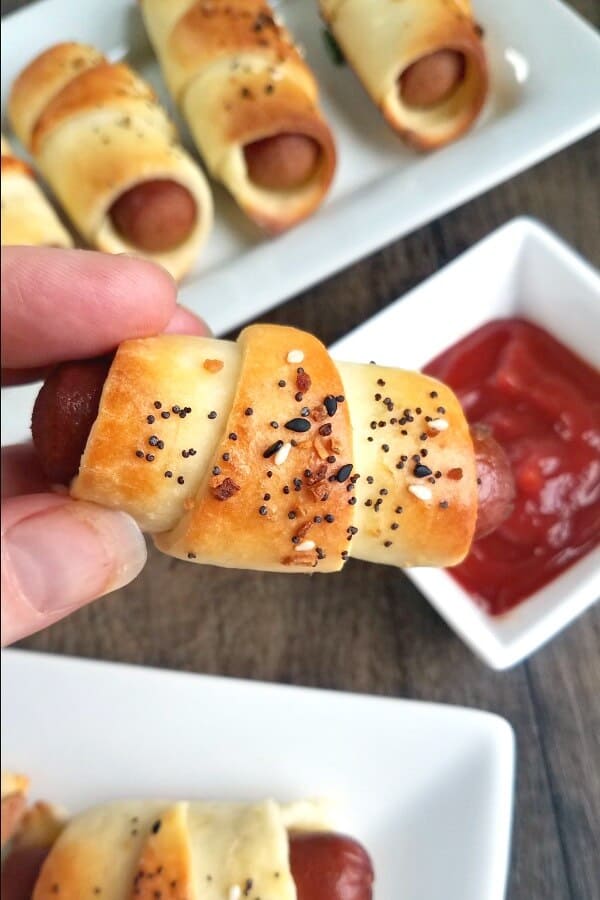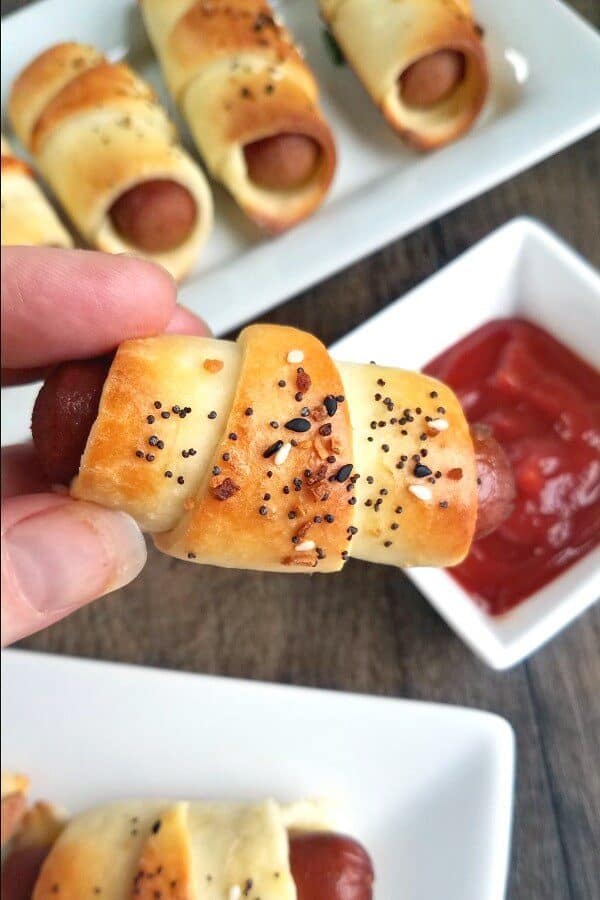 Other Gluten Free Appetizers and Finger Foods
These gluten free pigs in a blanket would be perfect for any lunch box or football party. You could use this same gluten free crescent dough to make my gluten free Veggie Pizza, as well. These pigs in a blanket would also pair well with my gluten free Soft Pretzel Bites, and my gluten free Baked Mozzarella Cheese Sticks.
Looking for other gluten free appetizers? Try this list of gluten free party appetizers from Celiac Mama, or these gluten free game day appetizers from What the Fork. Looking for meat free ideas? Check out these Vegetarian Appetizers and Snacks from VegetarianMamma. And don't skip these Gluten Free Spinach Dip Puffs from Eat at Our Table!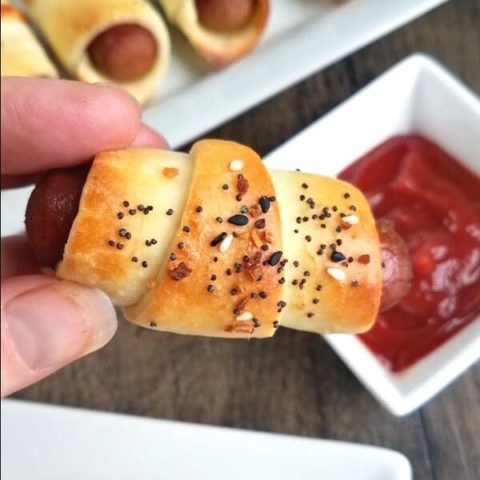 Gluten Free Pigs in a Blanket
Ingredients
For the gluten free crescent dough
244 grams Cup 4 Cup flour (1 3/4 cup)
1/4 c cold butter, cut into small pieces
1 pkg instant yeast
4 tbsp sugar
1/2 tsp salt
6 tbsp warm water (105*-110*)
1 egg, room temperature
(add'l flour for rolling)
For the Egg Wash
For the pigs in a blanket
12 gluten free hot dogs, cut in half (to create 24 hot dog pieces)
Instructions
Start by pulling out two eggs from the fridge to allow them to come to room temperature. 15 minutes should be sufficient. Turn on the oven to 200 degrees. We are warming it only to create the ideal place to proof the dough. Once it comes to temperature, turn it off.
In a food processor, combine flour and cold butter. Pulse until butter bits are incorporated/ cut into the dough. (If you don't have a food processor, freeze your butter and grate it in to the flour, in a large glass bowl. Then use hands to combine.)
After butter is cut into the flour, add instant/ rapid rise yeast, sugar and salt to the processor and pulse to combine. (If you don't own a food processor, simply stir the rest of the dry ingredients in.)
(If you are not using instant / rapid yeast, you'll need to proof the active yeast in water prior to adding it to the flour mixutre. To do so, place 1 of the 4 tbsp of sugar in a bowl, with the yeast, and add the 6 tbsp warm water. Allow to activate for 5-10 minutes before adding to flour.)
Dump flour and butter mixture into a large glass bowl, and add warm water and egg, and mix until a dough forms.
Cover bowl with towel and place in the TURNED OFF OVEN and allow the dough to rise for 30-45 minutes.
Remove bowl from oven and preheat oven to 375.
Cut dough ball in half, (you should have 2 8 oz portions) and transfer one half to a lightly floured work surface. Knead the dough ball a few times until the dough ball is soft. Sprinkle with a bit more flour before rolling. (I like to work on parchment paper, as it easily slides onto a cookie sheet and into the oven.)
Roll dough into a circle approximately 10-12 inches in diameter. I find it best to flip and turn the dough in between rolling stages. It prevents sticking.
Cut the circle of dough into 4 equal section, and then cut each section into 3 additional sections. This should equal 12 sections of gluten free crescent dough. It will seem thin, but we're aiming for the perfect proportion of dough to dog. It will puff a bit when the dough bakes.
I used Nathan's Famous Uncured Beef Hot Dogs, which come 6 to a package. Therefore, I cut each hot dog in half, and rolled each hot dog half in one triangle of dough. Repeat until all hot dog portions are used.
(Repeat the last three steps with the other half of dough, and more hot dogs.)
Line two cookie sheets with parchment paper. Place 12 pigs in a blanket per cookie sheet.
In a small bowl, beat an egg with one tbsp water, and baste each pig in a blanket with egg wash. If desired, sprinkle with Everything but the Bagel Seasoning, or course salt.
Bake the pigs in a blanket in a 375 degree oven for 12-15 minutes.
(Side note - 16 oz of dough is equal to two rolls of Pillsbury Crescent Dough.)
**This post is not sponsored. This post does contain affiliate links. Purchases made through those links help support this blog with no extra expense to you. Plus it keeps those annoying pop up ads off my site. Thank you for your continued support!**