Gluten Free Mallomars & Moon Pies
As an Amazon Associate and member of other affiliate programs, I earn from qualifying purchases.
Mallomars. Up until today, I failed to understand the East Coast phenomenon. This year, I decided to make my own gluten free mallomars. Now I understand EVERYTHING! This is one decadent cookie that's well worth the effort!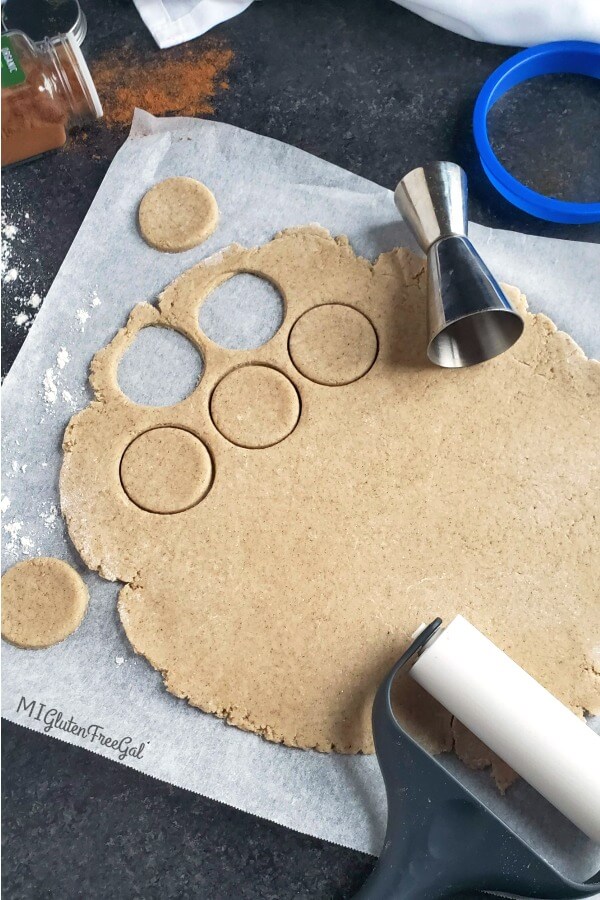 What is a Mallomar?
Mallomars are apparently ALL the rage on the East Coast. They ship only during certain months (September-March), due the chocolate coating. Reportedly, people order lots of them, then stash them in the freezer. After eating one, I totally understand why.
A Mallomar consists of a graham cracker, topped with marshmallow, and covered in chocolate. (Also known as a Whippet, in Canada.) Like a S'more, but without the need for a campfire. While one could easily make my gluten free S'mores bars, this treat somehow seems richer. Pretty sure it's due to that rich, luscious chocolate coating.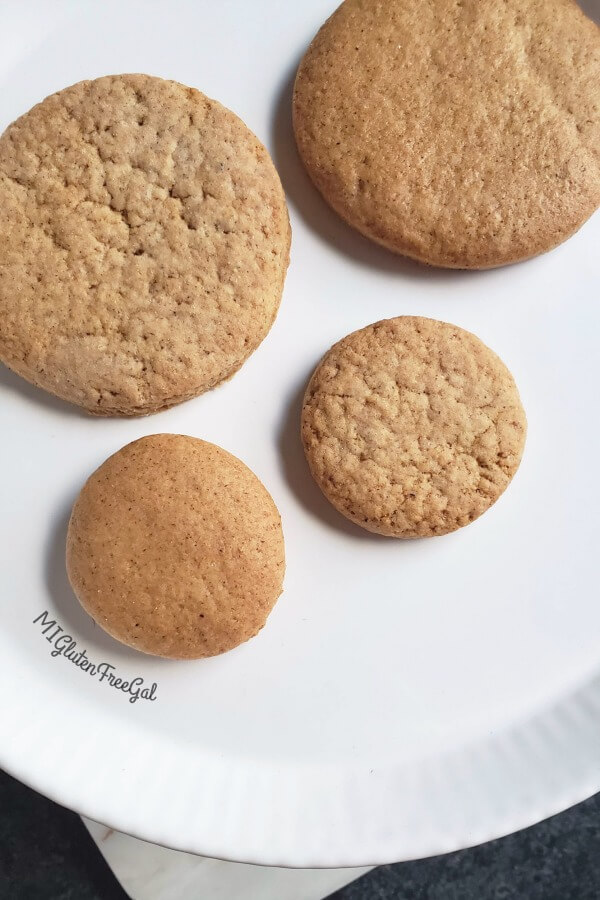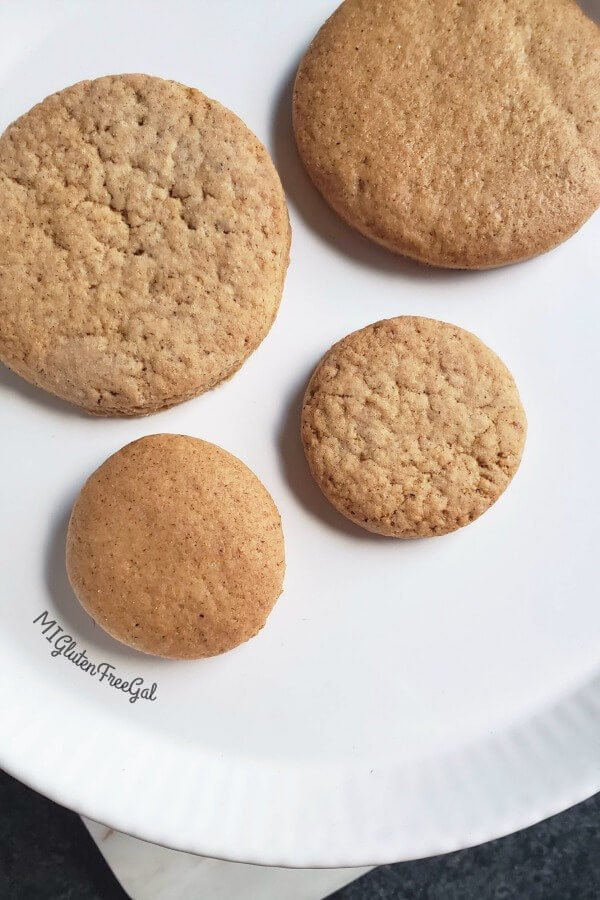 Why You Should Refrigerate Your Graham Cracker Dough
The chocolate and marshmallow creme in Mallomars are basically gluten free. To turn them into gluten free Mallomars, we need to work on the graham cracker base. Just before our gluten free Upper Peninsula trip last summer, I tested a gluten free graham cracker recipe. It needed some work, and this was the ideal time to "play" some more.
In my opinion, real graham crackers always look a big "shaggy." I think the key to making this happen is cold dough. I made the dough before going to bed, and refrigerated it overnight. Then I rolled it and baked it. Notice how the first cold batch baked up more "rough," and the second looks more smooth. I suggest rolling and cutting all of your disks, then chilling for 20-30 minutes, and then baking.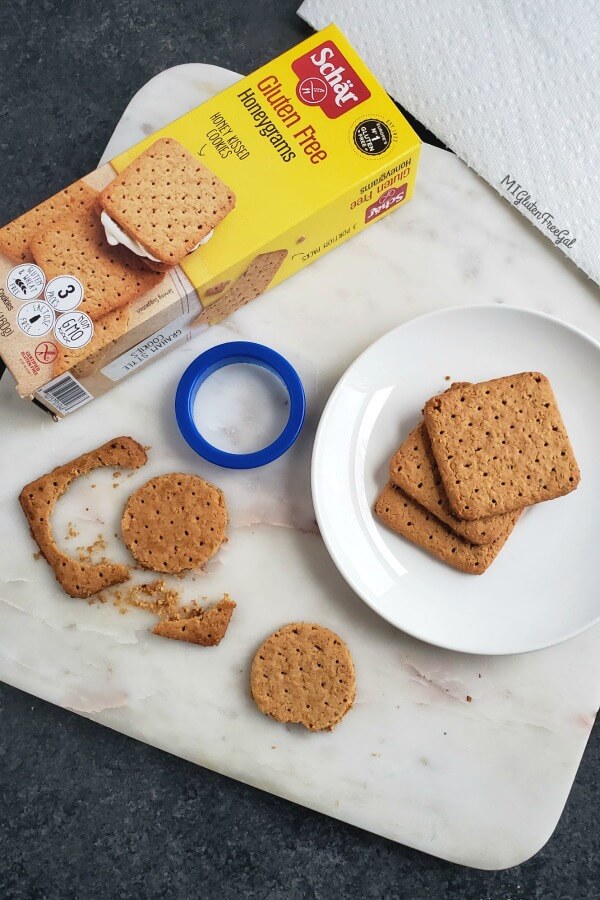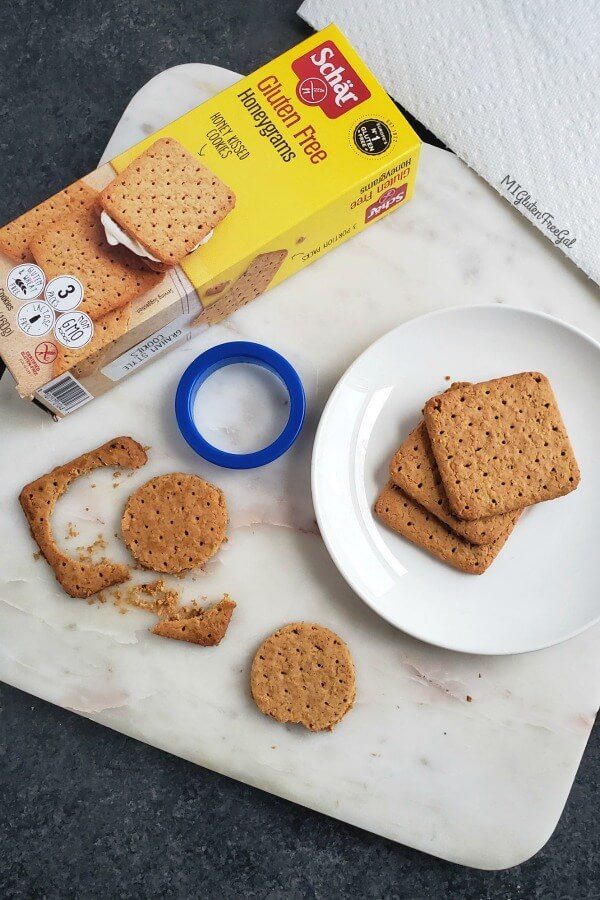 Make It One Step Easier Using Schar Honeygrams
In a time crunch? You can use Schar Honeygrams and cut them into circles with a round cookie cutter. The trick is to microwave them under a damp cloth. I recommend at least 30 seconds, if not longer. Then, firmly but gently press down with a 1 1/2 inch cookie cutter. You can buy the Honeygrams in Meijer on the Schar online store.
Speaking of cookie cutters, this little blue cutter comes from my Wilton 101 cookie cutter set. I constantly recommend it. I've had this set for over a decade, and not a single cutter has warped or broken. It includes cookie cutters for Christmas, Halloween, Easter, letters, numbers and more.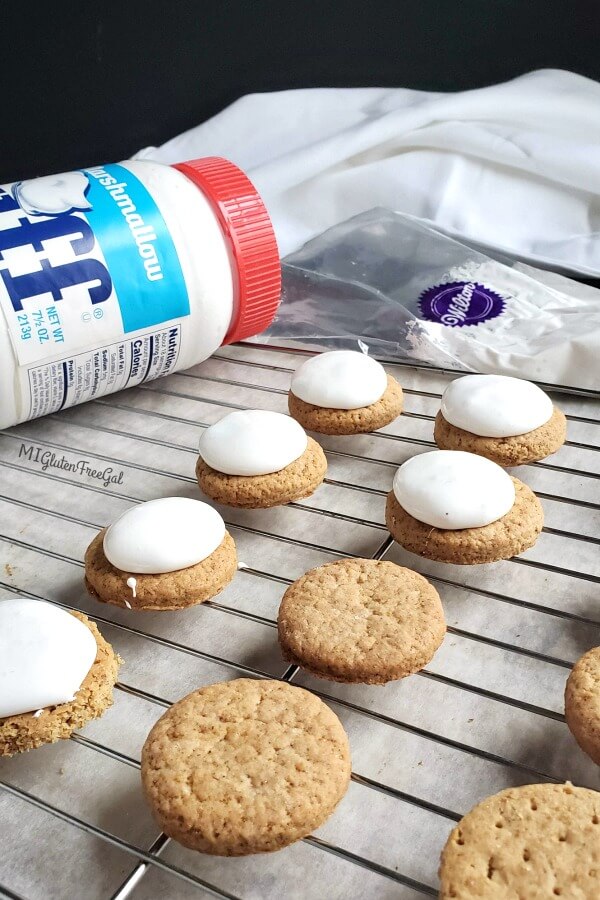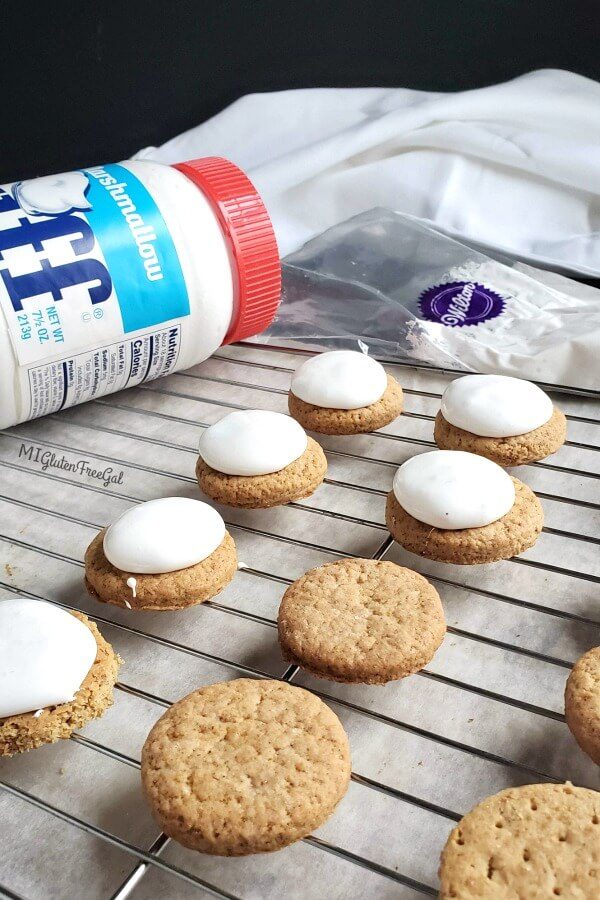 Marshmallow Fluff and an Egg Free Option
The original Marshmallow Fluff, made by Durke-Mower, specifically states that it's gluten free. It also declares on the back that it's made in a peanut free facility! This is why I chose this brand, versus the Kraft Marshmallow Creme, for these gluten free mallowmars.
However, Marshmallow Fluff does contain egg whites. If you require an egg free option, I recommend this homemade Vegan Marshmallow Fluff recipe from Make It Dairy Free. She can even toast hers with a torch!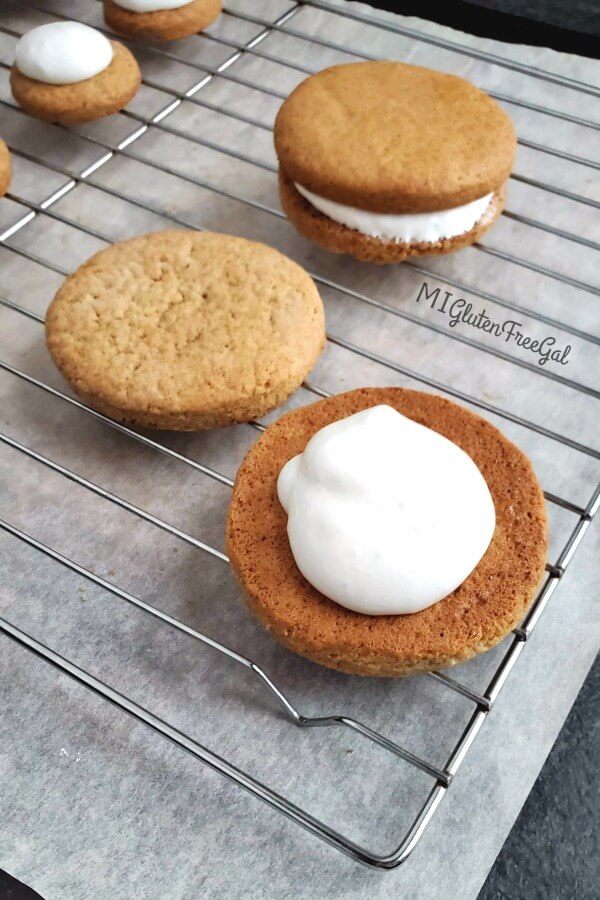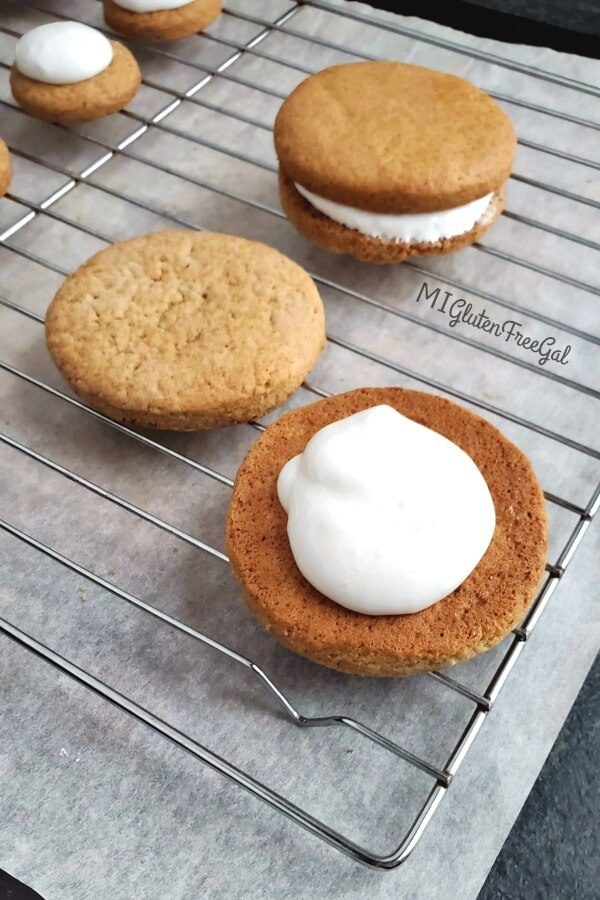 Mallomars vs Moon Pies
Layers create the main difference between gluten free mallomars and gluten free moon pies. Mallomars are topped with marshmallow cream, then chocolate. Moon pies start with a larger graham cracker, then marshmallow cream, then another graham cracker, and then all of it encased in chocolate. So technically this recipe can be used to make either treat.
Whichever you choose to create, make sure to quickly put your marshmallow topped graham crackers in the freezer. This prevents the fluff from oozing over the side of your cracker. Also, you want the fluff to be frozen, so it will stand up to the warm chocolate coating.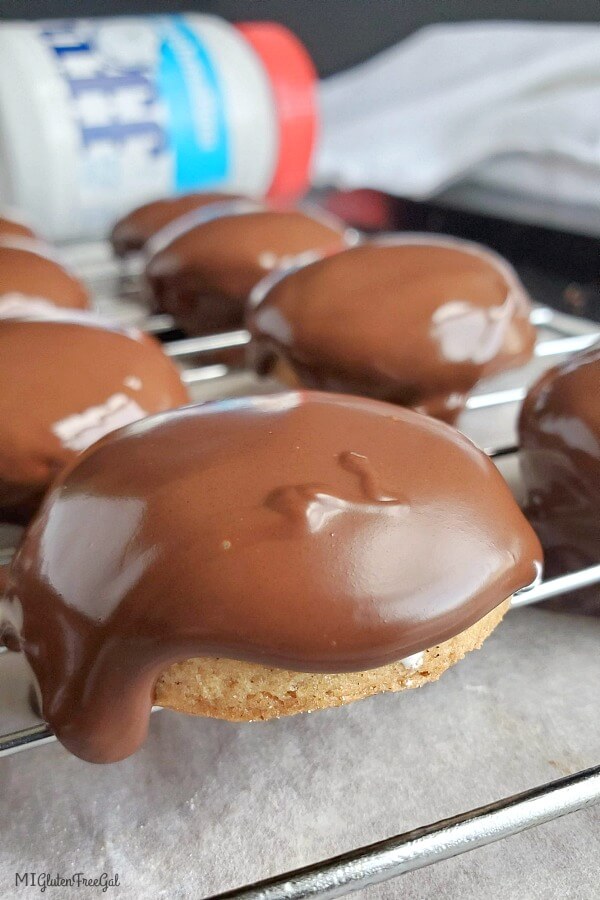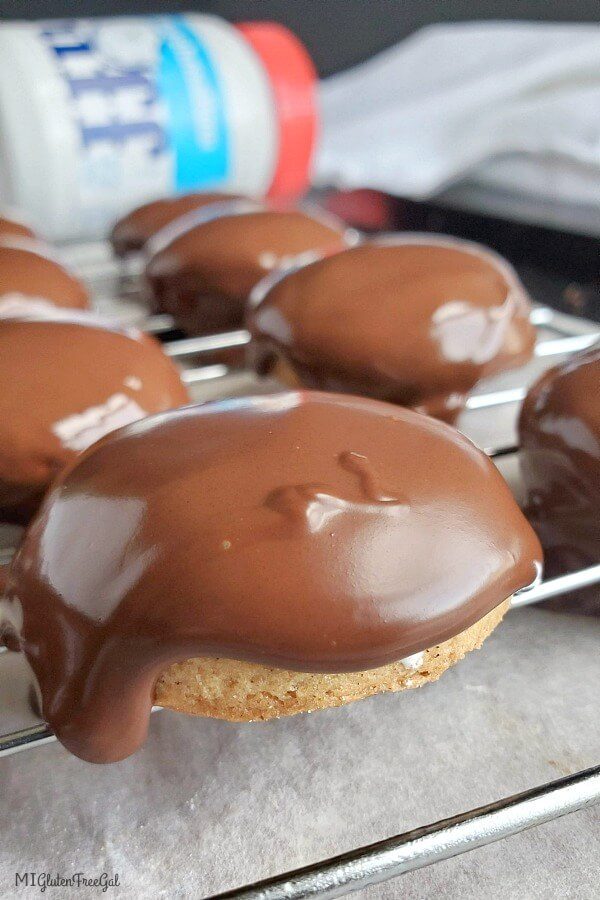 Tips on Melting Chocolate and Spooning Vs Dipping
I used Hershey chocolate chips, because that's what I had on hand. If you need these gluten free Mallomars to be dairy free, I recommend using Enjoy Life chocolate chips. While many state you can microwave your chocolate, I prefer to melt mine in a glass bowl, over a pot of boiling water. It allows better temperature control.
In addition, I thin the chocolate with a bit of coconut oil. You can also use shortening. While some prefer to dunk the whole cookie in chocolate, I find that to be messy. Instead, I prefer to pour the chocolate over the frozen marshmallow fluff, using a spoon. Less chance for me to drop the cookie and make a hot mess! I put my cookies on top of a small baking rack, over parchment paper. This makes it easier to recoup the excess chocolate.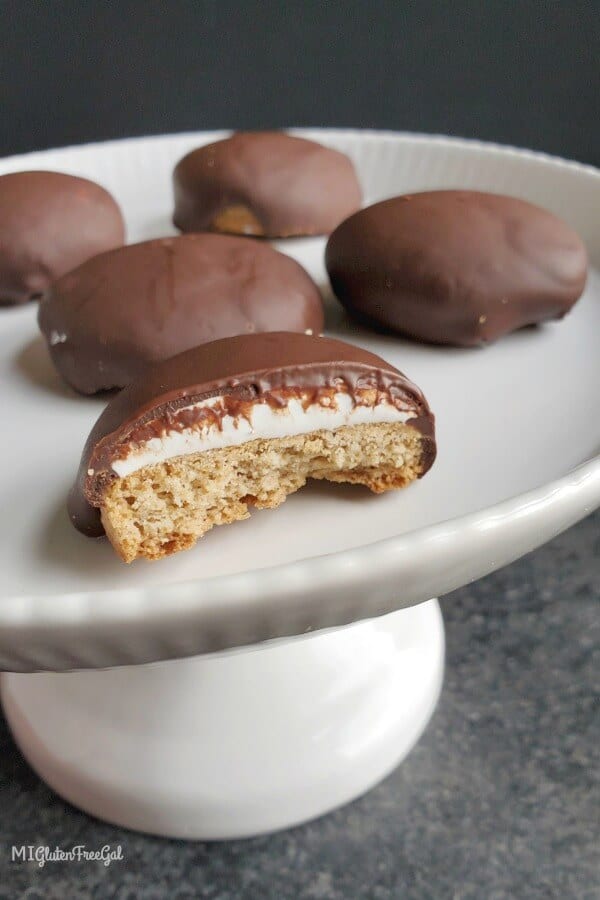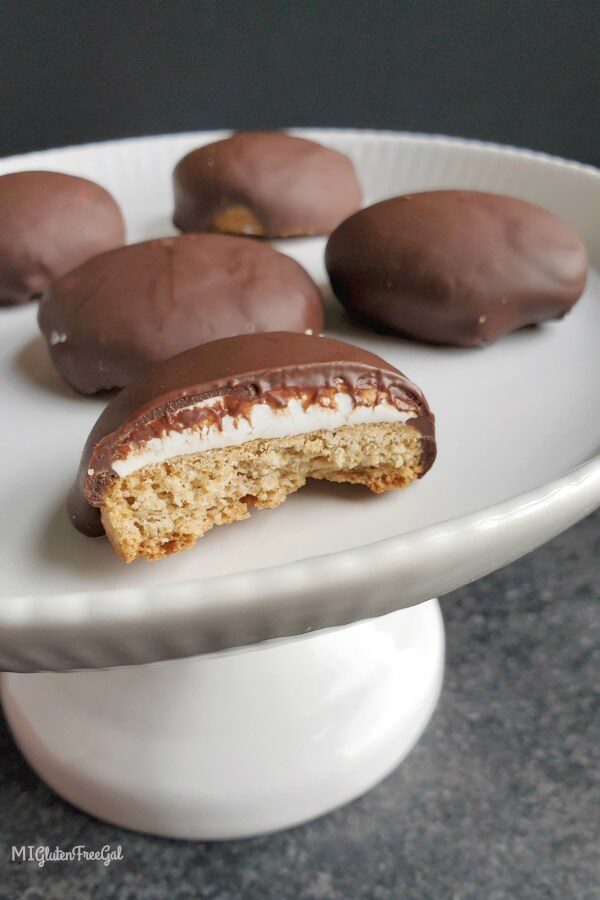 Imperfections Are Expected
THIS IS YOUR REMINDER TO CHILL. Once your gluten free mallomars are topped with chocolate, IMMEDIATELY place them in the refrigerator. And let them hang out there, for at least an hour. Or more. You want the chocolate to completely set. Otherwise, if it's still soft, your fingerprints will be all over them. Literally.
These gluten free mallomars look perfect, right? That's because I hid the imperfect ones. A few had peeks of marshmallow popping out, or fingerprints. So I tried to add more chocolate, which made it look worse. I wish I would have left well enough alone. Don't feel the need to be Picasso with these. They'll still taste great!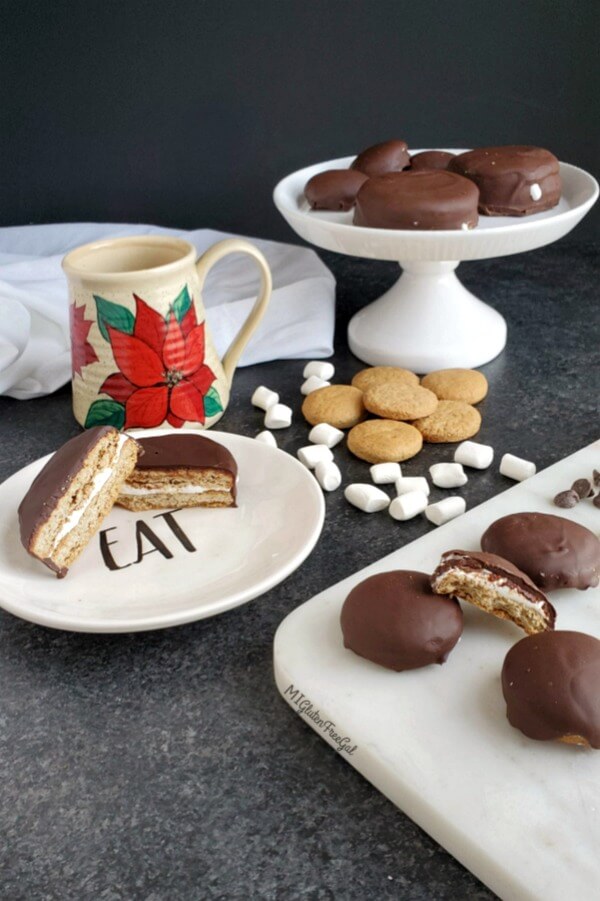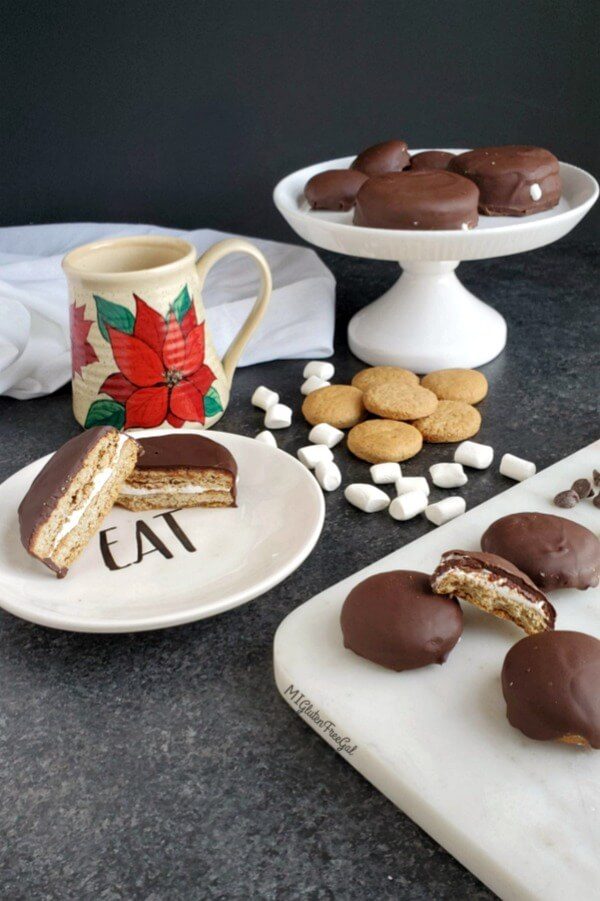 Other Marshmallow Treats You'll Love
Marshmallow fluff has many uses. I love to use it in buttercream frosting, found in my Christmas Tree Snack Cakes and Valentine Snack Cakes. You can also use marshmallow fluff to make this small batch of Fantasy Fudge from Dessert for Two!
Looking for "s'more" dessert inspiration? This no bake (and dairy free!) S'mores Icebox Cake from Iowa Girl Eats requires minimal prep time. If you're searching for smaller servings sizes, these Gluten and Dairy Free S'mores Parfaits from Allergy Awesomeness also sound great! They also use Schar Honeygrams
Egg Free and Dairy Free Graham Cracker Options
The homemade graham cracker base of these gluten free mallomars contain no eggs. However, they do contain dairy. Should you need gluten and dairy free graham crackers, I recommend the Gluten Free Graham Crackers on Sarah Bakes Gluten Free. Schar Honey Grams contain no dairy or egg, but do contain soy. Egg free options for the marshmallow cream are mentioned above, in the post.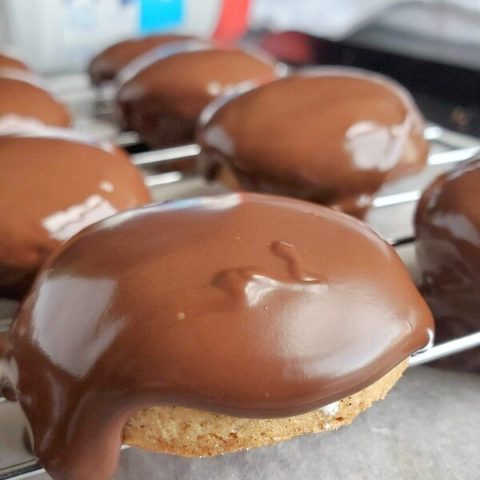 Gluten Free Mallomars & Moon Pies
Ingredients
For the homemade graham crackers
2 c gluten free flour (I used Cup 4 Cup)
1/4 cup gluten free buckwheat flour (I used Arrowhead Mills)
1/2 c brown sugar
1/2 tsp salt
1/2 tsp baking soda
1 tsp baking powder
1 tsp cinnamon
7 tbsp cold butter, cubed
1 tsp vanilla
3 tbsp honey
3 tbsp ice cold water
For the melted chocolate
12 oz chocolate chips
1 tbsp coconut oil or shortening
Instructions
In a food processor, combine flours, brown sugar, salt, soda, baking powder and cinnamon. Give it a few pulses to combine ingredients.
Next, add cubed cold butter to the processor and pulse until the mixture starts to look sandy. You want most of the butter to be processed into the dough, but a few unprocessed bits are okay.
Next, add vanilla and honey. Pulse to combine. Then add ice cold water, one tablespoon at a time until dough begins to form. If you use a different flour blend, such as Bob's Red Mill you may need to add another tablespoon of water.
Turn dough out onto a lightly floured surface. Knead dough until smooth. Wrap in saran wrap (or put in container with lid) and refrigerate overnight, or at least 2-3 hours.
Remove dough from the fridge and allow to rest about 10 minutes to allow to warm, slightly. On a lightly floured surface, roll dough so that it measures 1/8 of an inch in depth. Using a 1 1/2" cookie cutter, cut out circles. (If wanting to make Moon Pies, use a 2 1/2" cookie cutter.) Reroll scraps of dough and cut until all is used.
Place cut out circles on a parchment lined cookie sheet, and chill for 30 minutes.
(**If using Schar Honeygrams, place graham crackers on a flat plate. (Do not stack.) Cover with a damp paper towel and microwave for 30 seconds to one minute. Use a cookie cutter to cut out circles, and discard scraps.)
Preheat the oven to 350 degrees. Bake graham crackers for 8-10 minutes, rotating halfway through the baking time.
Allow graham crackers to completely cool. Place graham crackers on a cooling rack, on top of the parchment paper.
Next, top with marshmallow fluff. I used a Wilton disposable pastry bag to do this. You can also use a plastic sandwich bag with the tip cut off. I find using a bag to be much easier than trying to use a spoon.
After graham crackers are topped with fluff, place them in the freezer for an hour. This allows the fluff to harden so it doesn't immediately melt when the chocolate is added.
In a small pot, heat water until almost boiling. Place a glass bowl over the pot. Add one tbsp coconut oil or shortening to the bowl, and the chocolate chips. Use a spoon to stir the chocolate until it is completely melted.
Remove grahams topped with marshmallow fluff from the freezer. Working quickly, spoon chocolate over the top of the marshmallow fluff. Once finished, place mallomars in the refrigerator to chill for at least an hour, if not more.
**This post is not sponsored. This post does contain affiliate links. Purchases made through those links help support this blog with no extra expense to you. Thank you for your continued support!**