Gluten Free Christmas Tree Cakes
As an Amazon Associate and member of other affiliate programs, I earn from qualifying purchases.
Miss those individually packaged Little Debbie Christmas Tree Cakes? With a bit of ingenuity, you don't have to miss them any more! These gluten free Christmas Tree Cakes are fun to make and delicious to eat!

What Gluten Free Cake Mix Should I Use?
This recipe for Gluten Free Christmas Tree Cakes isn't so much a recipe. It's really more of a tutorial. You can use any brand of gluten free yellow cake mix you desire. Heck, you can even make the cake from scratch if you have need or want. When it comes to recipes for my site, I like to make these are allergen free as possible. Better Batter mixes contain NONE of the top 8 allergens, nor gluten. No corn or gmo's, either! That's why I've used it in my easy gluten-free black forest trifle and my easy gluten-free mocha donuts.
What Pan Should I Use To Bake These?
The baking you use depends on what size cake mix you choose. If you have a 15 oz cake mix, like Betty Crocker or Aldi, I'd use two 10 x 15 jelly roll pans. (Or bake half the batter, and then reuse the pan.) If you have an 18 oz cake mix or larger, such as Better Batter or King Arthur, I'd use two 11.5 x 17.25 jelly roll pans. (Or a half sheet cake pan.) You can bake all the batter on one sheet if you wish. However, then you'll have to cut the cut out cake down the middle. Bake your cake for ONLY 10 MINUTES! It's a very thin layer of cake, so it bakes quickly.
How Do I Build a Gluten Free Christmas Tree Cake?
To make a these gluten free Christmas Tree Cakes, you'll pour your batter into a flat rimmed baking sheet. (See sizes above.) You want to split the batter between two pans. This will allow you to have two thin layers of cake. After baking your flat layer of cake, you'll use a christmas tree cookie cutter to cut out individual cake shapes. You can use the excess cake scraps to make cake pops.
Next, you will sandwich two chrismas tree cake cutouts together with a marshmallow cream filling, and then dunk the whole thing in Vanilla Almond Bark. (Or chocolate, if you prefer.) **Prior to coating in vanilla candy melts, you will need to freeze the tree cake sandwiches.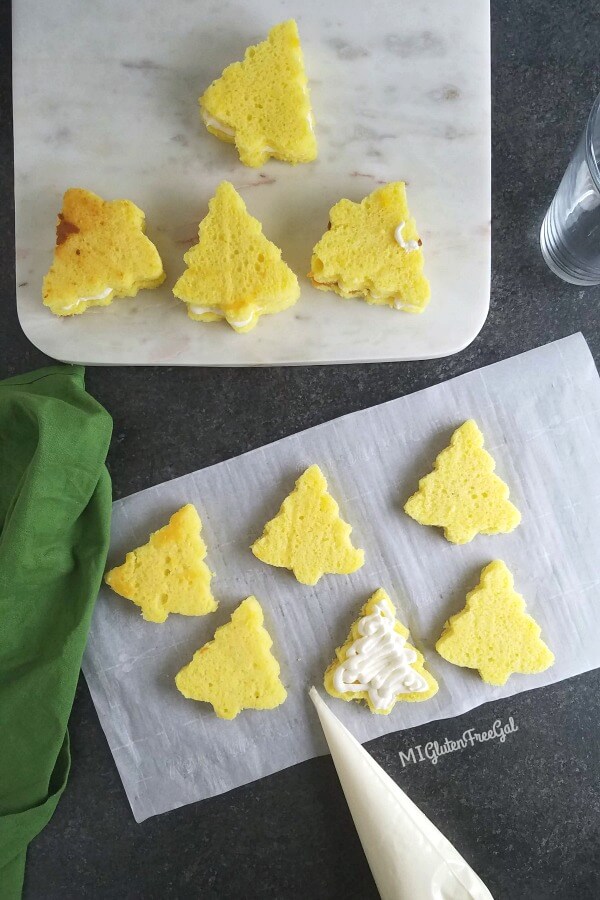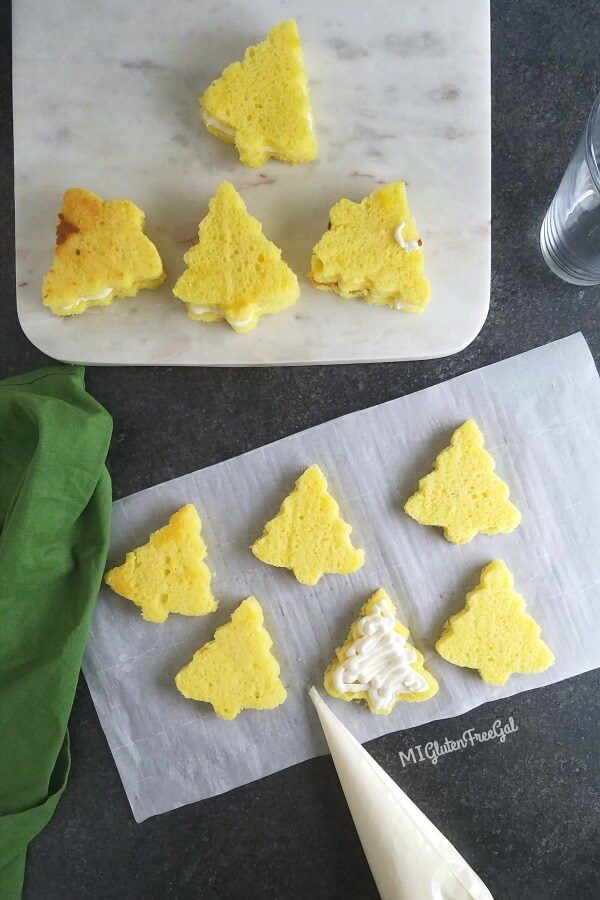 What Filling Do You Use for Gluten Free Christmas Tree Cakes?
Next comes the filling. This marshmallow fluff based filling is the best thing ever. I used it with my Gluten Free Valentine Cakes, as well as for peanut butter cookie sandwiches. You could also use it as the filling for homemade gluten free oreos! (Give these Gluten Free Copy Cat Oreos from The Frugal Wife a whirl.)
How Do You Fill a Piping Bag?
I highly suggest using a piping bag for evenly distributing the filling on these cakes Gluten Free Christmas Tree Cakes. To fill the piping bag, open the bag and slide it over the top of a tall drinking glass. (Don't cut the tip before doing this!) This way, the bag is standing up, sans hands, and it makes depositing the filling a breeze. Once filled, use scissors to cut a tiny hole at the bottom of the bag. Then pipe away! I prefer to outline the cake sides, then fill in the centers. This assures that there is filling throughout the entire snack cake. Don't skimp on the frosting filling!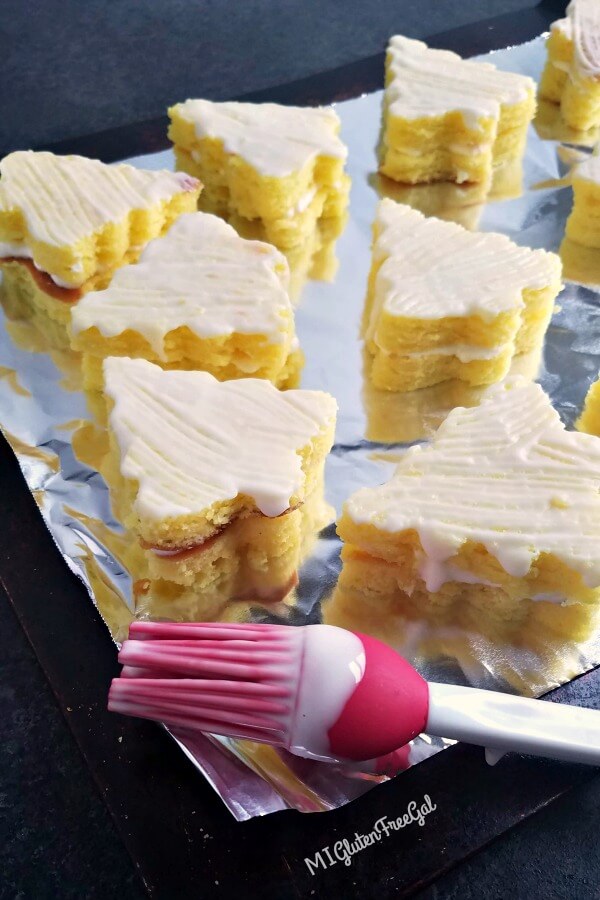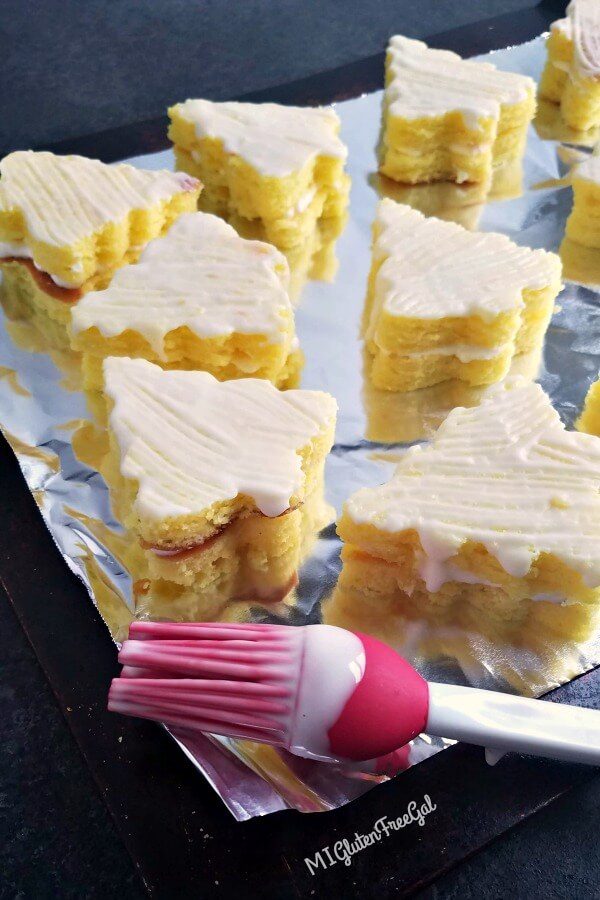 What Kind of Coating Do You Use?
I use Kroger Vanilla Candy Coating. This product is specifically labeled gluten free. It does contain soy and milk. The ingredients for this product are: "Sugar, Plam Kernel Oil, Nonfat Dry Milk, Palm Oil, Whole Milk Powder, Soy Lecithin (An Emulsifier), Natural Flavor, Vanilla Extract."
Can I Use Melted White Chocolate Chips?
I don't recommend it. The consistency of melted candy coating is much thinner than melted white chocolate. I definitely do NOT recommend melting Enjoy Life White Baking Chips. It turns into a horrible mess. If you want to use melted chocolate chips, you can add shortening to thin the chocolate. In her recipe for gluten free cake pops, Chef Janet K uses 1 tbsp of coconut oil or shortening for every cup of chocolate chips.
How Do You Coat the Christmas Tree Cakes?
I made these again in 2022, after watching them being made at Bake Me Happy in Ohio. I placed the candy coating in a medium sized glass bowl, placed a cake "sandwich" on a fork, and submerged the whole cake in the white chocolate coating. You'll need to tap or "bounce" the finished cake to get rid of the excess coating, Then, placed the finished cake on parchment paper and allow the coating to set.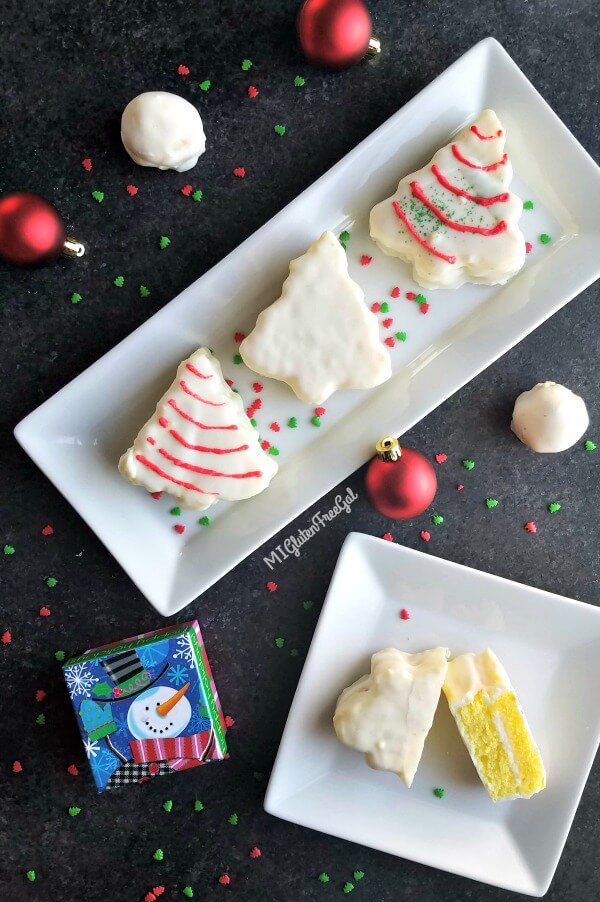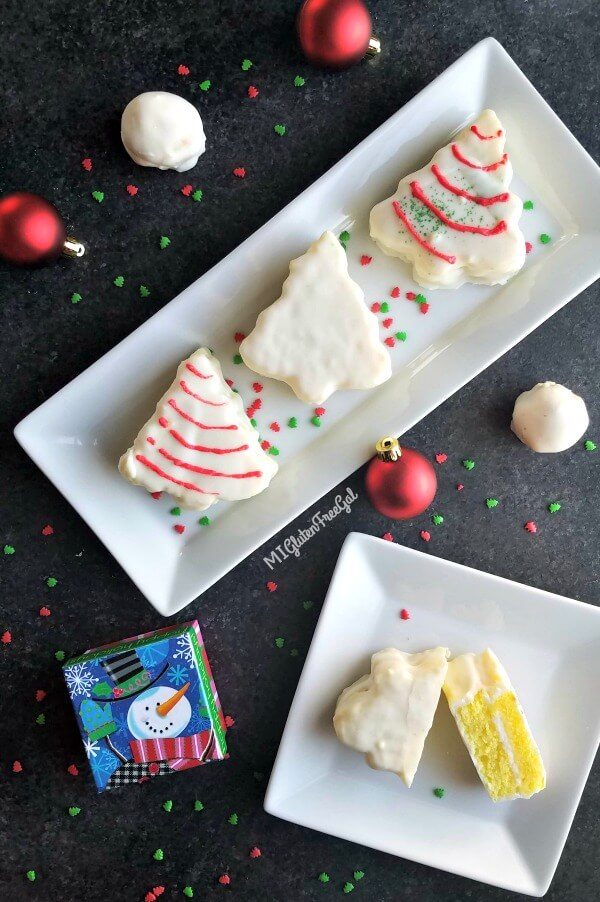 How Do You Decorate The Gluten Free Christmas Tree Cakes?
You can decorate these Gluten Free Christmas Tree Cakes however you like. Being the math geek that I am, I actually bought a box of the Little Debbie cakes, opened the box, and photographed how they were decorated. (Green sprinkles and red stripes.) Then I taped the box shut and sent them off to work with my husband. The things we do for science.
Therefore, when I made my Gluten Free Christmas Tree Cakes, I made some with green sprinkles and red stripes. However, I made some with just red stripes. And some I didn't decorate at all. That's the beauty of homemade treats. You get to decide! Heck, you could even make these with chocolate cake or a spiced cake if you want. Let the kids on the deal, and include making these treats as part of your holiday memories! (And turn those cake scraps into cake pops / snowballs!)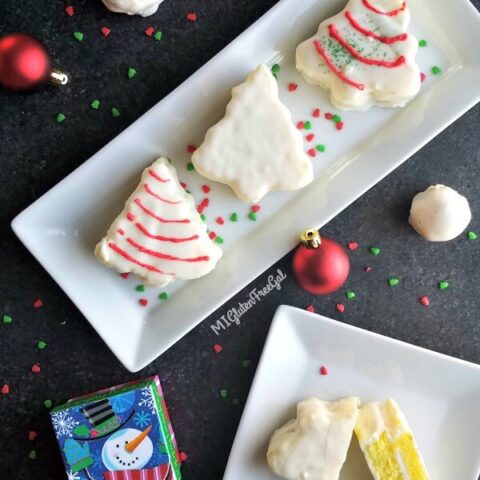 Gluten Free Christmas Tree Cakes
Prep Time:
1 hour
30 minutes
Total Time:
1 hour
30 minutes
Ingredients
For the Cake
1 box gluten free cake mix, batter prepared according to directions
**BAKE FOR ONLY 10 MINUTES in 2 jelly roll pans**
For the Filling
4 oz butter, softened
4 oz marshmallow fluff
2 oz powdered sugar
For the Coating
16 oz vanilla candy coating (I used Kroger)
1 tsp shortening to thin, if needed
Instructions
Prepare the batter for your gluten free cake mix according to directions. If using a 15 - 16 oz cake mix, bake in TWO 10 x 15 jelly roll pans. (Or bake one batch and then reuse. If using a 18-22 oz cake mix, I recommend using 2 11x17 pans.
ONLY BAKE FOR 10 minutes. Longer than this, and you'll have burnt cake on your hands. Remove baked cake from pans and allow to cool completely.
Meanwhile, prepare your marshmallow cream filling. Make sure your butter is room temperature and soft, before starting. Mix using a hand mizxer, or a Kitchenaid stand mixer. (I like the stand mixer, because I can walk away.)
Stretch the mouth of a piping bag over a tall glass, then fill the piping bag with filling mixture. Set aside.
Once cake is cooled, cut cake into tree shapes, using a cookie cutter. Pipe filling on to the bottom piece of cake. Don't be afraid to be generous with the filling. You have plenty of filling! Place another tree cake cutout on top of filling
Once all tree cake bottoms have been topped with filling and a top cake, place in freezer for 20 minutes, before coating.
Meanwhile, melt candy coating / almond bark in a glass bowl, set over a hot pot of water. To that, add your shortening, if needed. I used 16 oz of vanilla candy coaring, and added a tsp of shortening. You can make your coating thinner if you like, but I would test that out with a small portion of melted bark, and not a whole bowl of melted white chocolate.
Place christmas tree cake on fork, and dunk completely in bowl of melted candy coating. Use spoon to fully coat, if needed. Tap / bounce cake over bowl, to get rid of excess coating.
Place finished cake on parchment and allow to coating to set. **Note- If you want to add sprinkles or colored sugar, you need to do this BEFORE the coating sets.
**Note - If you have leftover filling, this can last in the fridge for 5 days. I used my leftover filling to the cake scraps to make cake balls. I don't have an exact measurement of frosting to tell you to add. Use just enough for the cake to hold together. Dip chilled cake balls in remaining melted candy coating.
**This post is NOT sponsored by Better Batter. This post does however include Amazon Affiliate Links. Purchases made through those links provide me a small commission. However, this does not influence the cost of your purchases. Thank you for helping to support this website!**