Gluten Free in Michigan's Upper Peninsula
As an Amazon Associate and member of other affiliate programs, I earn from qualifying purchases.
On my honor, I think there's no place more beautiful than Michigan's Upper Peninsula. Then again, living in Michigan, I may be biased. In addition to its beauty, there are many great gluten free options in the Upper Peninsula as well. Check out what we enjoyed during our vacation to Ishpeming, Negaunee and Marquette.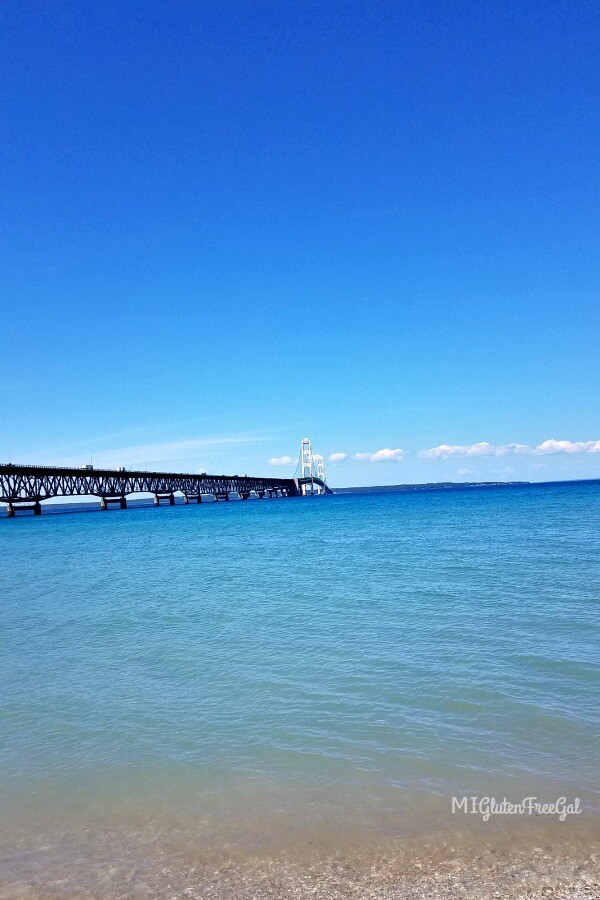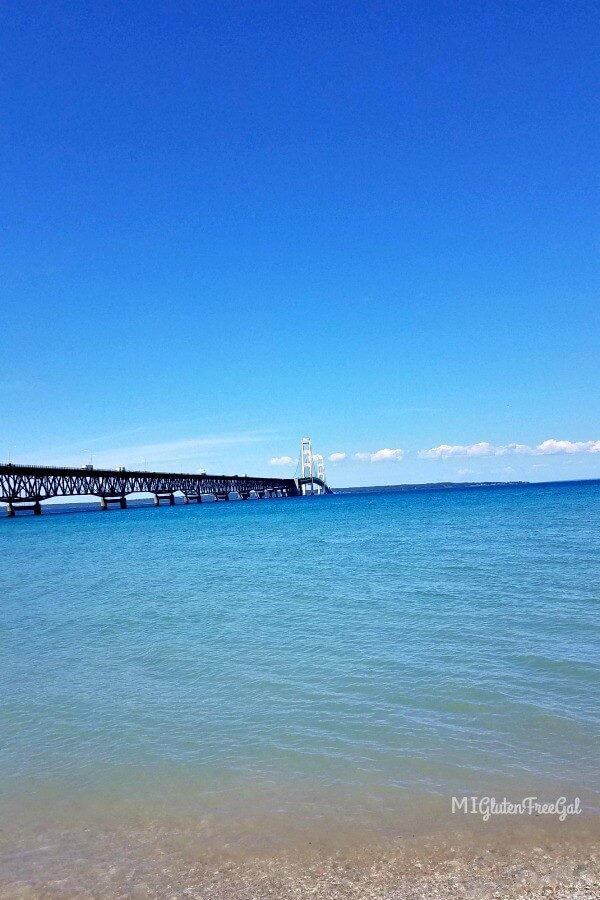 Where is the "Upper Peninsula?"
So, for my Non-Michigan friends, the Upper Peninsula is separated by the Lower Peninsula of Michigan by the Mackinac (pronounced Mack -in-aw) Straits. The two land masses are connected by the Mackinac Bridge, the third largest suspension bridge in the United States. Opened in 1957, it covers the 5 mile span of 1-75 from Mackinaw City to St. Ignace. While the west side of the peninsula borders Wisconsin by land, it is, in fact, part of Michigan.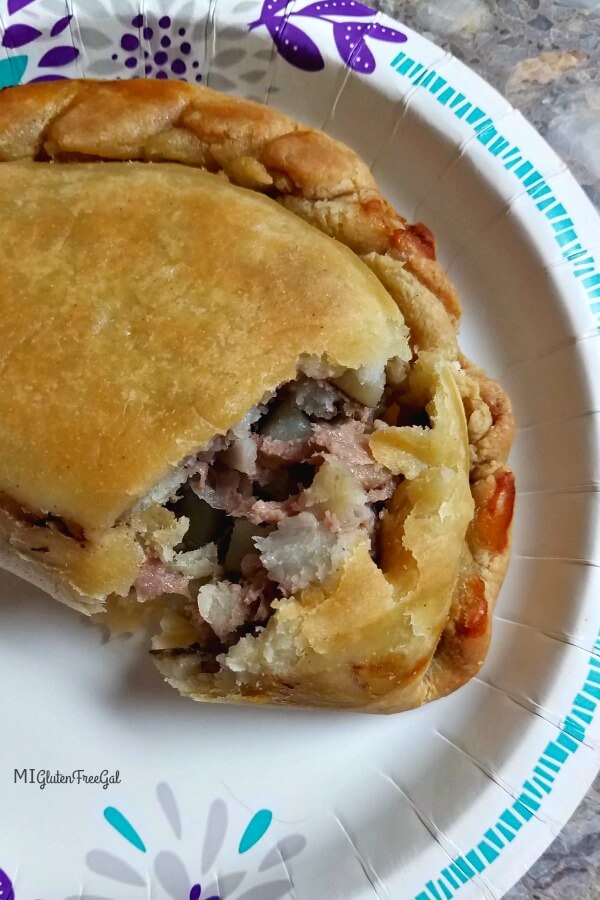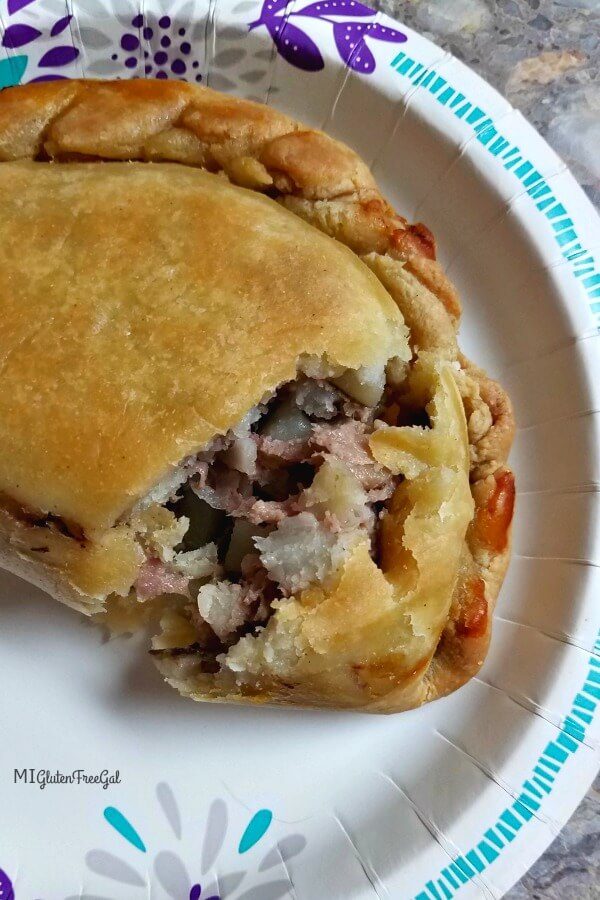 Iron Town Pasties in Negaunee
What's a pasty? Similar to calzone, it's a handheld meal wrapped in dough. Unlike a calzone, it contains no sauce. Some will dip them in gravy, although some frown on that and use ketchup instead. Traditional pasties, like the one above, contain beef, potatoes, rutabaga, onion and spices.
Iron Town Pasties offers what they call "gluten friendly" pasties. Because of the large population of those with Finnish heritage (and Celiac Disease), businesses often take the term "gluten free" seriously.
Here is how they prepare and store their gluten friendly pasties. "We deep clean prior to gluten friendly work. We stop our regular flour work at least 24 hours prior to doing our gluten friendly. (We call them gluten friendly due to us using regular flour in our facility.) As long as we have an hour notice we can get it hot for you while supplies last."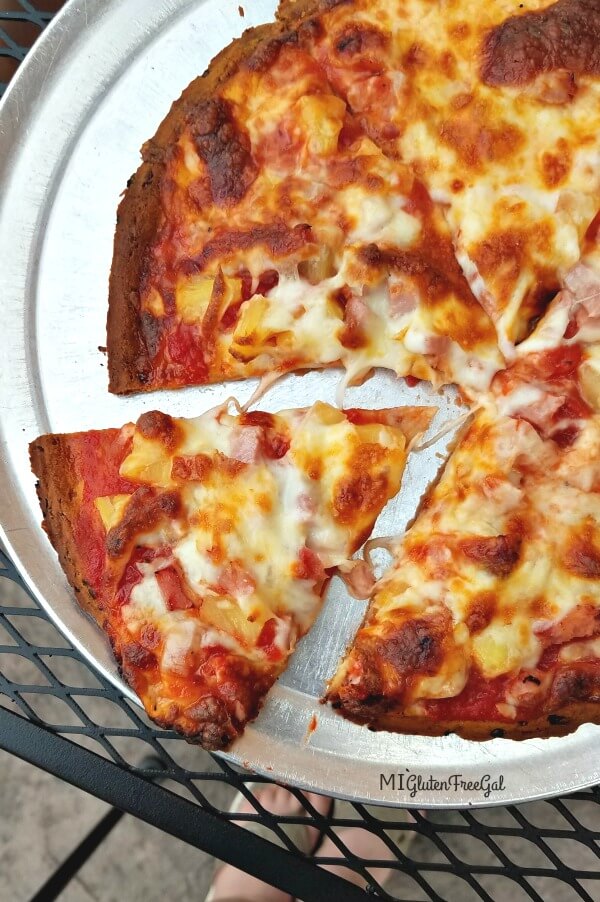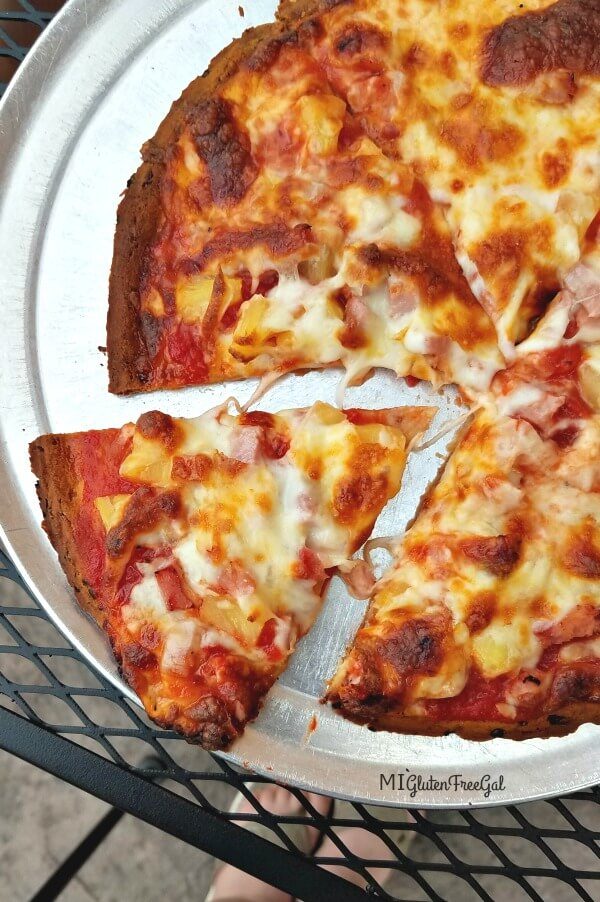 Tino's Bar and Pizza in Negaunee
We also ate at Tino's in Negaunee while on our gluten free Upper Peninsula vacation. While they take precautions, they use a very small kitchen. They change gloves and preparing gf pizzas on their own pan. The cook stated she would use fresh sauce and toppings after I asked. However, they also use the term "gluten friendly" because they know the chance for cross contact is possible. They offer grain based and cauliflower gluten free crusts.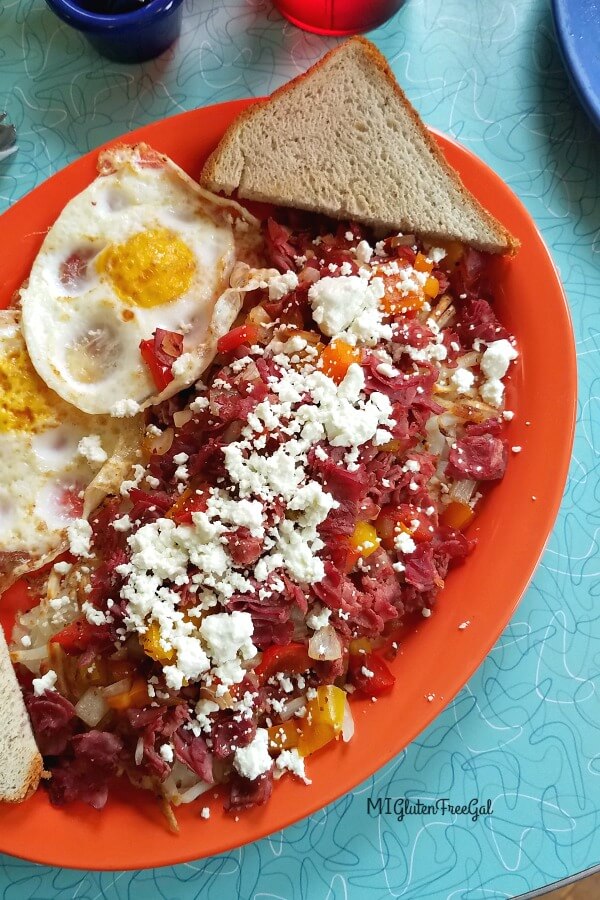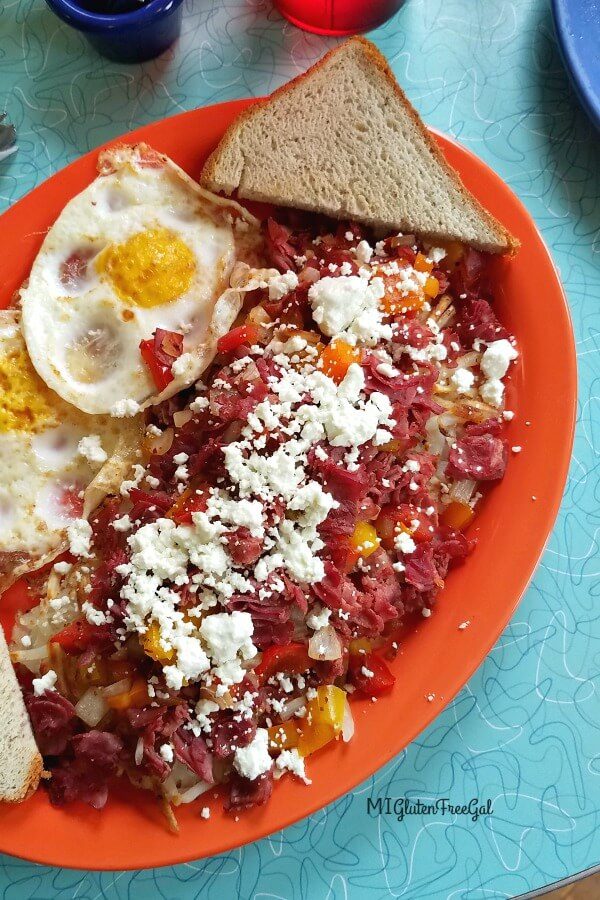 Donckers in Marquette
Downtown Marquette is such a treasure. I feel like one day is simply not enough to explore it all. Some restaurants are more knowledgeable than others. Our meal at Donckers may just be my favorite meal of the entire trip. Read my full blog post about out Donckers breakfast.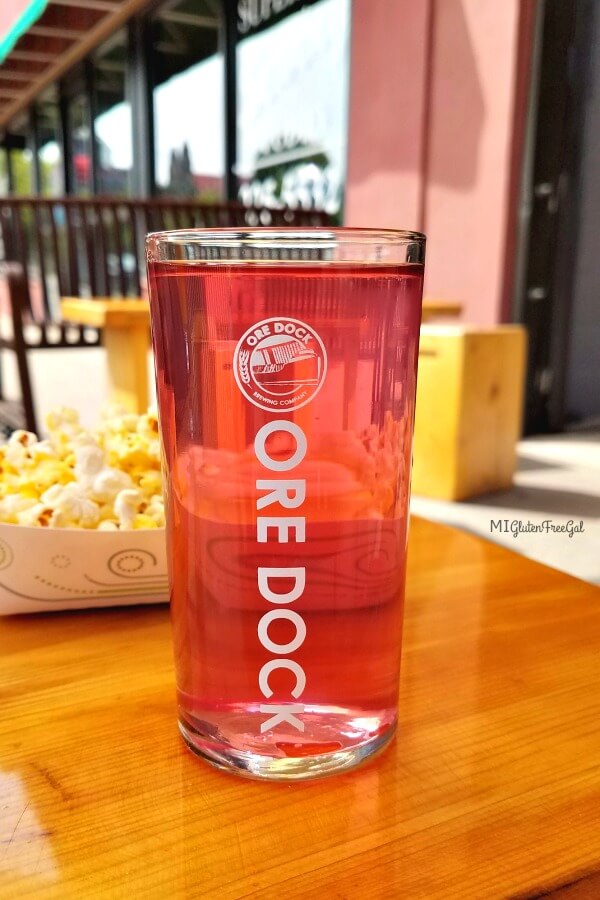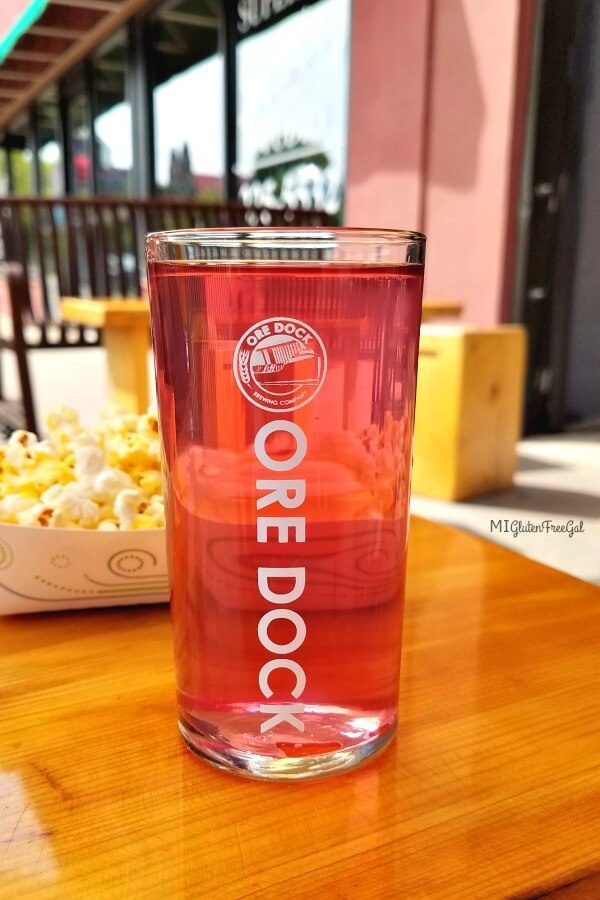 Ore Town Brewing in Marquette
For those who know me well, they know it takes less than 4 oz of any alcohol to make me tipsy. #CheapDate. During our gluten free Upper Peninsula journey, we stopped at Ore Dock Brewing so my husband could have a (non gf) beer. Imagine my surprise when I learned they make their own gluten free seltzer, named Breakwater. I drank this entire glass of Black Cherry seltzer and enjoyed every last drop.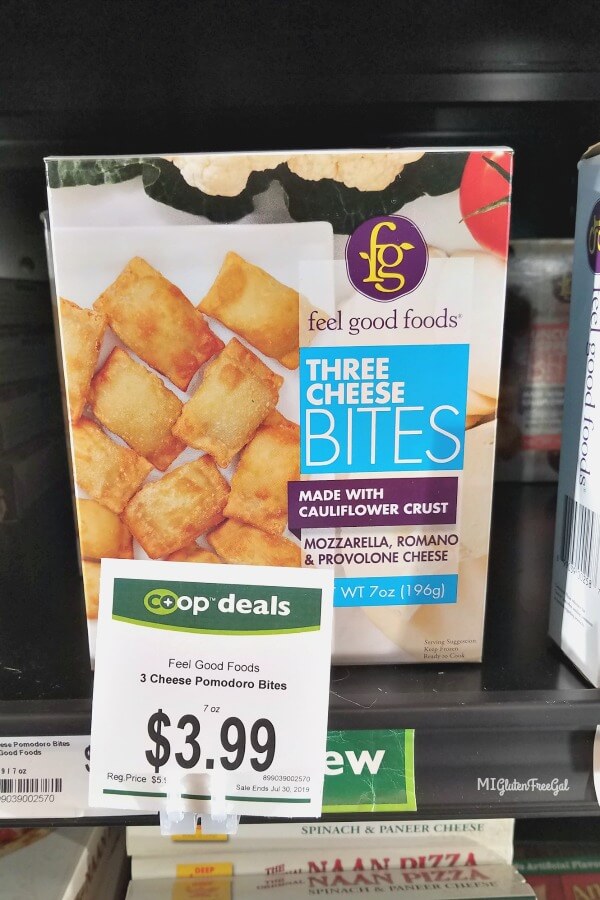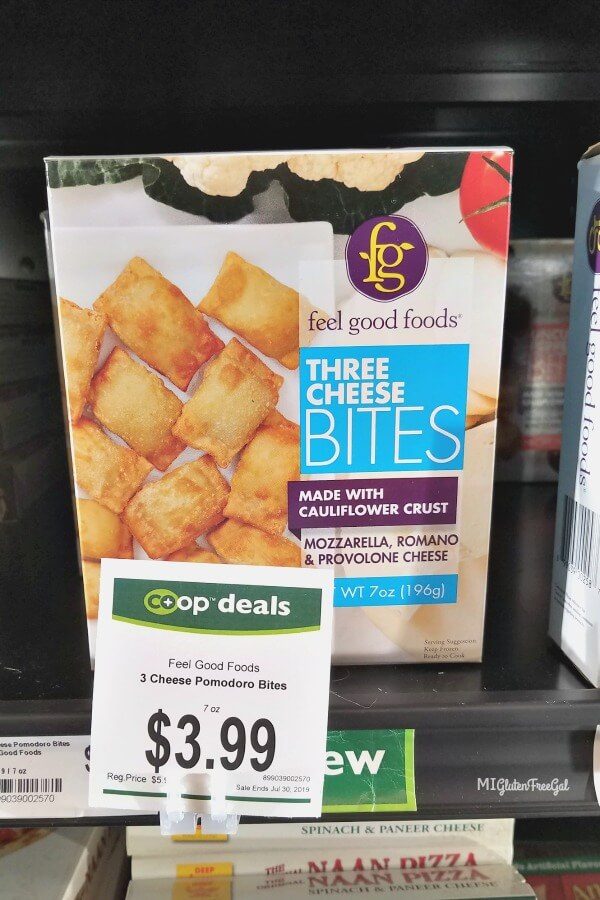 Marquette Food Co-op
When traveling, I always recommend visiting local grocery stores. Especially the small health food stores, as sometimes you find local stuff you can't find at home. Ironically, on our gluten free Upper Peninsula vacation, I found national brands at Marquette Food Co-Op I couldn't find at home. This box came home with me, for sure!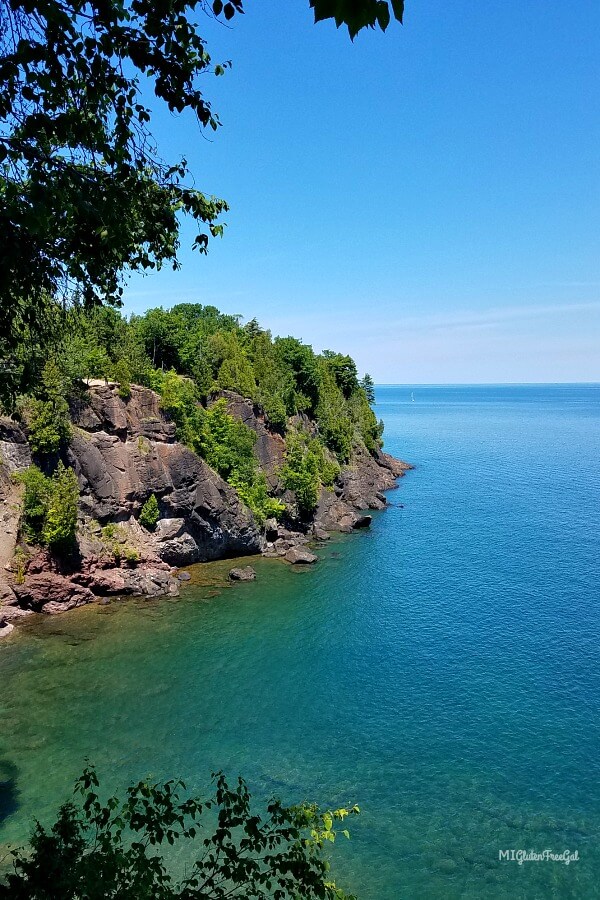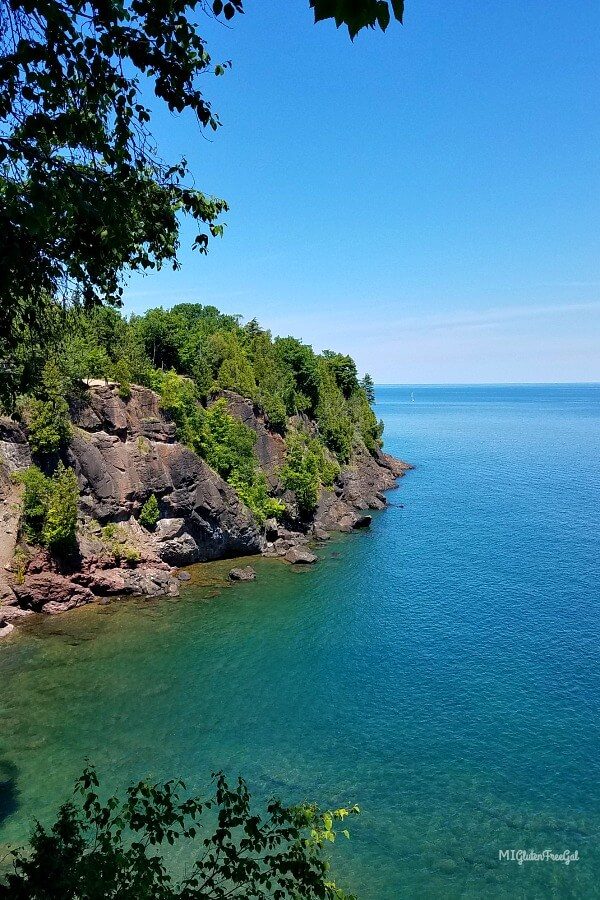 Presque Isle Park, Michigan
I am so blessed to live in Michigan, surrounded by the Great Lakes. This 300+ acre park, jutting out into Michigan's Lake Superior, personifies beauty. The water shows itself in the deepest blues and greens. While we spent an hour or so exploring, one can definitely spend hours at Presque Isle Park and not be bored.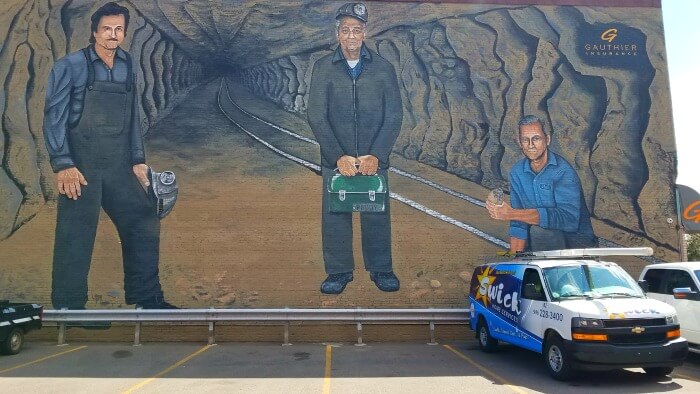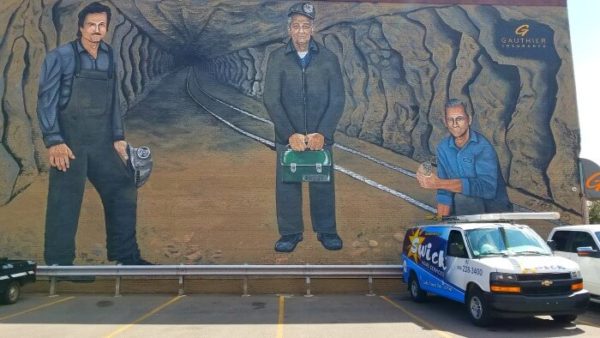 Upper Peninsula's Mining History
Michigan's Upper Peninsula is synonymous with mining. In fact, the western counties are nicknamed "Copper Country." While many mines sit empty, researchers now study their potential for hydro energy storage that could not only revolutionize the area, but the country. This mural in Ishpeming serves as a reminder of the area's history.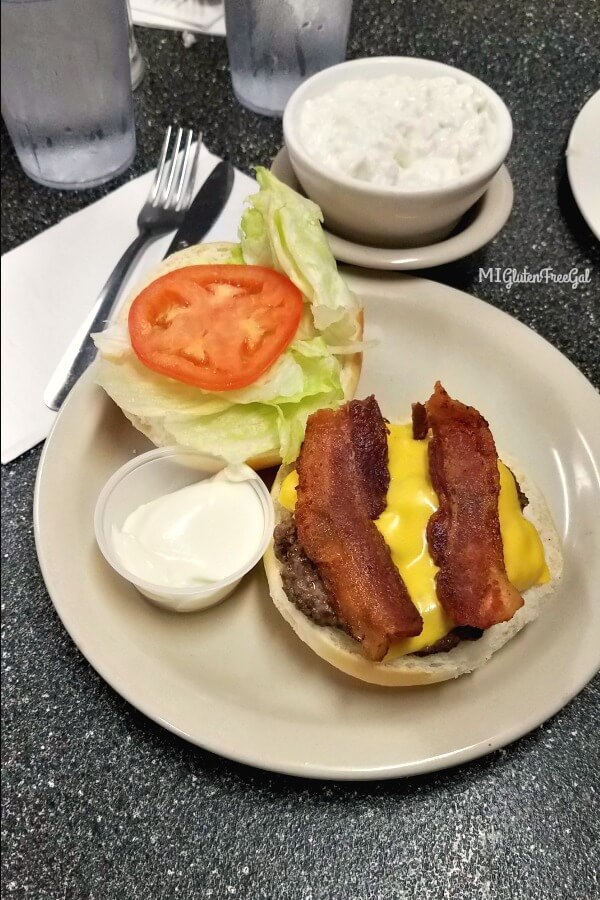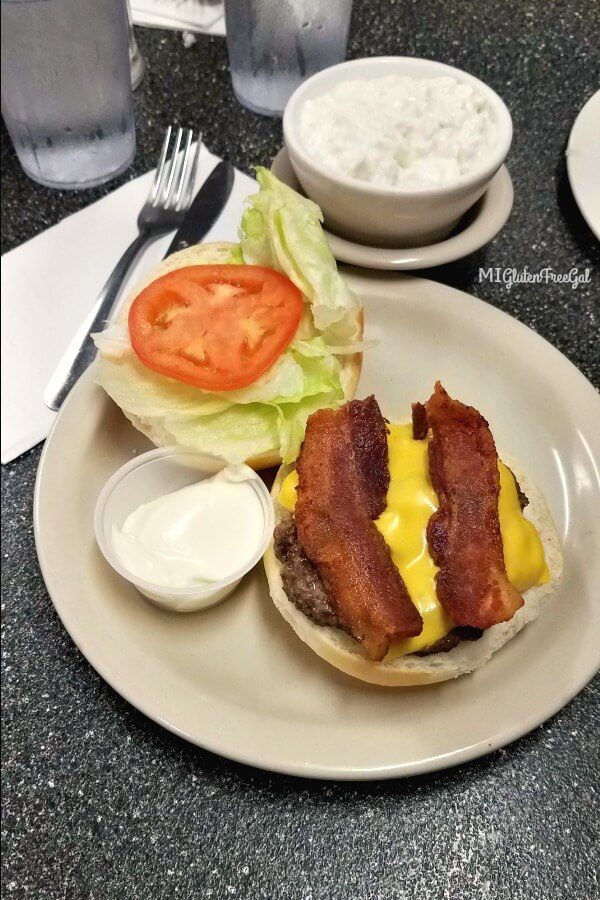 Buck's Restaurant, Ishpeming
You'll find Buck's Restaurant just across the street from that mural. Although they don't advertise gluten free options, locals come here for gluten free burgers and "cudighi." They serve their gluten free burgers on Udi's buns. However, they do not have a dedicated fryer. Therefore, no french fries as a side.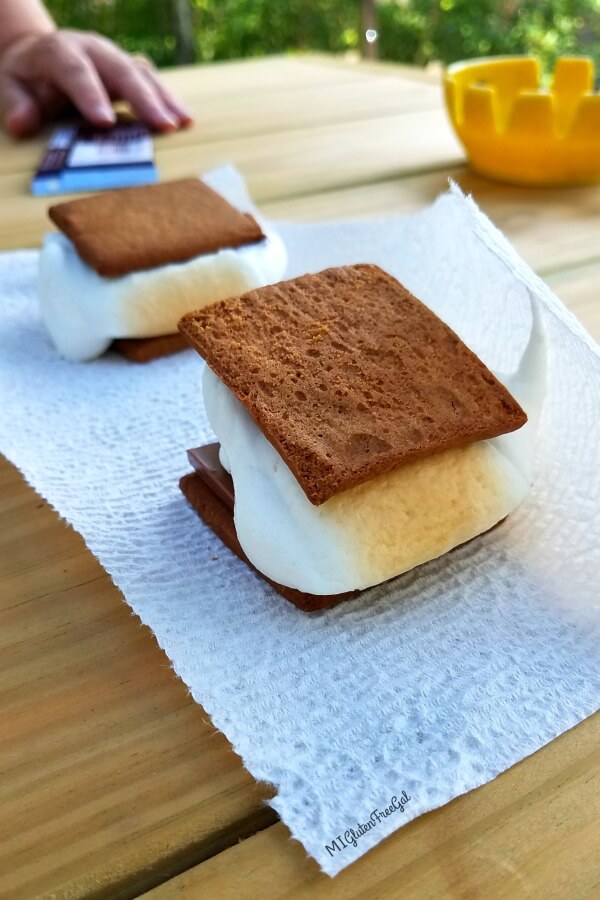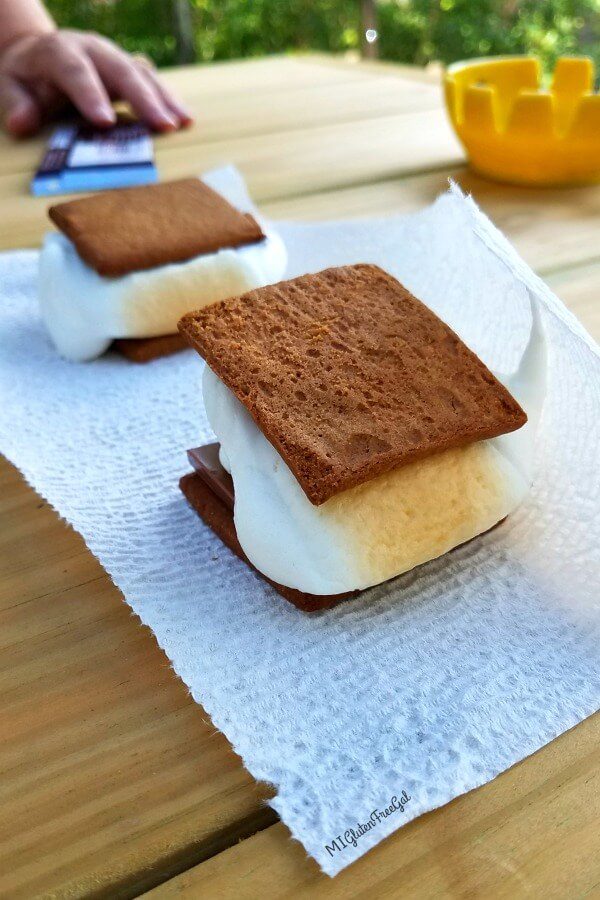 BYO Gluten Free Grahams
Of course, the safest place to eat during any vacation is your own kitchen. We stayed at a friend's cabin on the Dead River Storage Basin. I had access to pots, pans and my own toaster that I brought. We enjoyed gluten free waffles, hot dogs, and S'mores. My recipe for homemade gluten free graham crackers is here on my blog.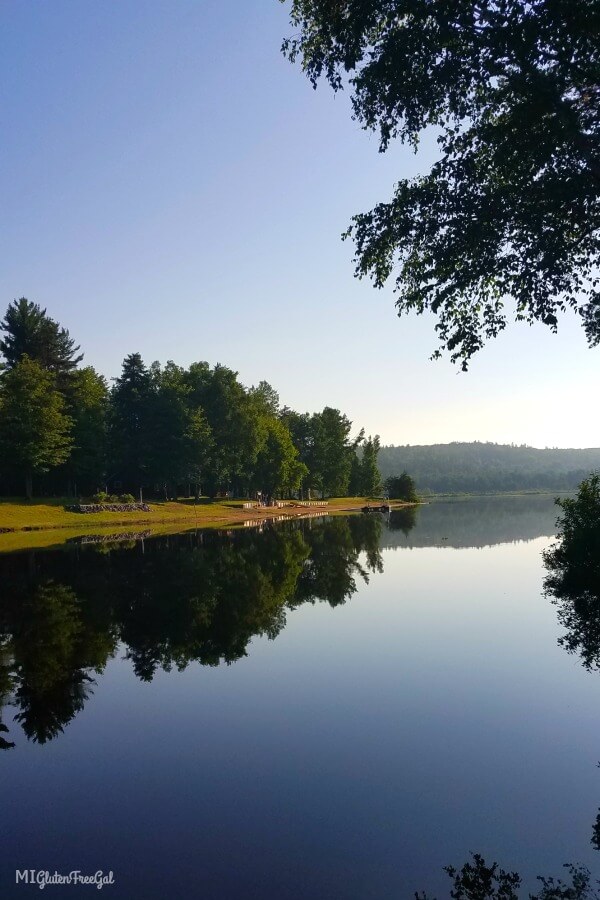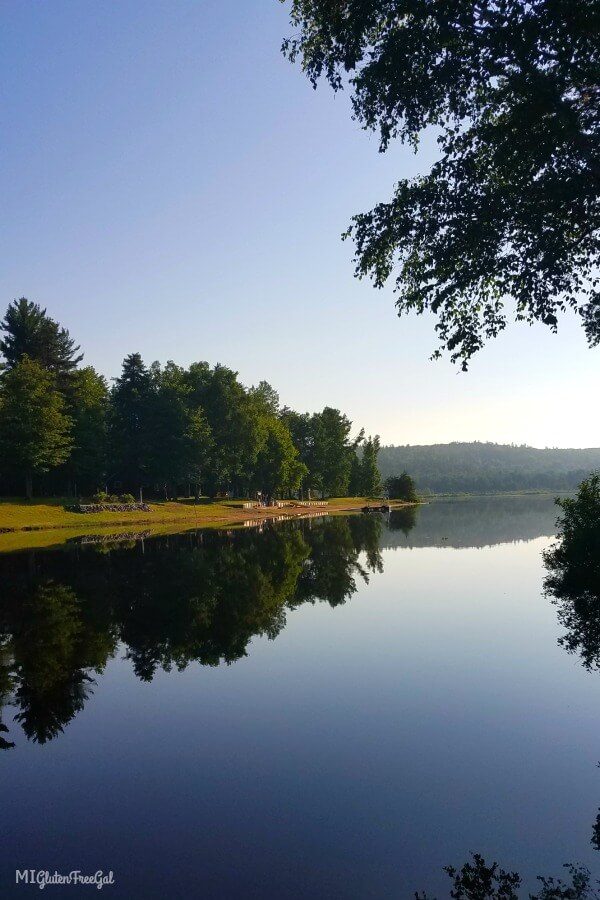 My Happy Place
I am my happiest near any body of water. During our gluten free Upper Peninsula getaway, we were blessed to stay in a house on the waterfront. Each morning, I walked out and this is what greeted me. If you have yet to visit Michigan's UP, I strongly encourage you to do so. It's untouched beauty is worth the drive.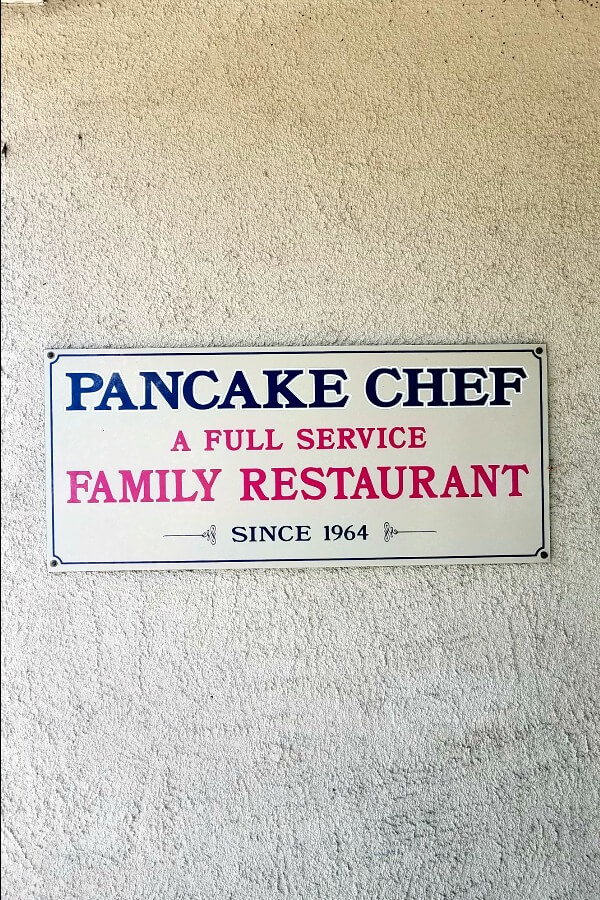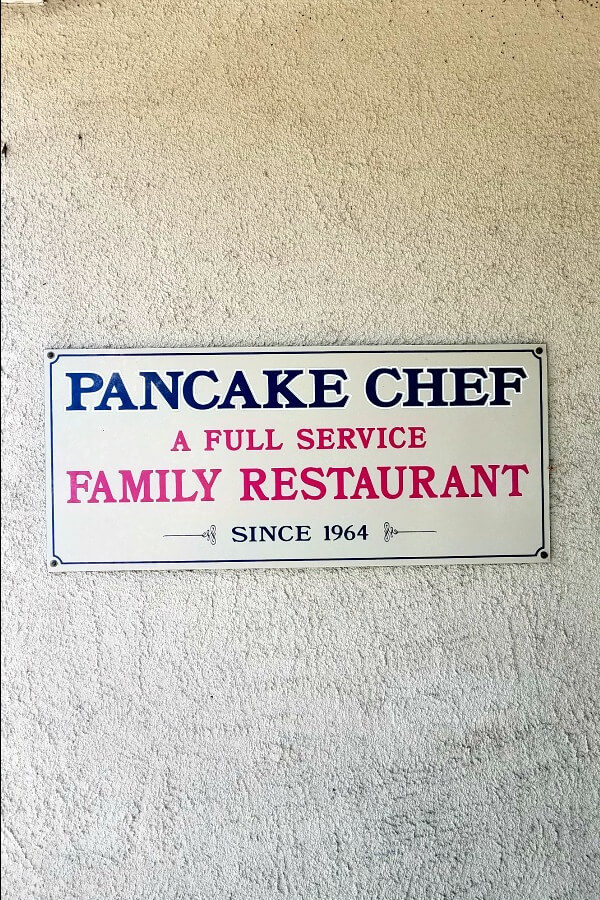 Other Northern Gluten Free Dining Locations
People often ask me for restaurant recommendations for across our state. (Upper and Lower Peninsula's, combined.) Below are restaurants others have recommended. However, I have not personally eaten at these locations, nor asked them about their food prep.
Mackinac Island – The Gate House (Part of the Grand Hotel)
St Ignace – *The Village Inn (I ate here years ago. I had a great experience, but always check with places, as procedures may change.)
Sault Ste Marie – The Wicked Sister (P.S. – Pronounced "Soo Saint Marie.")
Have any other Upper Peninsula gluten free dining suggestions? Please leave a comment below. As always, ask your own questions about food prep at any location I (or others mention.) Posts such as these serve as education about what is available. Do you own due diligence.