Gluten Free Valentine Snack Cakes
As an Amazon Associate and member of other affiliate programs, I earn from qualifying purchases.
These Gluten Free Valentine Snack Cakes will make you the coolest adult of the year. Use your favorite gluten free cake mix to make these nostalgic treats. Your sweetheart will love them!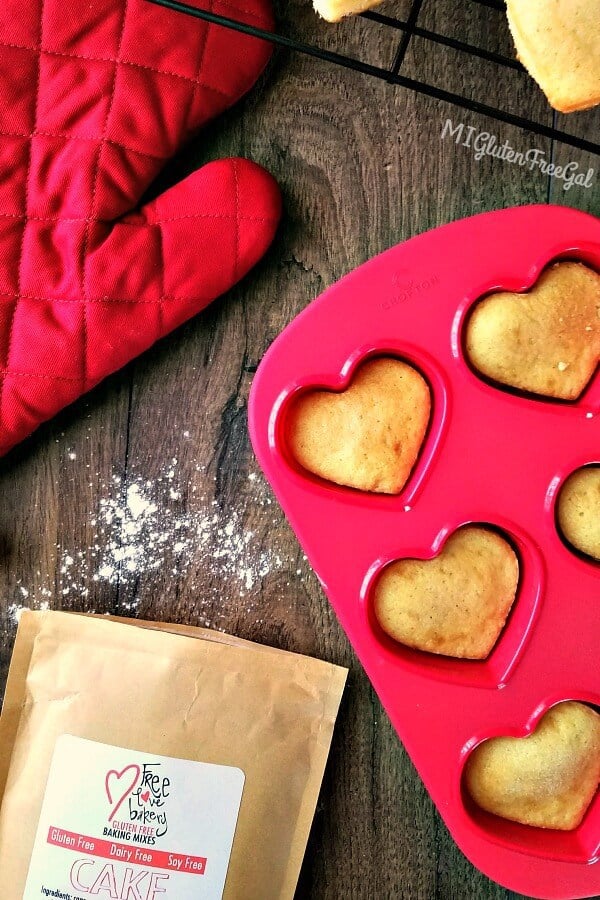 What Product Do You Miss the Most?
Which product do you miss most since starting a gluten-free diet? I asked this question on my Facebook page, and received lots of comments and answers. Know what I miss? Little Debbie's. Yeah, I know. Not healthy. However, Little Debbie snack cakes evoke a sense of my childhood. So today, I'm making adorable gluten free valentine snack cakes, reminiscent of those sweet treats wrapped in cellophane. I can still hear the crinkling of that wrapper, can't you?
You can use any gluten free cake mix to make these gluten free valentine snack cakes. King Arthur Flour makes a delicious gluten free cake mix. I can usually find them at my local Meijer store. I believe Betty Crocker still makes a gluten free yellow cake mix.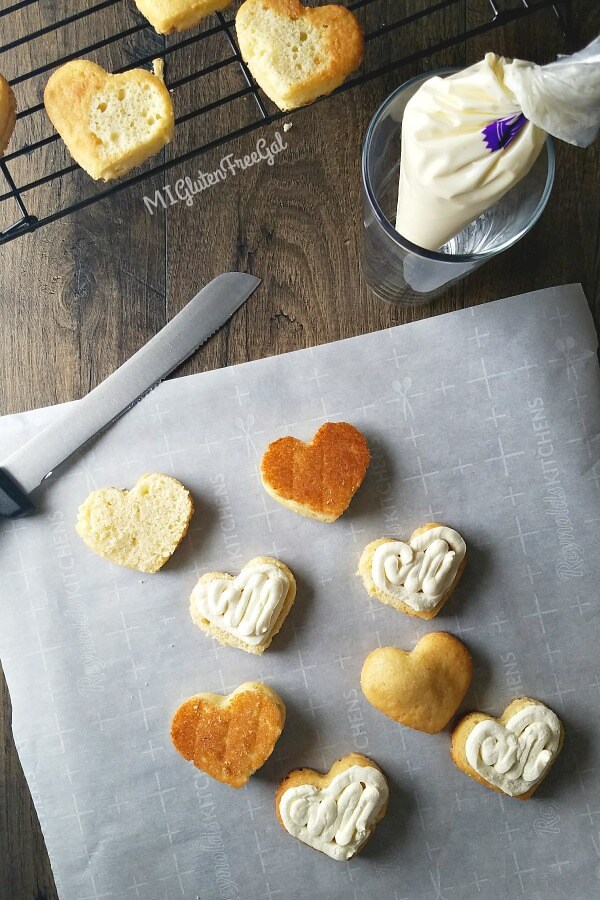 Two Ways to Make Heart Shaped Cakes
So, there are multiple ways you can go about making the cake for these gluten free valentine snack cakes. I have a silicone pan with heart-shaped well. I filled each well with one ounce of batter, and baked them for 15 minutes. If you take this route, the mini cakes will rise, and you'll have to trim he tops to make them flat. You'll also need to cut the baked heart cakes in half, to fill them.
If you lack a pan like mine, you can bake the cake in a jelly roll pan. I suggest lining it with parchment paper first to make removal easier. Then, simply use a heart cookie cutter to cut out heart shapes. This will leave bits of leftover cake bits, which you can later turn into cake balls. This is how I made my Gluten Free Christmas Tree Cakes.
How to Make the Filling for Valentine Snack Cakes
What's the best part of a Little Debbie snack cake? Is it the the cake? The coating? Or is it the creamy filling ? This filling uses a creative, miraculous ingredient. Marshmallow fluff. Did you know that marshmallow fluff makes the easiest buttercream frosting?
Wish I could say this was my brain child. Nope. Just another wonderful recipe from The Kitchn. If you are curious on how to cook everything from spaghetti squash to authentic curry, I guarantee they have a recipe for it. Know what they don't have? A recipe for gluten free valentine snack cakes. So I guess that makes me a genius. 😉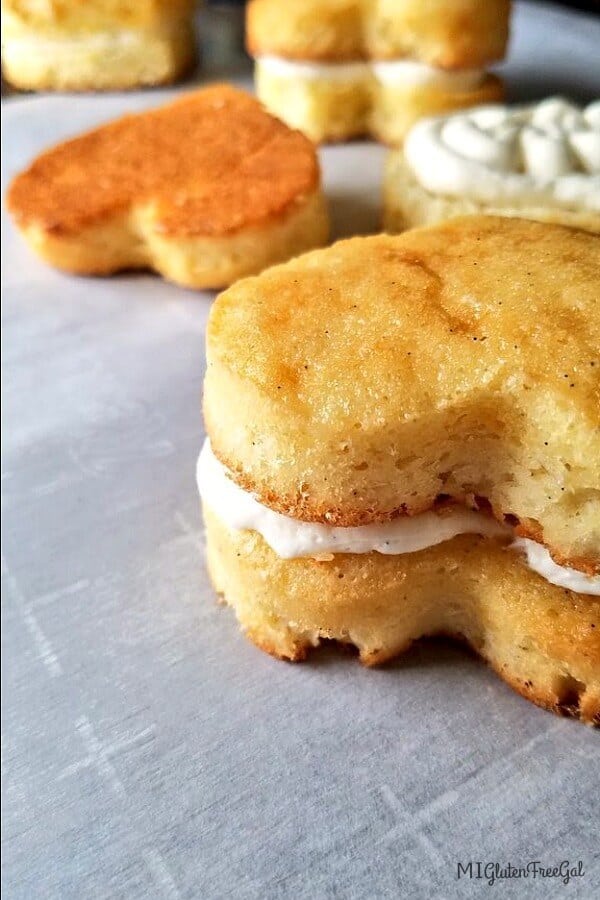 How to Coat Your Small Gluten Free Valentine Snack Cakes
In the past, I used ganache to coat my Valentine Cakes. However, it's kind of messy. Instead, I recommend using melted candy coating/ almond bark. I use the candy coating from Kroger, as it states gluten free on the package. I melt it using a double broiler method. This involves placing the coating a glass bowl, over a hot pot of water. I add 1-2 teaspoon of shortening to thin it down a bit.
To cover your Valentine Cakes, place on a fork, and dunk the whole cake in the melted candy coating. Place on parchment paper to cool. If you would like to add sprinkles or decorations, make sure to do so BEFORE the coating completely sets. Want to tine the melted candy coating pink? "Add just a few drops of an oil-based food coloring into your bowl or container of melted candy melts, then stir the liquid into the melts. Try not to use traditional, alcohol-based food coloring for your candy melts, as this could cause the mixture to seize. You can find oil-based food coloring online." (Wikihow)
Watch my Christmas Tree Cake Instagram Reel for a tutorial on how to coat the cakes.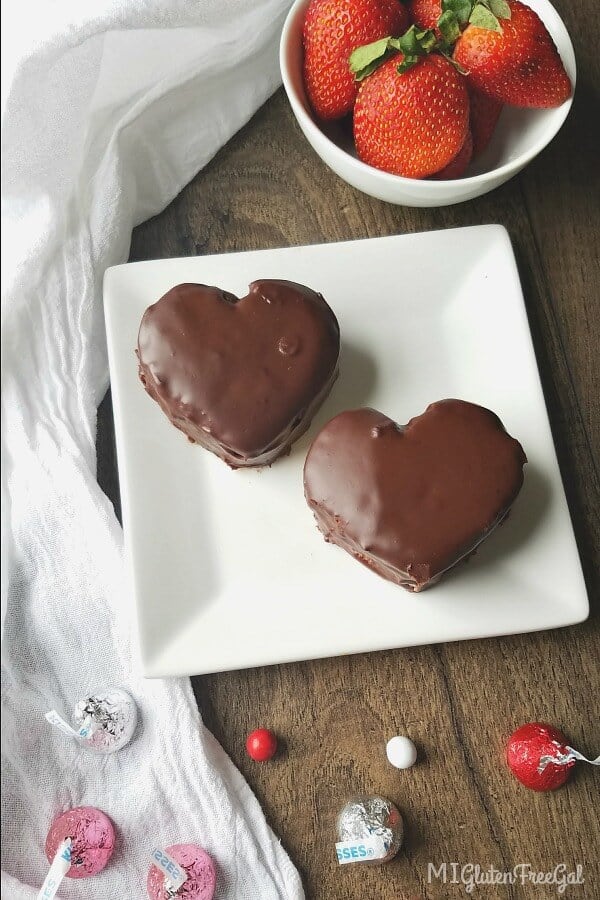 Other Gluten Free Valentine's Day Treats
Since Valentine's Day is a big day for candy, make sure to check Celiac Mama's article on Gluten Free Valentine's Gluten Free Candy List. No Whey Chocolate make top 8 allergen free candies and truffles. Michigan based Mindo Chocolate makes excelleny gluten free chocolate. Find them both on my list of Gluten Free Easter Candy.
For an easy semi-homemade treat, try Eat at Our Table's Easy Gluten Free Cookie Pops. (Just use your favorite gluten free Oreo type cookies.) For a a gluten, egg and dairy free treat, make these homemade Vegan Heart Pie Pops from Sarah Bakes Gluten Free. For the best sugar cookies ever, try these Gluten Free Valentine's Day Sugar Cookies from Flippin' Delicious.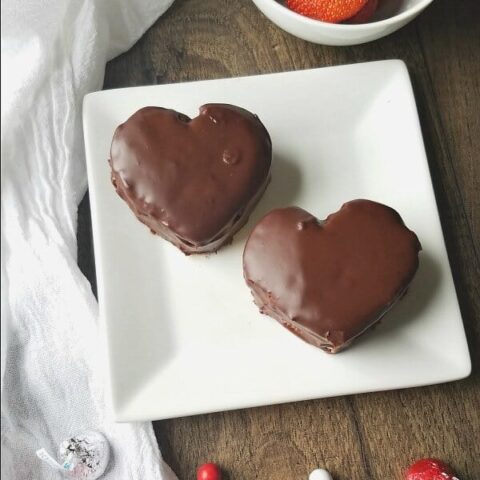 Gluten Free Valentine Snack Cakes
Ingredients
For the Cake
1 box gluten free cake mix, batter prepared according to directions
**BAKE FOR ONLY 10 MINUTES in 2 jelly roll pans**
For the Filling
4 oz butter, softened
4 oz marshmallow fluff
2 oz powdered sugar
For the Coating
16 oz vanilla candy coating (I used Kroger)
1 tsp shortening to thin, if needed
Instructions
Prepare the batter for your gluten free cake mix according to directions. If using a 15 - 16 oz cake mix, bake in TWO 10 x 15 jelly roll pans. (Or bake one batch and then reuse. If using a 18-22 oz cake mix, I recommend using 2 11x17 pans.
ONLY BAKE FOR 10 minutes. Longer than this, and you'll have burnt cake on your hands. Remove baked cake from pans and allow to cool completely.
Meanwhile, prepare your marshmallow cream filling. Make sure your butter is room temperature and soft, before starting. Mix using a hand mizxer, or a Kitchenaid stand mixer. (I like the stand mixer, because I can walk away.)
Stretch the mouth of a piping bag over a tall glass, then fill the piping bag with filling mixture. Set aside.
Once cake is cooled, cut cake into heart shapes, using a cookie cutter. Pipe filling on to the bottom piece of cake. Don't be afraid to be generous with the filling. You have plenty of filling! Place another tree cake cutout on top of filling
Once all heart cake bottoms have been topped with filling and a top cake, place in freezer for 20 minutes, before coating.
Meanwhile, melt candy coating / almond bark in a glass bowl, set over a hot pot of water. To that, add your shortening, if needed. I used 16 oz of vanilla candy coaring, and added a tsp of shortening. You can make your coating thinner if you like, but I would test that out with a small portion of melted bark, and not a whole bowl of melted white chocolate.
If you would like to make your candy coating pink/red, make sure to use oil based food coloring. Water based food coloring will make the chocolate seize.
Place valentine cake on fork, and dunk completely in bowl of melted candy coating. Use spoon to fully coat, if needed. Tap / bounce cake over bowl, to get rid of excess coating.
Place finished cake on parchment and allow to coating to set. **Note- If you want to add sprinkles or colored sugar, you need to do this BEFORE the coating sets.
**Note - If you have leftover filling, this can last in the fridge for 5 days. I used my leftover filling to the cake scraps to make cake balls. I don't have an exact measurement of frosting to tell you to add. Use just enough for the cake to hold together. Dip chilled cake balls in remaining melted candy coating.
**

This post contains affiliate links.

Purchases made through those links help support this blog with no extra expense to you. Thank you for your continued support!**
What's your favorite Valentine's treat? What family recipes do you make for your kiddos every February? Share your recipe ideas with me below!