Gluten Free Fruits of the Forest Pie
As an Amazon Associate and member of other affiliate programs, I earn from qualifying purchases.
I don't often brag, but this may be the best gluten free pie I've ever made. This Gluten Free Fruits of the Forest pie is bursting with berry goodness, and a crisp streusel topping. No ice cream needed, but I won't say no to it! This post is sponsored by Maine Pie Co.

My Father In Law's Favorite Pie
Short Story. So, growing up, I never heard of, nor tasted, a Fruits of the Forest Pie. Not until I married my husband. My father-in-law stated he tried this pie on a trip, and it was his absolute favorite. Because it contains rhubarb, I had zero interest in making or trying it. However, my father in law passed in January of 2023, and I'm making this pie in his memory. While you can definitely make your own pie crust, I'm saving time by using Maine Pie Co. frozen gluten free pie shells.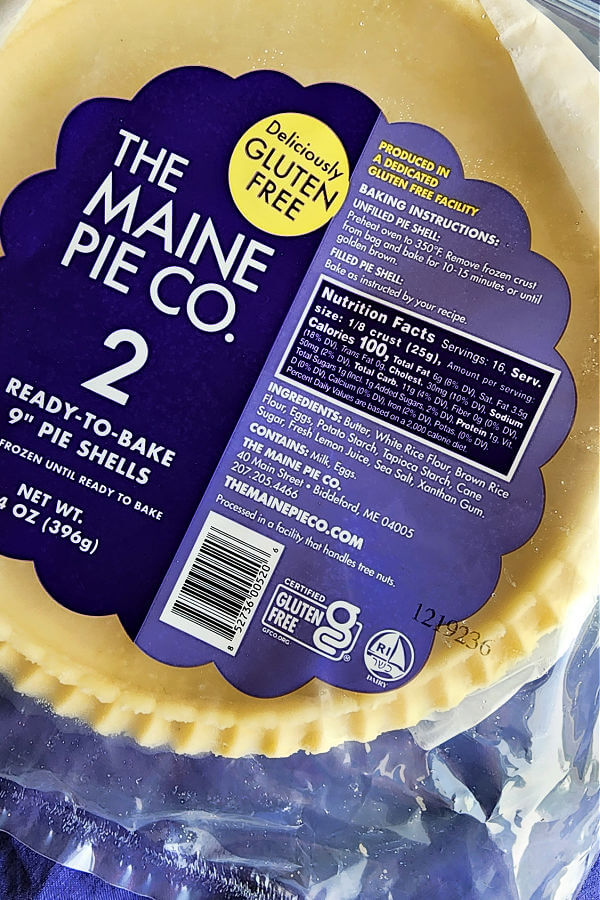 Maine Pie Co. Gluten Free Pie Shells
Based in Biddeford, Maine, The Maine Pie Co. makes certified gluten-free pies, tarts, pie shells, and "mini" pies that everyone can enjoy – whether or not they eat gluten-free. Michigan shoppers can find Maine Pie Co. pie shells at Meijer stores and "mini" pies at Fresh Thyme Markets. The Maine Pie Co. also ships nationwide.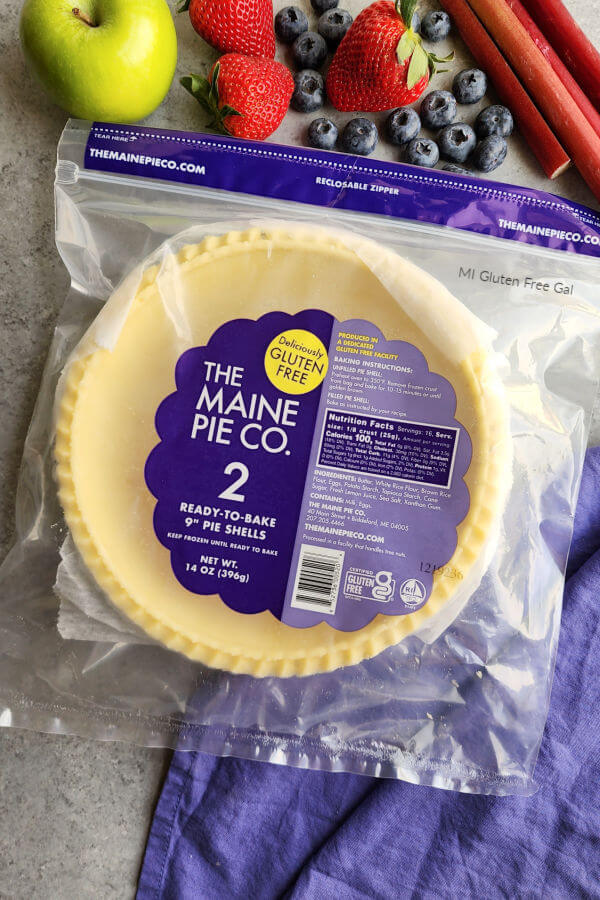 What is in a Fruits of the Forest Pie?
As you may have guessed it, this pie contains fruit. A LOT of it. This recipe uses
Raspberries
Strawberries
Blueberries
Rhubarb, and
Apple
Some recipes I've seen use blackberries. However, I find the large seeds in blackberries to be unappetizing. If you don't mind the seeds, you're welcome to swap blackberries for raspberries. In reality, this is a gluten free mixed berry pie. The apples are included to help provide structure. I explain that more below.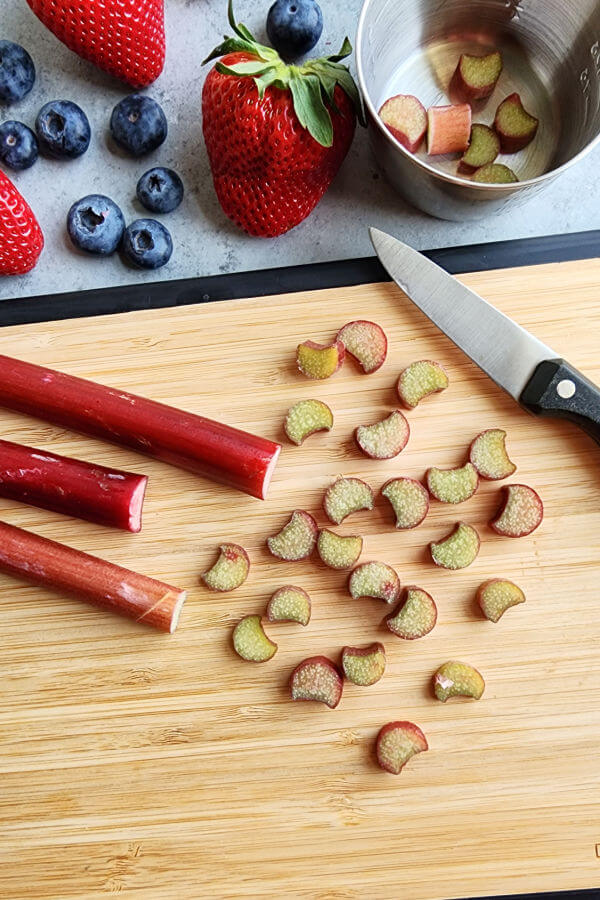 Tips On Choosing the Best Rhubarb
Despite this recipe name, rhubarb is a vegetable, and not a fruit. There are a few things to know about picking the best rhubarb for pie. You want to choose rhubarb that is thin, and sturdy. These will be more sweet, as opposed to thicker, woodier rhubarb. I don't have a green thumb, nor rhubarb in my garden. Therefore I purchase rhubarb both at Meijer or Walmart. *Note- Rhubarb LEAVES are poisonous, so please don't eat the leaves.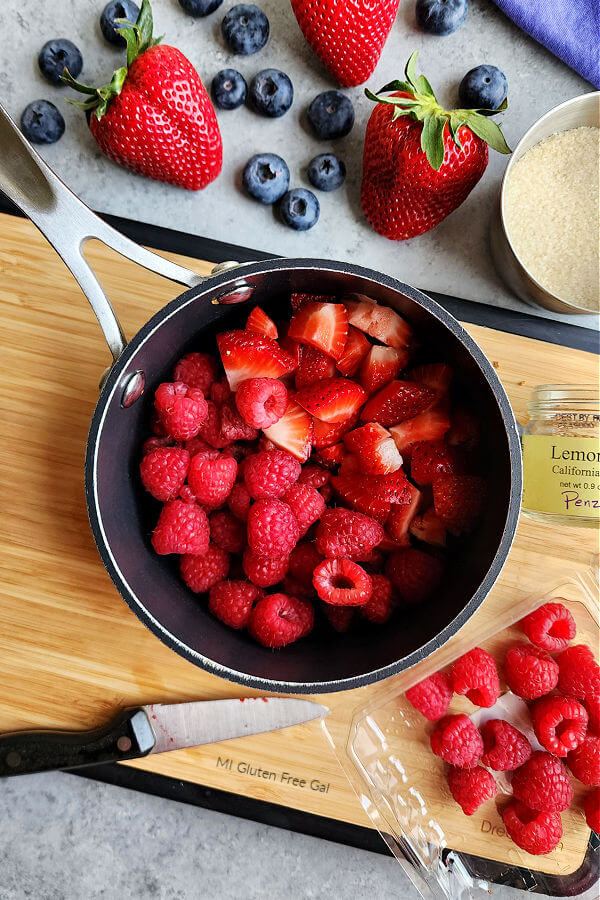 How To Prevent a Soupy Fruit Pie
I lost track how many times I attempted this pie. Maybe 6? I always struggled on how to make a pie that included all those fruit flavors, without a loose, goopy mess. I tried less sugar and more corn starch. (Ok, but not great, and very cloudy). I tried cooking all of the filling before adding it to the pie. (No structure.) I tried tapioca flour instead of cornstarch. (Too goopy.)
After doing some more research, I took a tip from America's Test Kitchen. They recommend cooking part of the fruit, with the sugar, in a small pan. Since King Arthur Baking listed that strawberries and raspberries need more thickener, I chose to cook those two into a reduction. Once that reduction cools, you have something akin to jam, but with a deep strawberry and raspberry flavor.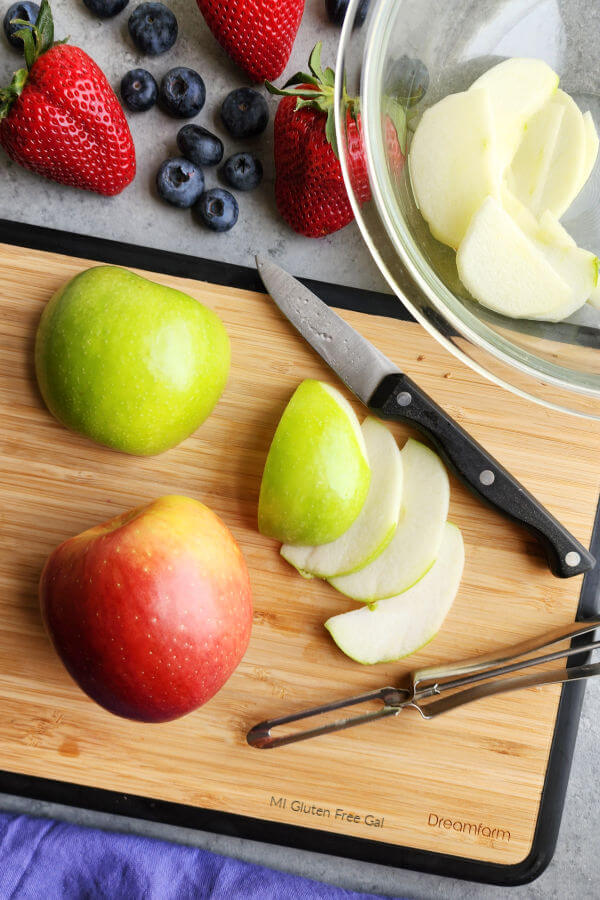 Apple Pectin for Pie Perfection
Pectin is a soluble fiber found in plants, which helps to thicken jams and jellies. Luckily for us, apples contain lots of pectin. (So do cranberries and grapes.) While a blueberry pie may need as much as 3/4 cup of cornstarch, an apple only needs 2 tbsp. Since my past pie performance lacked structure, I decided to start as if I were making an apple pie. *Note- the reason bakers recommend using tart apples is due to their higher pectin content.* Then I added my fresh blueberries and rhubarb, and tossed all of that in cornstarch.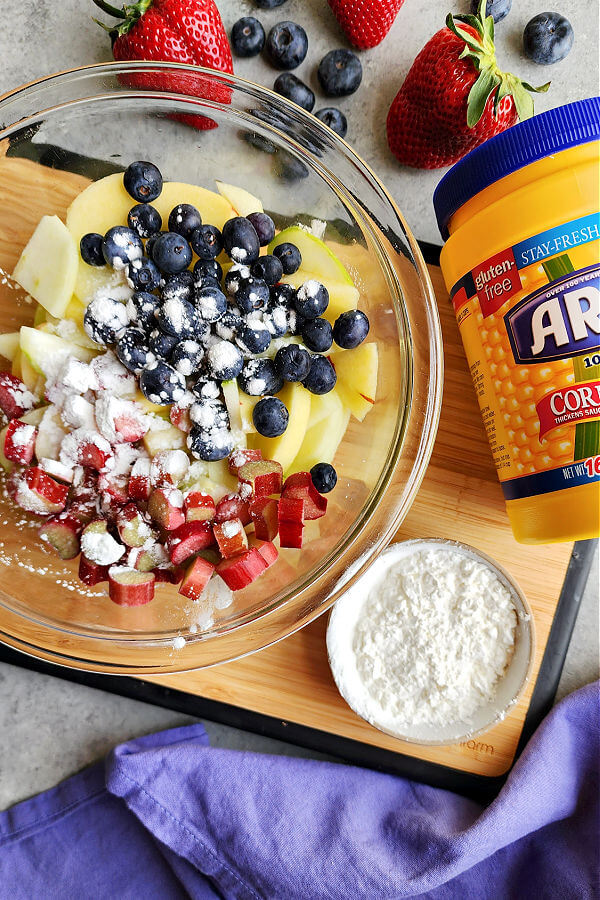 Thickeners – Corn Starch vs Quick Cooking Tapioca vs Flour
There are thousands of different pie recipes, and they all use different types of thickeners. I chose to use cornstarch because 1) it's cheaper than gluten free flour and 2) most people have it on hand. I never keep quick cooking tapioca in my home. While some sites say that you can use tapioca flour instead of pearls, others say it's not the same. So I'm just going to stick with cornstarch. This handy Pie Thickener Chart from King Arthur Baking Company tells you how much thickening agent to use, depending on the fruit you're using.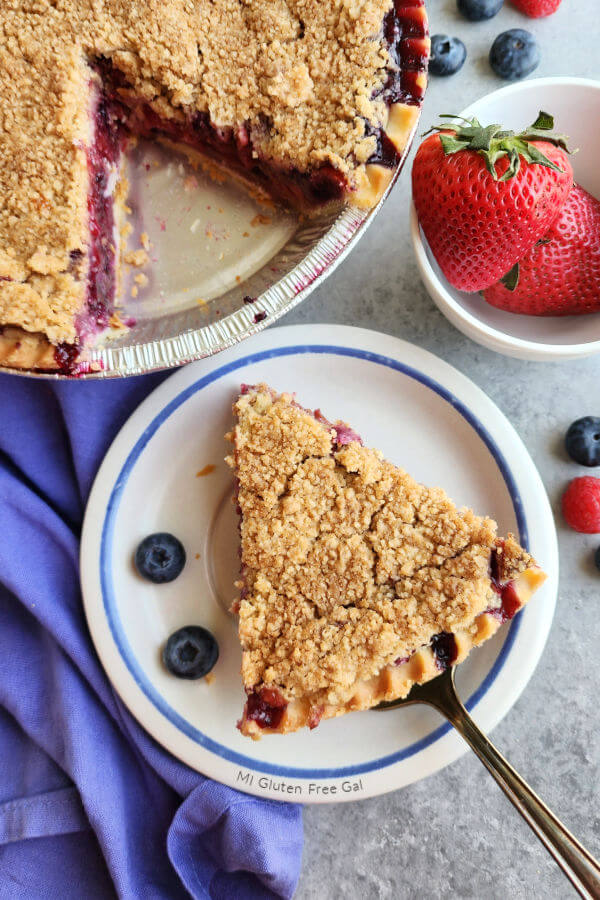 How to Top a Gluten Free Fruits of the Forest Pie
Because I'm using a Maine Pie Co. frozen pie shell, I chose to do a streusel topping for my gluten free Fruits of the Forest pie. While some streusel toppings contain oats, mine does not. As a portion of the Celiac Disease community can't tolerate oats (and neither can I), I don't use them. If you DO want a streusel topping that contains oats, I'd recommend this one in One Lovely Life's Triple Berry Crumble Pie.
If you want to do a top crust, or lattice crust, you're welcome to do that as well. Maine Pie Co. pie shells come in packages of two. You *could* thaw the second one, reroll it, and use it as a top crust. Or, you can make the gluten free pie crust found in my strawberry galette recipe. If you really want to be fancy and do a lattice crust, Simply Recipes offers a step-by step lattice top tutorial on their website.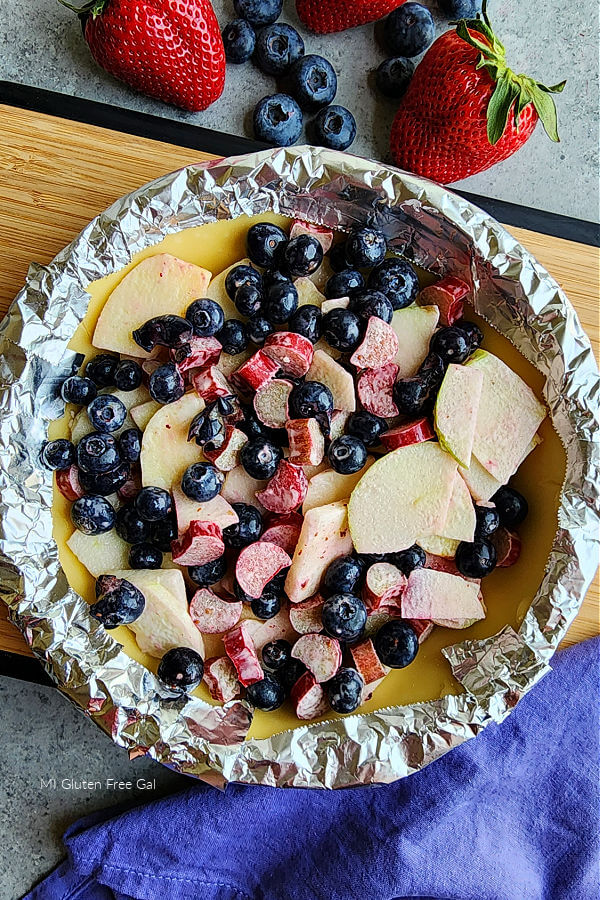 How to Bake a Pie Without Burning the Crust
In addition to filling failures, some of my pie attempts yielded burny crusts. Ain't nobody want a burnt pie crust. While I have a silicone pie shield, it was not helpful. Many people recommend an aluminum pie shield. (This adjustable pie shield from Nordicware looks impressive.) Therefore, I went the old fashioned route and crimped aluminum foil around the edges of my pie, prior to baking. Worked like a charm!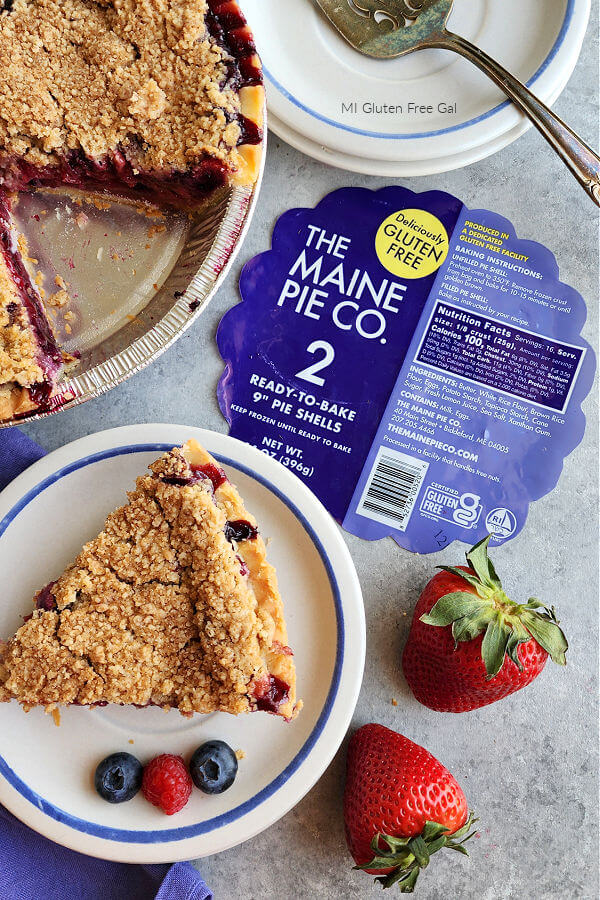 How Long Do You Bake a Fruits of the Forest Pie?
There are a few methods for keeping your gluten free pie crust nice and flaky on the bottom. First, we're going to place the pie on a cookie sheet, that's preheated in the oven. Secondly, we're going to bake the pie at 400 degrees for 20 minutes, then turn the oven down to 350, and bake it for 30 minutes longer. The streusel shouldn't be overly brown. However, if you feel it's getting too dark, you can tent it with tinfoil.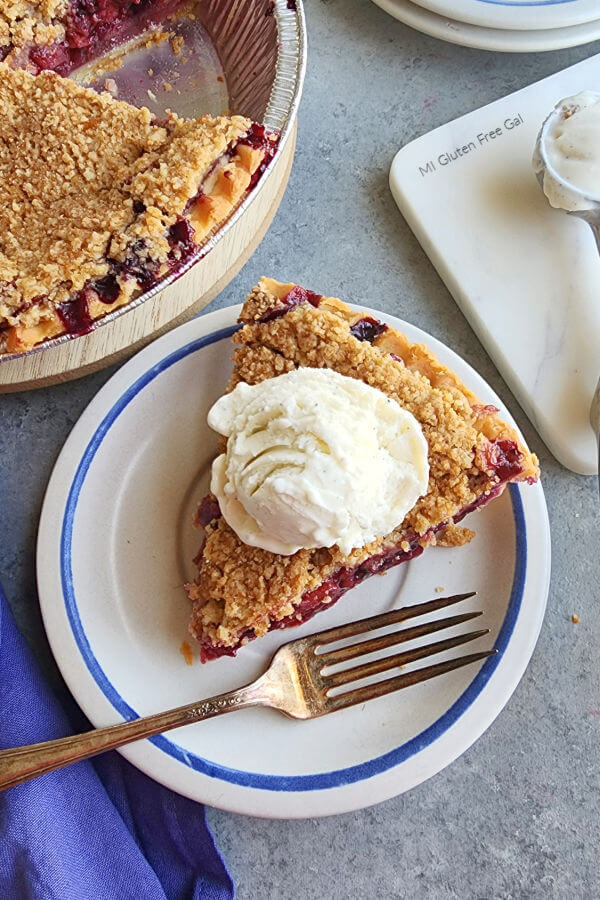 How Long Does My Pie Have to Cool? How Do You Reheat a Pie?
All pies benefit from a resting period. Please allow this pie to cool for at least 4 hours. I find this pie works best if chilled overnight, in the fridge. I feel this pie tastes great at room temperature. However, if you like your pie slightly warmed (with ice cream!), you can reheat the whole pie in the oven. It's recommended to reheat your oven to 350 degrees, and reheat for 15 minutes. Some recommend covering it with aluminum foil, but I dont think it's necessary.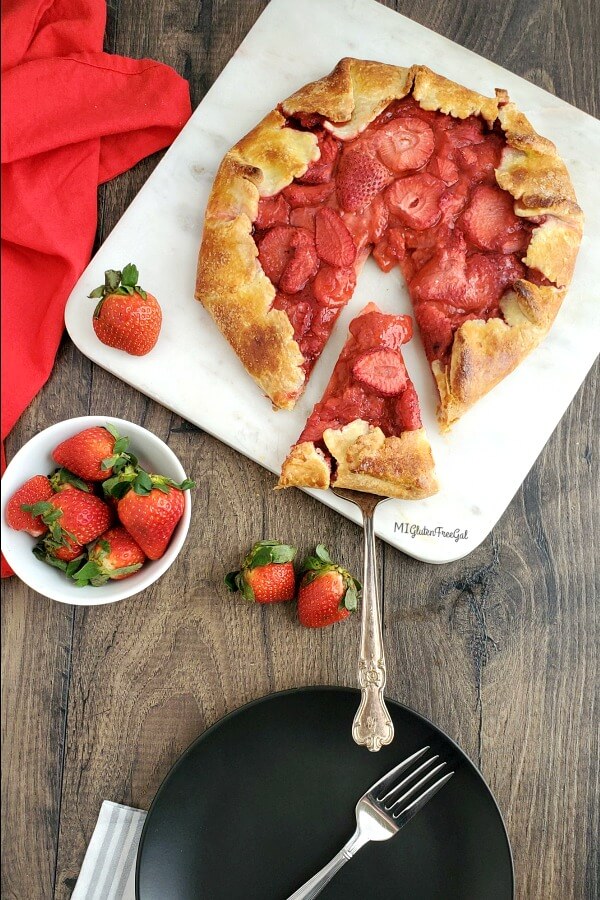 Other Gluten Free Pie Recipes
If you can't find Maine Pie Co. gluten free pie shells near you, you can order them directly from their website. Also, you can use my crust recipe from my Gluten Free Strawberry Galette to make a crust from scratch. My pie recipe does call for dairy and eggs. If you need a gluten free and vegan pie crust, try this gluten free and vegan pie crust recipe from Jessica in the Kitchen. She uses Bob's Red Mill 1-to-1 gluten free flour blend. (Blue bag)
In the mood to make even more pie? Try my recipe for individual Chicken Pot Pies , or my grain free Blueberry pie. Want something smaller? Try my gluten free jam filled hand pies. For even more delicious pie recipes, check out this round up of the 20+ Gluten Free pie recipes from Mama Gourmand. What's your favorite kind of pie? Tell me in the comments!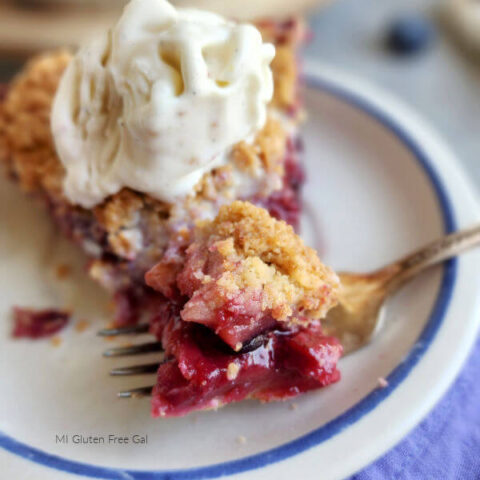 Gluten Free Fruits of the Forest Pie
Ingredients
One Maine Pie Co. Gluten Free Pie Shell
For the Cooked Compote
1 cup raspberries
1 cup strawberries, cubed
½ c sugar
½ tsp cinnamon
¼ tsp ginger
Further Pie Filling Ingredients
2 small/ medium apples, peeled & sliced
1 tbsp lemon juice
1.5 cup blueberries
1 cup rhubarb, chopped (2 thin stalks)
¼ c cornstarch
For the Streusel Topping
1 cup flour
½ c butter
½ c brown sugar
Instructions
Remove frozen gluten free pie shell from freezer, and allow to thaw. If using homemade crust, leave pie shell in refrigerator while preparing the rest of the pie.
Cook strawberries and raspberries in a medium pot for 5 minutes, to release juices. Then add sugar and spices. Cook 8-10 minutes more, until it thickens. Allow to completely cool.
In a large bowl, add 1 tbsp lemon juice. Add sliced apples and coat. Add blueberries, rhubarb and cornstarch. Stir until all fruit is evenly coated in cornstarch.
To the large bow, stir in cooled strawberry and raspberry compote with the remainder of the fruit.
Place all the filling in the pie crust. Cover crust with tin foil or pie shield to prevent burning. Leave foil on for the entire baking time.
To make the streusel topping, use food processor or pastry cutter to cut butter into flour. Add brown sugar. Top uncooked pie with streusel. It may seem like a lot of topping, but you're going to need it all.
Place cookie sheet in oven, and preheat to 400°.
Once oven has reached 400°, place pie on cookie sheet and bake at 400° for 20 minutes. Then turn down oven to 350°. and then bake for another 35 minutes.
Remove pie from oven and allow to cool for at least 4 hours before serving.
My Favorite Pie Making Ingredients and Utensils
This post is sponsored by Maine Pie Co. This post may also contain Amazon affiliate links. I make a small advertising commission, but it does not change the price that you pay. Thank you for supporting my blog and advocacy work!