Individual Gluten Free Chicken Pot Pies
As an Amazon Associate and member of other affiliate programs, I earn from qualifying purchases.
Miss the days of quick frozen chicken pot pies? I remember those tiny tin pie pans, filled with flaky crust and savory filling. Now we can make our own Individual Gluten Free Chicken Pot Pies, and relive those childhood memories!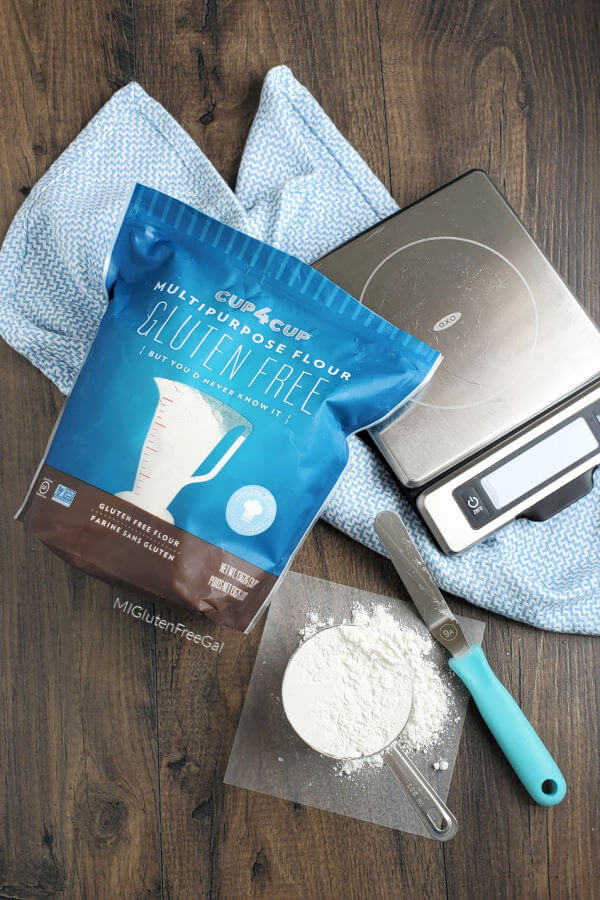 What Flour Do You Use For Gluten Free Chicken Pot Pies?
I use Cup 4 Cup's Multipurpose Gluten Free Flour Blend for all of my pie crusts. In my opinion, Cup 4 Cup creates a more tender and flaky crust than using other gluten free flour blends I've used. I buy this flour blend at Meijer stores. Please know that this blend already contains dairy. Cup4 Cup makes a dairy free Ancient Grains Flour Blend, but I have not tried it yet.
A note on measuring flour. The proper method is to spoon the flour into the measuring cup. After that, level the flour with a flat edge. One cup should equal approximately 135-140 grams of flour. This is different than King Arthur's Measure for Measure blend, which weighs 120 grams per 1 cup. Another reminder that gluten free flour blends are VERY different, and not always interchangeable.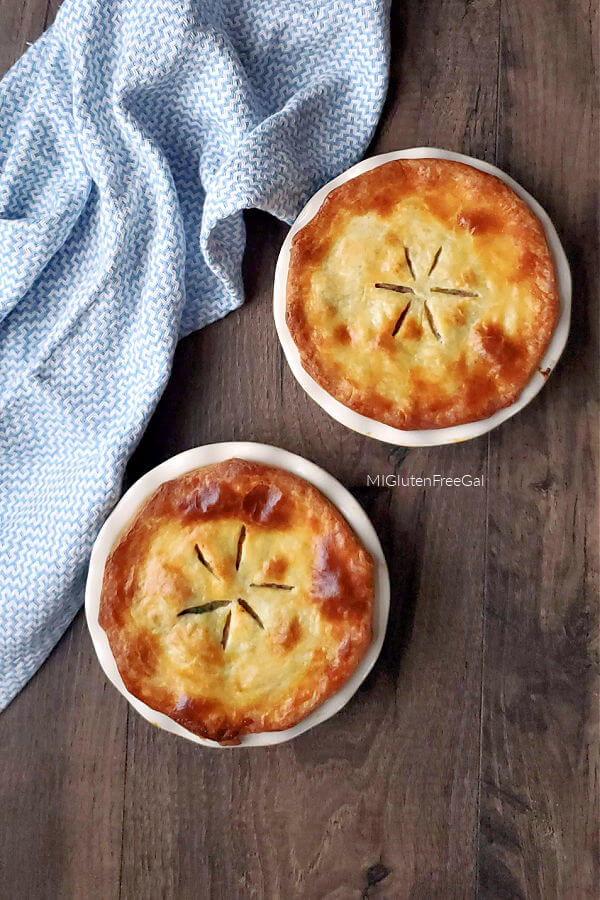 What Size Dish Do You Use For Individual Gluten Free Chicken Pot Pies?
I used 2 Crockpot 6″ ceramic pie dishes that I bought at Meijer. These 6 " glass Anchor Hocking pie dishes have worked for this recipe as well. (Affiliate link.) You'll use a top and bottom crust for these gluten free pot pies. To cut the bottom crust, lay your pie dish upside down on the dough. Next, cut a circle around the dish, 2 inches away from the dish. In contrast, for the top crust, cut a circle 1 inch wider than your pie pan.
To build your individual gluten free chicken pot pies, you'll place the bottom crust in the pie dish. Then evenly separate the pot pie filling – I used Natasha's Kitchen's Chicken Pot Pie Filling recipe- between the two dishes. Place your top crust on top of the fillling. Then fold over the edges of the top crust over the bottom crust, and pinch to seal.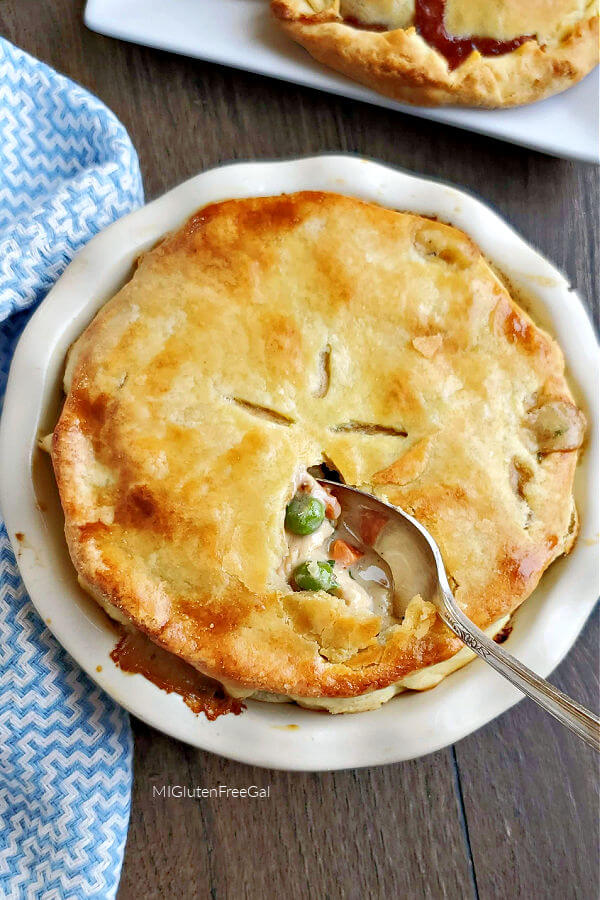 Can You Freeze Individual Gluten Free Chicken Pot Pies?
Yes you can! I suggest lining the bottom of the pie plate with a small 4″ circle of parchment paper. This will help it to release from the bottom of the dish. From there, you can cover them in foil and freeze them apart from the dish. If you plan to freezer them in the dish, just make sure to allow the dish to come to room temperature before reheating. Also, I would only freeze these AFTER they have been fully baked.
A note about the chicken used in the pot pie filling. If you're a Costco shopper, I found that one breast from their rotisserie chicken was the perfect amount of chicken for this dish. Starting with raw chicken? One pound of cubed raw chicken is perfect for this. Cook until all the pink is gone, but don't let it overcook.
Can I Use This Recipe to Make One Large Chicken Pot Pie?
If you want to make one large chicken pot pie, double the ingredients for the gluten free pie crust dough, and the filling. You may need to cook the larger pot pie for longer.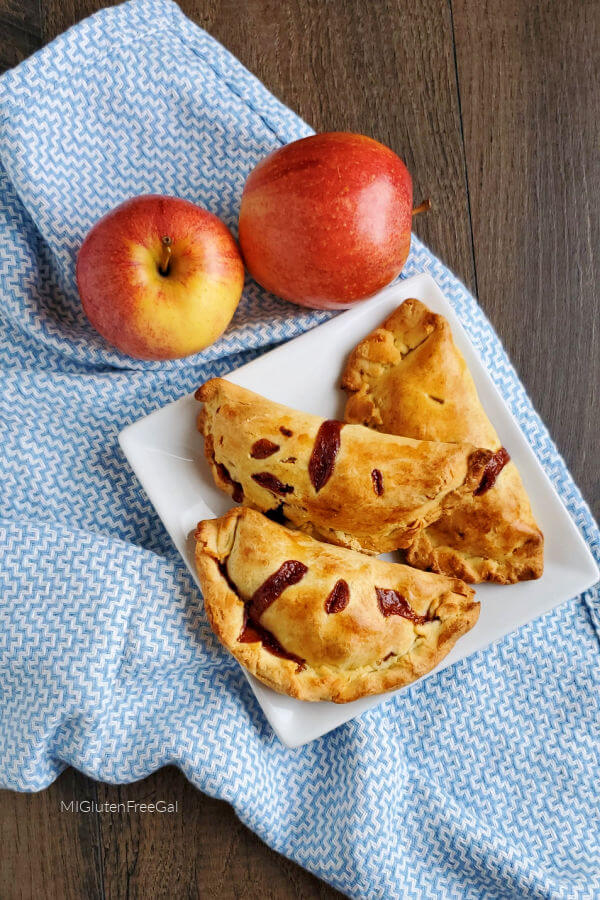 Can You Use This Gluten Free Pie Crust For Desserts?
Yes! I had a bit of pie dough left over after rolling my crusts. With that dough, I made some quick and easy apple hand pies. I peeled and chopped one apple, added 1 tsp of cinnamon, 2 tbsp of sugar, and a pinch of cornstarch. Then I brushed the circles of dough with beaten egg wash, filled and crimped them, and baked at 350 for 20 mins.
I actually first used this dough recipe for my Gluten Free Strawberry Galette. It's a great way to use pie crust if you're nervous about rolling crusts and transferring them to a pie plate. Why? Because it bakes on a parchment paper lined cookie sheet. If you'd like to make one big dessert, try this Easy Apple Galette recipe by From Scratch Fast.
Ingredient Substitutions for Dietary Restrictions
Can you make this recipe dairy free? No, because Cup 4 Cup Multipurpose flour contains mik powder in the flour blend. If you're looking for a dairy free and gluten free dish, try Eating Gluten and Dairy Free's Best Chicken Pot Pie, Need it to be egg and dairy free? Try From My Bowl's Vegan Chickpea Pot Pie (with grain free crust).
As a constant reminder, almond flour and coconut flour can not be subbed one for one with GF flour blends, because they absorb moisture differently. If you can eat dairy and eggs and meat, but still want a grain free recipe, try The Defined Dish's recipe for Paleo Pot Pies,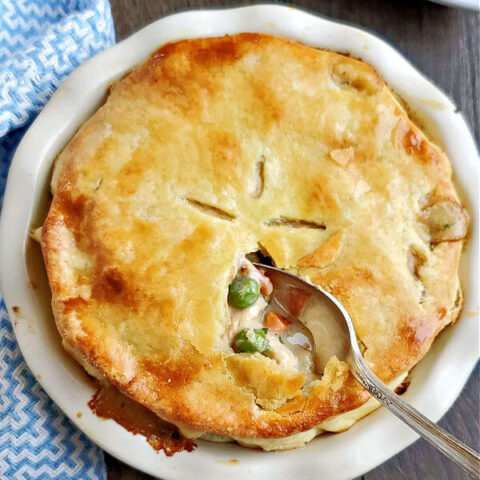 Individual Gluten Free Chicken Pot PIes
Total Time:
3 hours
25 minutes
Ingredients
For the Pie Crust
1 c gluten free flour (I use 135 grams of Cup 4 Cup brand)
1/2 tsp salt
1/3 c. butter, COLD and cut into small squares
1 egg yolk
2 tsbp ice cold water
For the Filling (From Natasha's Kitchen)
2 c. cooked chicken, chopped into bite sized pieces (1 lb raw)
3 tbsp butter (use remainder of stick leftover from making pie crust)
1/2 c. onion, finely chopped
1/2 c carrot, finely chopped
1/2 c mushroom, finely chopped
1/2 tsp minced garlic
1 tbsp rice flour (I use Bob's Red Mill)
1 c. chicken stock (or 1 cube Herb Ox Chicken Bouillon + 1 c water)
1/3-1/2 c cream (Or Lifeway Kefir)
1 tsp salt
pinch pepper
1/2 c FROZEN peas
1 tsp dried parsley
1 beaten egg yolk + 1 tbsp water, for egg wash
Instructions
To prepare the pie crust, place flour and salt in food processor. To that, add 1/3 c of COLD butter, cut into small pieces. Pulse to combine, until butter is mostly incorporated. (If you don't have a food processor, cut butter into the flour using a pastry cutter or forks. You can also use your hands.)
To the flour + butter mixture, add one egg yolk. Pulse/ stir to combine.
Finally, add 2 tbsp ICE COLD water. You want the water to be cold to prevent the butter from melting. I usually place an ice cube or two into a small dish, add water and then measure my 2 tbsp of water from that. Pulse until a dough starts to come together. It will look clumpy.
Transfer pie dough to a sheet of parchment paper, that has been lightly covered with gluten free flour. Knead pie dough until it comes together into a firm ball.
Place pie dough into a large container and refrigerate for 2 hours.
Meanwhile, prepare the filling. Chop onion, carrot, mushroom and garlic. (I use pre chopped garlic in a jar.)
Chop precooked chicken into 1/2" bites, and set aside. (If you are starting with raw chicken, cook it in the pot before cooking the vegetables, and set aside for later.)
In a large pot or dutch oven (I use my Staub universal pan for this), melt 3 tbsp of butter.
Saute the chopped onion and carrot for 5 min. To that, add chopped mushroom and garlic, and cook for 5 min more.
Add flour to sauteed vegetable mixture, and cook for 1 minute. Then add 1 cup stock and 1/3 - 1/2 cup cream. Cook to thicken. Filling will still be creamy.
To the filling, add salt and pepper, chopped chicken, 1/2 c peas and 1 tbsp parsley. Cook for 2 minutes more so peas are warmed.
Remove pan from heat, and allow to cool.
After pie dough has chilled for two hours, remove from fridge, and allow 10 minutes to come to room temperature, before rolling.
Place pie dough on parchment paper sprinkled with gluten free flour. Sprinkle some on top of the dough, and roll out dough to create 2 8" circles and 2 7" circles.
Place the larger circles of dough in the empty small pie dish. (You'll need two pie dishes for this recipe.) Lightly press into the bottom of the dish and allow edges of dough to overlap the side of the dish.
Fill both crusts with the cooled filling, separating it equally between both dishes.
Place top (smaller) circle of pie dough on top of filling. Fold edges of the top crust over the bottom crust, and pinch to seal.
Place in fridge or freezer for 10 minutes while you preheat oven to 425 degrees. (This helps prevent the crust from shrinking while baking.)
In a small dish, create an egg wash with one egg yolk (or whole egg) plus one tablespoon water.
Once oven is preheated to 425 degrees, remove pies from refrigerator, and brush with egg wash. Then cut slits in the top of the dough to allow steam to escape while baking.
Place the two pot pies on a baking sheet, and bake for 25 minutes. AFTER 15 MINUTES, cover with a flat sheet of tinfoil to prevent the crust from over browning.
After 25 minutes, remove pot pies from oven and allow to rest 10 minutes before eating. (So you don't burn your mouth!) I served our pot pies with a side salad, which I prepared after removing the pies from the oven.
Notes
Filling recipe from Natasha's Kitchen recipe for Chicken Pot Pie
**This post is NOT sponsored byCup 4 cup. However, it does contain affiliate links.
Purchases made through those links help support this blog with no extra expense to you. Thank you for your continued support!**