Gluten Free Strawberry Galette
As an Amazon Associate and member of other affiliate programs, I earn from qualifying purchases.
Does pie making leave you anxious? Well friends, this gluten free strawberry galette will become your new favorite recipe! No need for cooked filling, pie tins or top crusts! Delicious topped with ice cream or whipped cream.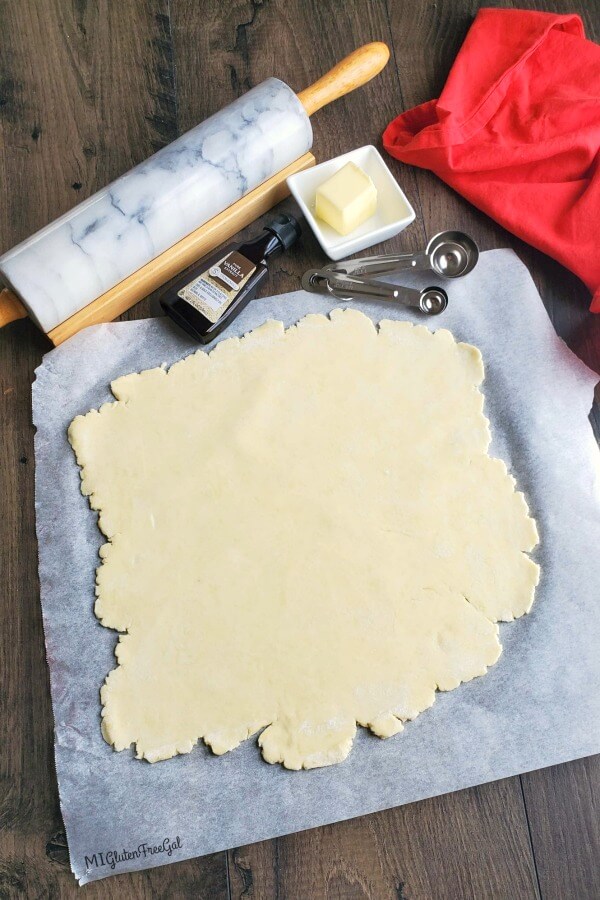 Easier than pie
Years ago, pie crusts intimidated me. During my childhood, I doubt I ever saw anyone make one from scratch. My grandmother used the Pillsbury ones, that came rolled up in a box. After my Celiac Disease diagnosis, any pie I wanted needed to start with a homemade crust.
However, making a gluten free galette is easier than pie! You simply roll the dough out flat, and leave it on the parchment paper. No need to have it perfectly circular. You don't even have to transfer it to a pie pan. You just place the filling in the center, fold up the edges, and BAM, you're ready to go!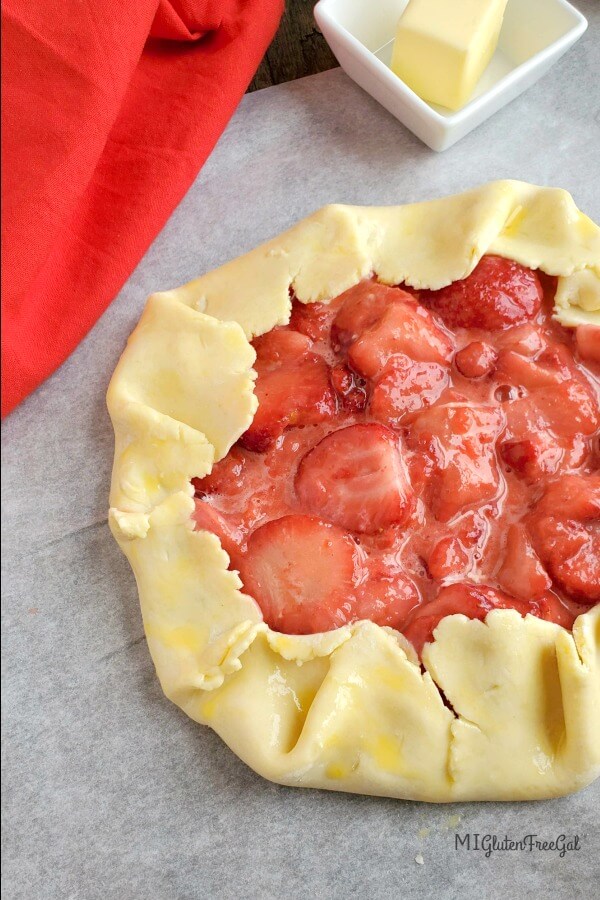 Fresh or Frozen Fruit?
After preparing my pie crust, I pondered on what filling to create. Being that Valentine's Day and "all things red" were about to pop up, I settled on strawberries. However, I wondered if I could use frozen strawberries instead of fresh.
After much research, I found I could use frozen fruit! I find it to be so much cheaper this time of year. Every so often, my local Aldi offers a 2 lb bag of pre-sliced frozen strawberries. They worked perfectly for this gluten free strawberry galette. I simply weighed what I needed, placed them in a colander, and let them thaw for a few hours.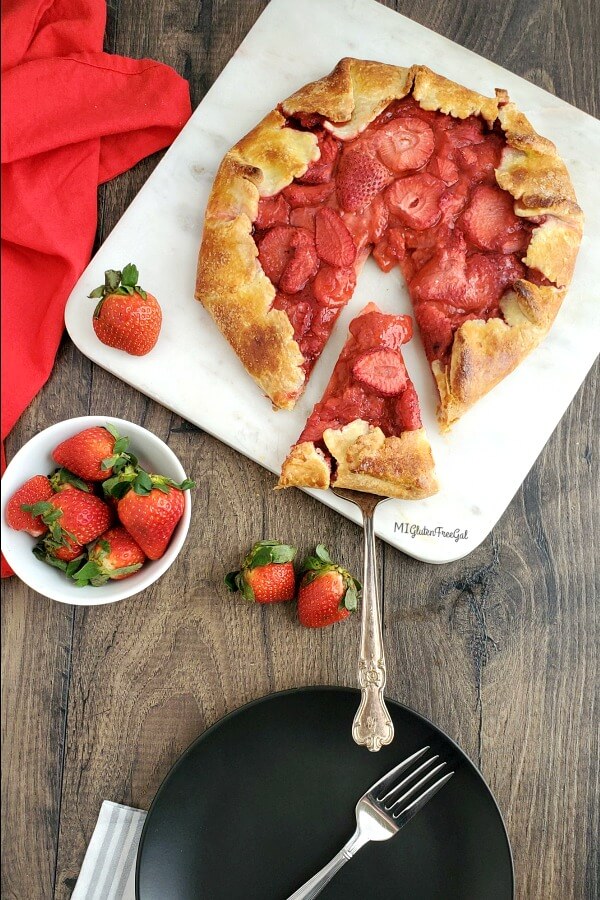 Sweet or Savory?
Most galette recipes call for a sweet, fruit filling. For example, this beautiful grain free apple galette from Lexi's Clean Kitchen is a show stopper! However, this simple pastry easily transforms into a savory brunch or dinner delight.
You can use this crust recipe to create various savory galetttes. I have my eye on this Mushroom Goat Cheese Galette from A Beautiful Plate. I'm never one to say no to goat cheese! This Breakfast Galette filling from Some the Wiser makes a great alternative to a quiche. No heavy cream needed!
Homemade Ice Cream
Every sweet galette recipe I see calls for ice cream on top. Therefore, I made a small batch of homemade vanilla ice cream for this gluten free strawberry galette. I made it in my new Dash pint sized ice cream maker. However, it didn't work so well.
Therefore I highly recommend my old stand by, the Cuisinart ICE-21 ice cream maker. Years ago, I won this along with David Lebovitz's The Perfect Scoop recipe book. This book has so many amazing recipes, you'll want to make them all! David recommends a ratio of 2 parts cream to 1 part whole milk for vanilla ice cream.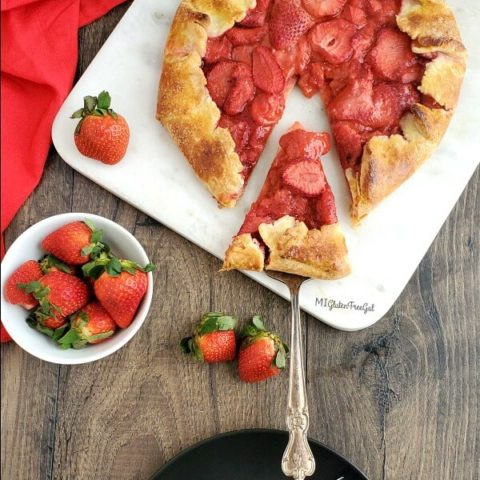 Gluten Free Strawberry Galette
Ingredients
For the (9") pie crust
1 cup Cup 4 Cup Gluten Free Multipurpose Flour
1/2 tsp salt
1/3 c COLD butter, cut into small chunks
1 egg yolk
2-3 tbsp ICE COLD water
For the filling
1.25 lb frozen fruit, thawed (approx 3 cups)
3 tbsp sugar
pinch of salt
2 tbsp corn starch
1 tsp vanilla
1 egg + 2 tsp water for egg wash
Instructions
In a food processor, combine flour and salt. Next, add chunks of cold butter. Turn on processor and pulse until the butter has blended into the flour.
Remove lid and add egg yolk and blend.
Finally, add ice cold water, one tbsp at a time until dough starts to form. Remove dough from food processor, press into a disk, and cover in plastic wrap. Refrigerate for 2 hours or overnight.
To prepare filling, prepare strawberries. If using fresh strawberries, slice and add sugar, and allow to set. The sugar should draw out the natural juices.
If using frozen sliced strawberries, place in colander and allow to thaw for up to two hours. I do so by placing them in a colander, over a bowl. After strawberries have thawed, transfer to a bowl and then add sugar.
To the strawberry and sugar mixture, add pinch of salt, corn starch and vanilla. Stir mixture and set aside.
Remove pastry dough from refrigerator. Place on a large sheet of parchment paper, which has been sprinkled with gluten free flour. Using a rolling pin, roll into a rough 10-12 inch circle. It doesn't have to be an exact circle, and the edges can be shaggy.
Leaving approximately a 2" gap from the edge, place filing in the center of the pastry dough. Fold the edges of the rolled dough up over the filling, naturally creating creases as you fold.
In a small dish, combine egg and water, whisk with a fork, and coat the pastry edges with egg wash. If desired, sprinkle with sugar.
Bake at 400 for 25-30 min.
Best served warm, with ice cream or whipped cream on top.
Have you tried your hand at making a gluten free galette? If you want to make a pie, you can use this same crust recipe to make my
gluten free dutch apple pie
,
blueberry pie
, or my
jam-filled hand pies
. I always use Cup 4 Cup multipurpose flour for my pastry and yeasted dough baked goods. It does contain milk powder.
**This post is not sponsored. However, it does contain affiliate links. Purchases made through those links help support this blog with no extra expense to you. Thank you for your continued support!**