Chebe Focaccia – Grain Free Flatbread
As an Amazon Associate and member of other affiliate programs, I earn from qualifying purchases.
Have you ever tried Chebe Focaccia mix? Not only is it gluten-free, but it's also grain-free and can easily be made dairy-free! Enjoy it topped, stuffed, or use it as a crust in your favorite savory recipes!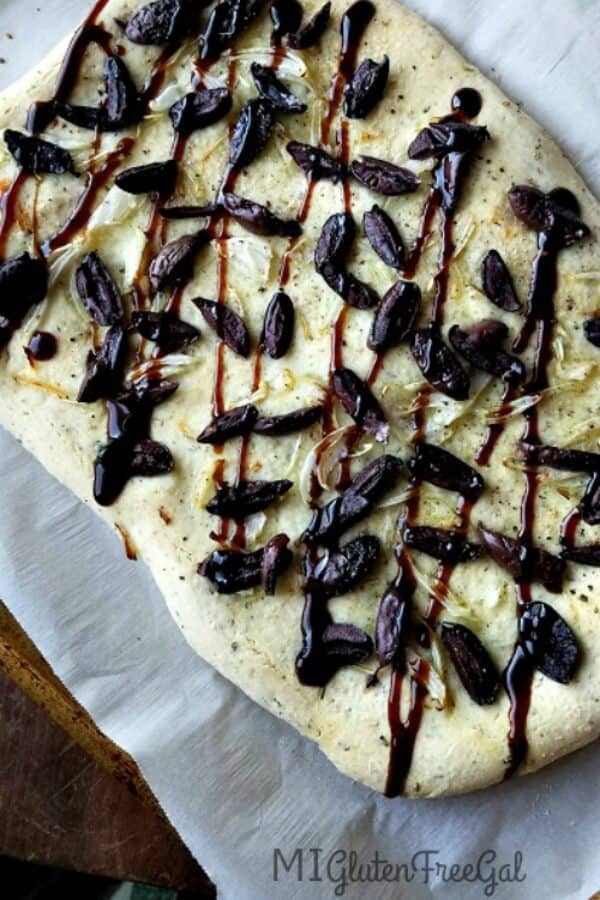 I made my first Chebe Focaccia mix almost 5 years ago. At the time my husband was in France, I hosted a board meeting at my house, and I wanted a quick "treat" to share with everyone. Everyone at the meeting, all who did not eat gluten-free (except me) RAVED about it. At that time, I topped it with traditional tomatoes and a bit of cheese. Now, I let my creativity run wild and top it according to my cravings of the day. Kalamata olives, onions and balsalmic glaze? 100% Delicious.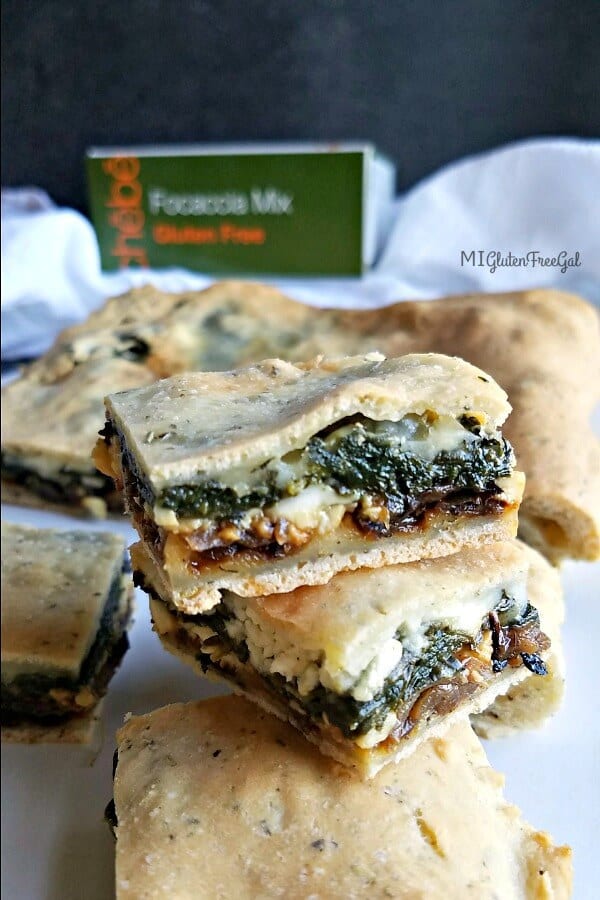 Today I had another meeting, and wanted to try something new with my Chebe Focaccia mix. Like you do, I searched the WWW for "focaccia recipes." My eyes immediately fixated on the words "stuffed focaccia." While recipes suggested a variety of fillings, I immediately thought of my new favorite food. CARAMELIZED ONIONS. There may be no greater savory food on this planet. Our support group meeting highlighted a St. Patrick's Day theme, and all things green. So I also stuffed it with sauteed spinach, feta cheese, and mozzarella. Because cheese is the delicious glue that unites this world together. True story.
Want to recreate this stuffed Chebe Focaccia for yourself? Here are my proportions. I made the mix according to directions, EXCEPT I added 3 tbsp. butter instead of 2 tbsp of oil. (Note- I also never add cheese to the mix anymore, as suggested on the box.) Next, I divided the ball of Chebe Focaccia dough in half, and rolled one ball of dough into a thin rectangle. Then, I topped it with 3 caramelized onions, 4 oz of feta, 8 oz of spinach that I sauteed, and about 2 oz of mozzarella that I sprinkled on top. Finally, I rolled out the top crust, laid it over my fillings, and tucked the edges under the bottom crust. Bake that bad boy at 350 degrees for 25 minutes. Be prepared to be amazed!
However, these Thanksgiving pasties I created with the Chebe Focaccia mix may be my favorite invention ever. Add some sage to the mix and you have a handheld, STUFFING flavored crust. Topped with a drizzle of Full Flavor Foods turkey gravy, and you'll "gobble gobble" your heart out. Just looking at those chunks of sweet potato wedged inside is giving my serious carb cravings!
Can't find Chebe but want to try your hand at making this homemade? Check out this Gluten Free Focaccia recipe from Celiac Mama.
Have you tried Chebe Focaccia mix yet? What delicious meals have you created with it? Don't hold out on a sista, share your comments below!
**Chebe gave me free product, however I was not otherwise financially compensated for this post. I am a MAJOR Chebe fan, have been for years, and love using any of their 6 flavors to create new gluten-free meals and desserts. This post may contain Amazon affiliate links.**