Beef Roast: 10 Easy Gluten Free Meal Ideas
As an Amazon Associate and member of other affiliate programs, I earn from qualifying purchases.
Have a beef roast but tired of the same old beef stew? Check out these three creative ways to turn that roast beef into multiple meals and shredded beef goodness. Thank you to Schar for sponsoring this post.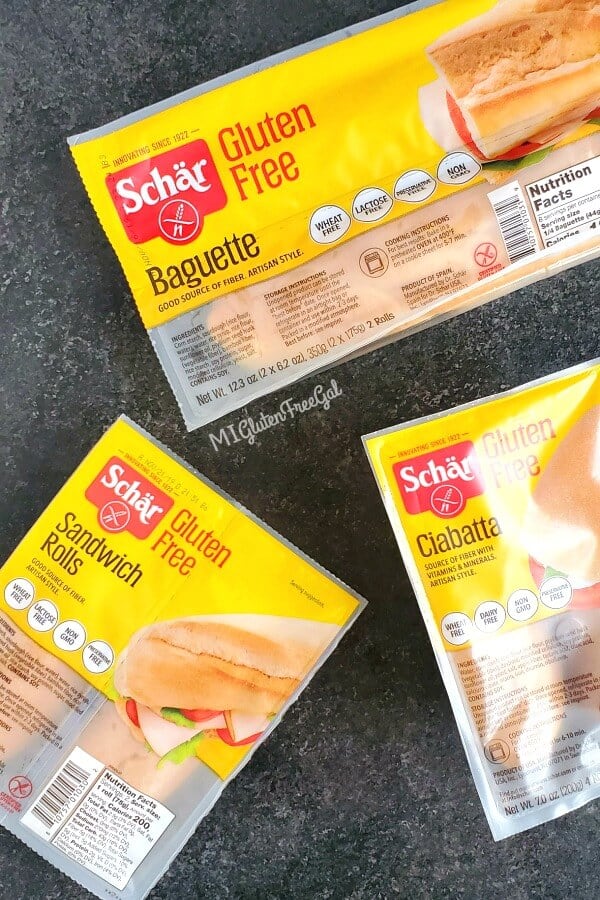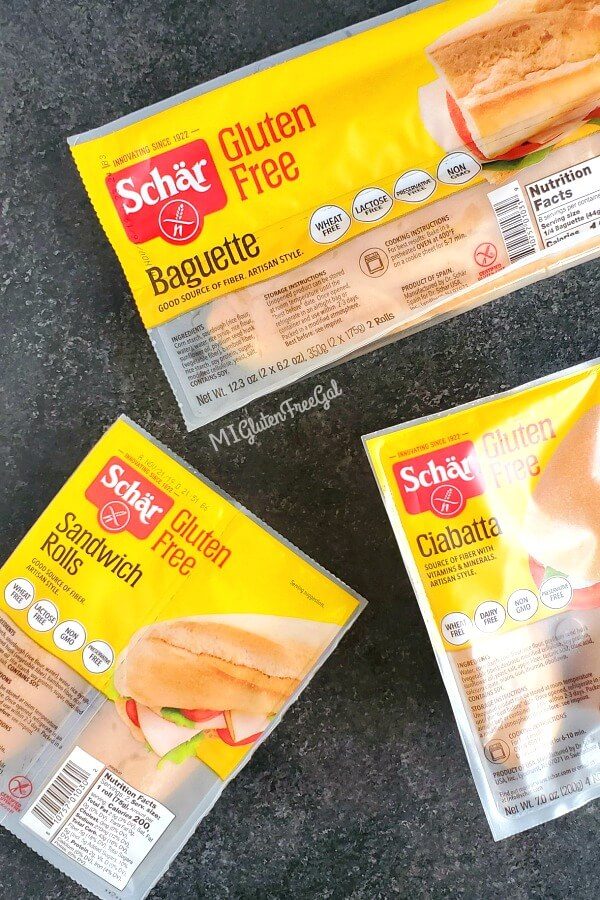 Schar Gluten Free Bread Rolls
When we visit my in-laws, my MIL always makes homemade bread. Especially when she cooks a beef roast. However, thanks to Schar's shelf stable packaging, I can enjoy my pot roast with delicious gluten free rolls. Schar makes a variety, including baguettes, sandwich rolls, and ciabatta.
Can't seem to find them in a store near you? Schar just launched their own online store! Now you can order all of their gluten free bread rolls, plus their hamburger and hot dog buns. Please note that they don't ship frozen items yet, so their frozen Kaiser Rolls aren't available in the store at this time.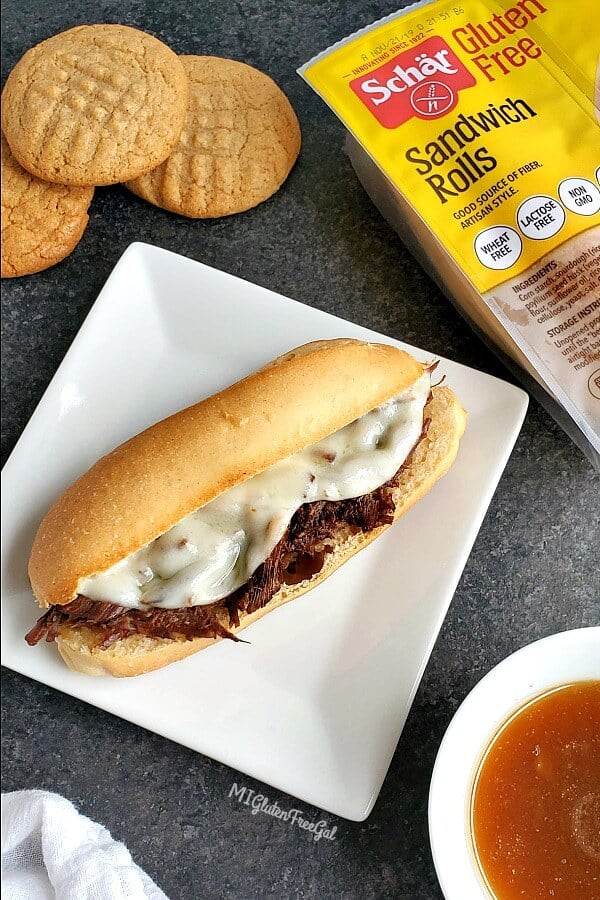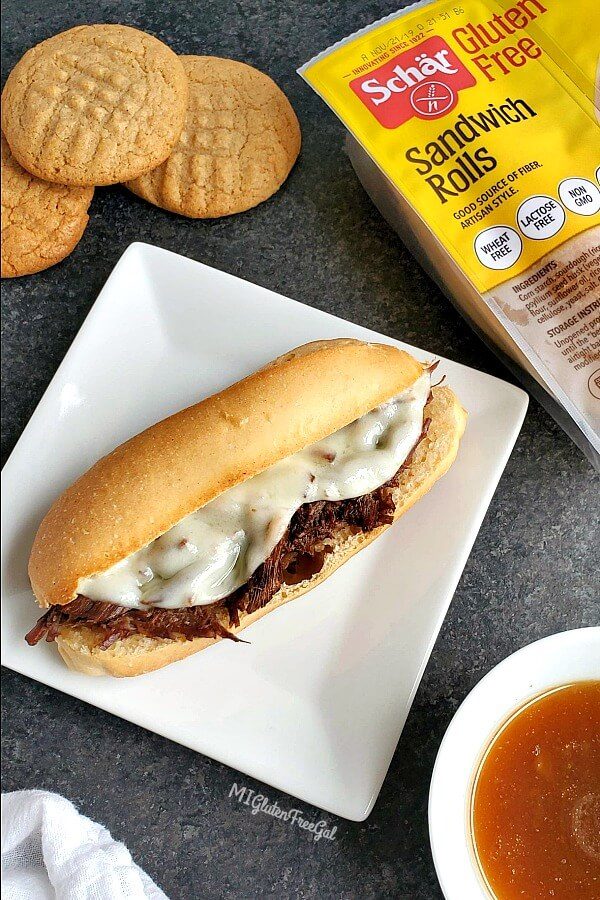 What is a Beef Roast?
Technically, a beef roast can come from various parts of a cow. For these recipes, I used a chuck roast. Sometimes people call this a pot roast. This portion comes from the shoulder of the cow. This section tends to have more fat, often called "marbling." This fat can be trimmed, but adds a depth of flavor. For more on the different cuts of beef, I highly recommend this post on Epicurious that explains all about beef roasts, from chuck to rump.
I chose the chuck roast mainly because it's inexpensive. My local grocery store often offers a "Buy One, Get One" free sale. While I enjoy a good beef roast or beef stew, sometimes my palate craves something more intriguing. Below you'll find three ways I used one pot roast, for multiple meals. From dinner to breakfast, I've got you covered!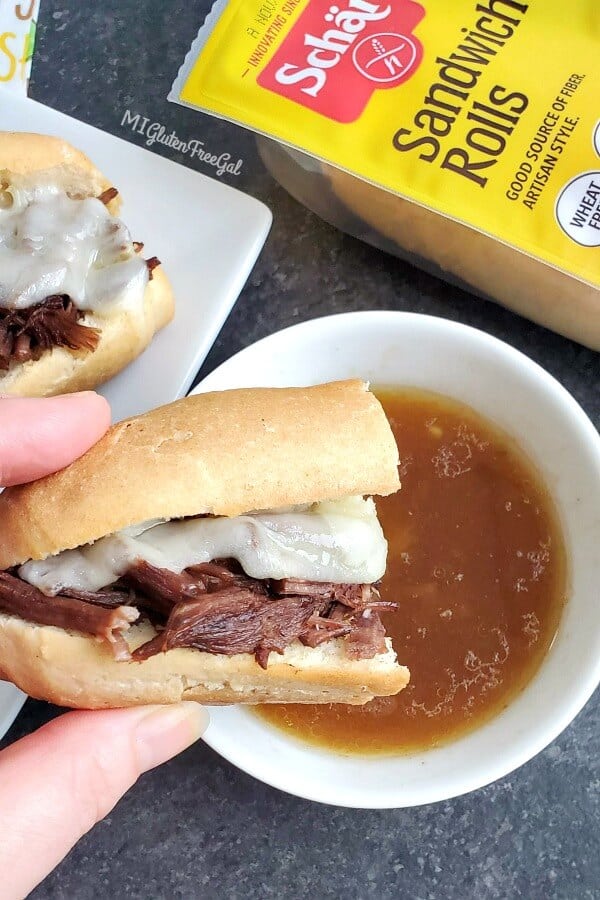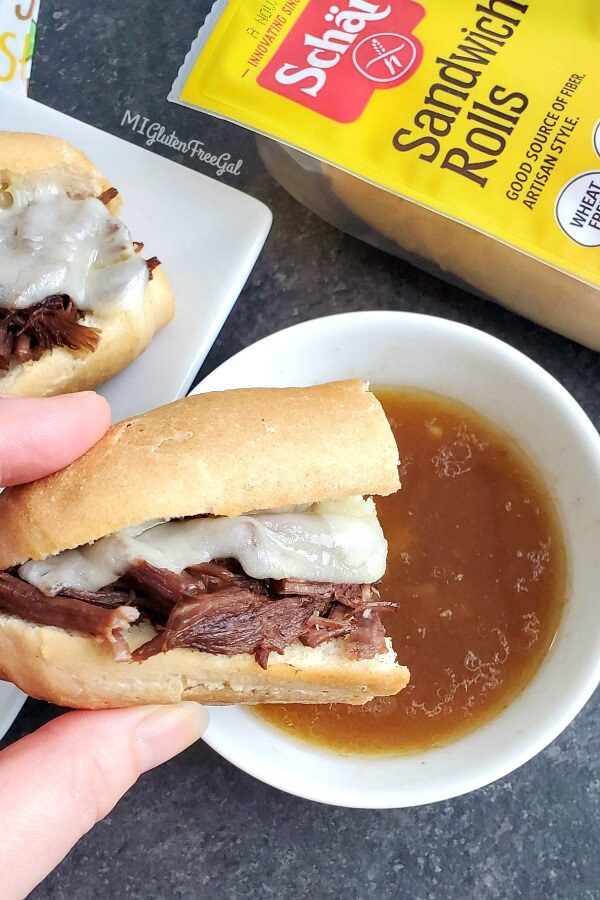 World's Easiest French Dip
I recently bought an Instant Pot and discovered the beauty of pressure cooking. The key to successfully using an Instant Pot is liquid. You need at least one cup of water, in any recipe. My trick? I use one can of Progresso Gluten Free French Onion Soup. One can equals two cups of liquid, which is perfect for pressure cooking. Place the roast in the pot, add the can of soup, and set the timer for 90 minutes (or 1:30), and you'll have the most flavorful beef. (No soup? Feel free to just use straight beef broth.)
It becomes so tender, it falls apart. I remove the beef roast completely from the liquid, and allow it to cool. Then I shred it, and use it in sandwiches, like this French Dip. I slice a Schar Sandwich Roll down the middle and toast in the oven for 5 minutes. (35o degrees). Then, take the bread out, add beef, a slice of provolone, and heat for an additional 3-5 minutes. The leftover broth makes the most delicious au jus! No onion cutting needed!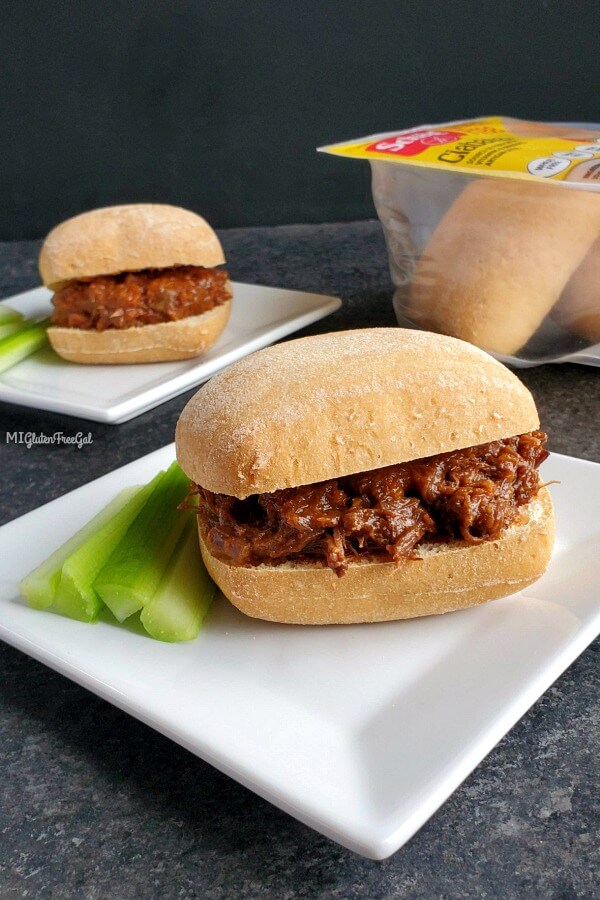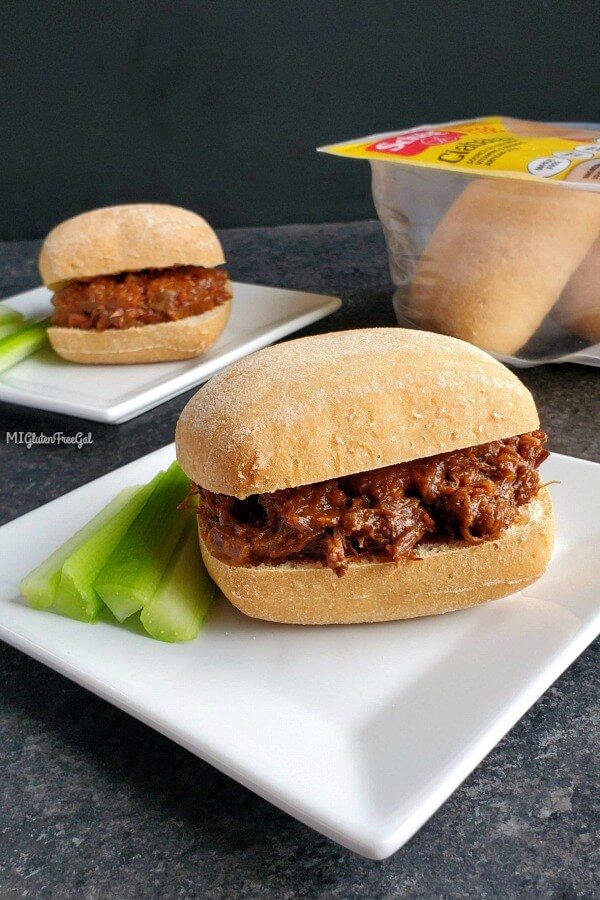 Gluten Free Barbecued Beef Sandwiches
In our household, it's just my husband and I. Therefore, we don't eat a whole beef roast in one sitting. That's why shredded beef is great for repurposed meals. For example, use the leftover beef, add your favorite bbq sauce, and lunch is ready! Use store bought bbq, or this recipe I like for Sweet and Tangy Barbecue sauce from The Kitchn. How much sauce to add? I like my sandwiches super saucy, but you may not. I say, add as much as you prefer.
When it comes to barbecued beef sandwiches, I like to use Schar ciabatta rolls. They're so incredibly soft! Unlike other gluten free buns that are so thick you can't bite into them, these are the perfect size. I also use them to make garlic bread at our gluten free kids camp. The kids devour them as fast as we make them!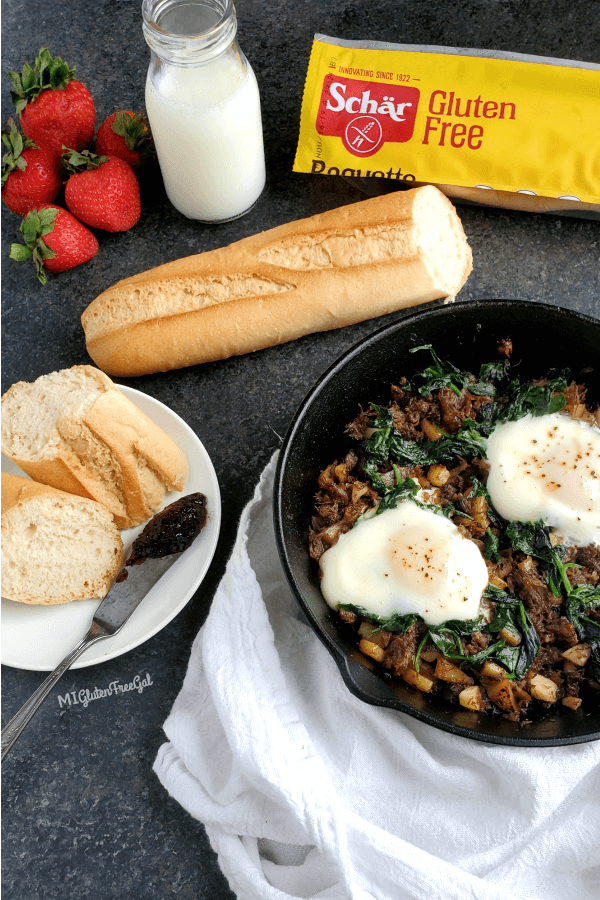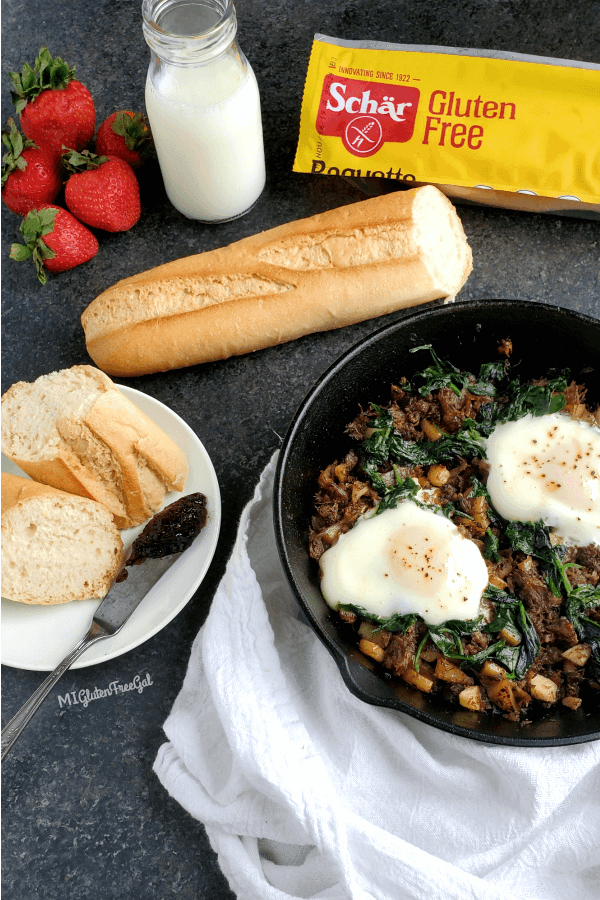 Gluten Free Shredded Beef Roast Hash
We've covered dinner and lunch. How about breakfast? This shredded beef roast is the perfect addition to a breakfast hash. Here's what I put in mine. I saute the onions and potatoes for about 15 mins, then add the shredded beef and bit of apple. Lastly, make a well for the eggs and cook until the whites are set. I usually cover the pan while the eggs cook, as it tends to speed up the process.
Beef Hash for Two
3.5 oz Yukon potatoes
2 oz sliced onion
4 oz shredded beef
1/2 small apple, diced
A handful of wilted spinach
2 eggs
What is breakfast without bread, right? I like to toast the Schar baguette in a 350 degree oven for 5 minutes, and serve it with breakfast. Spread with butter or jam (like the one in my jam hand pies!), or simply dip in the egg yolks. The Schar baguettes come two to a package, but each are individually sealed to maintain freshness!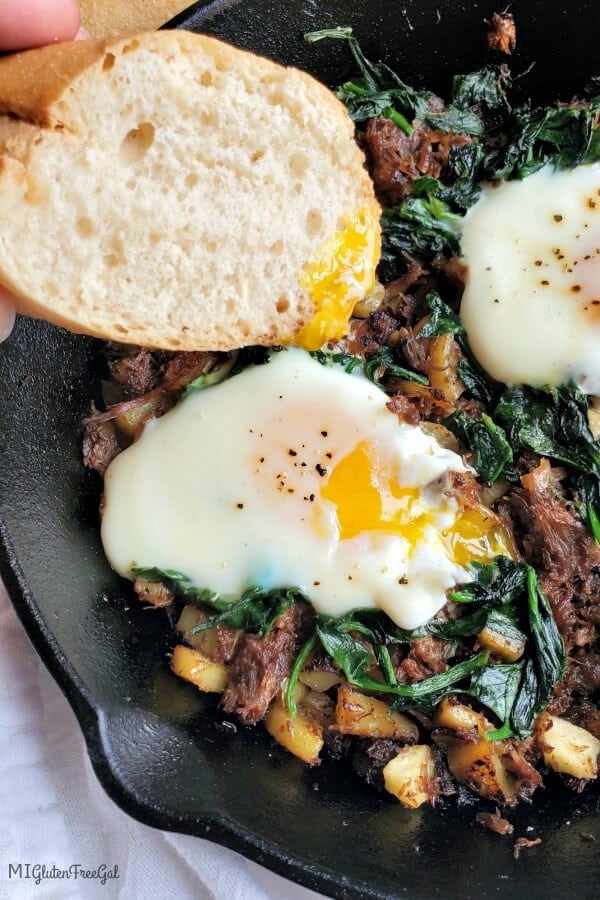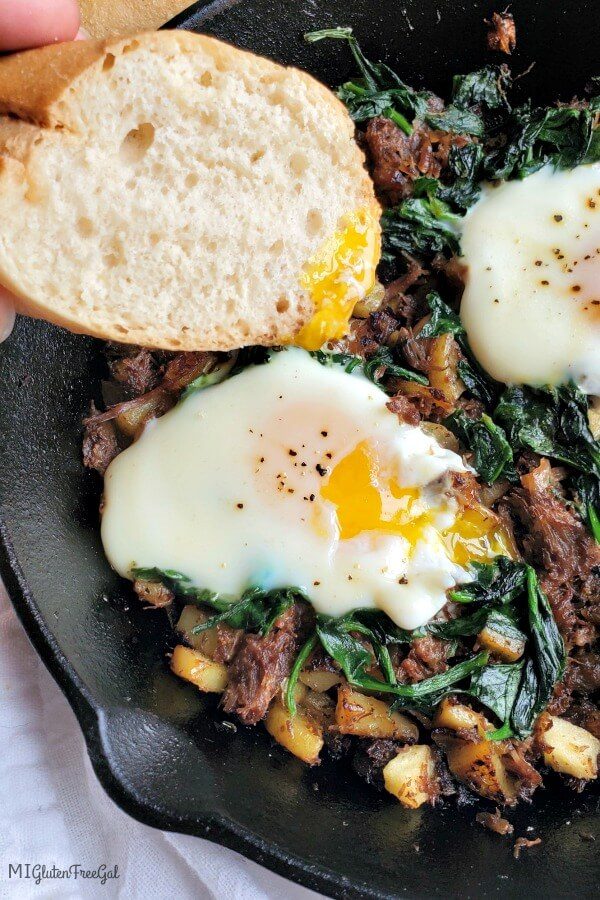 7 Other Ways to use a Beef Roast
Of course, there's more than one way to use a roast beef. Try some of these gluten free recipes to round out your meal planning. The stroganoff recipe would be a great way to use up the leftover cooking liquid from making shredded beef, as well!
What's your favorite way to use a chuck beef roast? Or do you prefer a leaner tenderloin or steak? Let's share our favorite meal ideas so everyone's week is a bit more delicious!
**This post was sponsored by Schar. I was compensated for my time and talents. However, all thoughts and opinions are my own. I have been a huge fan of this brand, and their devotion to helping medical professionals learn more about Celiac Disease. This post does contain affiliate links. Purchases made through those links help support this blog with no extra expense to you. Thank you for your continued support!****