Basic Gluten Free Donut Recipe (Vegan Options)
As an Amazon Associate and member of other affiliate programs, I earn from qualifying purchases.
Make any day instantly better with this basic gluten free donut recipe. Created with egg free and dairy free eaters in mind, these taste delicious dipped in top 8 allergen free Enjoy Life Foods chocolate! This post is sponsored by Enjoy Life Foods.
Donuts: Something We Can All Agree On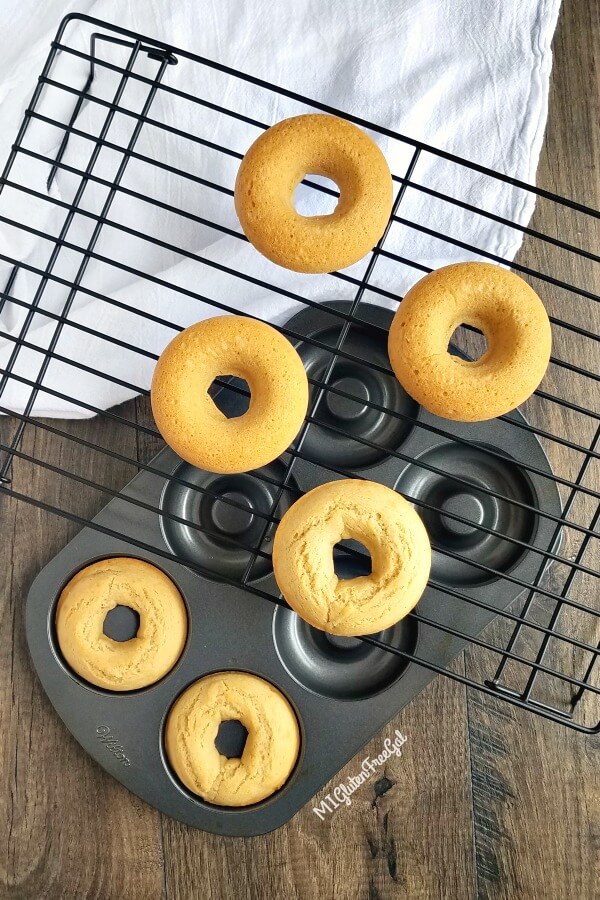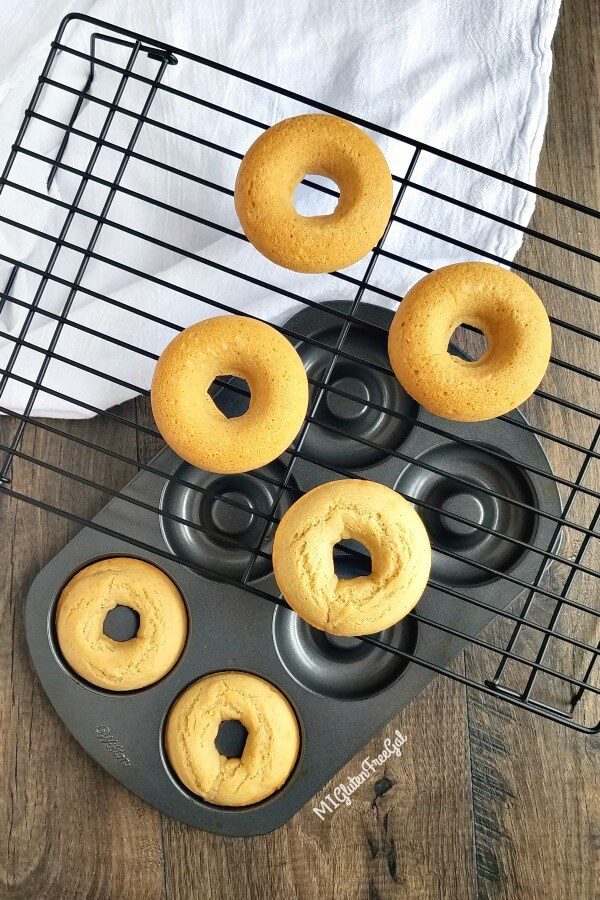 My husband likes to listen to talking head news analysts in the morning. At 6 am, it's really the last way I want to start my day. I mean, my head contains enough self – criticism and negativity on its own. Instead, I prefer to start my day with donuts. And I'm pretty sure I'm not the only one.
Recently Aldi offered their large selection of gluten free special buys in May. (I say recently, because after two weeks, my store was completely cleaned out.) However, one person mentioned she couldn't enjoy the chocolate glazed donuts, because they contained egg. Therefore, I created this VEGAN basic gluten free donut recipe. #COMMUNITY
Egg Substitutes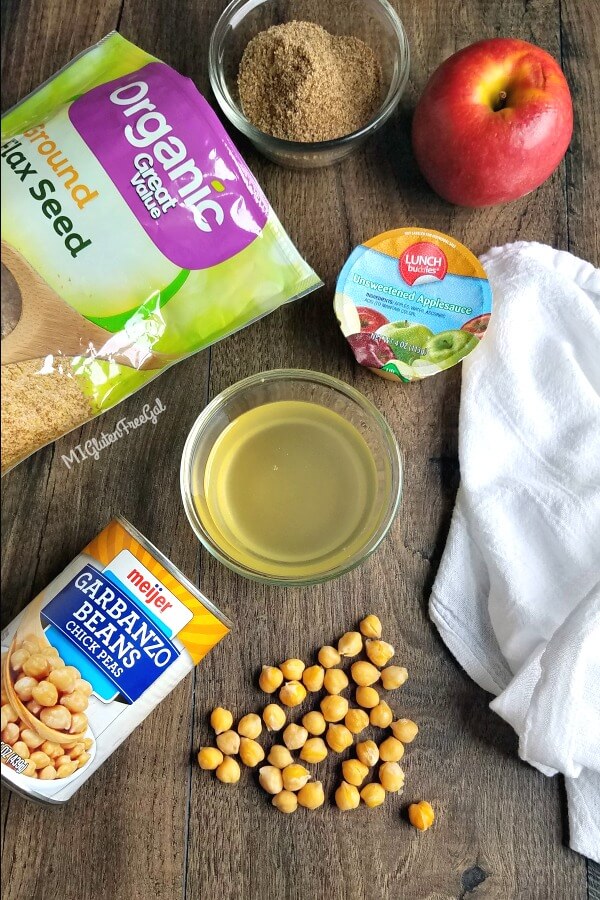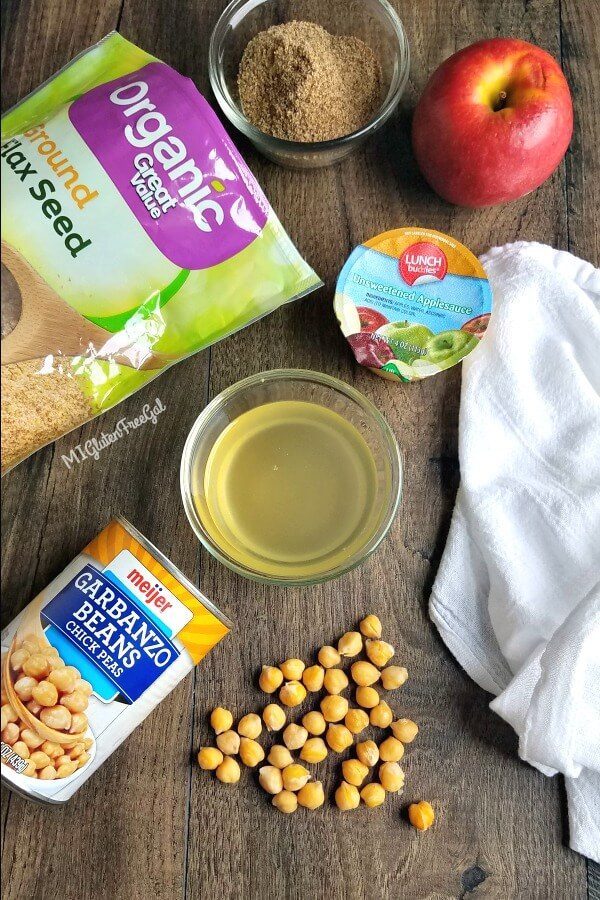 So, baking dairy free (in my opinion) is much easier than baking egg free. Many options abound for replacing eggs. Many people use flax + water as a substitute. However, flax seeds do something to my gut. I've used applesauce in my vegan chocolate chip cookies. Therefore, I chose to play with aquafaba this time.
What is aquafaba? It's the liquid in a can of beans. Wild, right? It magically whips up like egg whites. Many people recommend using 1/4 of aquafaba to replace one egg. However, when I do so, my baked goods always sink. Therefore, I used three tablespoons in my basic gluten free donut recipe. It worked like a charm!
What to do with the leftover chickpeas? Make my hummus recipe, of course!
Life Is Better With Chocolate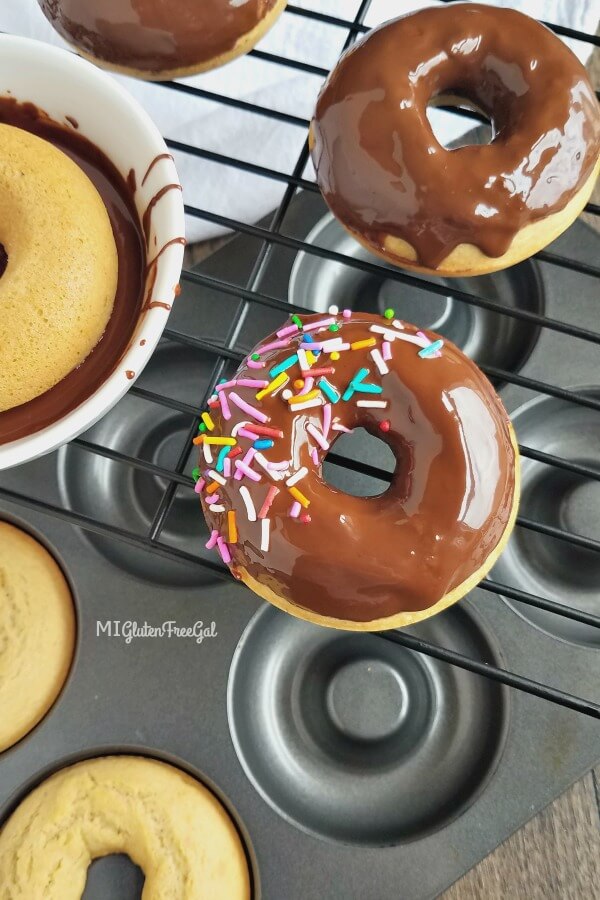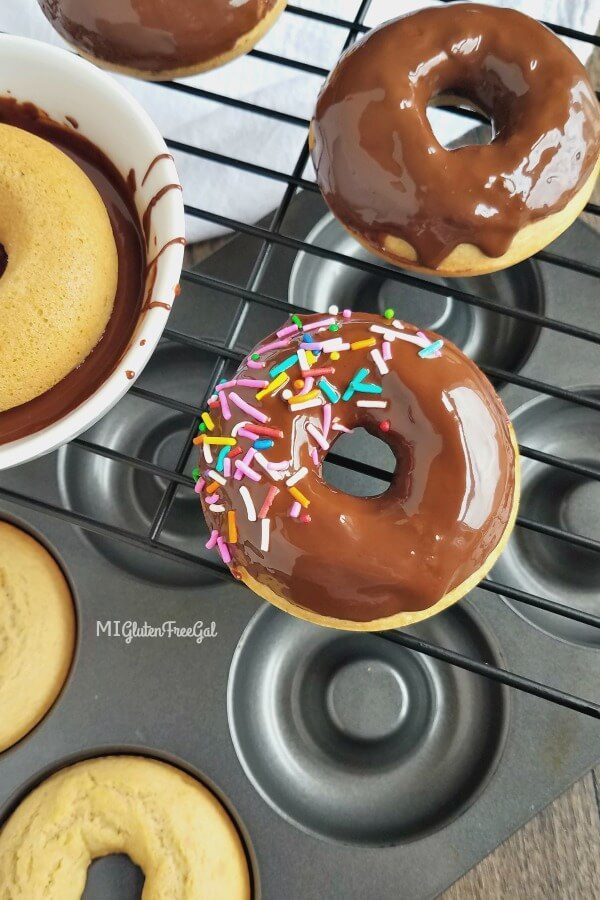 Now, you can make this basic gluten free donut recipe plain. My non-gf husband thoroughly enjoyed them that way. If I remember correctly, his exact words were "I'd buy these!" But, IMO, life is always better with chocolate. Some days with copious amounts of chocolate, amiright?
Remember those chocolate glazed donuts from Aldi I mentioned above? Those donuts are dipped in chocolate on both sides. I tried that. MESS ALERT! Therefore, I grabbed the sprinkles from my cupboard and decorated away. Life needs a touch of color, don't ya think?
Why I Love Enjoy Life Foods Chocolate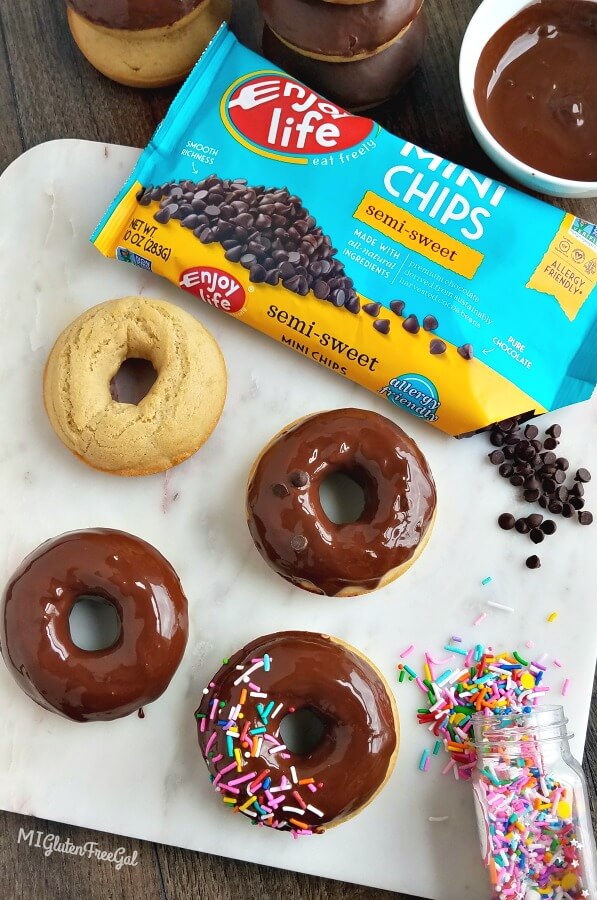 When it comes to chocolate, I use one brand almost exclusively. Enjoy Life chocolate. Enjoy Life products are certified gluten-free, free-from 14 common allergens, verified Non-GMO, and certified kosher. Staff use allergen testing to ensure products meet strict standards and that our community can trust what they make.
Since my Celiac Disease diagnosis in 2001, I rely on brands like Enjoy Life Foods who take my health needs seriously. With their new teal packaging, I can easily find safe products at the store. Plus, they give back to the community, supplying top 8 free snacks to our gluten free camp every year. I truly couldn't run camp without their support.
Gluten Free Community – Supporting One Another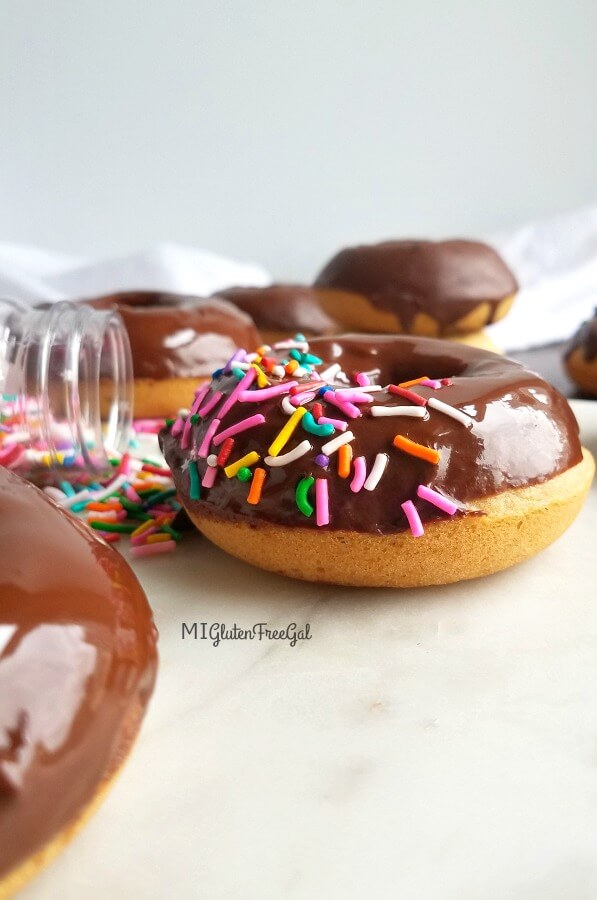 Donuts are meant to be shared. Know who I'd share with? My fellow advocates who bless me with their support and encouragement. Sometimes it's a quick text message or even a comment on a post that makes my day. While we may live far apart, I know those in my "E.L.F. family" support and encourage me. Examples include:
Basic Gluten Free Donut Recipe Notes and Tips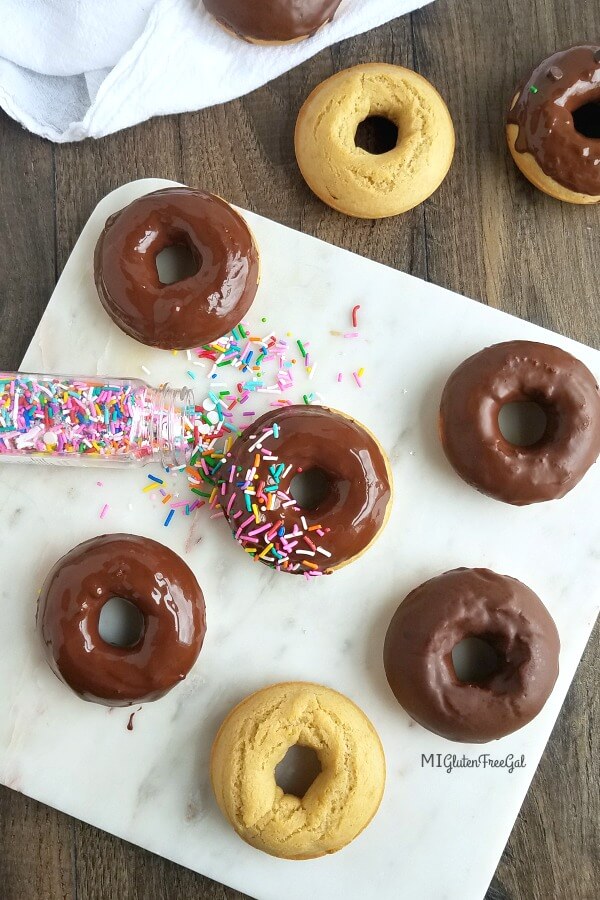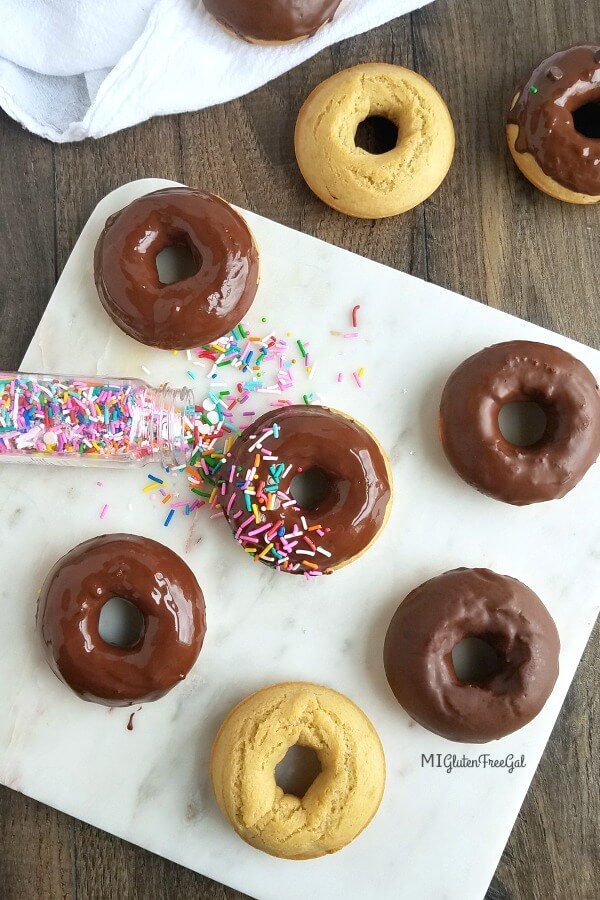 I tried this recipe using egg, regular milk, and butter with King Arthur Flour Measure for Measure flour. It baked up a bit more dense. Therefore, maybe use a bit less flour. In addition, I made these vegan, using Bob's Red Mill 1-to-1 baking flour. I would recommend using 2-3 tablespoons flour less, as they turned out much more dense.
I tried this recipe with applesauce instead of aquafaba, with great results. They may require a bit more baking time, maybe 12 minutes instead of 10. I did not try this recipe with flax egg. This recipe makes 6 donuts. I have not doubled it to test the results for a full dozen. However, I think you should easily be able to do so.
Other Donut Recipes
I'm a big fan of donuts. Other recipes on my site include gluten free mocha donuts, gluten free chocolate donuts with SunButter frosting,gluten free chocolate coconut donuts and two ingredient pumpkin donuts. I also modified this recipe to make gluten free donut muffins. Looking for even more donut recipes? Check out this list of 52 gluten free donut recipes from In Johnna's Kitchen.
**This recipe is based on alterations made from King Arthur Flour's baked doughnuts recipe.**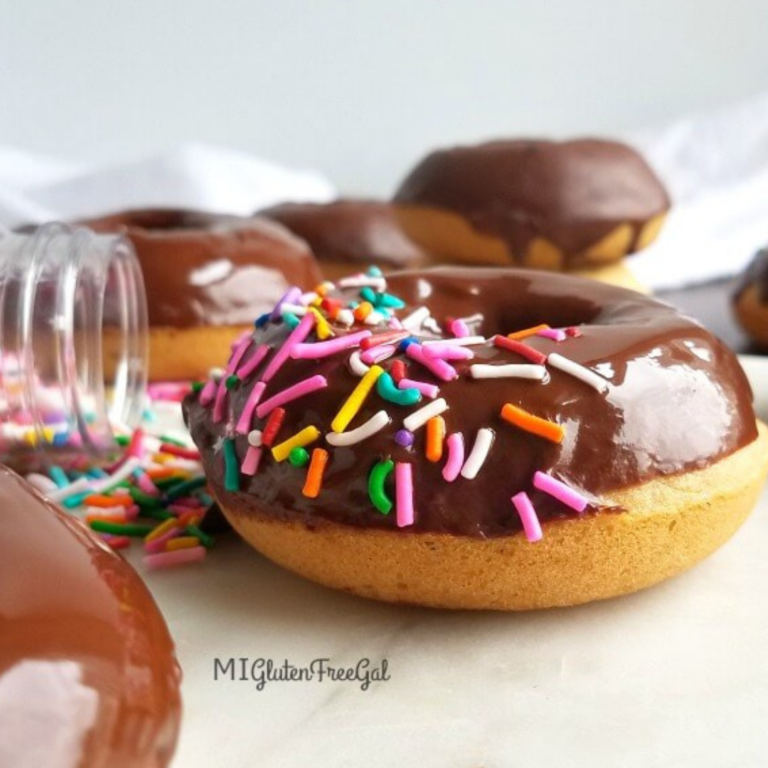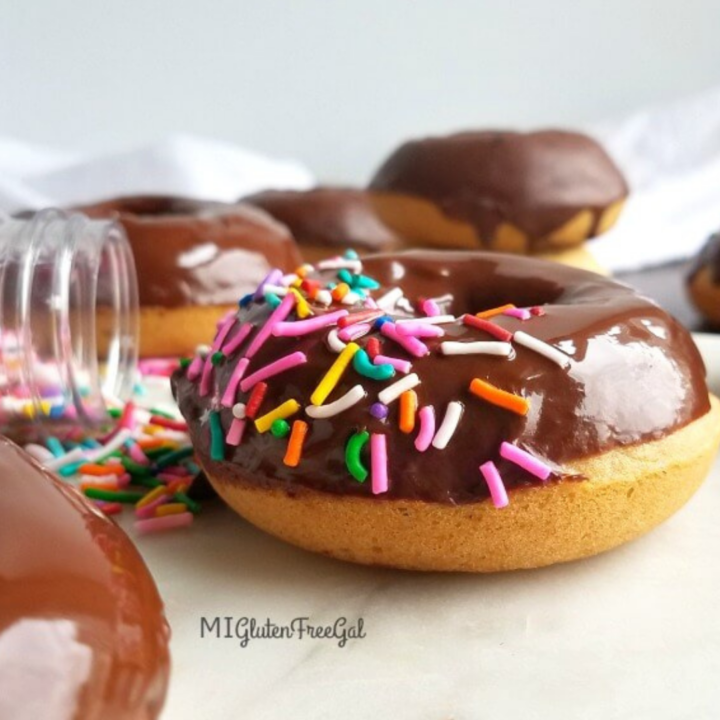 Basic Gluten Free Donut Recipe (Vegan Options)
Ingredients
1 tbsp coconut oil or butter
1 tbsp oil (I used canola.)
1/4 c sugar
3 tbsp brown sugar
1/2 tsp vanilla
2 tbsp aquafaba or 3 tbsp applesauce or 1 egg
3/4 tsp baking powder
1/4 tsp baking soda
1/4 tsp salt
1/8 tsp nutmeg
1 1/4 c flour (I used King Arthur Flour Measure for Measure, 155 grams)
1/2 c rice milk or your milk of preference
For chocolate glaze
1 cup Enjoy Life Chocolate Chips
1 tbsp coconut oil
Instructions
Preheat oven to 425 degrees.
In a small bowl, melt coconut oil in microwave for 30 seconds. Remove from microwave and allow to come to room temperature. Meanwhile, measure milk in a 1/2 measuring cup and also allow to come to room temperature. If using a regular egg, also get this out of the refrigerator and allow to come to room temperature.
While those are coming to room temperature, combine baking powder, baking soda, salt, nutmeg and flour in a small bowl. I personally prefer weighing my flour instead of using a measuring cup, and I sift my flour prior to adding it to the other ingredients. Set bowl of dry ingredients aside.
Place melted coconut oil in bowl of stand mixer and allow to "cream" for up to 2 minutes. To that, add the oil, white and brown sugars, and vanilla. Cream ingredients together for 3-4 minutes.
Add aquafaba and whip for up to 1 minute.
Add bowl of dry ingredients and milk, alternating half of each until incorporated. Use a rubber spatula to make sure all flour is dissolved into the batter.
Lightly spray donut pan with cooking oil (like Pam) and fill the wells with batter. I do so by stretching a sandwich bag over the mouth of a tall glass, and pouring batter into the bag. Then cut the tip of the bag, and pipe batter into the 6 separate donut wells.
Bake at 425 degrees for 10 minutes. Allow to cool in donut pan for 5 minutes, then remove and place on cooling rack
While donuts are cooling, place chocolate chips and coconut oil in a large glass bowl. Place over a small pot of boiling water, and allow to melt. Dip completely cooled donuts in melted chocolate glaze. Shake excess off into bowl, and transfer dipped donuts to cooling rack.
Enjoy, with or without sprinkles.
**Enjoy Life Foods sponsored this post, and compensated me for my time and energy. This post contains affiliate links.

Purchases made through those links help support this blog with no extra expense to you. Thank you for your continued support!**