Gluten Free Pumpkin Donuts
As an Amazon Associate and member of other affiliate programs, I earn from qualifying purchases.
Fall is the time for apples, pumpkin and cider. And nothing goes better with cider than donuts! These gluten free pumpkin donuts are perfect for fall. They require only a box of cake mix and a can of pumpkin puree!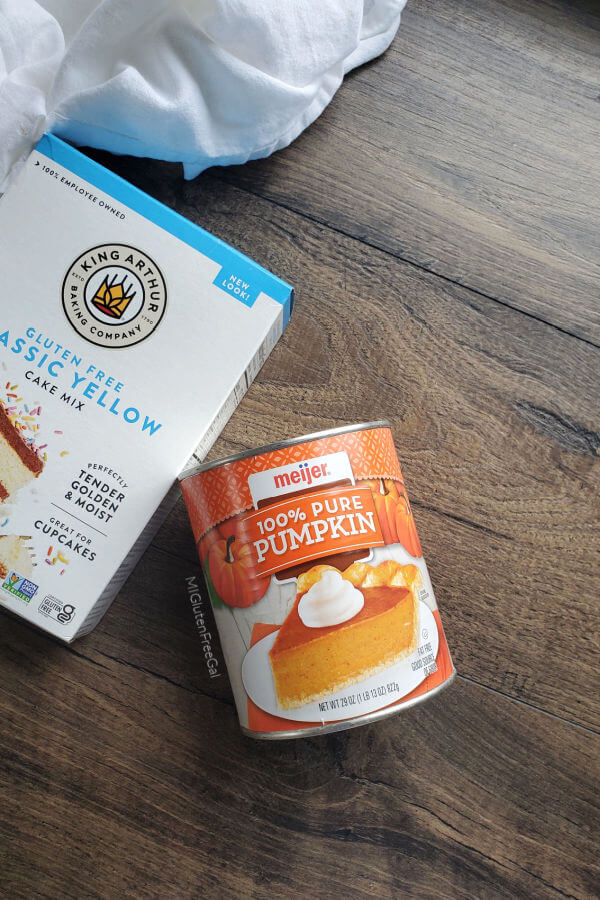 Delicious Gluten Free & Vegan Donuts, With Only Three Ingredients
These gluten free pumpkin donuts use only three ingredients. They are as follows: King Arthur Gluten Free Classic Yellow Cake Mix, pumpkin puree, and pumpkin pie spice. That's it. You don't need the additional ingredients listed on the back of the box. No butter or oil. No eggs. No milk. Just the cake mix, pumpkin puree, and spice. And technically, the spice is optional.
What Ingredients are in the King Arthur Gluten Free Cake Mix?
King Arthur Gluten Free Classic Yellow Cake Mix contains none of the top 9 allergens, as ingredients. Some of those allergens are present in their facility, so visit King Arthur's website to learn more about their Allergen Program. It contains sugar, tapioca starch, rice flour, corn starch, emulsifiers made from rice starch and fatty acids, baking powder, salt, natural vanilla flavor and xanthan gum.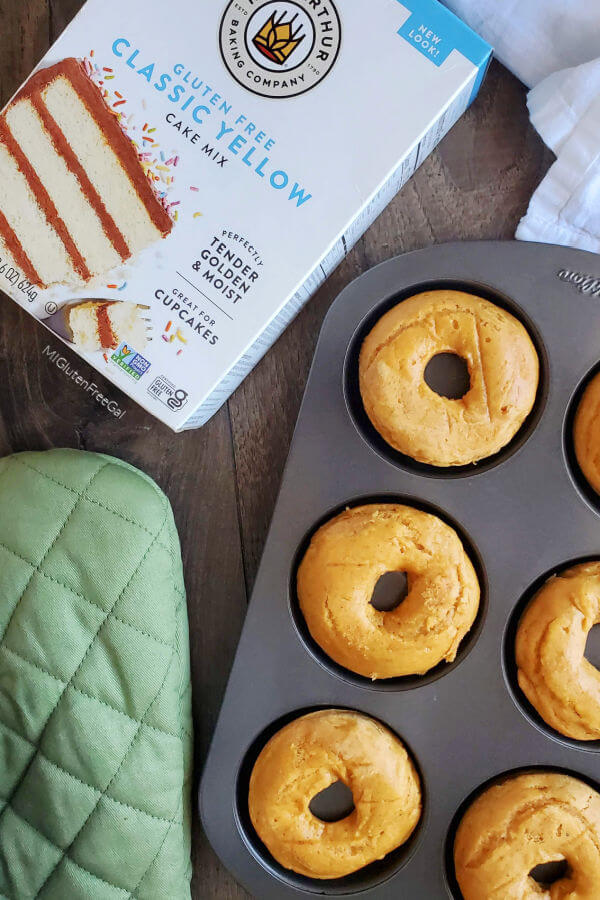 Can I Use a Different Gluten Free Cake Mix?
In theory, yes. When I first published this back in 2017, I used the Really Great Foods Golden Cake Mix. I combined equal ounces of cake mix with an equal amount of pumpkin puree, and they were perfect. Some of the best donuts I'd ever tasted. However, when I've tried this same ratio with other cake mixes, it never turned out as well. I was on a mission to recreate them with a mix I could easy find at the store.
In other failed attempts, I felt that they pumpkin donut batter was too moist and dense. Therefore, I combined one King Arthur Gluten Free Classic Yellow Cake mix (which is 22 oz) with 16 ounces of pumpkin puree. Why 16 oz? Because most cans of pumpkin puree contain 15-16 ounces of puree. I really am all about making recipes as easy to follow, as possible.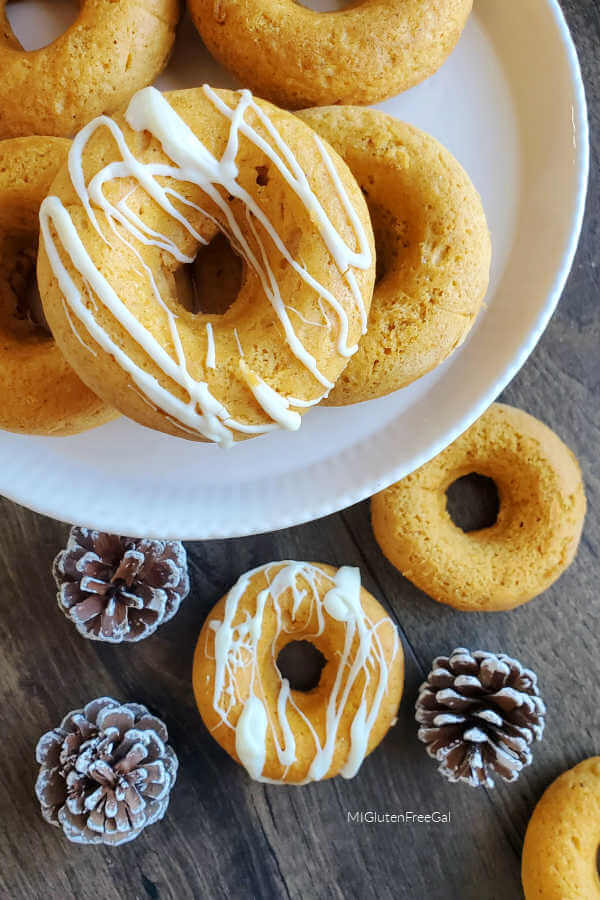 Do You Recommend Adding A Glaze to the Gluten Free Pumpkin Donuts?
These gluten free pumpkin donuts are perfectly delicious on their own. However, you can add a glaze or coating of cinnamon and sugar, if you like. However, I find these donuts can kind of sticky if they're not eaten the same day they are baked. Adding a glaze or coating in melted butter & cinnamon sugar only increase this issue, after 24 hours.
I chose to do a drizzle of melted white chocolate over the top. I tried to melt the Enjoy Life White Baking Chips, to use a dairy free topping. However, that turned into a HOT MESS. (Literally.) I found greater success using Guittard's Choc-Au-Lait white baking chips. (They are not dairy free.) As you can see, my drizzling technique needs some improvement. However, the donuts taste amazing, and that's all that matters.
Can I Freeze These Gluten Free Pumpkin Donuts?
You should definitely be able to freeze this. However, I'd try to do so on a parchment paper lined cookie sheet. Remember how I said these donuts can be sticky after the first day? Without parchment paper, these will freeze to the cookie sheet. After freezing the donuts for about 1-2 hours, you should then be able to safely transfer them to a freezer safe plastic bag for long term storage.
I Don't Have a Donut Pan. Can I Make These in a Muffin Pan?
Yes, you can. In fact, The Big Man's World has a recipe for 2 Ingredient Pumpkin Muffins on his website. His post also includes ideas for mix-ins. Food.com recommends using an 18 0z cake mix and and a 15 oz can of pumpkin pure. I think the key to baked good success is using less pumpkin than cake mix, in ounces.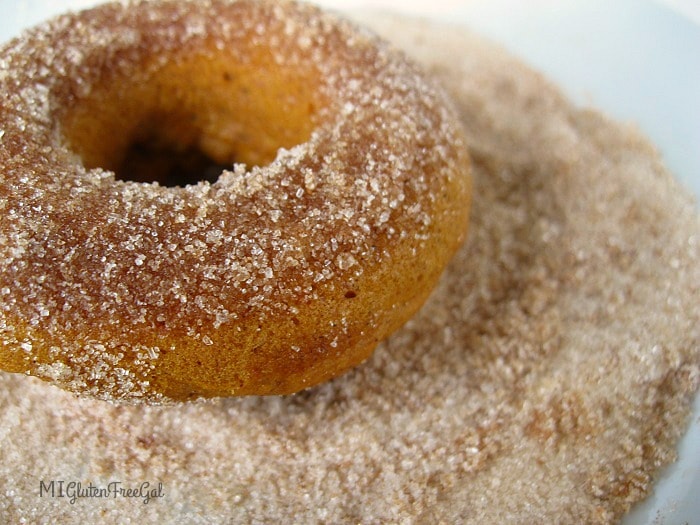 Other Donut and Pumpkin Recipes
The inspiration for these donuts came from The BakerMama's Two Ingredient Baked Cake Donuts post. If you're Check it for ideas on making baked goods by siumply adding applesauce or mashed bananas. More in the mood to bake from scratch, try my basic gluten free donut recipe (with egg and dairy free options), as well as my gluten free donut muffin recipe.
Searching for more gluten free pumpkin based recipes Try my gluten free (and egg free!) pumpkin chai snickerdoodles, and my grain free pumpkin pie bars. Following a Whole 30 diet? Try Dessert for Two's Whole 30 Pumpkin Muffins. (Made with almond & coconut flour.) And of course, if you want a traditional, from scratch donut recipe, check out The Gluten Free Austrian's Baked Pumpkin Donut recipe.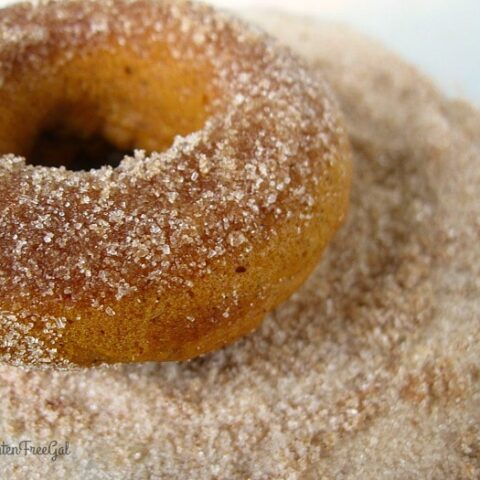 Gluten Free Pumpkin Donuts
Ingredients
1 King Arthur Baking Yellow Cake Mix
16 ounces pumpkin puree
2-3 tsp pumpkin pie spice, optional
Melted Earth Balance Butter for Dipping, approximately 1/2 cup
Mix of cinnamon and sugar, approximately 1 cup sugar with 2 tsp cinnamon
Melted white chocolate (Optional)
Instructions
Using mixer, thoroughly blend cake mix and pureed pumpkin. Add pumpkin pie spice if using. (I roughly used the recipe from Budget Bytes for homemade pumpkin pie spice.)
Preheat oven to 350 degrees. (By doing this step second, you allow the batter to rest, and allow the flour to absorb all the moisture from the pumpkin.)
Transfer batter to piping bag or ziploc bag. Cut tip of bag and pipe batter into donut pan. Lightly rap pan on counter to release any air bubbles.
Bake donuts for 10- 12 minutes, rotating pans half way through. After removing from oven, allow donuts to cool 2-3 minutes before transferring to cooling rack. Allow all donuts to cool prior to coating in cinnamon and sugar.
Note- I only recommend dipping the donuts in butter and sugar if you're going to eat them on the same day. Otherwise, the additional moisture from the butter will make the donuts gummy on the next day
Lightly dip donuts in melted Earth Balance Buttery Spreads. Next, lightly dip donuts in cinnamon and sugar mixture. Return donuts to cooling rack to set.
Additional option. Melt while baking chips and use it as a drizzle on the donuts. I prefer Guittard White Baking Chips.
*This post contains affiliate links.
Purchases made through those links help support this blog with no extra expense to you. Thank you for your continued support!**