Michigan Gluten Free Paczki – A Polish Tradition
As an Amazon Associate and member of other affiliate programs, I earn from qualifying purchases.
Don't let Celiac Disease hold you back from enjoying treasured holidays. Find these Michigan gluten free paczki from five local bakers. *I have not personally tried all of these paczki. UPDATED FOR 2023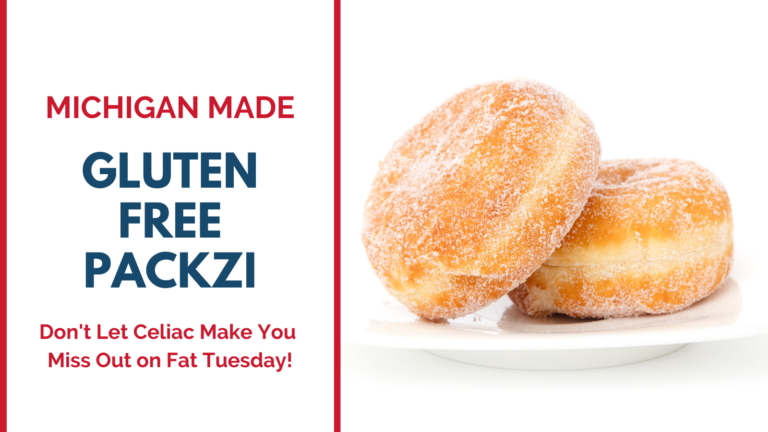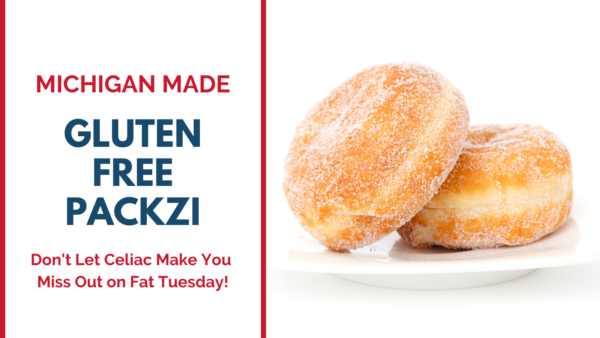 What is a Paczki?
If you don't live in Michigan, you may be unfamiliar with the word "paczki." (Pronounced poon-ch-key, this word is also plural. So no need to add an "s" on the end.) Polish immigrants made these decadent treat popular here in Michigan. These filled pastries usher in Lenten season. The idea is that during Lent you give up fattening ingredients, such as fat, eggs and sugar. Therefore, making these rich treats allows one to use up these ingredients before they go bad.
As bakers prepare paczki with flour and fry them in oil, many with Celiac Disease think they will never enjoy one again. However, these five bakers are making Michigan gluten free paczki in various flavors. Some are deep fried, most are dairy-free, and all are delicious! Don't wait too long, as these delicacies are only made for a short time.
Rise Authentic Baking – Grand Rapids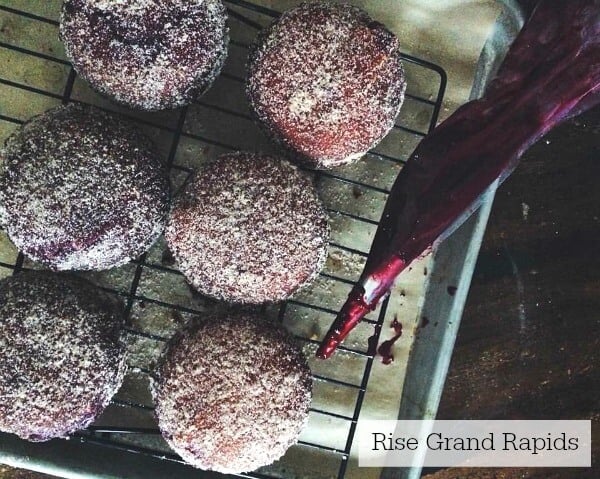 Rise Authentic Baking is a dedicated gluten-free, soy free and vegan bakery in Grand Rapids. All products are also free from artificial dyes and sweeteners. They will NOT be taking pre-orders. Simply visit their store on Fulton St. Fat Tuesday only and see what is available in the case. Planned flavors are raspberry, boston cream, and lemon. They will not be selling paczki to any of their wholesalers.
Cost- $?
Phone – 616-288-7969 Email
VEGAN- EGG AND DAIRY FREE
Bliss Bakery- Hamilton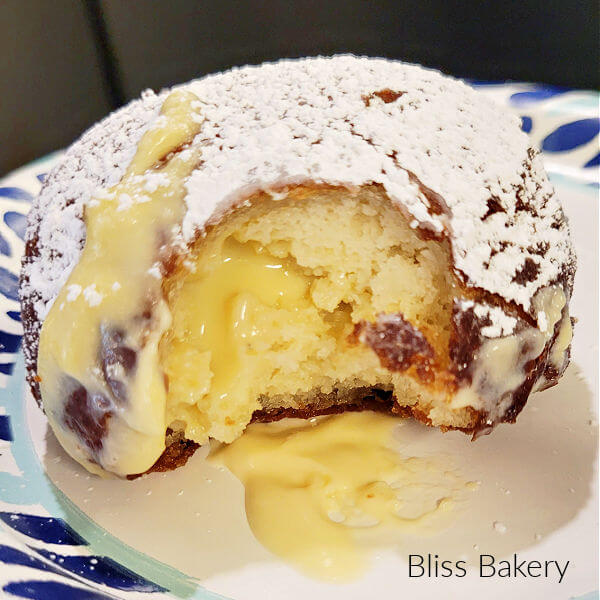 Bliss Bakery is a dedicated gluten free bakery in Hamilton, Michigan. While they specialize in grain free and keto baking, these packzi are NOT grain free or sugar free. They also contain dairy. Bliss Bakery deep fries their gluten free paczki.
They will have GF Paczki, in store, on the 21st only. You can preorder starting Feb 14th online. Orders will close Sunday, February 19th at midnight, or sooner if they reach capacity. Some paczki may be available for walk in sales, but are not guaranteed. Therefore, orders are highly recommended,
These paczki are NOT available for shipping or delivery.
Flavors include vanilla custard and strawberry jam, and sell for a 4 pk for $12.
Gluten Free Specialties – Rochester Hills (SHIPS!)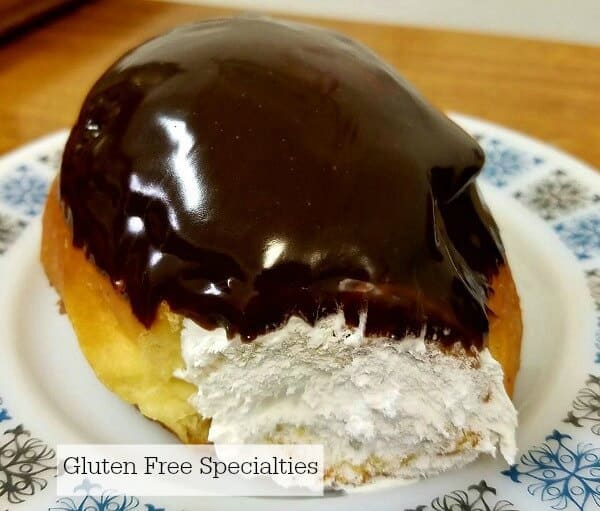 Gluten Free Specialties started making Michigan gluten free paczki years ago. Located in Rochester, Michigan. you can buy assorted flavors ONLY from their store. (Check their Facebook page for flavors.) Gluten Free Specialties deep fry their paczki. They charge $5 for 1 paczki, $17 for 4 or $44 for 12. You can reach them at 248-860-0680 or via Email.
You can order online for shipping. There are NO preorders for in-store pickup.
CONTAINS EGG AND DAIRY –
The Allergy Table – Rochester Hills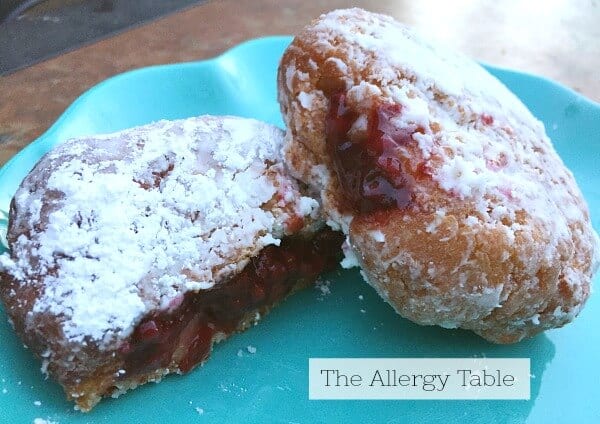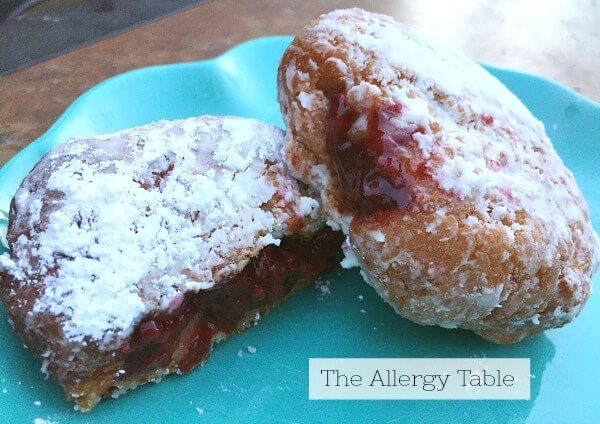 All baked goods at The Allergy Table contain none of the top 8 allergens. Like other bakers, you must order your gluten free paczki in advance. Customers wishing to place an order should visit the website and click on the "submit an order request" link. (Paczki are a "holiday special".) Once you submit your order, you will receive a call back from us to schedule your order pick up for February 18th – 21st. (Deadline for ordering is February 15th.) Reach them at this email.
The Allergy Table cooks their paczki in 100 % pure organic olive oil. Flavors include Dairy Free Custard, Apple, Raspberry, Blueberry, and Strawberry paczki. You can mix flavors. They come in packs of 3 for $18, 6 for $32, or 12 for $60
FREE OF TOP 8 ALLERGENS AND SESAME (VEGAN)
Keto Sweets and Treats – Grosse Pointe/ Rochester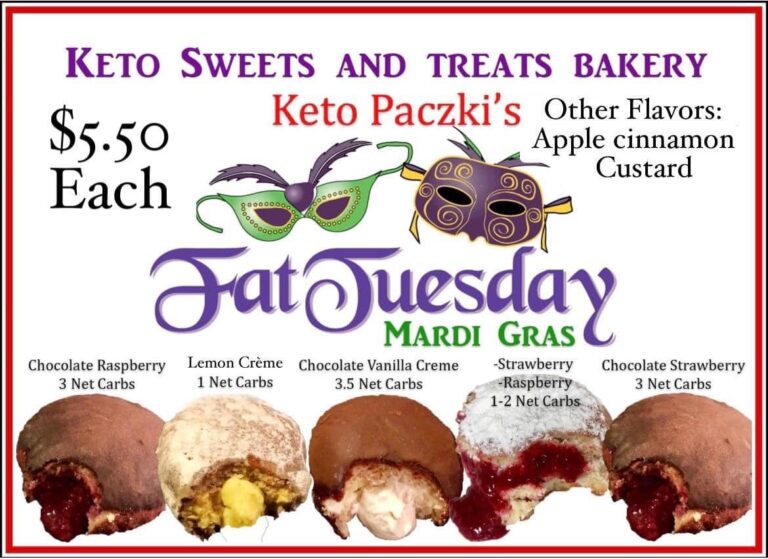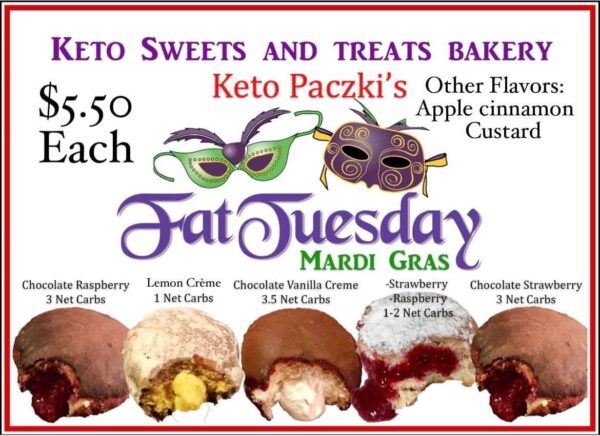 Keto Sweets and Treats paczki are made in a dedicated gluten free facility. They are made with almond and coconut flours.
The deadline to order is February 10th.
HOW TO ORDER:
Email your pre-orders to: Ketobaker[email protected] OR Text your pre-orders to: 313-587-5109.
After you complete your order, and address for pickup will be sent to you.
Rumi's Passion – Plymouth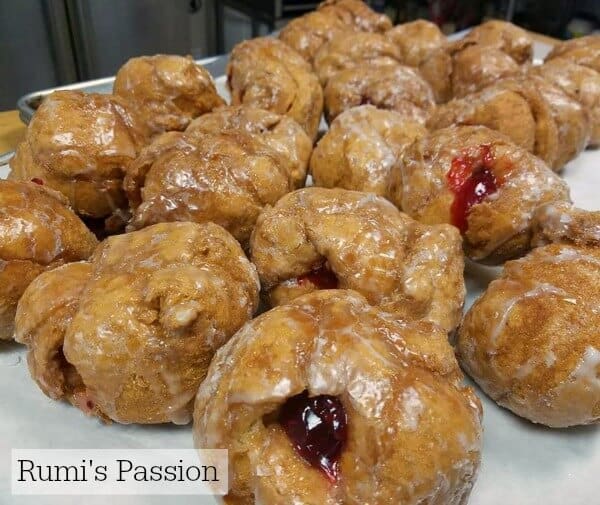 Rumi's Passion in Plymouth consistently gets rave reviews from gluten-free eaters across the state. These deep-fried Michigan gluten free paczki come in the following flavors
-custard with chocolate frosting
-cream with chocolate frosting
-chocolate cream w/ chocolate frosting
-raspberry with glaze
-apple with glaze
-lemon with powdered sugar
-blueberry with powdered sugar
-cannoli (first come, first serve, no pre-order)
-strawberry (first come, first serve, no pre-order)
-prune (first come, first serve, no pre-order)
All paczki are gluten and dairy free, but contain egg.
Rumi's Passion will sell Paczki Friday, Feb 17th- Tuesday, Feb 21st. (Closed on the 19th.)
They cost $3.95 each. If you would like to order paczki, you must order a minimum of a 6 paczki, and do so by Wednesday, February 15th at 5 pm. You can mix and match flavors. Save by ordering a dozen, for $39.50. You must prepay for your order. They do not ship their paczki. Call to order at 734-335-7145. You can also reach them by email.
CONTAINS EGG. DAIRY FREE OPTIONS- DEADLINE FEBRUARY 15TH
No More Belly Aching – Brighton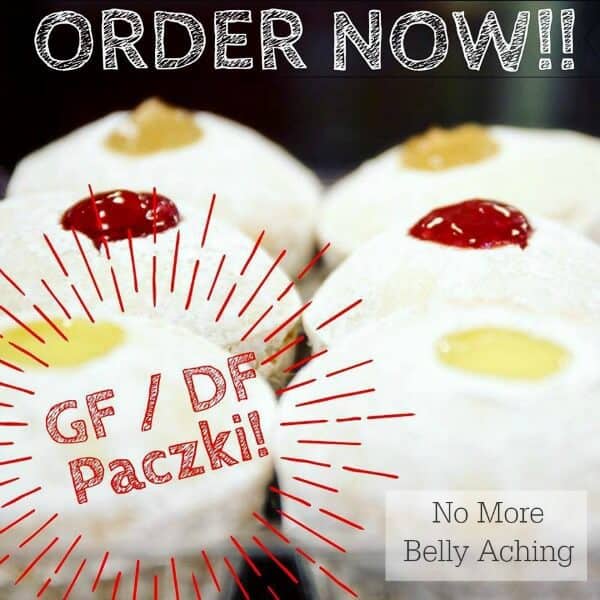 At No More Belly Aching, all items are gluten-free and dairy-free. Their Michigan gluten free paczki are baked, not fried. If you want some, you need to place an order, as those will be filled first. They come 6 to a package – three raspberry and three lemon. No More Belly Aching charges $12.99 for 6 gluten free paczki. You can reach them at 810-225-9773 or order online.
DAIRY FREE – CONTAINS EGG
G3 Food 4 All (Formerly Lil G's) – Lansing (NEW LOCATION)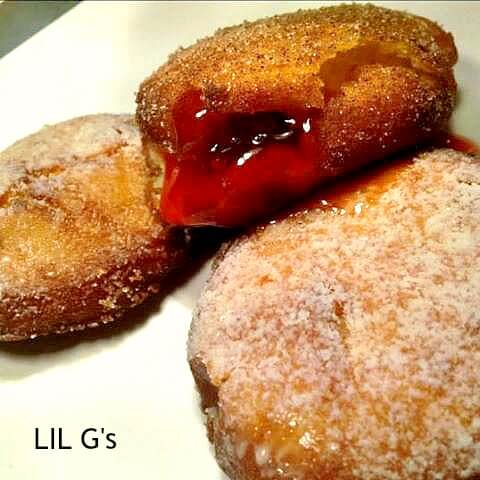 G3 Food 4 All paczki are gluten, dairy and soy free. They are made in a dedicated gluten free fryer, and batter is prepared with dedicated gluten free mixers, etc. Flavor options include Custard, Cherry, Lemon and Blueberry. Other flavors may be offered, so check their Facebook page. Please know they have closed their restaurant in St. Johns, and pick up is at the Allen Street Farmers Market. Pick up dates are Wednesday evenings, on February 1st, 8th and 15th. Hours of operation are 3 pm – 6:30 pm.
They charge $10 for 4 paczki, or $3 each.
Orders are only being taken for egg free or seed free options. If you need those, send them an email. (Do not message thru social media.)
CONTAINS EGG. VEGAN OPTIONS AVAILABLE FOR UPCHARGE
Third Coast Bakery – Traverse City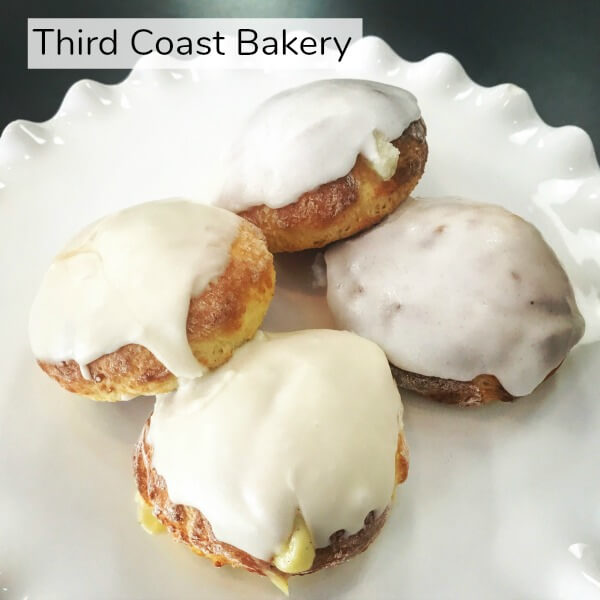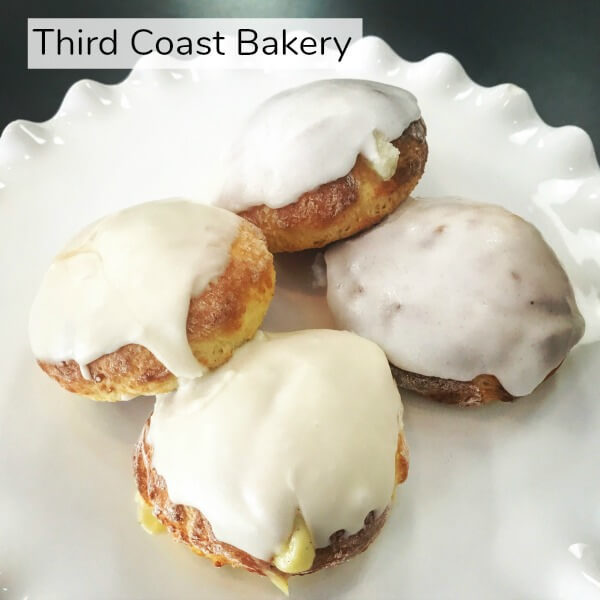 Third Coast Bakery is excited to offer 100% gluten-free, dairy-free, and soy-free paczkis. They offer their paczki baked, not fried. (contain eggs)
Filling options include
Organic Raspberry with Vanilla Glaze
Lemon Curd with Lemon Glaze
Whipped Vanilla with Chocolate Glaze
Vanilla Custard with Chocolate Glaze
Chocolate Custard with Chocolate Glaze
They cost $?. No quantity discounts. Orders of assorted flavors allowed. Orders must be made and paid for in advance. Order Deadline is ???
Pick up available starting ??? Some paczki will be available in the bakery, a la cart, but priority will be given to orders. You can reach Third Coast by phone at 231-421-8696. They are open Tuesday through Saturday 6:30 am until 4 pm and Sundays 8 am until 2 pm. Closed Monday. Reach them via email.
CONTAINS EGGS AND ALMONDS – DAIRY FREE
Dulce Nulla – Iron Mountain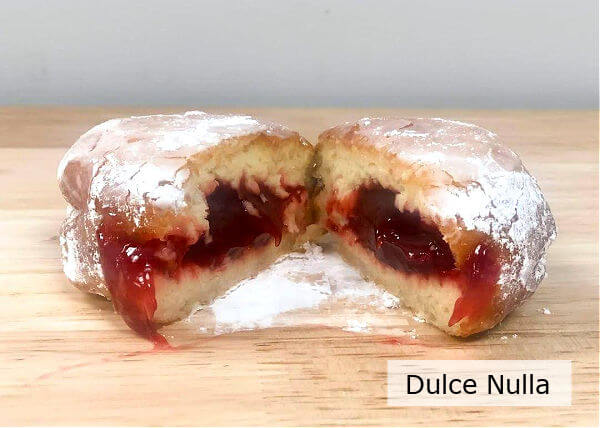 Dulce Nulla will offer gluten paczki this year, in both vegan and non-vegan. Both can be pre-ordered for pick up on Fat Tuesday. Filling options include
Gluten Free – Raspberry, Lemon, Custard, Buttercream
Gluten Free & Vegan – Raspberry, Lemon, Buttercream
Dulce Nulla paczki are topped with glazed or powdered sugar. Cost is $4.50 each. Deadline to order is Sunday February 19th . Call them at (906) 828-1442 or email for more info.
CONTAINS EGG AND DAIRY (VEGAN OPTIONS AVAILABLE)
**Transparency- I have only tried the paczki from Gluten Free Specialties. This article is intended for informational / educational purposes only. Always confirm any food preparation concerns with staff before ordering.
Want to try making your own paczki? Try this recipe for Gluten Free Fried Jelly Donuts from Fearless Dining.
Fat Tuesday is also known as Shrove Tuesday. Traditionally people eat pancakes on that day. My Gluten Free Buckwheat Pancakes would be perfect for that! Do you have any other Fat Tuesday traditions? Share your story in the comments below!