1923- Gluten Free Taco "Bustaurant"
As an Amazon Associate and member of other affiliate programs, I earn from qualifying purchases.
1923 is a 100% gluten free food truck in Ann Arbor, Michigan that serves tacos, nachos and more. While they have traditional beef tacos, what really sets them apart is the unique tacos that have an international flair.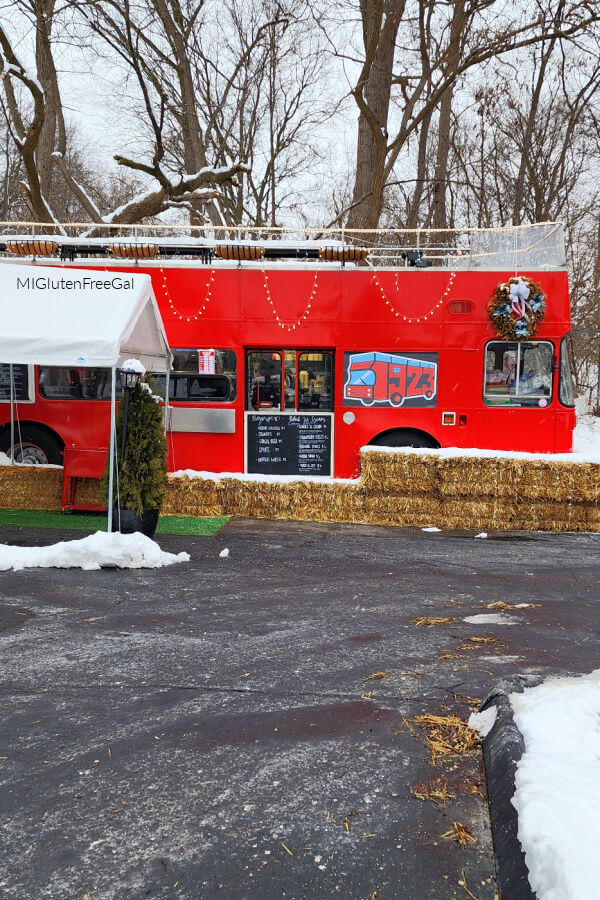 Where is 1923? Why Start A Gluten Free Food Truck?
While I've seen many food trucks, 1923 is unlike any other. It's actually a double decker bus, shipped to the United States from Liverpool. Owners Aaron and Miriam Orr decided to start their own business, after 20 years of experience in the restaurant industry. Currently located on the corner of Miller and 1st street in Ann Arbor, it has quickly become a local favorite.
Miriam lives with Celiac Disease, as does her son. Miriam told me "After nearly 20 years of not being able to enjoy dining outside of food I've personally prepared, I'd had enough." She knew that others dealt with the same struggle, and decided to take matters into her own hands. As someone with Celiac Disease, I appreciate the task they are undertaking.
Does This Food Truck Travel Around the State?
While this bus has wheels, it's not a business that travels around the state. In fact, you should read the store Aaron and Miriam shared on MLive. They personaly drove the bus from New Jersey back to Michigan, at a maximum speed of 40 miles per hour. To say it was a long trip is an understatment. What would usually take a 9 hr drive by car, took them 23 hours.

What is on the 1923 Menu? Do They Accommodate Additional Allergens?
First off, let's talk about the appetizers. I don't know about you, but a dedicated gluten free fryer is my love language. Their tortilla chips are handmade, as are their falafel. And I will never turn down gluten free french fries. Currently, all fried foods are cooked in soybean oil.
In addition to being completely gluten free, the menu at 1923 is also nut free. Currently there is no shellfish or pork on their menu, either. They have many egg and dairy free options, and are working on adding more vegetarian options to their menu.

Fried Chicken?! Fried Fish?! Tell Me More!
I would call the menu at 1923 "fusion cuisine." While you can get their Calle Clasica, which is a taco made with chicken or beef, it's the unique tacos that will have you coming back for more. Their Omiyage taco, made with fried chicken, is truly a taste sensation. I'm speechless on how to describe it, other than "amazing."
In addition, their Voyage to Atlantis fried fish taco is wonderful. To be honest, I don't think I've ever had better fried fish in my life. While I'm not a fan of mangoes AT ALL, I gotta say that the mango salsa on the tacos was 100% delicious.
As someone who does not tolerate "spicy" food well, I'll admit I was a bit concerned about eating a few of their menu items. But they accommodated my needs, and put the buffalo sauce for their Kentucky Derby taco on the side, so my husband could try it.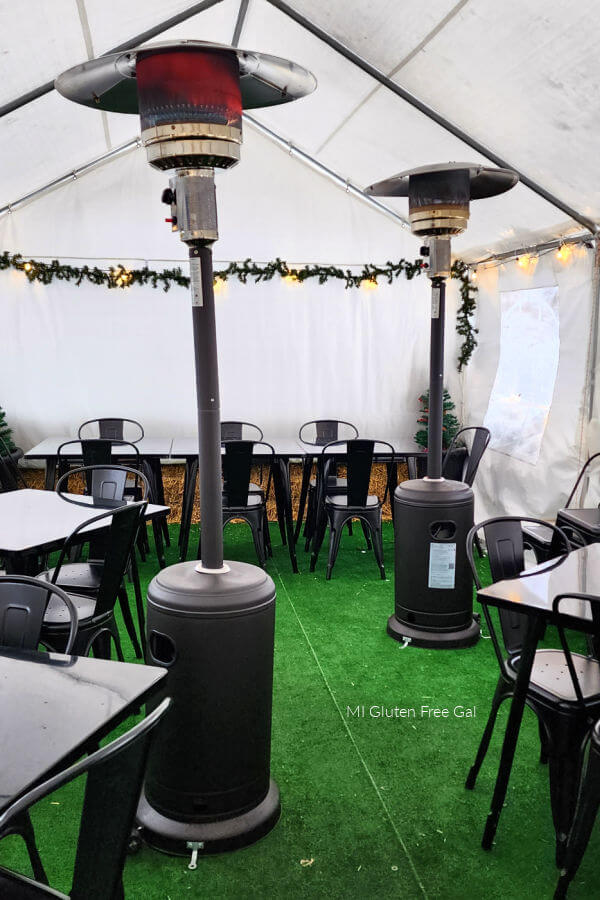 Does 1923 Have Seating Available?
As you may be able to tell from my photos, we visited 1923 during the winter. When we arrived, I was pleasantly surprised to find a heated tent with plenty of seating. They also maintain the patio in the warmer months, with umbrellas for each table. (Learn more in this Click on Detroit video clip.) In warmer temperatures, you can sit on the top of the bus, which has room to seat 20 people.

What Did You Order? What Was Your Favorite?
We order 7 tacos, one of each flavor on their menu. In the top picture, is the Kentucky Derby taco, with the buffalo sauce on the side. Also in the picture is the Arabian Nights falafel taco, the Caribbean Queen taco topped with grilled pineapple, and the Atlantis fried fish taco. In the bottom photo (left ro right) is the Calle Clasica with beef, the Korean Seoul Taco with beef & kimchi, and the Omiyage chicken taco.
It's hard to pick a favorite. I REALLY like the vegetarian falafel taco. The combo of the goat cheese and the balsalmic with the falafel was on point. However, my mind keeps going back to the Atlantis fish taco. I could have eaten three of those, easily. You can order any three tacos for $15, or $5.50 each.
Owner Aaron Orr stated they will rotate new taco flavors throughtout the year, and plan to offer a new vegetarian taco, soon. Stay tuned to their social media for seasonal taco offerings.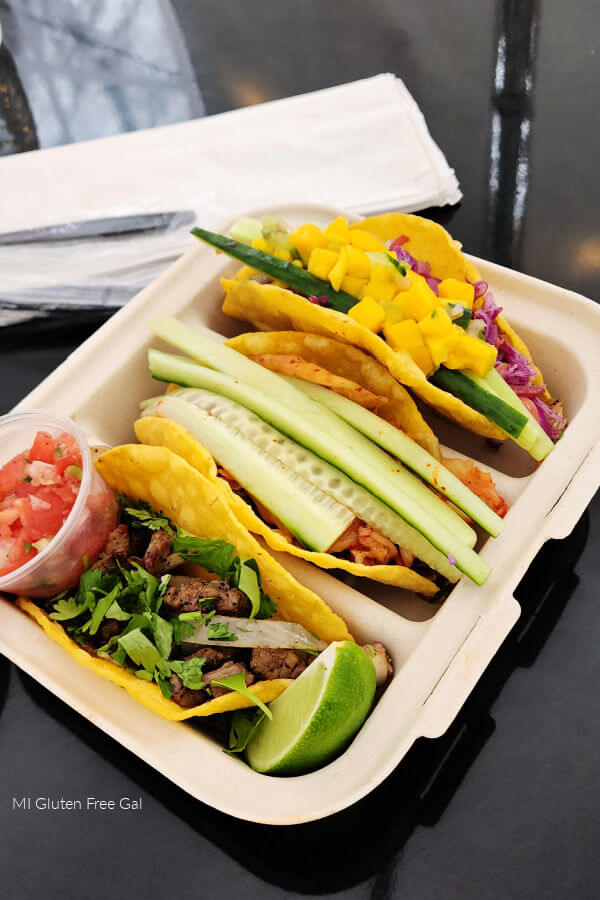 Does 1923 Offer Dessert?
They do offer dessert! I asked Aaron why they choose to offer rolled ice cream, which isn't something you see in Michigan very often. He stated "Bringing world-wide flavors home is our mantra. Rolled ice cream is very popular in other parts of the world so we wanted to share that with Ann Arbor!" It won't be available again until spring, but their rolled ice cream flavors will include oreo, strawberry with graham cracker, and much more. And ALL gluten free!
What are 1923's Plans for the Future?
For one, they're hoping to partner with more local food suppliers for their menu. In addition, they're hoping to move to a better parking lot, just off of Main Street. Aaron stated he hopes "this will take our brand to the next level, allow us to expand to our full potential. In addition, it should provide an even better dining experience for our guests." They're definitely a great addition to the many gluten free dining options in Ann Arbor.
1923 Food Truck
552 S. Main St. (Corner of Main and Madison)
Ann Arbor, MI 48103
(734) 934-0969
Hours – Tues-Sat 12 pm – 7 pm
Website| Facebook | Instagram
1923 is one of many Michigan eateries I've visited. You can find a list of them on my Michigan gluten free dining post. Please remember to always ask any restaurant about their food preparation practices, before dining.