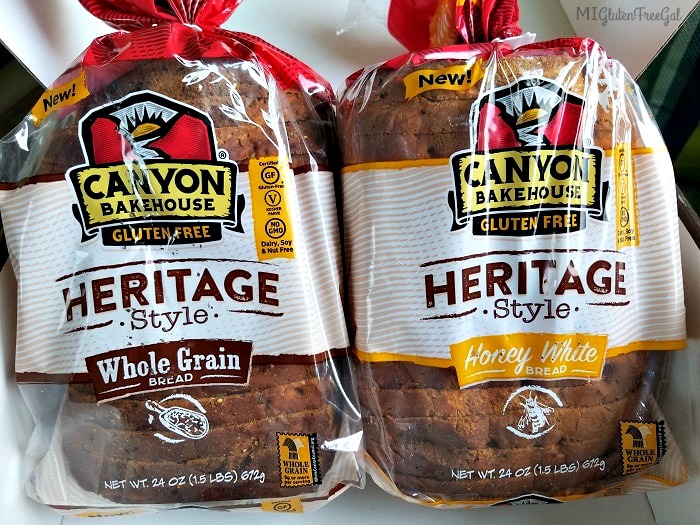 Canyon Bakehouse has announced some big news. News that gluten-free bread eaters have been longing to hear. Say goodbye to little loaves my friend. These Canyon Bakehouse Heritage Style #wideloaf breads are going to be a huge. At a whopping 24 oz., you're going to run out the door to pick these up at Target, Whole Foods, Sprouts and other locations.
Making a wider loaf of bread isn't as easy as you think. It's not as simple as using a bigger pan. Gluten-free bread dough needs walls to climb up, to adhere too. That's why most loaves are smaller. They bakers at Canyon Bakehouse put their heart, soul and energy into creating this Heritage Style line. They created two flavors so far – Whole Grain and Honey Wheat. The bread is soft yet stands up to all the sandwich toppings you can throw on it. Turkey, lettuce and tomato and lots of cheese? Bring it. This bread was so big I actually shared half a sandwich with my husband.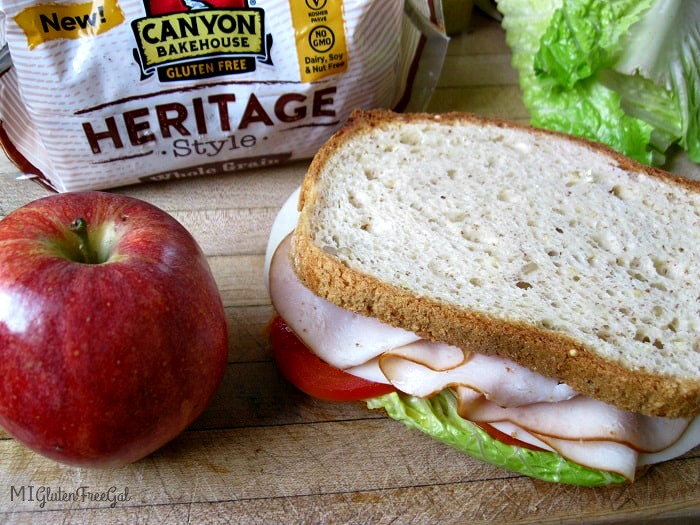 It's great for sandwiches as well as toasted, smeared with peanut butter. I'll have to admit, I like to use my Canyon Bakehouse Heritage Style bread for a more "creative" approach. There's nothing I like more than a good breakfast casserole. Sweet or savory, the flavor and texture combinations make me happy any day of the week. When I used their traditional loaf for the following recipe, it would take the whole loaf. With the new bigger and wider loaf, I actually have bread left over!
I LOVE this Overnight Blueberry French Toast Casserole. I discovered this recipe years ago on the AllRecipes.com website. While it looks like you slaved all day over it, it's actually incredibly simple. But don't worry, I won't blow your cover when you serve this amazing dish at your next brunch meetup. Just soak up the praise and adoration like a sponge. Just like the Canyon Bakehouse Heritage Style bread soaks up all that blended milk, egg and maple syrup deliciousness. Enjoy.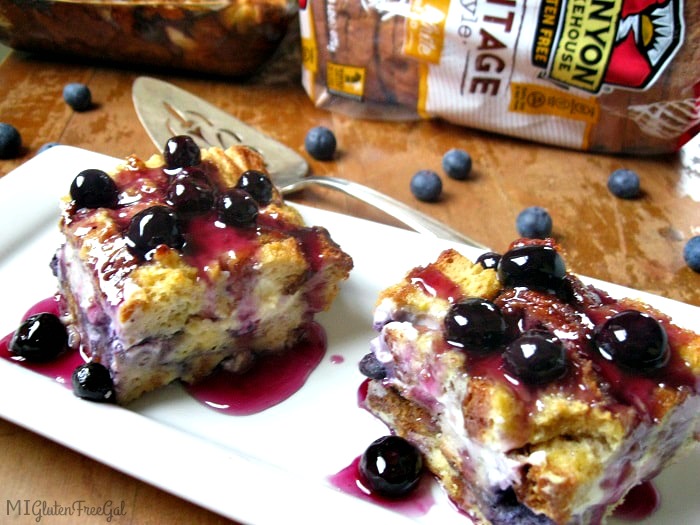 There are a few changes I made from the original recipe. For starters, the original recipe says that it serves 10 people when made in a 9 x 13 pan. I usually serve this as part of a larger brunch, and manage to stretch a 9 x 13 dish to at least 16 servings. Maybe more. I've split this recipe in half and it makes 9 good sized servings. HOWEVER, I didn't cut the homemade blueberry sauce in half. Because it's shut-the-door amazing and it's good on just about everything. In addition I use more blueberries in the casserole than it suggests. Because blueberries.
I substitute frozen blueberries instead of fresh and it turns out fine. Some have commented that they use a little less cream cheese. I did too. I used about 3/4 of a package of cream cheese instead of a full one. It's up to you. If you can't do dairy, I hear that the Tofutti Cream Cheese is good. Another option – try VegetarianMamma's Blueberry French Toast Casserole which doesn't use cream cheese and sub almond milk instead of regular milk!
Gluten-Free Overnight Blueberry French Toast Casserole
Canyon Bakehouse Heritage Style Bread + Blueberry Breakfast Casserole
Ingredients
8-10 slices of Canyon Bakehouse Heritage Style Whole Grain bread, cubed
1 8 oz. pkg of cream cheese, cut into one inch cubes (This is easier if it's partially frozen)
1 cup frozen blueberries
6 eggs, beaten (You could use Vegan Eggs by Love Your Heart, although the bread does have egg in it)
1 cup milk (or dairy-free milk)
1/2 tsp LorAnn Oils vanilla
3 tbsp maple syrup

Blueberry Sauce

1 cup white sugar
2 tbsp cornstarch
1 cup water
1 cup blueberries
1 tbsp butter
Instructions
Directions (Taken from AllRecipes.Com website)
Lightly grease a 9x9 casserole dish. Arrange half the bread cubes in the bottom of the dish, and top with cream cheese cubes. Sprinkle blueberries over the cream cheese, and top with remaining bread cubes.
In a large bowl, mix the eggs, milk, vanilla and maple syrup. Pour over the bread cubes, cover the dish, and refrigerate overnight.
In the morning, remove the casserole from the refrigerator and let reach room temperature for at least 30 minutes. Preheat the oven to 350 degrees. Keep the dish covered and bake for 30 minutes. Uncover, and continue baking for 25 minutes, until the center is firm and the bread is lightly browned.
In a medium saucepan, mix sugar, cornstarch and water. Bring it to a boil. Stirring constantly, cook for 3-4 minutes. Mix in the blueberries. Reduce heat and simmer for 10 minutes, until the blueberries burst. Stir in the butter and pour over the baked French toast. (I actually put the blueberry sauce in a small pitcher and pour it over individual pieces.)
Enjoy!
7.6.7
26
http://miglutenfreegal.com/2017/02/08/canyon-bakehouse-heritage-style/
Want to try this recipe at home? Let me get you started. Enter below to win one loaf of each flavor of  the new Canyon Bakehouse Heritage Style breads!
**Canyon Bakehouse was generous enough to send me these loaves of bread. I was not otherwise compensated for my time or thoughts.**