Thrive- Michigan State's Top 8 Allergen Free Cafeteria
As an Amazon Associate and member of other affiliate programs, I earn from qualifying purchases.
The internet has been abuzz since Michigan State University announced their new Thrive dining concept. Announced in spring of 2019, this cafeteria serves meals free from the top 8 allergens, gluten and sesame. I recently enjoyed a meal there and am excited to tell you all about it!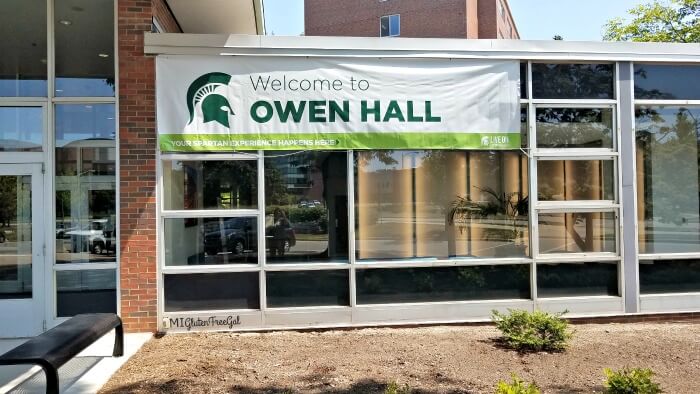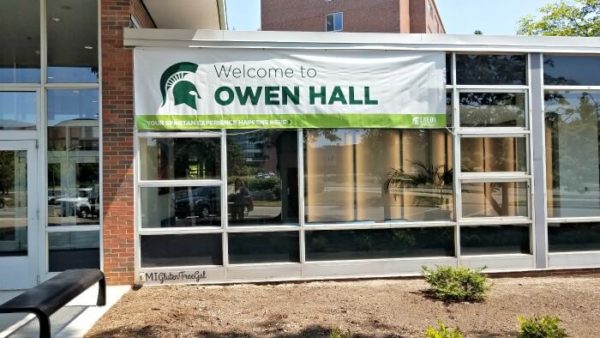 Where is Thrive?
Situated near the center of campus, Thrive resides inside Owen hall. Previously exclusively for graduates, Michigan State opened this hall to all students. Because of the uniqueness of Thrive's meal offerings, the school reserved rooms for students with food restrictions.
Due to its small size, Owen became an ideal dorm to renovate for a specialty dining option. Michigan State previously did this with Holmes and Holden halls. Those smaller dorms became ideal to transform into kitchens that serve no peanuts, tree nuts or coconut.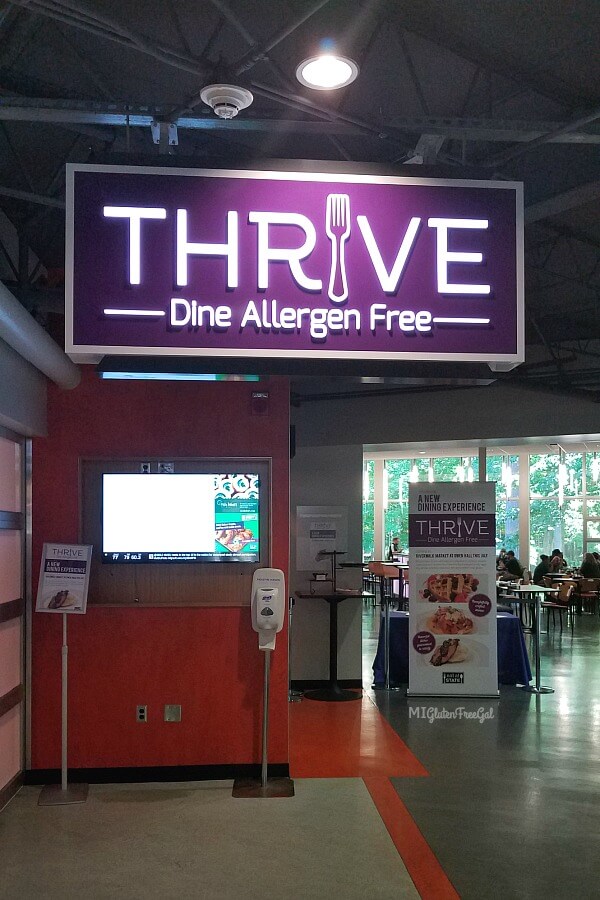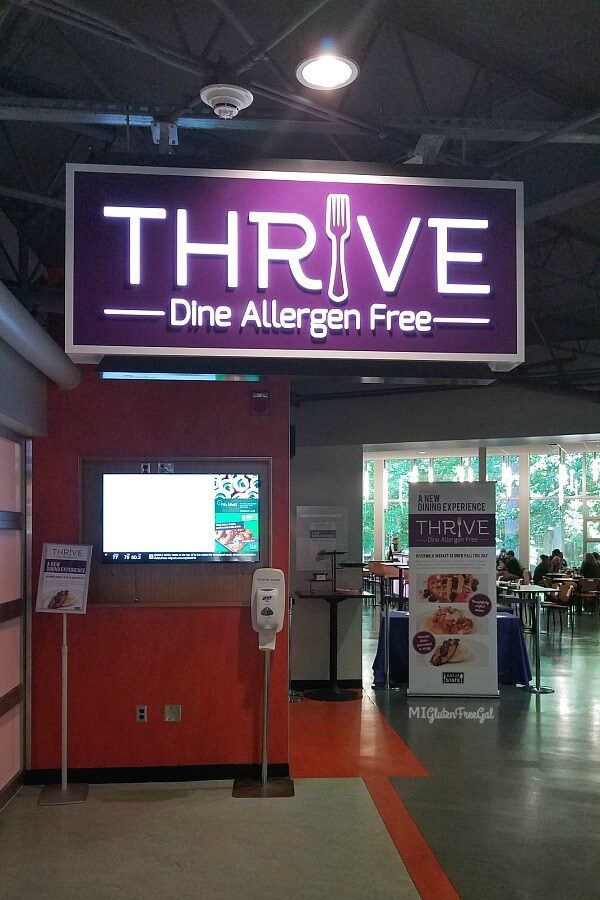 Why was Thrive Created?
As I previously wrote, Michigan State offers gluten free options across campus. However, staff increasingly found themselves receiving calls about their ability to accommodate food allergies. While they liked how U of M offered a separate food allergy room, MSU felt the need to do more to help more students, as well as staff. Their goal was to not help students to "survive" on a few options, but to "thrive" with a safe dining area of their own.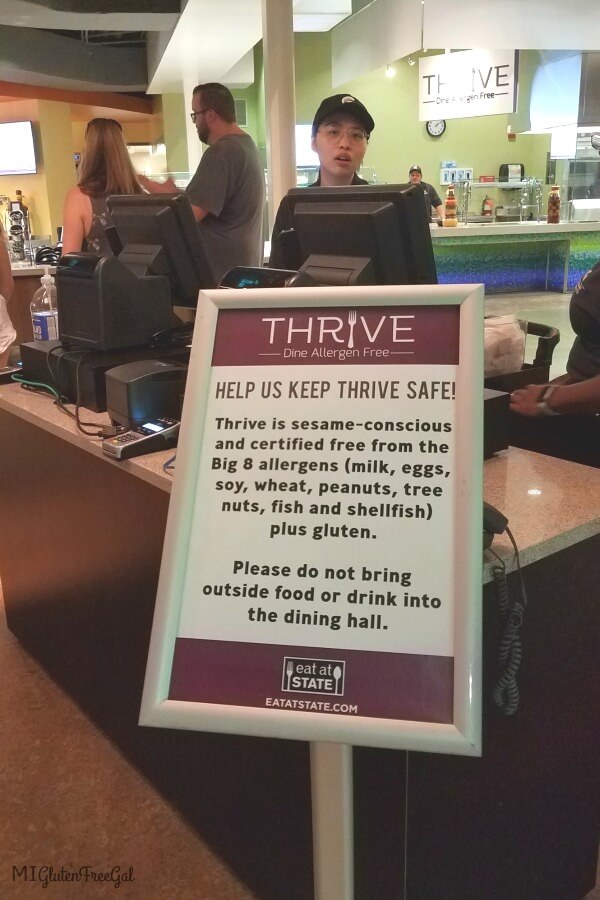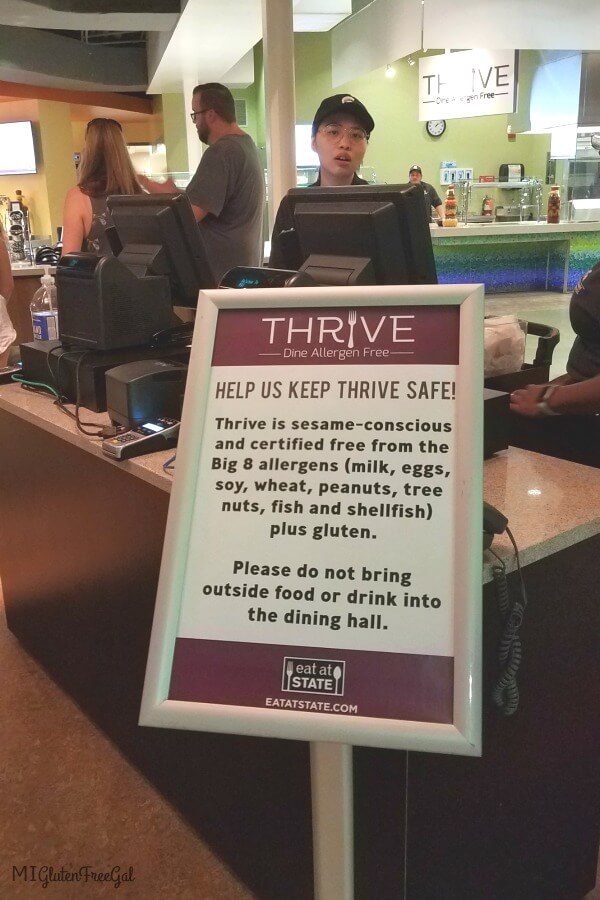 How Safe is the Thrive Kitchen?
Read this excerpt from MSU's recent publication on the Exciting Changes to Owen Hall.
"Thrive at Riverwalk Market at Owen will be certified free from the top eight food allergens (milk, eggs, soy, wheat, peanuts, tree nuts, fish and shellfish) as well as sesame and gluten. The location will be certified by Kitchens With Confidence, a third-party accreditor that will regularly examine protocols and policies to verify the location as being free of the allergens listed. Certification includes reviewing the path of food from delivery at the dock to storage areas, food preparation areas, and serving."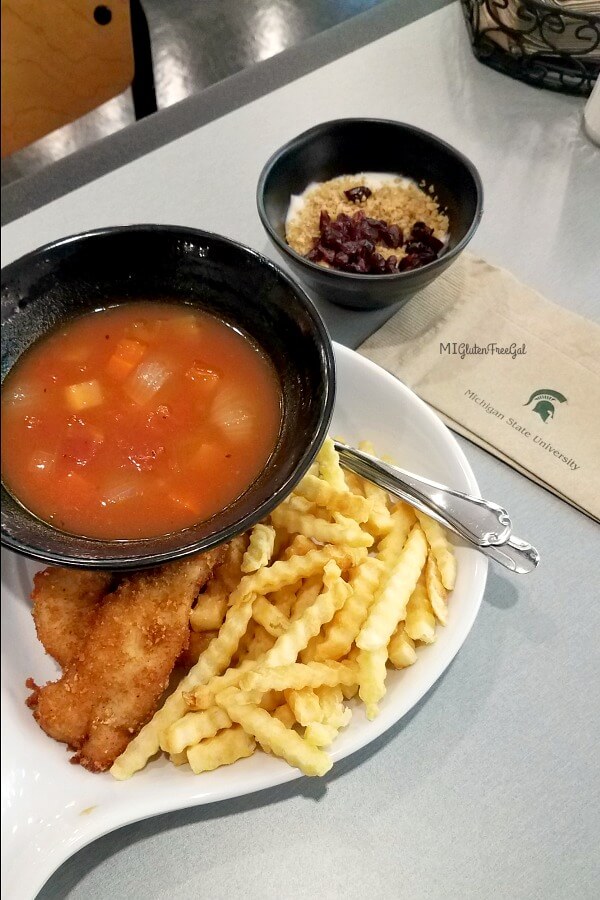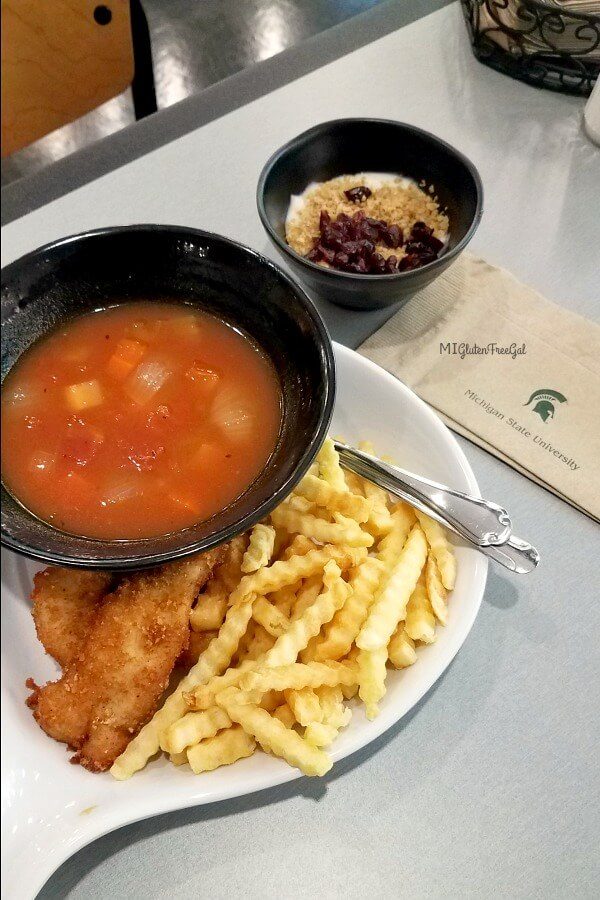 What Food Do They Offer?
Thrive contains three serving stations, a soup and salad bar, a soft serve machine that serves Dole Whip, and beverages. The three serving stations, named Tenderland, Grid and Pantry, serve very specific items. Tenderland offers hand breaded chicken fingers and french fries, daily, at lunch and dinner.
The Grid station serves foods such as tacos, noodle bowls, grain bowls and ethnic creations. The Pantry station serves steak, rotisserie chicken, potatoes, and other "traditional" types of meals.There is discussion of possibly adding a vegetarian station in the future, should enough interest arise. Visit Eat At State for the daily Thrive menu.
I must admit my biggest excitement was the housemade coconut milk vanilla yogurt. I've tried many dairy free yogurts, and this is by far the best I've ever tried. You'll find the yogurt on the salad bar, along with their house made Gluten free granola. They prepare it daily with Bob's Red Mill gluten free oats. And of course I loved the Dole Whip.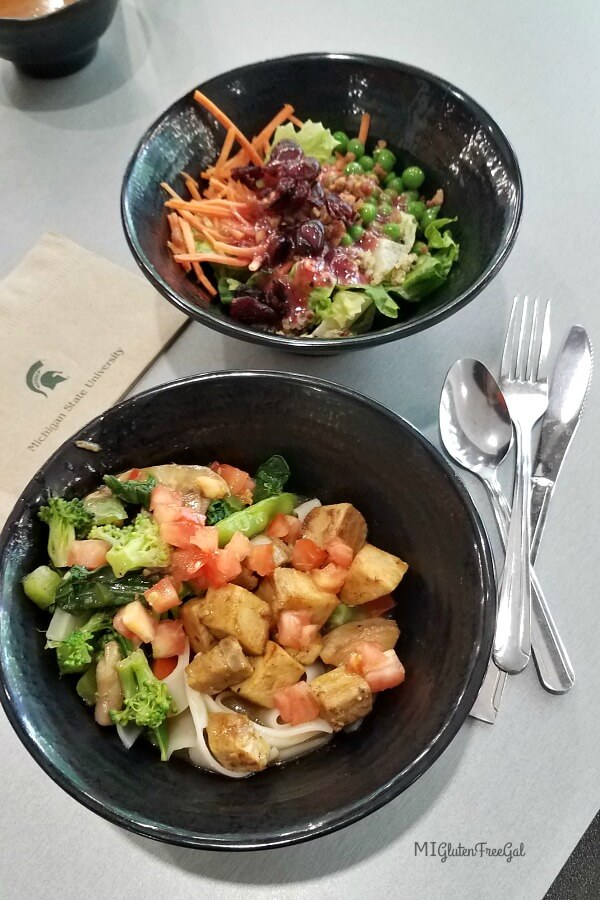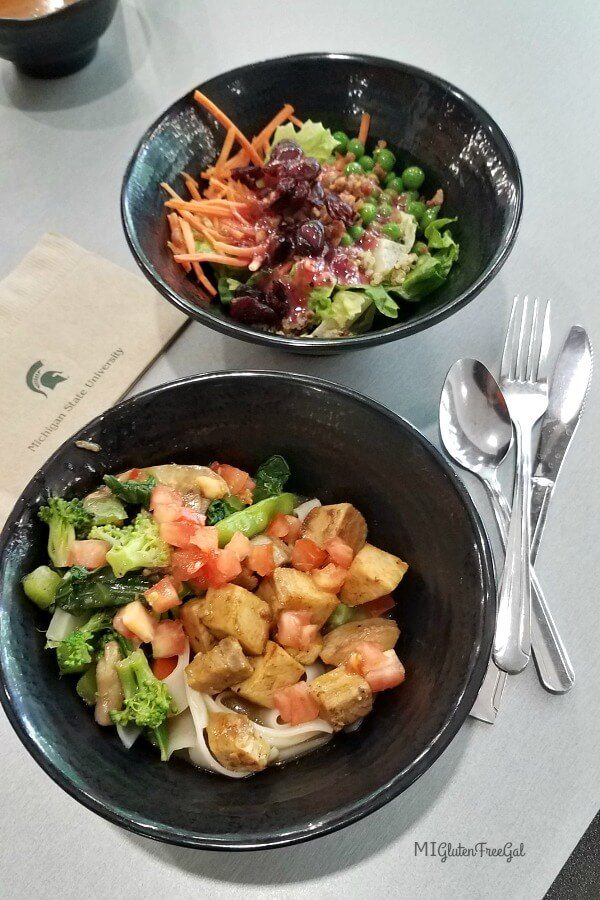 But I Can't Have …
Michigan State realizes people live with other food restrictions as well. Students can work with the dietitian and dining hall staff to have made-to-order meals prepared for their health needs. In addition, foods that contain pork, beef or alcohol are labeled as such.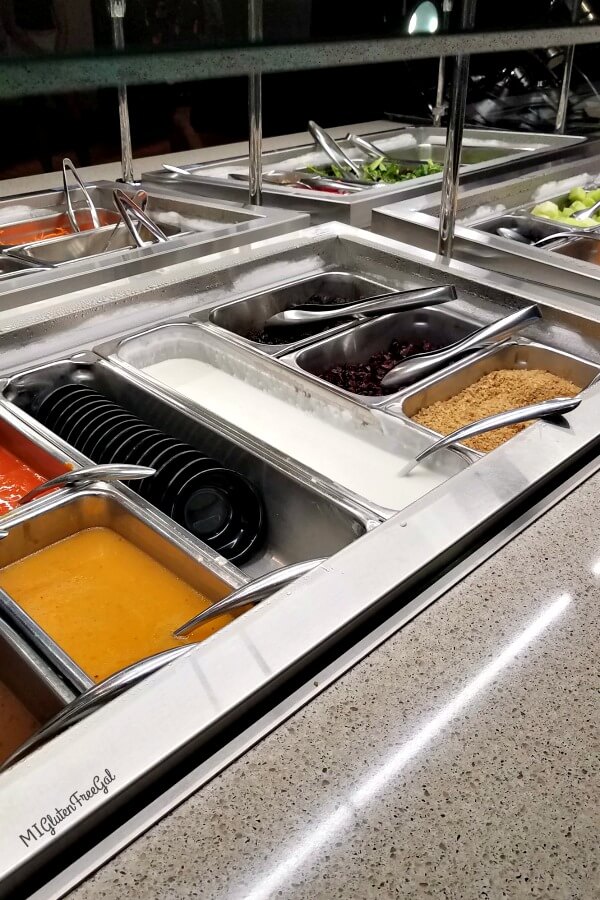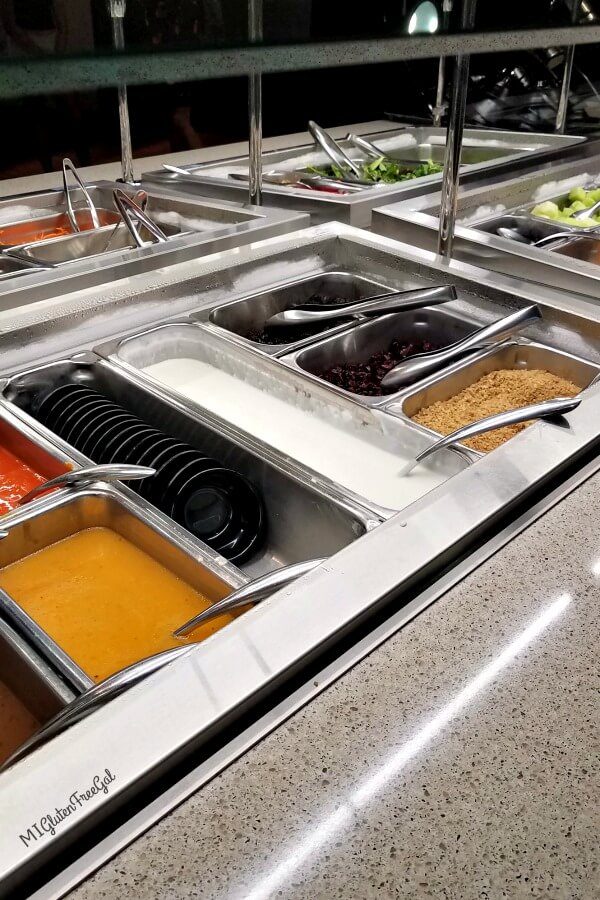 What Feedback Have They Received?
I spent the meal talking with MSU's head dietitian, Gina Keilen. She was eager to create Thrive to serve students and staff. However, she's been astounded by the positive reception it's had, just in their first month of opening. Not just her, but service staff have been humbled by the praise and happy tears from visitors.
She mentioned this positive reception has reinvigorated the entire dining services department. Staff with dietary restrictions are eager to work here and help others like them. Staff willingly take extra certification classes, understanding their knowledge can truly be a matter of life and death.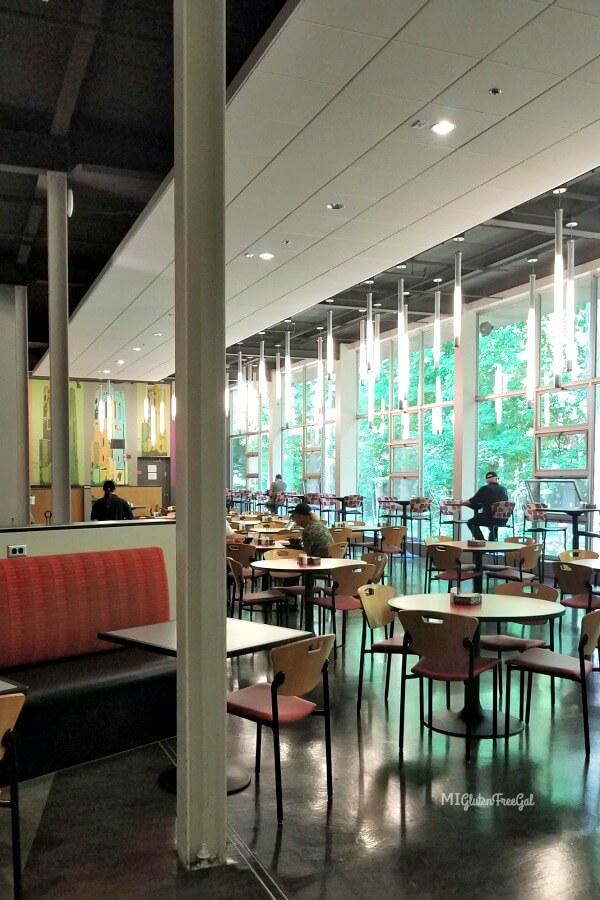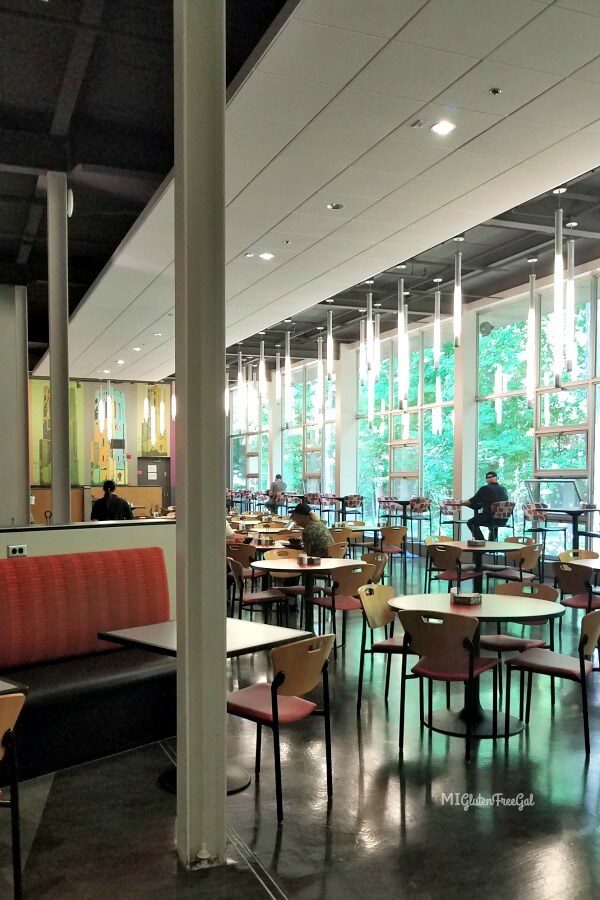 What Hours is Thrive Open?
Right now, Thrive serves lunch, from 11 am – 2 pm, Monday thru Friday. (Dinner will be added when school starts on August 28th.) As they gauge student interest, breakfast service may be added. (Gina stated chefs are already in the kitchen, playing with recipes in preparation for when that day comes.) Thrive is open to the public. Breakfast costs $7.75, lunch and dinner $10.50, and children ages 2-9 cost $5.75. Children under the age of 2 eat free. Click here for more info on meal costs and dining plans.
Owen Hall
735 E Shaw Lane
East Lansing MI 48825
Other Dining Halls I've Visited
University of Michigan
Oakland University
Western Michigan University
**I received a free meal while visiting. However, all thoughts and opinions are my own. I am beyond excited that Michigan State chose to take this drastic step to help students. **