Small Batch Gluten Free Pumpkin Roll
As an Amazon Associate and member of other affiliate programs, I earn from qualifying purchases.
Thanksgiving. Here in Michigan, it includes the smell of roasted turkey and the sounds of Lions' football. While many prepare pumpkin pie, I prefer this small batch gluten free pumpkin roll. Swirled with cream cheese filling with just a hint of nutmeg, it is the ultimate fall dessert. It serves 4-6 people, without all the indulgent leftovers!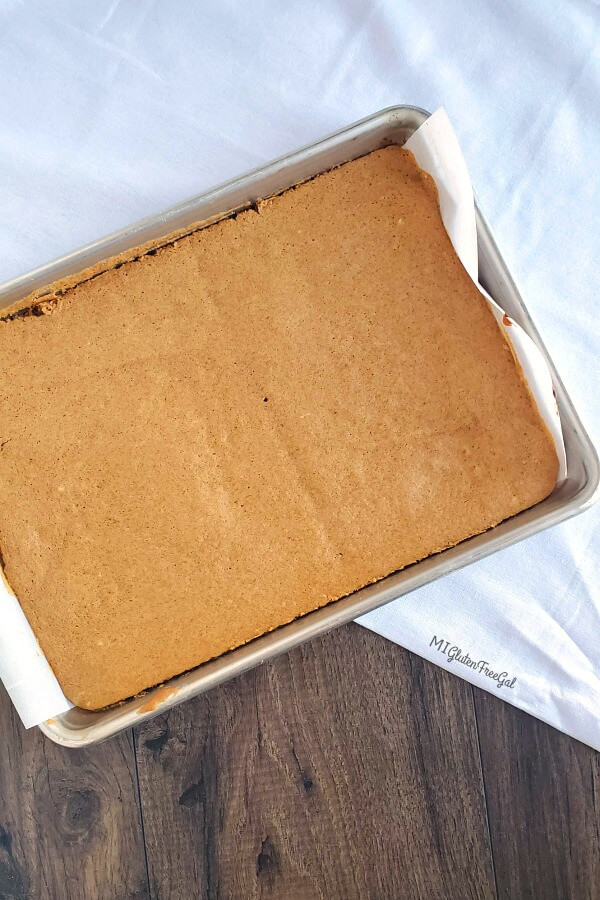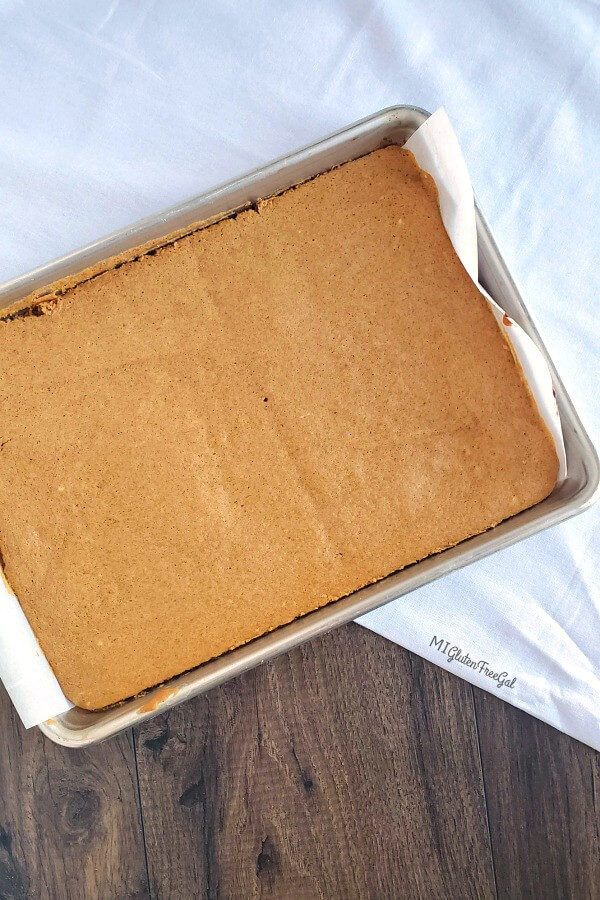 How to "Halve" an Egg
Every recipe I see for a pumpkin roll recipe, it calls for a large sheet pan. However, I prefer small batch recipes. One, smaller pans fit better in my little kitchen. In addition, smaller portions fit better into my diet. 🙂 Therefore, I reduced a regular recipe to fit in my quarter sheet pan. (It works great for a gluten free pumpkin slab pie, too!)
Most regular recipes call for 3 eggs. How does one "halve" an egg? Many people say to whisk the egg, and divide it in half. However, the base for this small batch gluten free pumpkin roll is a thin sponge cake. Since sponge cakes generally have a light texture, I used one egg and one egg white. This provides the binding we need, while still being whipped to create lift. Check out this article from The Kitchn for other ways to halve an egg.
Pan Size and Shape is Important
For this gluten free pumpkin cake roll, I use my favorite quarter sheet pans. Many utilize a jelly roll pan, which has different dimensions than a quarter sheet pan. Many bakers use a 10 x 15 jelly roll pan. However I prefer these quarter sheet pans, which measure approx. 9 in by 13 in. (Half sheet pans are 18 in x 13 in.) A sheet pan has straight edges, which is preferable to a 9 x 13 cake pan. However, if you don't have a quarter sheet pan, you may be able to use a cake pan.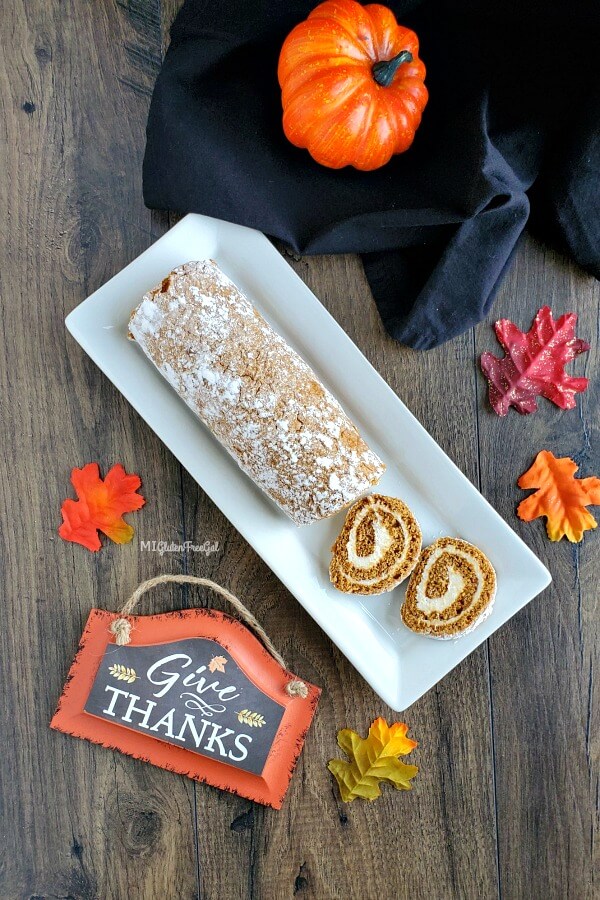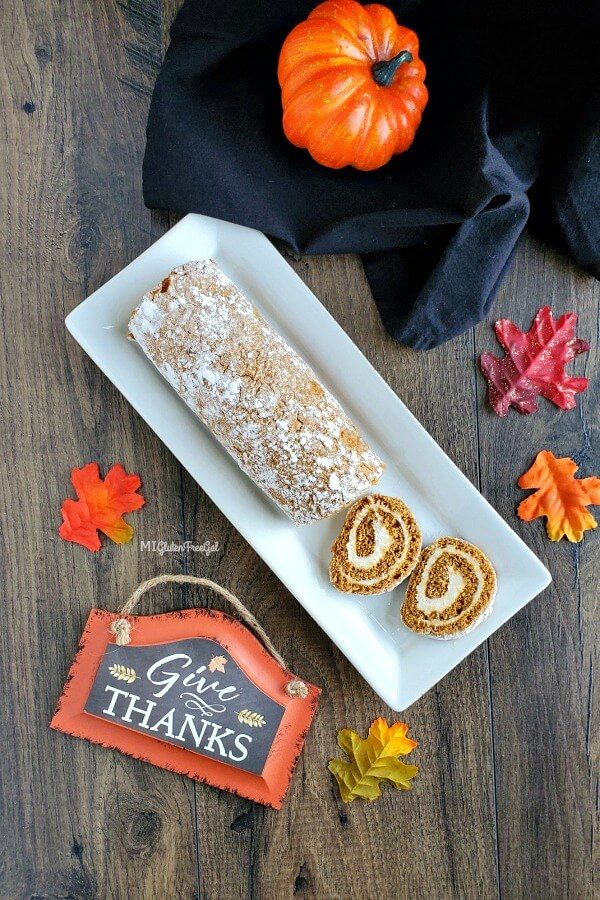 How to Shape A Gluten Free Pumpkin Roll
The sponge cake for this cake roll bakes quickly. No more than 15 minutes. The beauty of a cake roll lies in the swirl. To achieve this, one must roll the cake in a towel while it is still warm. This allows it to cool in our preferred shape. Another important step is to generously coat the towel in powdered sugar, prior to rolling.
A few tips on choosing a towel for rolling. One, choose a towel you don't mind getting stained. Most assuredly, there will be some orange tinting when it's done. In addition, many suggest using a linen towel because it is absorbent. I bought flour sacks cloths from Bed Bath and Beyond for this. I advise against using cotton towels with fibers that could get stuck in the cake or leave an imprint in the cake.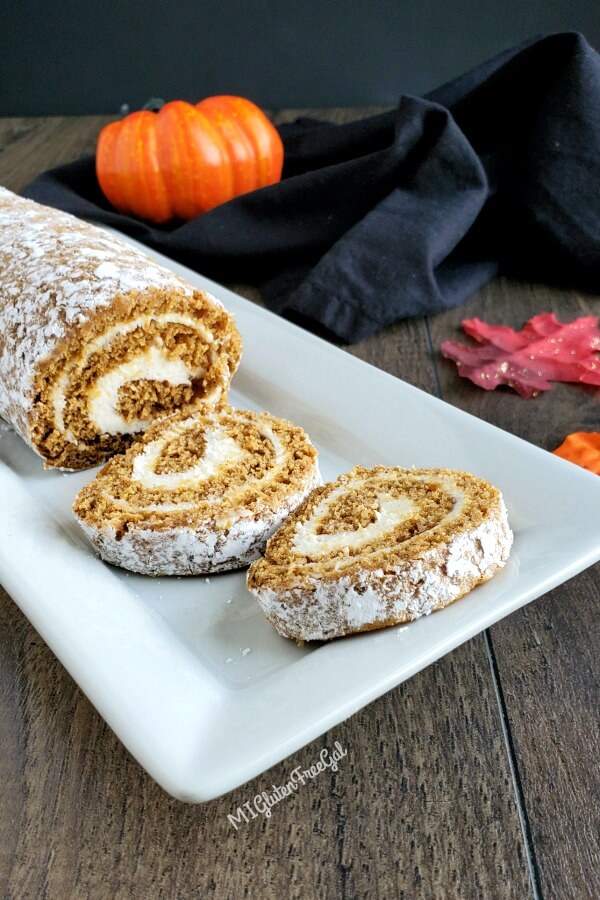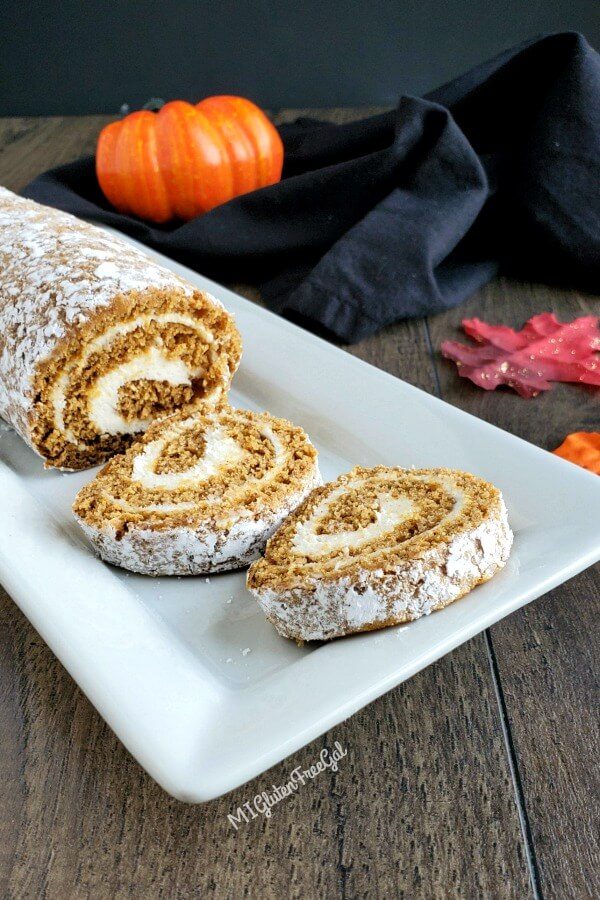 What if My Pumpkin Cake Roll Cracks?
Now we wait. Some people recommend allowing the cake to cool for at least an hour. I allowed mine to cool overnight, as I was busy. If you plan to make this the same day you plan to serve it, make sure to start 4-5 hours before you plan to serve it. This allows time for baking, cooling, filling, and chilling.
Part of the goal in rolling the cake while still warm is to prevent cracks. Sometimes, cracks are inevitable. Remember I said you need to dust the towel with powdered sugar? I dusted mine a lot, which left a beautiful dusting on the outside of the gluten free pumpkin roll. Cracks? What cracks? They're all hidden in powdered sugar! (If you really wanted to go above and beyond, you could coat the outside of the cake in more frosting.)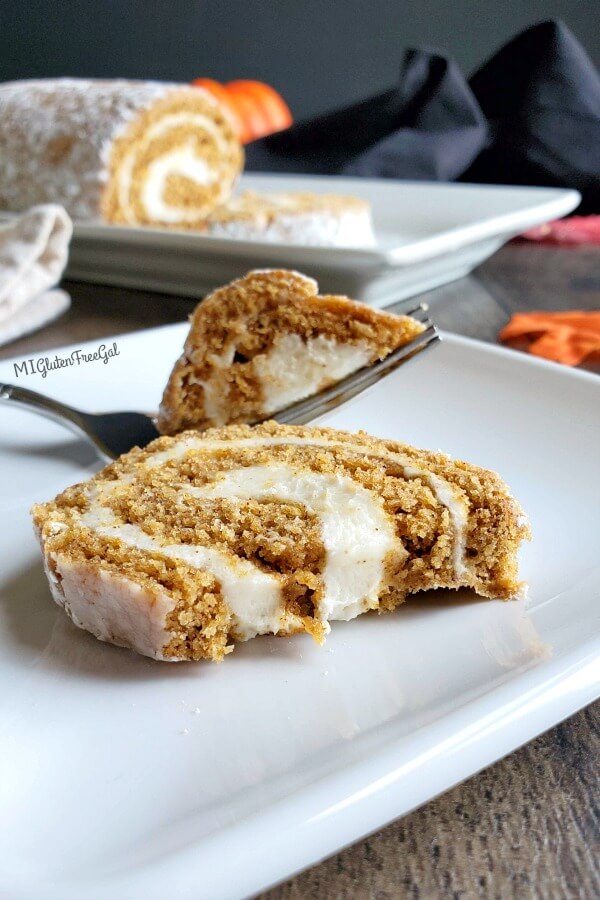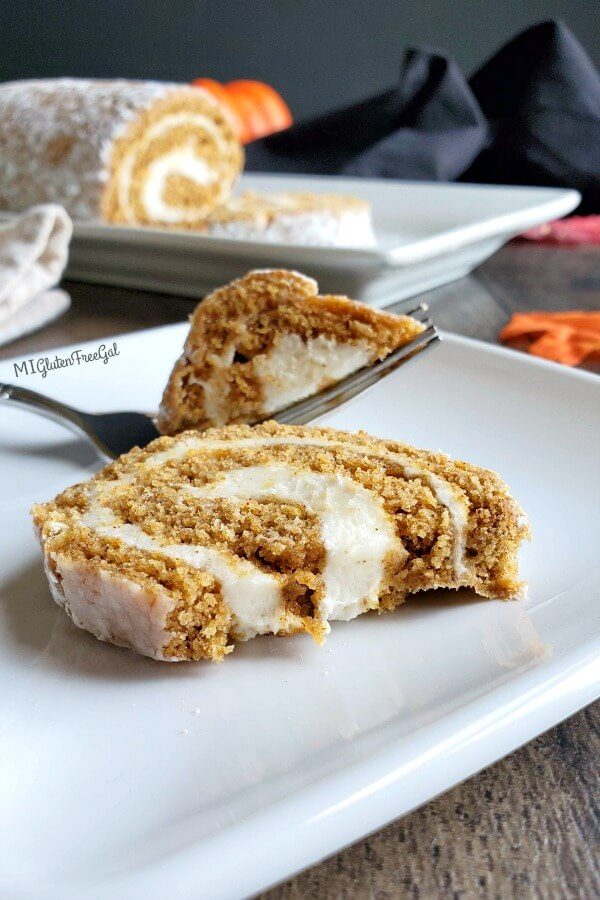 My Favorite Thanksgiving Recipes
I adapted the recipe for this small batch gluten free pumpkin roll from my friend Linda Fedewa, and her Bake it Best cookbook. (I share how to order one in my jam-filled hand pie recipe.) She tints her cream cheese filling with just a touch of nutmeg. Let me tell you, it tastes like perfection! If you don't feel confident in making this small batch gluten free pumpkin roll for yourself, Rumi's Passion and No More Belly Aching sell them this time of year.
If this is your first gluten free Thanksgiving, you may want to consult my post on A-Z tips for a successful holiday. Missing stuffing? I can eat my favorite gluten free cornbread stuffing any time of year! And save room for leftovers! My favorite use for leftover mashed potatoes is this grain free quiche. Perfect to make ahead and have for breakfast before Black Friday Shopping!
Other Gluten Free Thanksgiving Recipes You May Find Helpful
Sheet Pan Thanksgiving Dinner for Two from Imagelicious (Sub GF croutons)
20 Gluten Free Thanksgiving Appetizers and Side Dishes from Iowa Girl Eats
30 Recipes for a Gluten Free Thanksgiving from A Dash of Megnut
40 Vegan and Gluten Free Thanksgiving Recipes from The Pretty Bee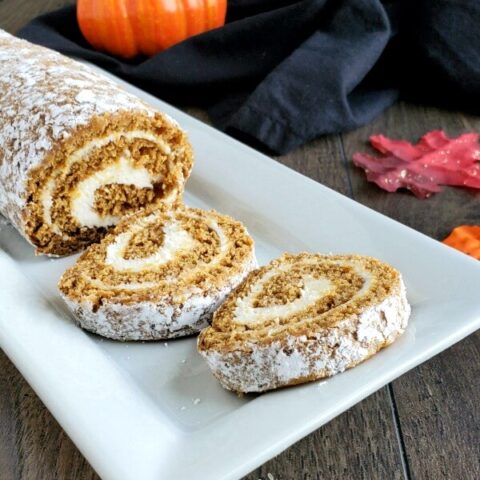 Small Batch Gluten Free Pumpkin Roll
Ingredients
For the cake
1 egg and 1 egg white
1/2 c granulated sugar
1/2 c pumpkin puree (not pie filling)
1/2 tsp lemon juice
6 tbsp gluten free flour ( I used Cup for Cup)
1/2 tsp salt
1/2 tsp baking powder
1 tsp cinnamon
1/2 tsp ginger
pinch of nutmeg
For the Filling
4 oz cream cheese, room temperature
3 tbsp butter, room temperature
1/2 c powdered sugar, sifted
1/2 tsp vanilla
pinch of nutmeg
*additional powdered sugar for rolling
Instructions
Preheat oven to 350 degrees. Line quarter sheet pan with parchment paper, making sure paper extends over the side. This makes it easier to lift the cake from the pan, when finished.
In a small bowl, combine flour, salt, baking powder and spices. Set aside.
In a large bowl or stand mixer, combine egg, egg white, and sugar. Mix on high for 5 minutes. This may seem like a long time, but we want the eggs to be aerated to help make a lighter cake. It should be a pale yellow color.
Whisk in the pumpkin and lemon juice.
After egg and pumpkin mixture is whipped, turn off mixer and fold the dry ingredients into the egg and sugar mixture. Folding in the flour prevents deflating the eggs we just whipped. This may take a few minutes to incorporate all the flour.
Spread batter into lined quarter sheet pan and bake for 15 minutes.
While cake is baking, heavily dust a tea towel with powdered sugar. Make sure the towel you choose is larger than the cake pan.
Once cake is done baking, remove from oven and allow to set for 2-3 minutes. No longer than that. Then, invert onto dusted tea towel. Gently pull up parchment paper from the cake, and dust bottom of cake with powdered sugar.
Beginning at the short end of the cake, roll the cake with the towel inside it. The towel prevents the cake from sticking to itself, and the powdered sugar prevents the cake from sticking to the towel.
Allow the cake to cool for one hour or longer. Meanwhile, set out cream cheese and butter, so they will be at room temperature when you are ready to fill the pumpkin roll.
After cake has cooled, prepare the frosting. Start by whipping the room temperature cream cheese and butter at least 2 minutes. We want it to be creamy. Then, add vanilla and nutmeg. Finally, slowly add sifted powdered sugar. (Make sure it is sifted, or you'll have clumps in your frosting.)
Gently unroll cooled cake and spread frosting the length of the cake.
Once filled, gently reroll cake. (No towel inside this time!) Roll the filled cake starting with the same side you rolled for cooling the cake.
Place the rolled cake in the fridge and allow to chill 2-3 hours prior to serving.
Dust with additional powdered sugar, if desired.