Little Caesars Gluten Free Pizza Kit
As an Amazon Associate and member of other affiliate programs, I earn from qualifying purchases.
Growing up in Michigan, Little Caesars pizza was a staple of my childhood. Little Caesars recently launched a gluten free pizza kit opton for their popular fundraisers. Don't have a fundraiser near you? You can order from their website!
Little Caesars Launches GF Pizza Kit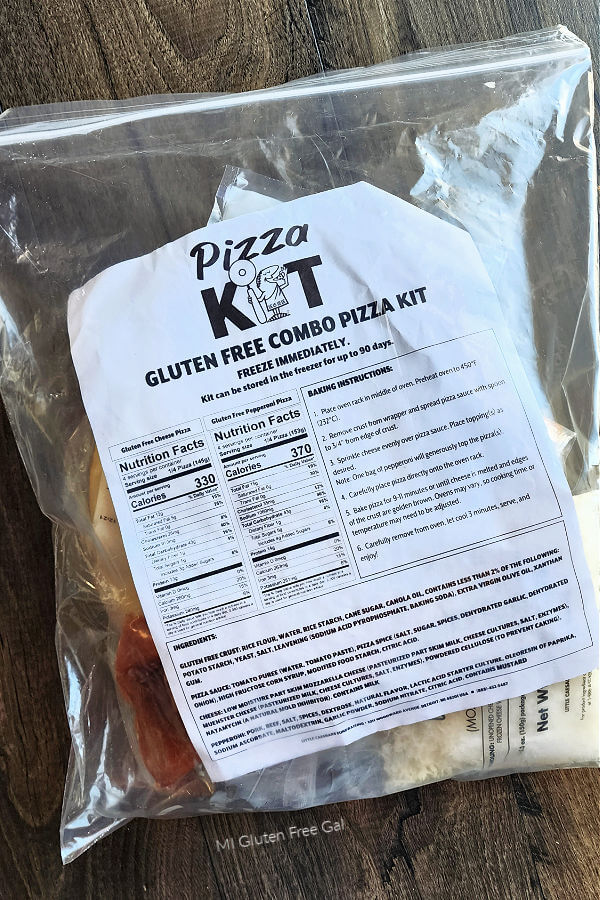 When I first learned about this pizza kit, I had a lot of questions. Who makes the crust? How are these packaged? Are the pizza kit contents tested for the presence of gluten? Lucky for me, I was able to connect with Katie Price, the Director of Operations for Little Caesars Fundraising program. I'll share with you the conversation I had with her.
Where is the Little Caesars Gluten Free Pizza Crust Made?
The gluten free pizza crust is made in Michigan, in a separate dedicated gluten free facility. The facility seals the pizza crusts in wrap, at the factory, and then ships them to the Little Caesars warehouse. Each gluten free pizza crust bears a label, which includes ingredients and baking instructions. A paper with instructions is always included, as most people throw away the box.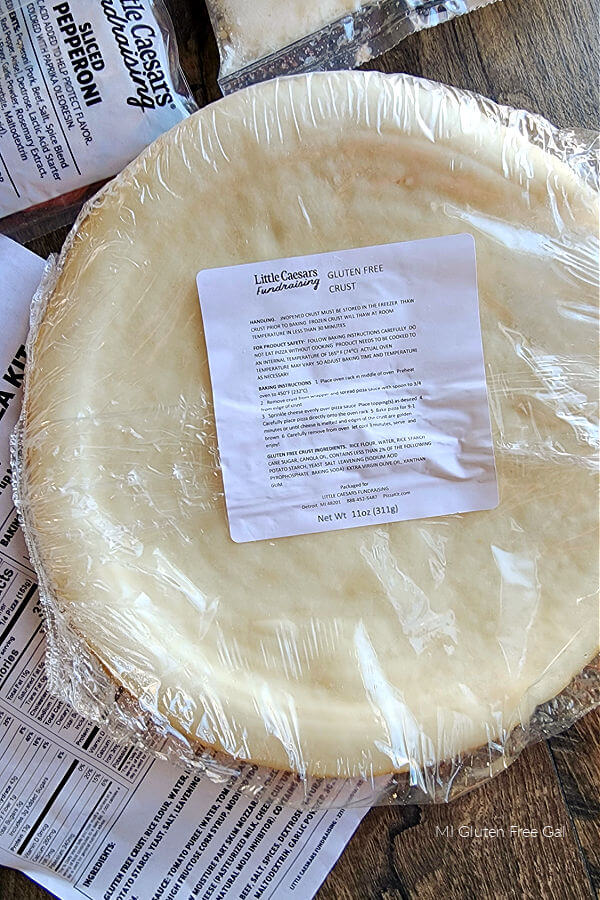 What Chance Is There for Cross Contact in Packaging?
While staff assemble gluten free pizza kits, no gluten items are present on the line. This prevents them accidentally putting the wrong crust in a gluten free box. A Quality Assurance manager also oversees the gluten free kit line, to make sure no mistakes are made. As the kits contain meat, a USDA representative is also present during assembly.
Are the Toppings in the Kit Gluten Free?
Each kit contains crusts, pizza sauce, cheese and (pork based) pepperoni. Each kit contains a paper that includes the ingredient lists for the sauce, cheese, and pepperoni. The toppings contain no gluten ingredients, and all toppings have been tested for the presence of gluten. Pepperoni comes to the Little Caesars facility in sticks, and it is sliced and packaged at their facility.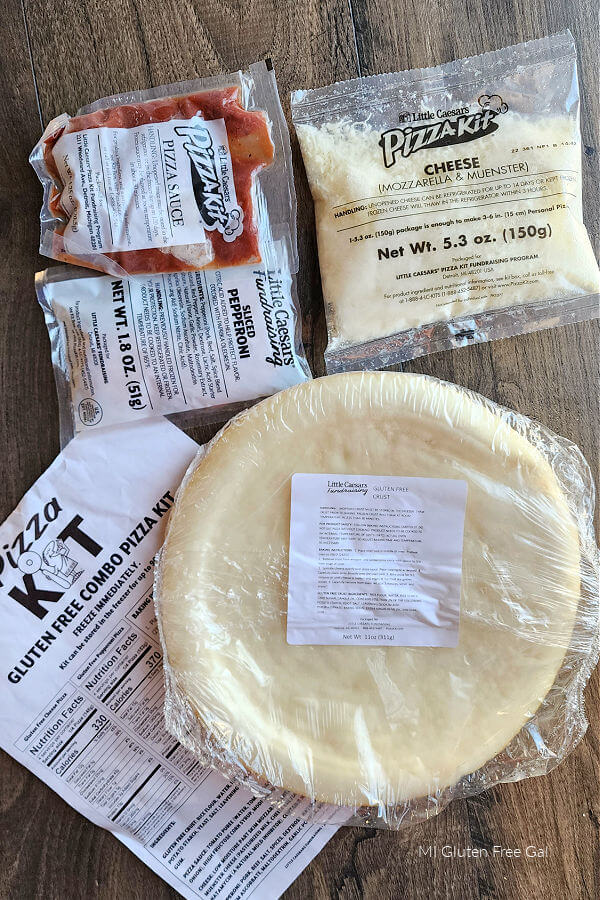 Gluten Free Crust and Topping Ingredients
What Are the Gluten Free Crust Ingredients?
At the time of this article publication (April 2023), the ingredients are:
Rice flour, water, rice starch, cane sugar, canola oil, contains less than 2% of the following: potato starch, yeast, salt, leavening (sodium acid pyrophosphate, baking soda), extra virgin olive oil, xanthan gum.
What Are the Sauce Ingredients?
Tomato puree (water, tomato paste), pizza spice (salt, sugar, spices, dehydrated garlic, dehydrated onion), high fructose corn syrup, modified food starch, citric acid.

Little Caesars Pizza Sauce Packet
What are the Pepperoni Ingredients?
Pork, beef, salt, spices, dextrose, natural flavor, lactic acid starter culture, oleoresin of paprika, sodium ascorbate, maltodextrin, garlic powder, sodium nitrate, citric acid. CONTAINS MUSTARD

Yes, Maltodextrin and natural flavors are gluten free.
What are the Cheese Ingredients?
Low moisture part skim mozzarella (pasteurized part skim milk, cheese cultures, salt, enzymes), muenster cheese (pasteurized milk, cheese cultures, salt, enzymes), powdered cellulose (to prevent caking), natamycin (a natural mold inhibitor. CONTAINS MILK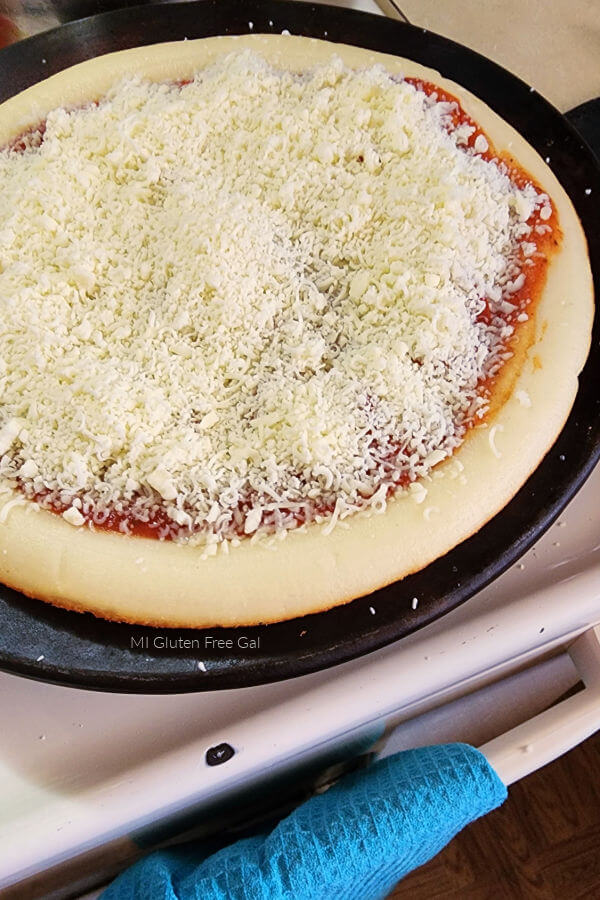 Do They Offer Dairy Free Cheese? Halal or Kosher Pepperoni?
At this time, there are no dairy free cheese or pork free pepperoni options. As a household that has to be pork free for health reasons, my husband would have been super excited to have pork free pepperoni. I did suggest to Katie Price that it may be a good thing to look into.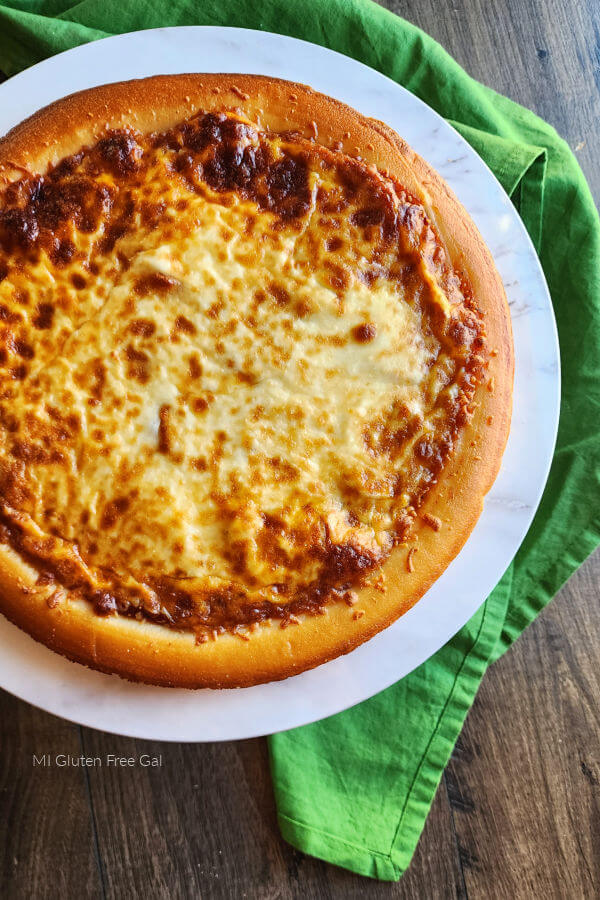 How Does the Little Caesars Gluten Free Pizza Taste?
Katie Price generously offered to send me a gluten free pizza kit to try, free of charge. Know what it tastes like? Pizza, pizza!
When I make pizza from scratch at home, I usually use marinara sauce, which is a bit sweeter. The Little Caesars pizza sauce definitely has a bit of a zip to it. Because of my husband's pork intolerance, I used turkey pepperoni. However, I still used the cheese they sent us. (Which is a lot of cheese for one pizza!) My husband stated he liked the gluten free pizza kit better than the standard wheat crust pizza kit.
Why Did Little Caesars Choose to Offer Gluten Free Pizza Kits?
Ask and you shall receive! Katie shared that the gluten free pizza kit was driven by customer request. In fact, Little Casesars staff has been working on a GF kit option for 5 years! In addition to Celiac Disease, there are others who request gluten free options, as well. It was important for Little Caesars to offer a safe option for those who want to purchase a gluten free pizza.
Katie Price shared with me that gluten free options impact her personally. Her nephew lives with Celiac Disease, so she wanted him to feel included when if came to pizza, too. She wouldn't serve something to others that her family wouldn't eat herself. She actually prefers the gluten free crust because it tastes so good!
Does Little Caesars Have Gluten Free Dessert Options?
While Little Caesars currently offers frozen cookie dough, it is not gluten free. They are looking for a gluten free option, and I connected Katie Price with some Michigan companies. So stay tuned!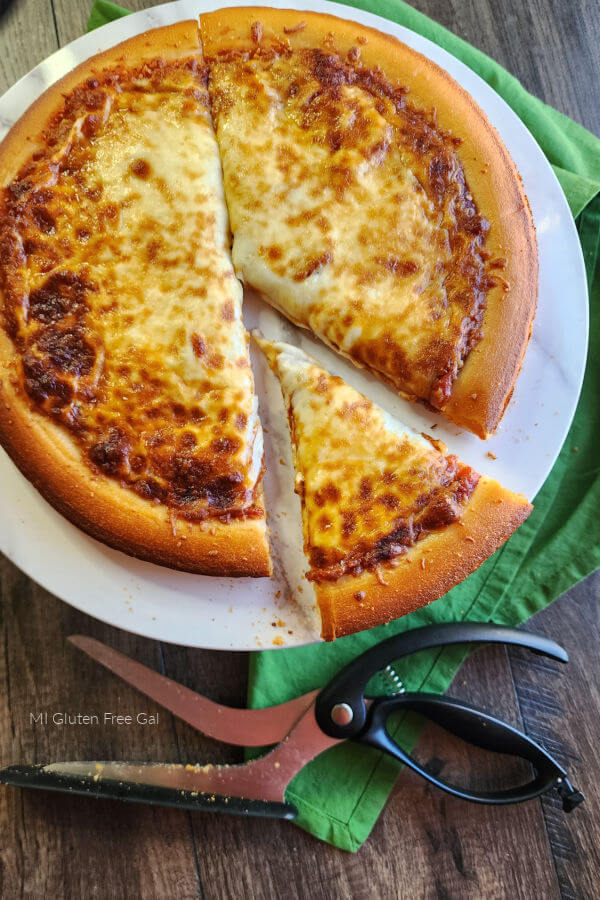 How Do I Order a Little Caesars Gluten Free Pizza Kit?
Little Caesars pizza kits are available through a fundraiser in the United States and Canada. You can contact Little Caesars directly to start a fundraiser or they will find a school or organization in your area running a fundraiser that you can purchase from. Kits are sold through their Traditional Program and Digital Program. If you choose the Digital program, the kits are shipped via FedEx directly to your door.
School Fundraising Options:
Traditional Fundraiser
If customers order a Kit through their Traditional program, it is delivered to the location specified by the group. It is then delivered to the end consumer by the seller/student they purchased the kit from. Those kits are in a recyclable box, which also contains an ingredient list on the outside. These kits contain all of the ingredients to make 3 Little Caesars Gluten Free Pizzas. The cost, at the time of this publication, was $30.
**Note- The Pizza Kit box you receive may not contain the Gluten Free Kit ingredient and nutritional information. (They are in the process of updating packaging.) The ingredient information can be found inside the kit on a paper insert, and is also listed on the crust. You can also visit their website for this information.
Digital Fundraiser
If customers order a Kit through their Digital Fundraiser, the kit will be shipped directly to their home via FedEx. Orders are shipped in a box containing ice packs and arrive within 1-2 days after the order is shipped.
The Digital Kits include all of the ingredients to make 2 Little Caesars Gluten Free Pizzas, and you can order up to 3 Kits for the same shipping cost of $9.99. Click here for more information on the gluten free pizza kit. If you want to order, and don't know anyone who's hosting a fundraiser, you can order through Little Caesars featured charity of the month.
Final Thoughts
I truly appreciate all the thought that Little Caesars has put into their gluten free pizza kit option. I thank Katie Price for her time and willingness to answer my many questions. Hopefully this article gives you thorough information to decide whether or not this pizza kit is appropriate for your family.
Little Caesars started in Detroit, Michigan. Visit my article about Gluten Free Dining Options in Detroit. At this time, I do not know about gluten free options at Little Caesars Arena, Tigers Stadium, or Ford Field (Detroit Lions.) If I do find out, I will be sure to update you!
Want more pizza content? Check out my post on Gluten Free Pizza Restaurants and Recipes.