Gluten Free Special K Loaf
As an Amazon Associate and member of other affiliate programs, I earn from qualifying purchases.
Have you heard of Special K Loaf? Some call is Cottage Cheese Roast. It may sound odd, but it tastes great! Today, I'm showing you how I swapped ingredients to create this meat free, gluten free Special K loaf!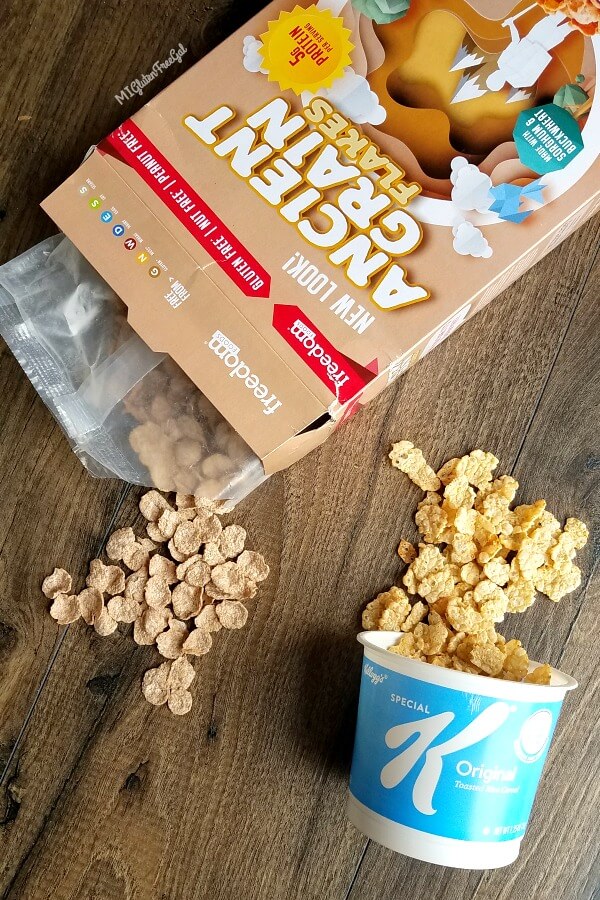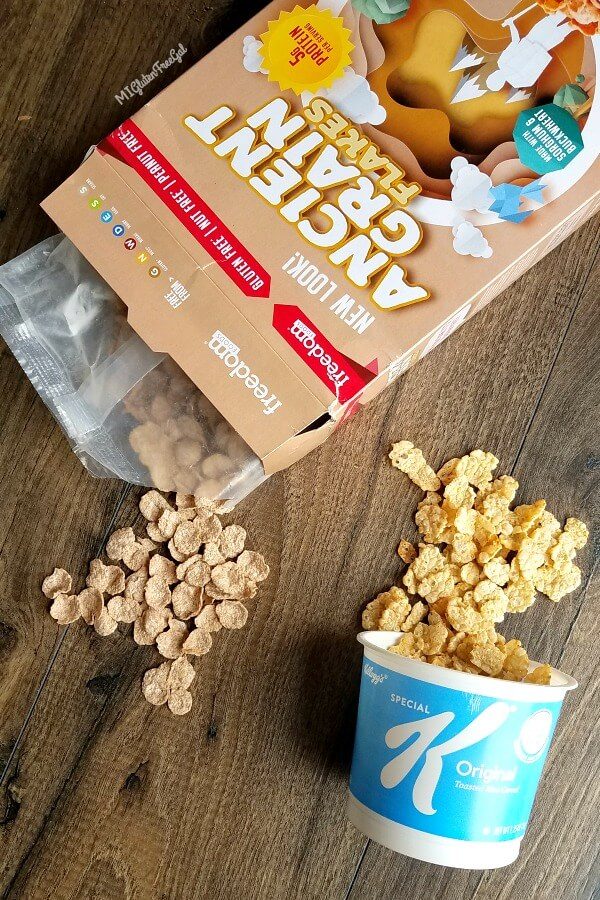 Special K Cereal and the Kellogg Company
I first wrote up this recipe for Gluten Free Special K Loaf in 2015. At that time, Kellogg released a gluten free version of their Special K cereal. However, they discontinued it. It left me looking for a similar tasting flake cereal. I found Freedom Foods Ancient Grain Flakes to be fairly close! If the brand name sounds familiar, I used them in my Tropicos Cereal Bars . (NOTE- Freedom Foods is out of business. Now I use Nature's Path Corn Flakes for this recipe.)
Kellogg, located in Battle Creek, Michigan, created Special K to be a high protein cereal. A ounce serving contains about 112.5 calories and 5.25 grams of protein. (Freedom Foods compares at 110 calories and 2.5 grams of protein per one ounce serving.) For those missing Raisin Bran, this cereal is a fantastic substitute. Just add raisins!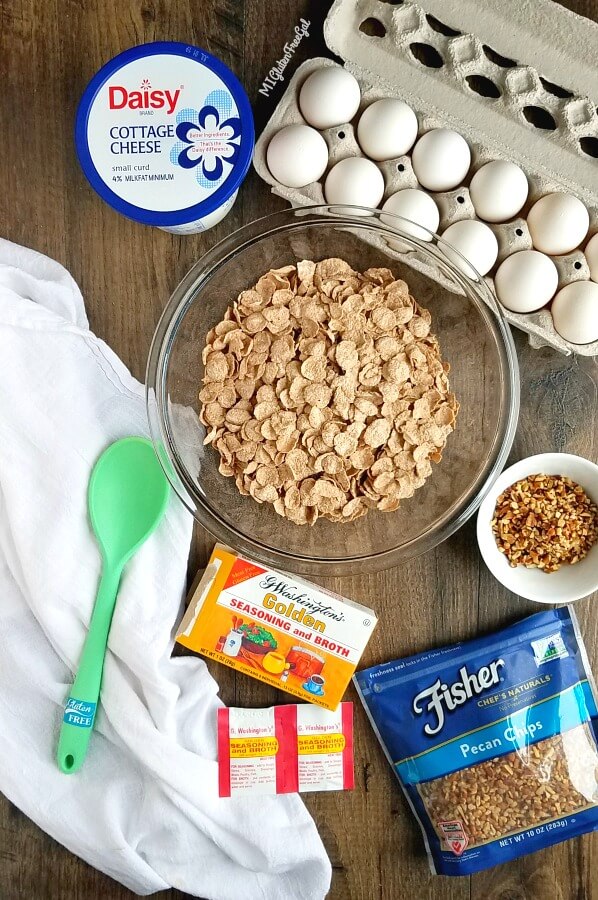 Seventh Day Adventist Connection
Will Keith Kellogg started Kellogg cereal with his brother. They invented the first ever flaked cereal. As Seventh-Day Adventists, they believed in eating a vegetarian diet. His brother John Harvey, a certified physician, believed most diseases flourished due to poor intestinal health. For those with Celiac Disease, we understand how true that is!
My husband's family ate Special K Loaf when he was a child. His mother received the recipe from her boss, also a Seventh Day Adventist. When he told me about after we married, I thought it sounded incredibly odd. However, after tasting it, I really enjoyed it!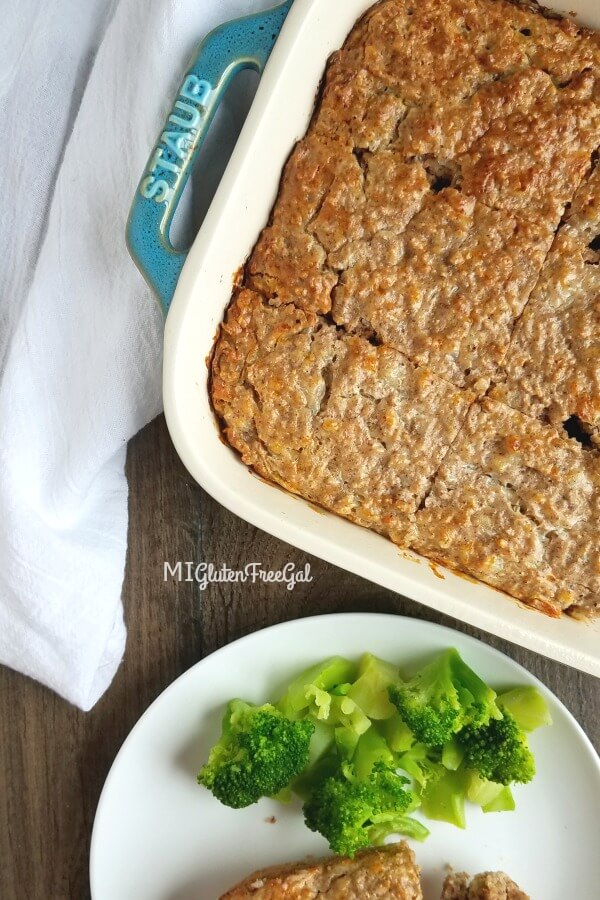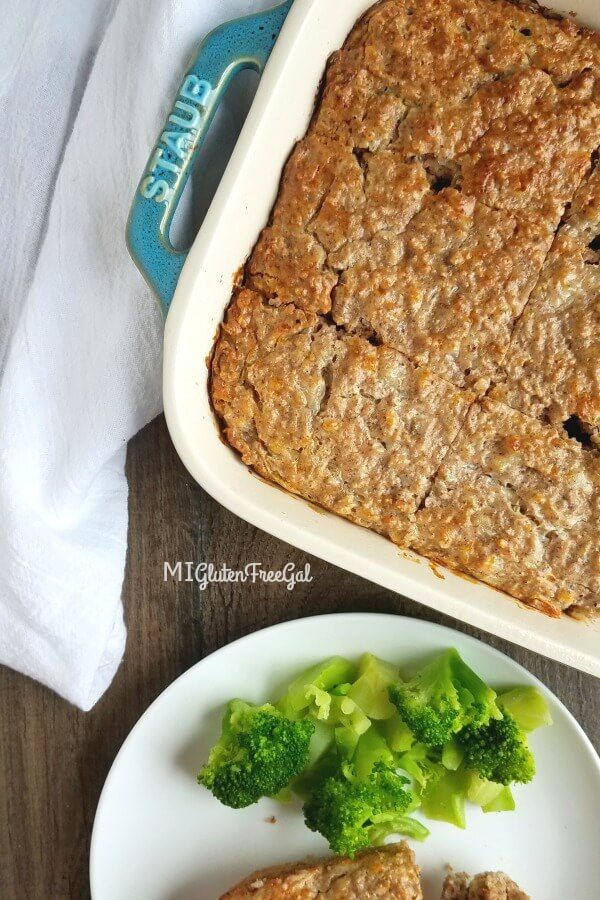 Loaf or Casserole?
While this recipe is called Gluten Free Special K Loaf, that's a bit of a misnomer. It's really more of a casserole. Most recipes direct you to bake in a 9 x 13 dish. However, I chose to bake mine in my 10.5 x 7.5 rectangular Staub gratin dish. I feel this is the perfect size! (If it looks familiar, I also used it to make my Gluten Free Au Gratin Potatoes.)
Because it contains one box of cereal, it contains quite a bit of carbohydrates. Therefore I recommend broccoli or maybe a salad as a side dish. This Easy Four Ingredient Lemon Asparagus from Gluten Free Palate would be perfect, too! These Roasted Rainbow Carrots from A Dash of Megnut would add a beautiful touch, as well!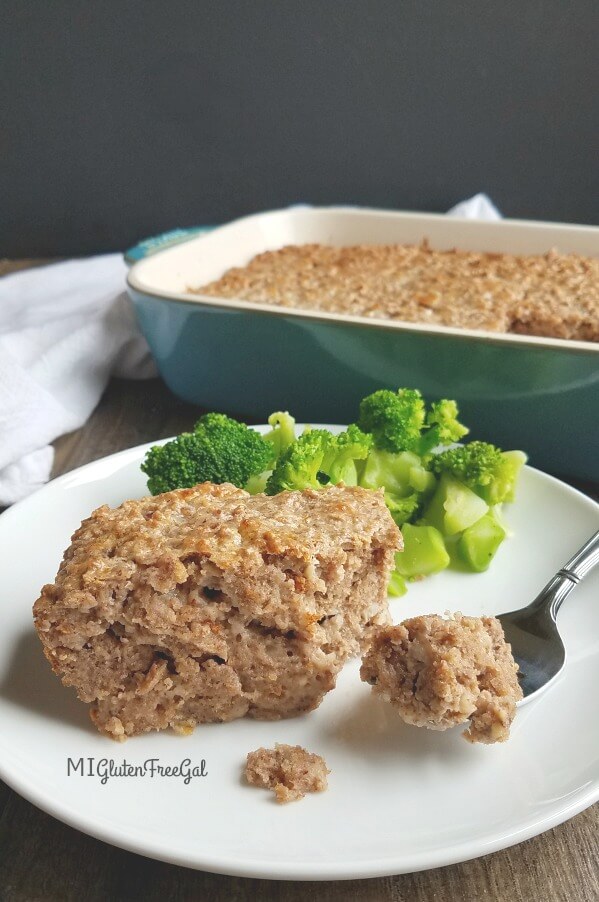 Vegetarian Alternative to Meatloaf
This Gluten Free Special K Loaf contains ingredients such as cottage cheese, numerous eggs, and nut meal. Therefore, it's quite high in protein. While it doesn't taste exactly like meatloaf, I find it to be very similar in taste and texture. My husband even likes to put ketchup on his!
A word on sodium. Between the cottage cheese and the George Washington seasoning, this is not a low sodium dish. (Freedom Foods Ancient Grain Flakes contain only 30 mg of sodium per ounce.) However, my motive for sharing this dish is to allow those who miss it a chance to have it again. Or for people to try something new and creative! If you're concerned about sodium, this dish may not be for you.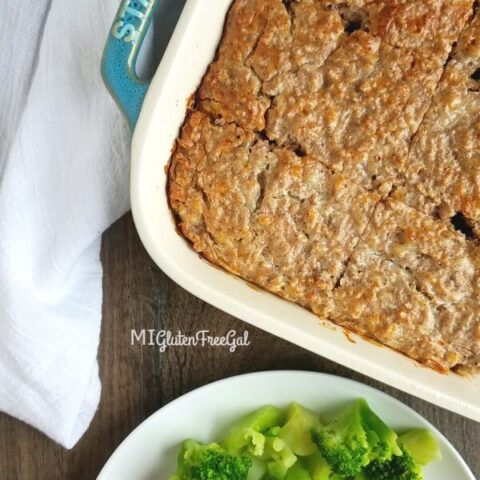 Gluten Free Special K Loaf
Ingredients
24 oz. container cottage cheese (I suggest Daisy brand, 4% fat)
1/4 c. oil
1/4 c. milk
5 eggs, beaten
2-4 packs of George Washington Broth seasoning
1 tbsp. onion flakes (or one small onion, chopped)
1 1/2 cups pecan pieces ground into meal (can substitute other nuts)
5-6 cups lightly crushed gluten free cereal (I recommend using Nature's Path Corn Flakes, as Freedom Foods is no longer in business. I briefly pulsed them in my Ninja blender to break into smaller pieces.)
Instructions
Preheat oven to 350 degrees.
In a large bowl, mix together cottage cheese, oil, milk and beaten eggs. Next, add broth seasoning and onion flakes.
Next, roughly grind pecan pieces in a blender or food processor. Add the pecan meal to the wet ingredients and mix until incorporated thoroughly.
I chose to roughly process the flaked cereal before adding it to the wet mixture. If you want to skip this step, simply crush the cereal in the bag a bit.
Add mixture to casserole dish sprayed with cooking oil. Many recipes call for a 9 x 13 3 qt greased pan. I used a "10.5 x 7.5" 2.5 quart Staub Ceramic Gratin Dish.) Bake 45 minutes in a 350 degree oven.
Serve with a side vegetable of your choice.
Have you tried Gluten Free Special K Loaf before? What familiar meals do you miss, now that you must follow a gluten free diet? Let me know and maybe I can rework it for you!
**Staub provided me with gratin dish free of charge, and did Freedom Foods give me a box of cereal for free. I was not otherwise paid or compensated for this post. This post does contain Amazon affiliate links. I receive a small portion of the sale. However, this does not affect your final price.**