Garlic and Onion Grain Free Shamrock Rolls
As an Amazon Associate and member of other affiliate programs, I earn from qualifying purchases.
These 6 ingredient Garlic and Onion Grain Free Shamrock Rolls are perfect for St. Patrick's Day or anytime of the year. Your friends will be impressed with the shape, as well as the amazing taste! Thank you to Chebe Bread for sponsoring this post and making celiac safe products!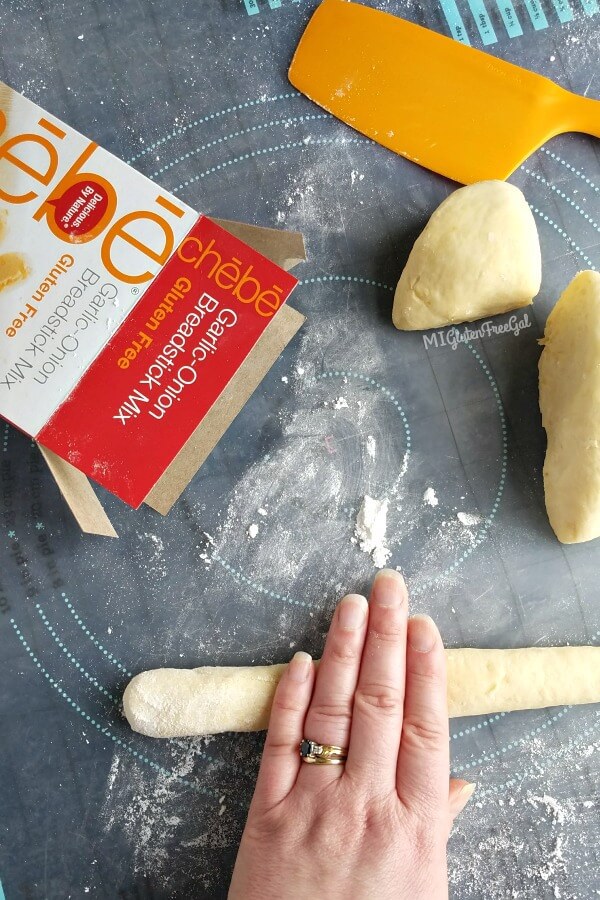 St. Patrick Facts
Here's a bit of St. Patrick's Day trivia. He did not drive the snakes out of Ireland. As a matter of fact, when Patrick arrived in Ireland in the 6th century, there were no snakes there anyway. So we'll have to create our own dough "snakes" as we make these Garlic and Onion Grain Free Shamrock Rolls.
Break out your inner childhood and preschool PlayDough days. We're on a (dough) roll now. Just make sure to flour your surface so the dough doesn't stick. To keep this grain free, use tapioca starch / flour. If you're not a completely grain-free eater, rice flour will work well too.
What is Chebe?
I chose Chebe Bread Garlic and Onion Breadstick mix for this recipe. It contains no grains, gluten, gmo's, or any gross words you can't pronounce. It holds together beautifully, rolls well, and tastes just as amazing as it smells.
Chebe Bread is based on Brazilian cheese bread. While other similar brands may come in frozen, preshaped balls, Chebe Bread comes in a versatile mix that can be adjusted for a plethora of food allergies. In fact, there are over 200 recipes on their website.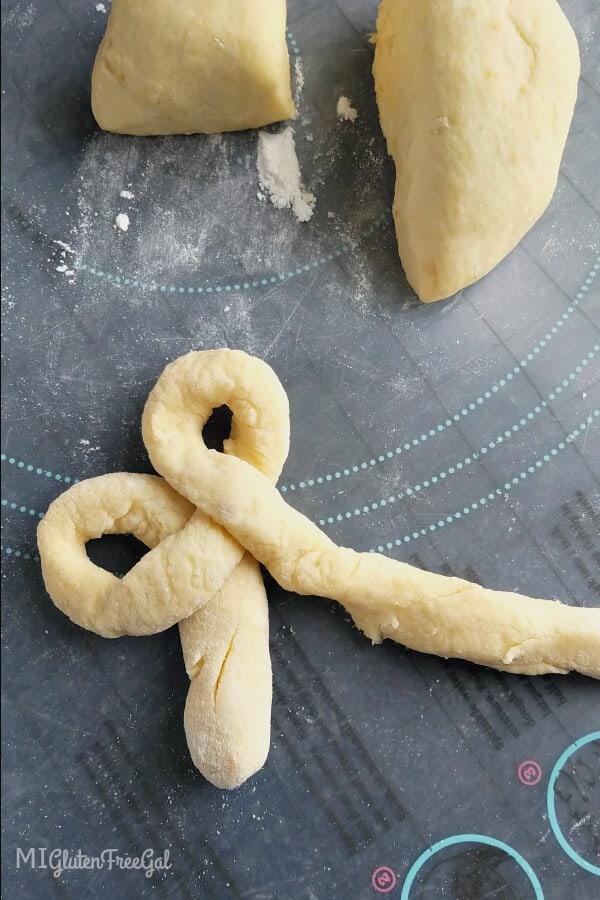 How Easy is it to Make Shamrock Rolls?
While the dough recipe for these Grain Free Shamrock Rolls is mine, the shape originated with Sue from "Creative Try-Als." She gives a step by step tutorial of how to shape her St. Patrick's Day Shamrock Buns. Luckily, this Chebe Bread dough is very forgiving if you don't get the shape right the first time. Simply ball it up and roll again.
Speaking of forgiveness, did you know that St. Patrick wasn't born in Ireland? He was kidnapped from Britain, forced to work as a slave in Ireland, escaped, AND THEN CAME BACK! Why? To share the Gospel with those that wronged him. Now THAT'S an amazing level of forgiveness there!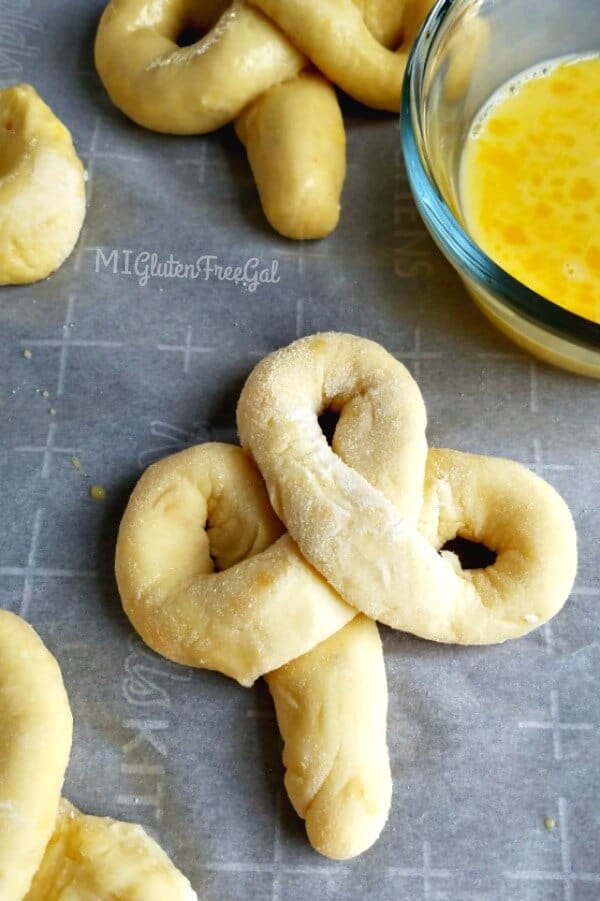 How to Form Grain Free Shamrock Rolls
So back to these Garlic and Onion Grain Free Shamrock Rolls. Hopefully you can see from this close-up how to shape these rolls. The first two holes form by looping the dough over each other. The last hole forms by tucking the remainder of the dough under the top loop.
That was the trickiest bit for me to figure out. Simply tuck it under. No need for pinching the dough together. This dough gets brushed with an egg wash made from one egg and one tablespoon of milk. I sprinkled the Garlic and Onion Grain Free Shamrock Rolls with a touch of salt, too. It makes all the difference.
What do Shamrocks Have to Do with St. Patrick's Day?
Ever wonder what shamrocks have to do with St. Patrick's Day? Legend has it that St. Patrick used the shamrock to explain the Trinity (Father, Son and Holy Ghost) to people in Ireland. However, that really may be more legend than fact. Regardless, it stands as a symbol of Irish heritage and pride for many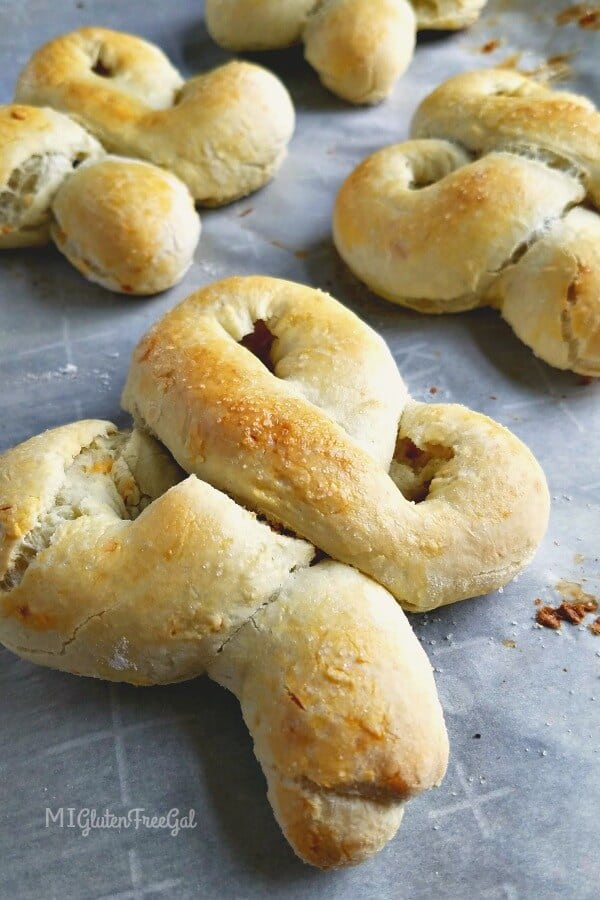 Do These Grain Free Shamrock Rolls Contain Yeast?
Did I mention that not only are these Shamrock Rolls grain-free, but they're also yeast-free? Look at how well they rise and bake. They bake nice and crusty on the outside and soft and doughy on the inside. Want to know my magic trick?
I made a small change from the box mix directions. Butter. I used cold butter instead of oil, and I used three tablespoons of butter instead of two. I made the dough in my food processor and blended the butter and mix first, then added the other ingredients. The ball of dough that comes out is so unbelievably soft.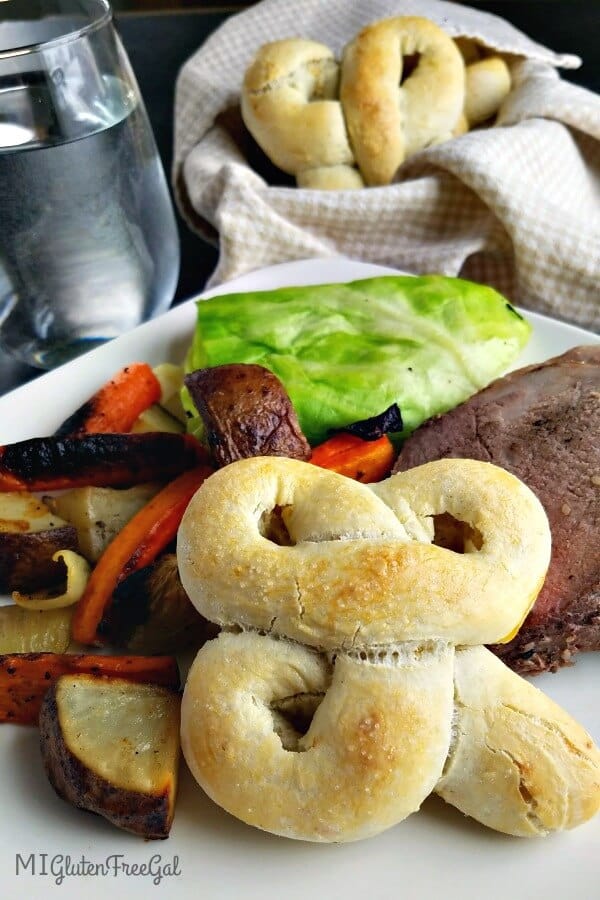 What Should You Serve with Shamrock Rolls?
The smell of these Garlic and Onion Grain Free Shamrock Rolls when they come out of the oven is nothing short of heavenly. Just sitting here thinking of the smell makes my mouth water. Serve them hot with your favorite meal.
They pair perfectly with a traditional St. Patrick's dinner of corned beef, cabbage and roasted potatoes and carrots. It's like the Irish flag itself, with the green from the cabbage, the white of the roll and the orange of the carrots. So like in Ireland I'll say "Sláinte" (to your good health) and wish you a fabulous St. Patrick's Day!
Where Can I Buy Chebe Mix?
Want to learn more about Chebe recipes? Check out the Blueberry Pie, Thanksgiving Pasties, and the Cinnamon Rolls I've made using their mixes! To say I'm a major fan of their products would be an understatement. Use the Chebe store locator to find them in a store near you or buy them on Amazon. (*affiliate link)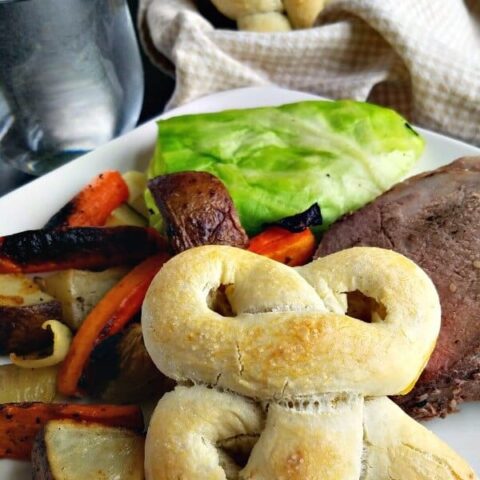 Grain Free Shamrock Rolls
Ingredients
1 box Chebe Garlic- Onion Breadstick Mix
3 tbsp butter, cold and cut into cubes
2 eggs, room temperature
4 tbsp milk, preferably soured
For the Egg Wash
1 egg, beaten
1 tbsp milk
Instructions
Preheat oven to 350 degrees.
In a food processor, combine the chebe mix and butter. Pulse until butter is completely incorporated into the dry mix.
Remove top to food processor and crack in two eggs. Replace lid and pulse until eggs are completely blended into the batter. This may take several pulses. If needed, remove lid and use rubber scrapper to clean down sides.
Finally, slowly add milk to the food processor through the hole in the top. Do so while the mixer is on, until a soft dough is formed.
Remove dough ball from food processor and transfer to a flat surface. Make sure to get any remaining bits of dry mix from the processor and add to dough ball. Knead 5 or 6 times until a small, round dough ball forms.
Divide the ball of dough into four sections, and lightly flour your work surface. Roll one section into a long "snake" (approx. 18 inches) with your hands, using equal pressure rolling from the center out to the ends.
Now to form the shamrock rolls. Start by leaving enough dough for the stem, about an inch and a half. Then create a loop to the left and then another at the top. (See image above) Finally, create your third loop by tucking the remaining dough underneath the top loop. Place shamrock rolls on a cookie sheet, line with parchment paper.
Brush dough with a mixture of egg and milk. Sprinkle with salt. Chill for 10 minutes in the freezer or fridge prior to baking.
Bake in a 350 degree oven for 30 minutes, until tops are golden brown. Serve hot.
** I was compensated for this post by Chebe. However all thoughts and opinions are my own, and I have been a giant fan of these products long before working with them. This page also contains Amazon affiliate links.**