Chebe Thanksgiving Pasties : Handheld Holiday Meal
As an Amazon Associate and member of other affiliate programs, I earn from qualifying purchases.
If at first you don't succeed, try, try again. I first attempted Thanksgiving pasties back in 2015. It had lots of potential, but needed some updating. So did my pictures, lol. Therefore I sent a nice note to my friends at Chebe asking if they might send me a few boxes of their grain-free Focaccia mix. Such good folks there. They sent me what I asked, plus the kindest note of encouragement. Despite the struggles of Celiac Disease, I am most thankful for companies who "get it" with whom I'm so blessed to work.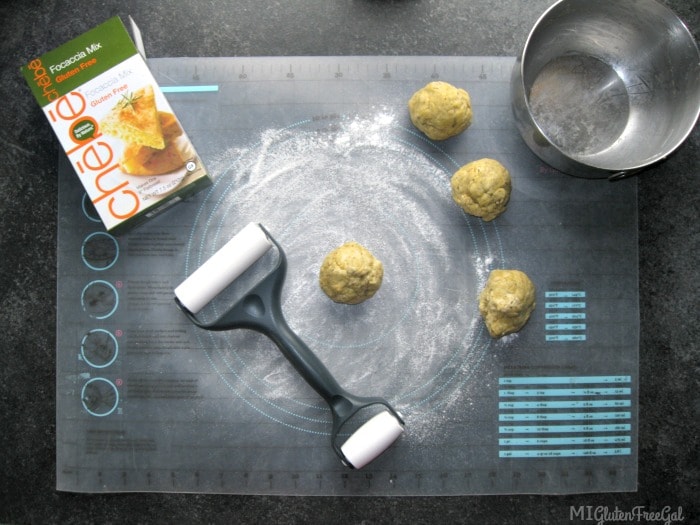 Stuffing Flavor in a Pastry Crust
But back to these Thanksgiving pasties. I think it's safe to say that the signature dish of Thanksgiving is stuffing. Turkey is great, cranberries are tasty, but good stuffing is the highlight of the meal. So what if you made a "stuffing" pie crust, filled it with traditional Thanksgiving staples and baked it in the oven? Brilliant, am I right?! When these pasties come out of the oven, they truly smell and taste like Thanksgiving. You may have a hard time only eating one!
The basis for my Thanksgiving pasties starts with the Chebe focaccia mix. It already contains rosemary and basil in the mix. To make it taste like stuffing, I add a teaspoon each of sage and thyme. While one could theoretically follow the box recipe to make these Thanksgiving pasties, I highly suggest my pie crust I use with their all-purpose mix. The added butter in the dough keeps the crust moist and pliable. After making the dough, I tossed it in the fridge to chill while I chopped my other ingredients.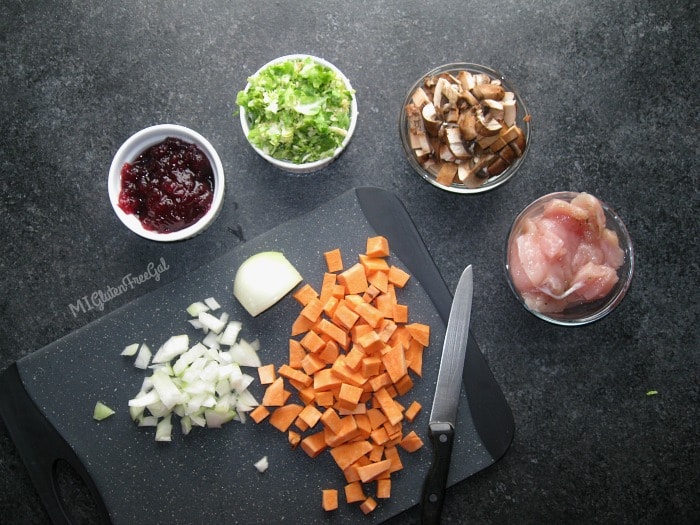 Raw vs Pre Cooked Meat
The first time I made these Thanksgiving pasties, I started with cooked deli turkey. Let me tell ya, it didn't cut it. Too dry. Even with the addition of goat and brie cheese, it needed more moisture. This time I used Butterball turkey breast instead. (The same one I used to create my American Gluten Free Thanksgiving spread last year!)
The juices it released as it cooked helped to keep the pasty incredibly moist. As for the remaining ingredients, I went by an old hand-written recipe card from my husband's grandfather. (The same one that gave me the recipe for that most amazing buckwheat bread.) Seeing his penmanship, so neatly done, brings warmth to my heart. Even though Papa Earle passed years ago, he can still be part of our holiday traditions.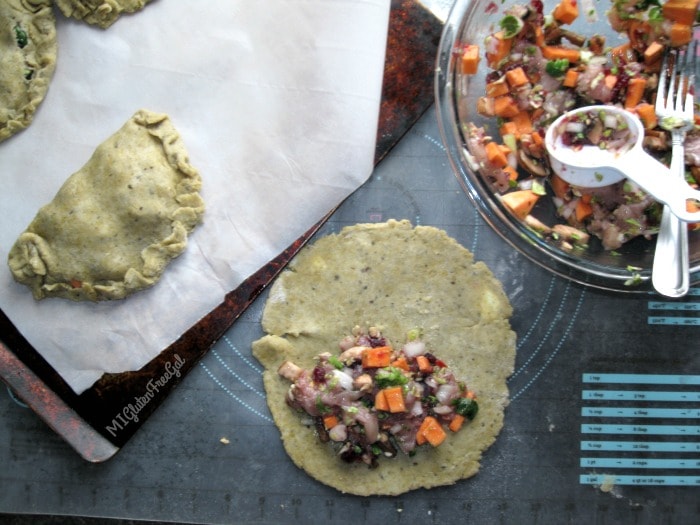 Don't Forget the Cranberry Sauce
To fill these Thanksgiving pasties, you mix allt he meat and vegetables together in large bowl. The one thing that makes these pasties stand out is the addition of cranberry sauce. Because one can't have Thanksgiving with cranberries, am I right?
I'm not usually a fan of the canned stuff. I much prefer it made from scratch, like in this Cranberry Orange Sauce recipe from Texanerin. However, in this recipe canned cranberries will work just fine. When filling your Thanksgiving pasties, use 1/2 cup of filling, and place it on the front half of the dough. This allows you room to fold the top half over and seal the pasty.
Not Sharing (Sorry, Not Sorry)
These Thanksgiving pasties are so amazing, friends. Seriously, pictures and words can not do this justice. I literally ate this top half after taking pictures. It's taking all the willpower I have to not go devour the second half. Now, if you'd rather not do all the chopping and cutting, there are recipes on the internet for using Thanksgiving leftovers in a pasty.
This recipe for homemade Thanksgiving pasties from 12 Tomatoes pasties uses leftover stuffing, mashed potatoes and turkey inside. I haven't tried it, but if you decide to do so, let me know! (And if you want an amazing way to use up leftover mashed potatoes, check out my gluten-free mashed potato crust quiche recipe!)
Grain Free Thanksgiving Pasties
Total Time:
1 hour
30 minutes
Ingredients
Crust
1 pkg Chebe Focaccia mix
1 tsp sage
1 tsp thyme
4 tbsp cold butter, cut in small pieces
2 eggs, room temp
2 tbsp oil
4 tbsp ice cold water
rice flour (or grain-free starch) for rolling
Filling
1/4 c. Brussels sprouts, shredded
1/4 c onions, diced
1/2 c. sweet potatoes, diced
1/2 c. mushrooms, diced
1/3 c. canned whole cranberry sauce
1/2 lb raw turkey breast, diced
1 egg, beaten
Instructions
Add thyme and sage to Chebe mix. Next, add butter and cut it into the dry mix. This can be done in a food processor or with your hands.
Second, add eggs and oil to mix and stir to combine.
To finish making the dough, add the ice cold water, one tablespoon at a time until a solid ball forms.
Place dough in refrigerator to chill while you prep remaining ingredients.
Start prepping the filing by dicing the vegetables. I used my food processor to shred the sprouts. Chop the onion, sweet potatoes and mushrooms into 1/2 in" chunks.
Finally, chop your turkey meat. Ground turkey can also be used for this. Once your meat is chopped, combine it with the vegetables and cranberry sauce in a large bowl
Remove dough from refrigerator and preheat oven to 350 degrees.
Light coat a flat surface (I use a pastry mat) with rice flour. (You can use potato starch if you need to keep it grain free.) Separate the dough ball into 4 equal portions. Roll one of the four small dough balls into a circle, roughly 7 in" in diameter. Repeat with remaining dough until all our portions have been rolled.
Using a 1/2 c. measuring cup, fill one half of a dough circle with the turkey and vegetable mixture. Place the filling near the the front half of the circle, allowing room to fold up the back half to close the pasty. (See the third picture in this post as an example.) Crimp closed and brush with beaten egg.
Bake in a 350 degree oven for 30 minutes.
Serve hot, with turkey gravy if desired. (I use Full Flavor Foods gravy mix.)
So what creative things have you made with Chebe products? Do you have something you'd like to see me create? Leave me a comment below and let me know how Chebe has impacted your baking!
**Chebe provided the ingredients for this post. I was not otherwise paid or compensated for my time. This post does contain affiliate links. Purchases made through those links help support this blog with no extra expense to you. Thank you for your continued support!**