Fusion Epicure- Sesame Snacks & More
As an Amazon Associate and member of other affiliate programs, I earn from qualifying purchases.
I met the owners of Fusion Epicure, Bassman and Basma, at the Making it in Michigan Conference YEARS ago. I'm so excited to share with you my recent tour of their facility and their amazing gluten free products.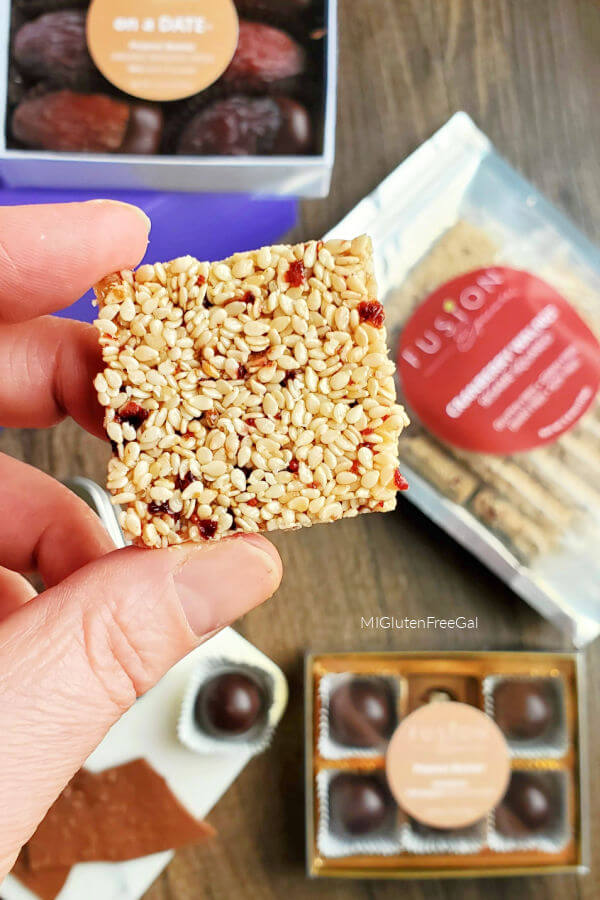 Starting at Square One
Fusion Epicure began with Bassman Paulus' homemade sesame seed snacks. For years, he made them at home for himself and friends. When friends suggested that he sell them, at first he was hesitant. He didn't come from a food manufacturing background. But their encouragement led him to take a bold step and try.
While these sesame squares are common in the Middle East, Bassman wanted to make them with less sugar. A traditional bar was 70% sugar, 30% seeds. With some trial and error, he created a delicious bar that was 20% sugar, and 80% seeds. In addition, no high fructose corn syrup.
These sesame snacks are made with pure Michigan Honey. Plus, these SESAME² bars contain non-gmo and mostly organic ingredients. They use simple, easily recognizable ingredients that you might find in your own pantry. Also, no artificial flavors or preservatives.
Why Sesame Seeds?
While I've seen plenty of granola and snack bars made with oats and nuts, I've never seen a product made mostly of sesame seeds. Bassman explained that sesame seeds offer many many health benefits. These health benefits include anti-inflammatory properties, while also helping to reduce blood sugar and blood pressure. Sesame seeds also contain healthy fats that are good for cholesterol.
To make their delicious SESAME² bars, Bassman sources various sesame seeds, creating a unique blend that you won't find anywhere else. SESAME² bars come in various flavors – Cranberry Walnut, Blueberry Pecan, Coffee Walnut and Sesame Walnut. The Cranberry Walnut and Coffee Walnut squares are also available covered in chocolate!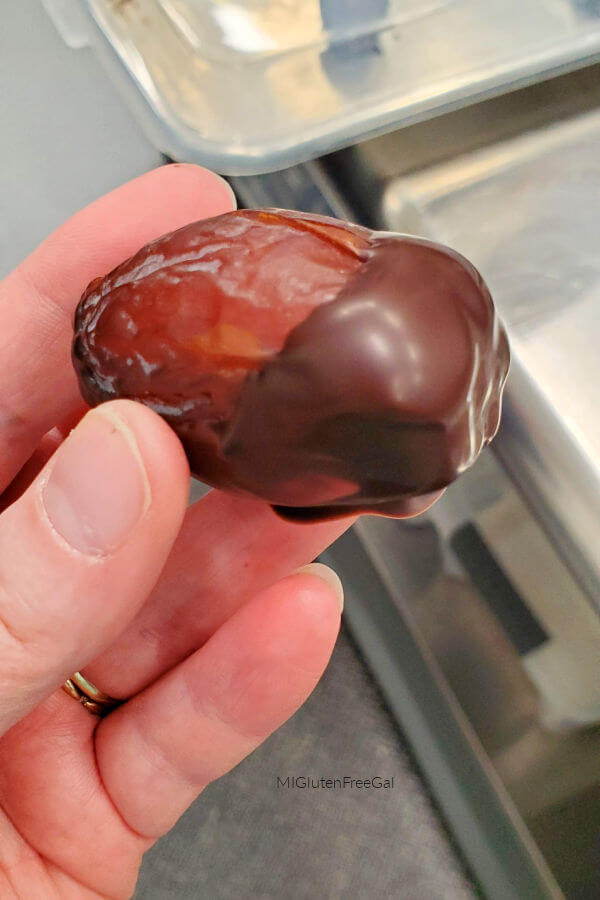 The Most Amazing Dates I've Ever Tasted
In addition to allowing me to see their factory and how they operate, Bassman allowed me to sample a few of their products. When I tried this Tahini & Coffee Milk Chocolate stuffed date, I was beyond amazed. The filling was creamy, and utterly delicious. While they currently contain added sugar, in the future they plan to leave it out.
Bassman and his wife believe in supporting local businesses as much as they can. However, since we don't grow dates in Michigan, they source their dates directly from farmers in the United States. Their chocolate is imported from Europe, and is ethically grown and harvested. Bonus- The dark chocolate covered dates are dairy free!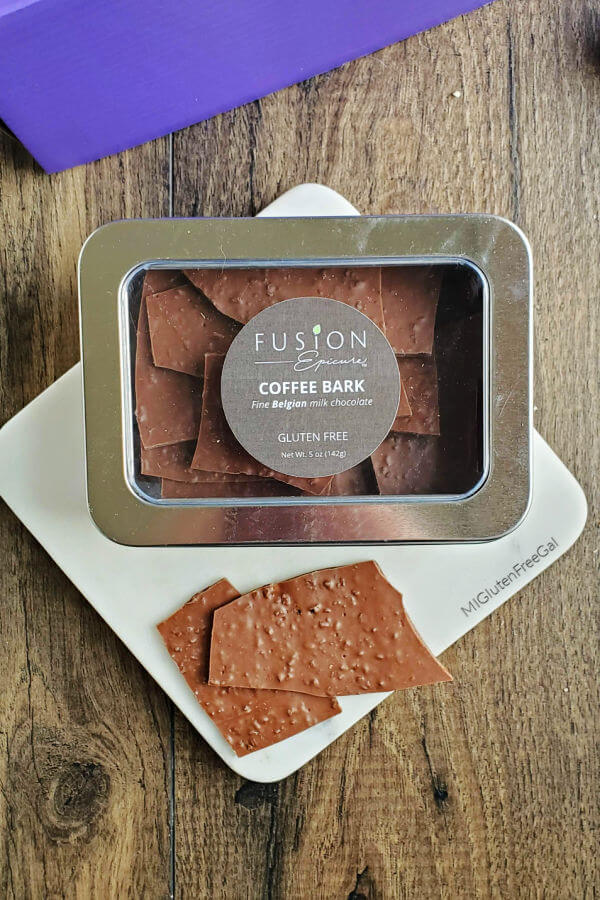 A Bark That You'll Want to Bite
I don't drink coffee. However, I'll eat Fusion Epicure's Chocolate Coffee Bark every day if you let me. The chocolate is smooth, and the coffee flavor is deep while not being overpowering. Don't do coffee? They also make a sesame seed chocolate bark. Each batch is handmade and hand packed.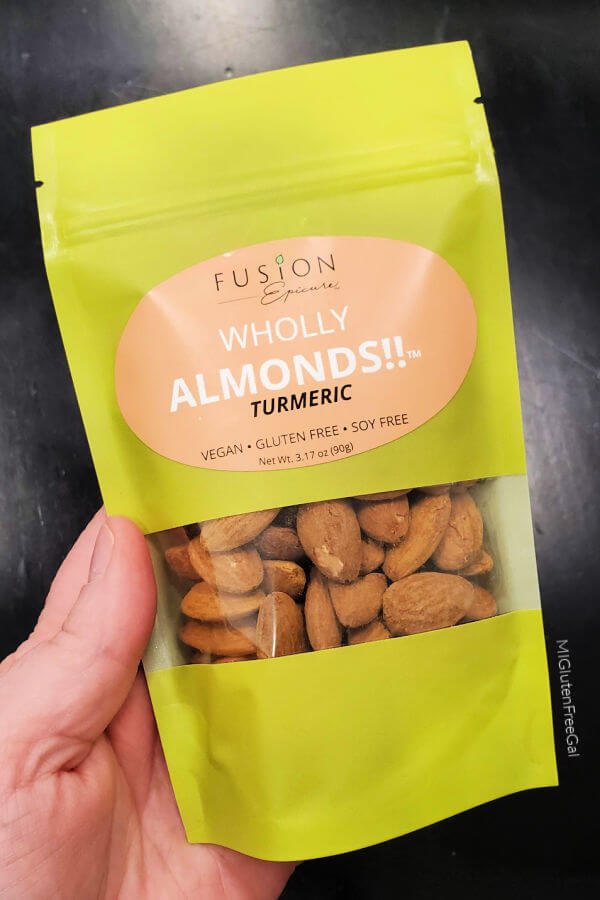 Unique Almond Products
If you eat gluten free, all too often we wrestle with "may contain" or "made in a shared facility" statements. Especially as it relates to nuts. Lucky for us that Fusion Epicure sells their own flavored almonds, made in their gluten free facility. Flavors include Turmeric, Buffalo, and Tamarind. In addition, they also make their own almond butter.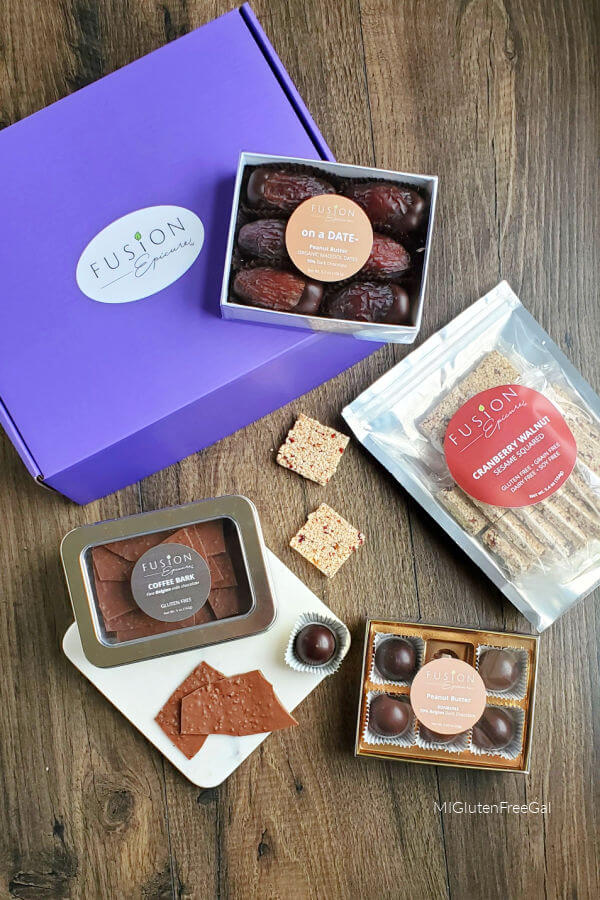 Are Fusion Epicure Products Gluten Free?
Yes. No gluten is present in their facility, and they are in the process of seeking gluten free certification. (as well as Kosher certification) In fact, an outside company wanted to rent his space to make their product, and Bassman declined because their product contained gluten.
Does Fusion Epicure Offer Dairy Free Items?
Yes! Their dark chocolate contains no dairy. In fact, Bassman purchased a separate dark chocolate tempering machine to keep the dark chocolate free from dairy. In addition, their sesame squares contain no dairy.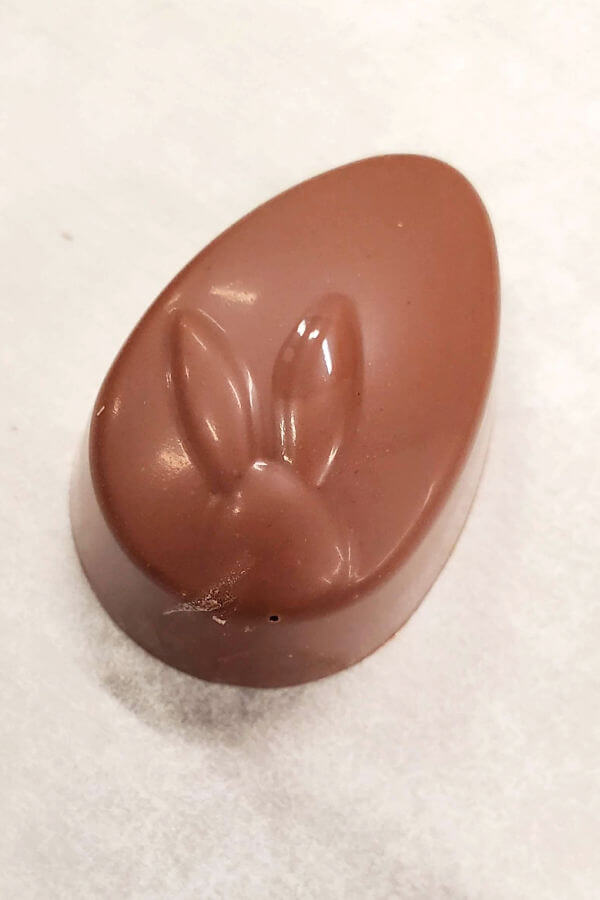 Where Can I Buy Fusion Epicure Products?
Their products are available at various Michigan grocery stores, including Zerbo's and Capital City Market. You can also order products directly from their website. Looking for something unique? Fusion Epicure creates special order items for wedding favors and other celebrations. They also offer bonbons and other chocolates for holidays.
Where is Fusion Epicure Located?
Their factory, which is not currently open to the public, is located in Wixom, just off I-96. (Across 96, you'll find the town of Novi.) As Fusion Epicture continues to grow, Bassman hopes to move to a new facility, complete with tasting room for their chocolates, and other items.
Fusion Epicure
28243 Beck Rd Suite B15, Wixom, MI 48393
Website | Facebook | Instagram | Email
Fusion Epicure gifted me certain products to enjoy at home. I was not otherwise paid or compensated. All thoughts and opinions are my own.
Other Michigan Based Gluten Free Brands
Ethel's Baking Company
Full Flavor Foods
The Gluten Free Bar