Oh Mi Organics – Michigan's Allergen Free Chocolate
As an Amazon Associate and member of other affiliate programs, I earn from qualifying purchases.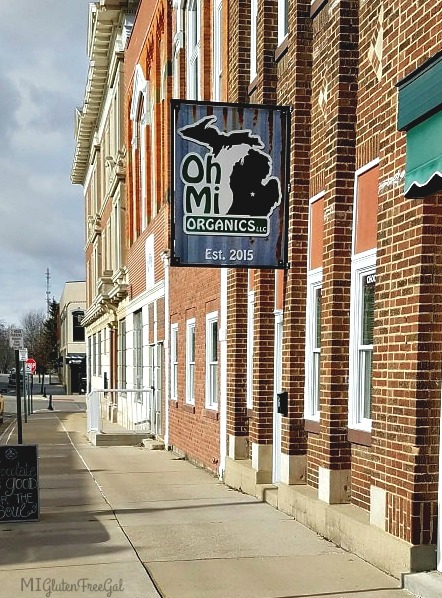 Oh Mi Organics, owned by Megen and Brent Hurst, meets a very important need in this world. Chocolate. Not just any chocolate, but chocolate that is free of gluten and many common allergens. It's exciting to see a small Michigan business tackle an issue that's usually only contemplated at major companies. They're just one more company that makes me proud to be a Michigander.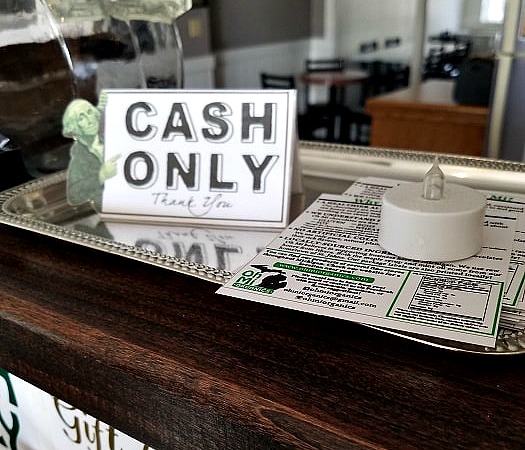 A visit to their store in St. Johns is like a step back in time. Payment is accepted by cash only and they don't offer Wi-Fi. Instead, the Hurst's have board games and a nice quiet atmosphere to enjoy them in. This has attracted many kids from the community. In an age of prolific technology, teenagers actually set their phones aside, enjoy a conversation and play a game! Oh Mi Organics even offers sidewalk chalk and coloring pages for those that want to get creative. This chocolate shop has quickly become a local place to create memories with one another. Learn more about this magical place in Megen Hurst's own words.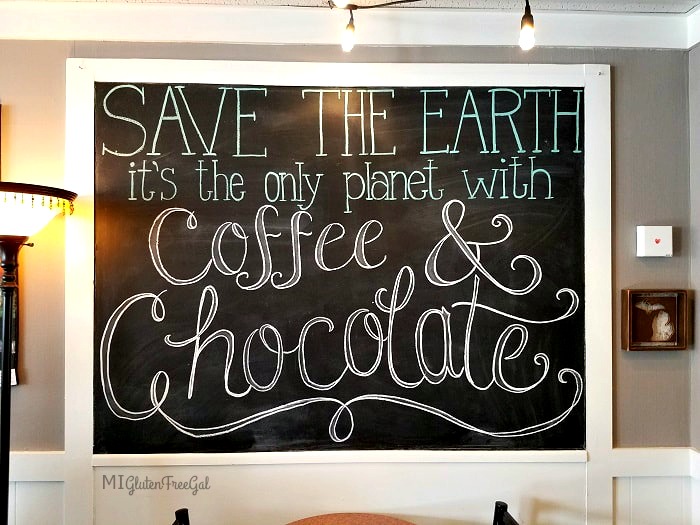 1. ​What​ inspired you to become a gluten-free ​chocolatier​?​
I was diagnosed with rheumatoid arthritis when I was 31. I eliminated many foods to help limit the inflammation in my body. Foods on the no-no list now included gluten, dairy and preservatives. The thing I missed the most was chocolate, because it was tough to find them without those ingredients. Therefore, my husband and I came up with a gluten-free chocolate recipe that was safe for me (and so many more) to eat! You can read more about the birth of Oh Mi Organics on our about page.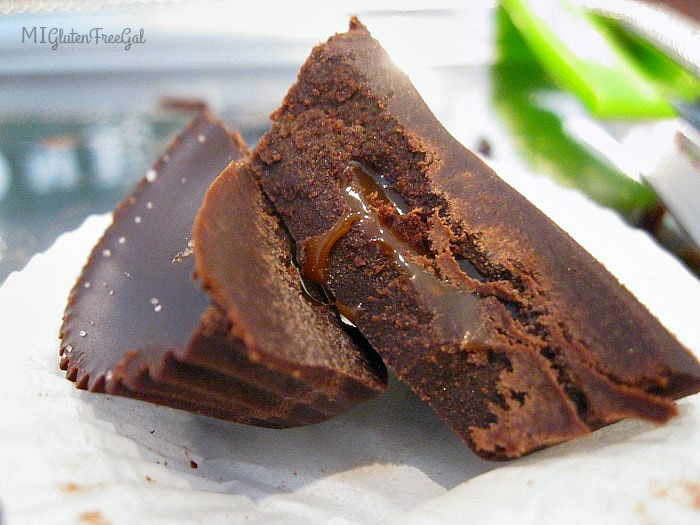 2. Are there other highlights of Oh Mi Organics chocolates? Dairy-free, egg-free, nut-free, locally sourced?
EVERYTHING we make is gluten-free, soy-free, egg-free and peanut & tree nut free. Our products are free of artificial colors and flavors as well. Our chocolates are made from Fair Trade certified cocoa. As our name suggests, we use organic ingredients. Most of our products are dairy-free, and we never use cow's milk. We do use goat's milk caramel in a few of our flavors. To learn more about why goat's milk may be safe for those allergic to traditional dairy, visit the Go Dairy Free webpage.
Using local Michigan products is very important to us as well. Our unique flavorings come from Real Flavors in Troy, MI. All of their flavorings are gluten and dairy-free, all without propylene glycol. We source our maple syrup and pure mint oil from Livingston Farms of St. Johns. We obtain our raw honey from Gearig Apiaries in Ithaca. In our "PB & J" chocolate we use concord grape jelly from Esch Road Farms in Empire, MI. (The "PB" is actually Sunbutter made from sunflower seeds.) We also use locally grown fruit from Michigan when it's in season.
3. What steps do you take to guarantee that your products are truly gluten-free?
We do a lot of research! We have thoroughly researched and/or contacted our ingredient supplies to verify that they are 100% gluten-free. We're very transparent, and you can watch us hand-make and package our sweet treats in our Chocolate Studio Observation Window. We offer chocolate making parties for kids and adults as well!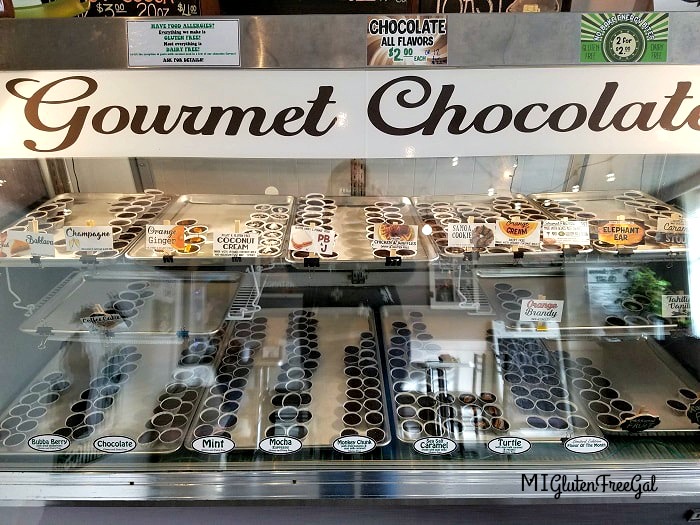 4. Can you share a story of a customer who's been greatly impacted by Oh Mi Organics chocolates?
We have met many people at our storefront that have food allergies, mainly dairy and gluten. When they look over our glass case of over 25 flavors to choose from, it's a joy to see the smiles on their faces when they realize that they can once again enjoy an array of chocolate flavors. Many people have told us that we have "ruined store chocolate for them." One customer stated that she had a bite of a known brand name of chocolate, threw it out her car window, and drove straight to our store to get a Sea Salt Caramel because she liked ours better.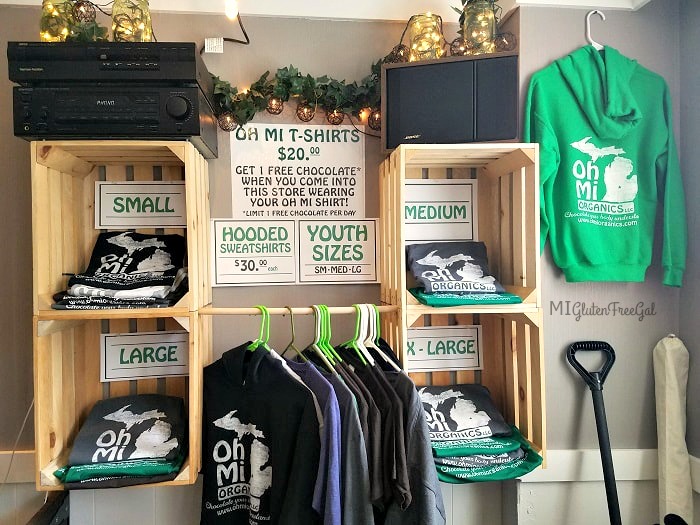 5. What would you like consumers to know about your products and your business?
We create our products with food allergies or diet restrictions in mind. In addition to our chocolates, we have many raw, paleo and keto diet options. These include our no-bake energy bites, which are made with sunflower seed spread, gluten-free oats and ground flaxseed. We lightly sweeten them with pure Michigan maple syrup and rolled in ground pecans. Our newest product, "You Dip It", is an organic, vegan-friendly all-purpose dip that goes great with fruit slices, pretzels, cinnamon pita chips, graham crackers, and more! We're also working on a dairy-free white chocolate, as well as dairy-free ice cream made from aquafaba.
We also realize our business has the opportunity to be a blessing to our community. Oh Mi Organics donates 1% of all of our sales to a local recycling center, which is an off shoot of our local Lions Club. We partner with the Clinton RESA in their Transition program to help teach daily tasks to special needs students. We also created the "Eat Healthy, Eat Local" festival in early May to connect local health minded businesses to those seeking to live healthier lifestyles.
Oh Mi Organics
109 W Higham St
St. Johns MI 48879
Open Mon- Sat 8 am – 6 pm
Website / Facebook / Instagram
**While this is a sponsored post, all of my thoughts and opinions are my own. I'm excited and proud that there's a chocolate company in Michigan that's so forward thinking about food allergies!**