Gluten Free Dirt Cups – #SpringFreely
As an Amazon Associate and member of other affiliate programs, I earn from qualifying purchases.
The best kind of treat is one that everyone can eat freely. Easily make these gluten free dirt cups using top 8 allergen free cookies, chocolate chips and brownie mix. Kids, big and little, will devour this dessert!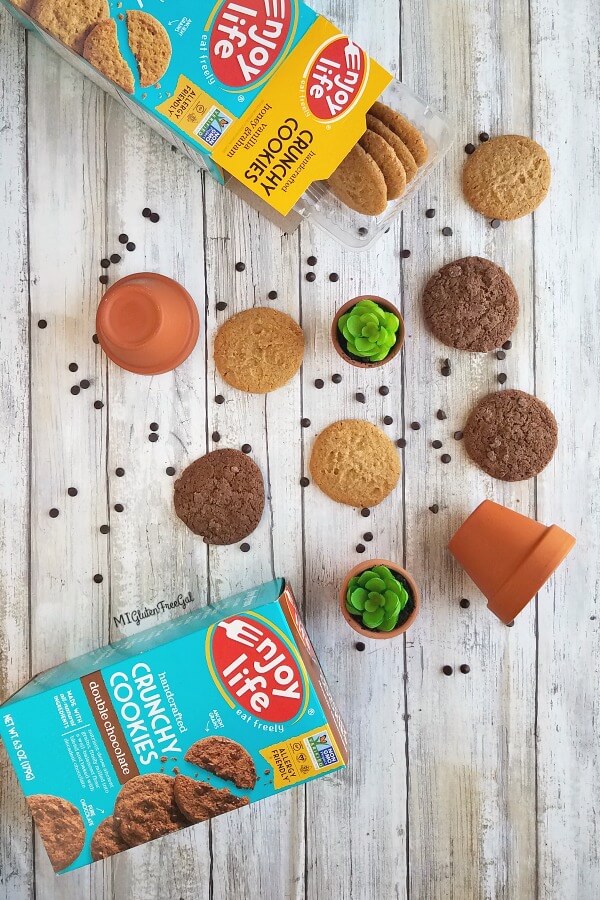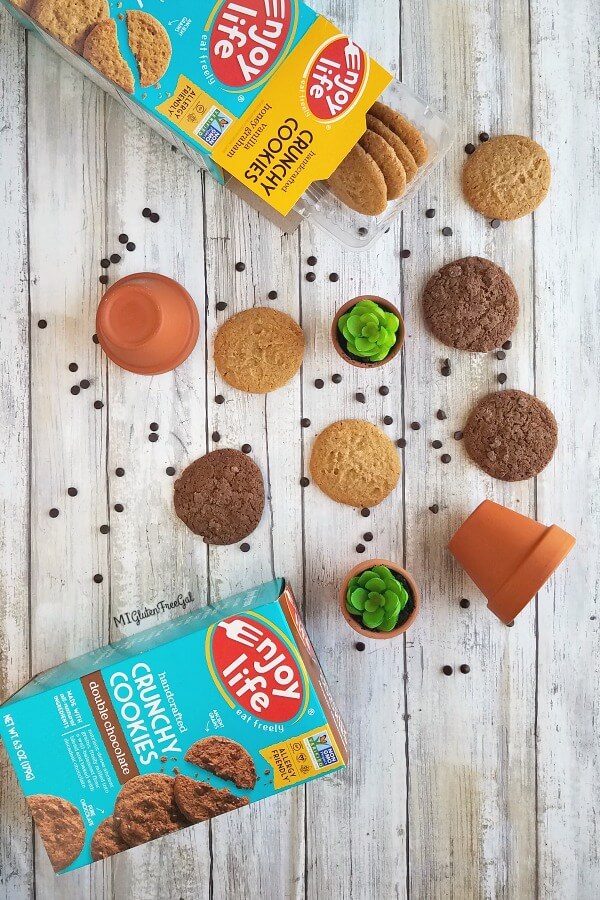 Play In the Dirt
If you hadn't already guessed, we're not using real dirt in this recipe. I mean, kids may be known for eating dirt occasionally, but we're using the "sweet" kind here. This recipe uses crushed up Enjoy Life Foods crunchy cookies for the "dirt." Find them on Amazon, or order directly from Enjoy Life.
How do you "enjoy" these cookies? Obviously they taste great on their own. The Honey Graham Crunchy Cookies work great for making S'mores. The crumbs also work great for pie crusts. For example, they worked great in my Dairy-Free Mud Pie.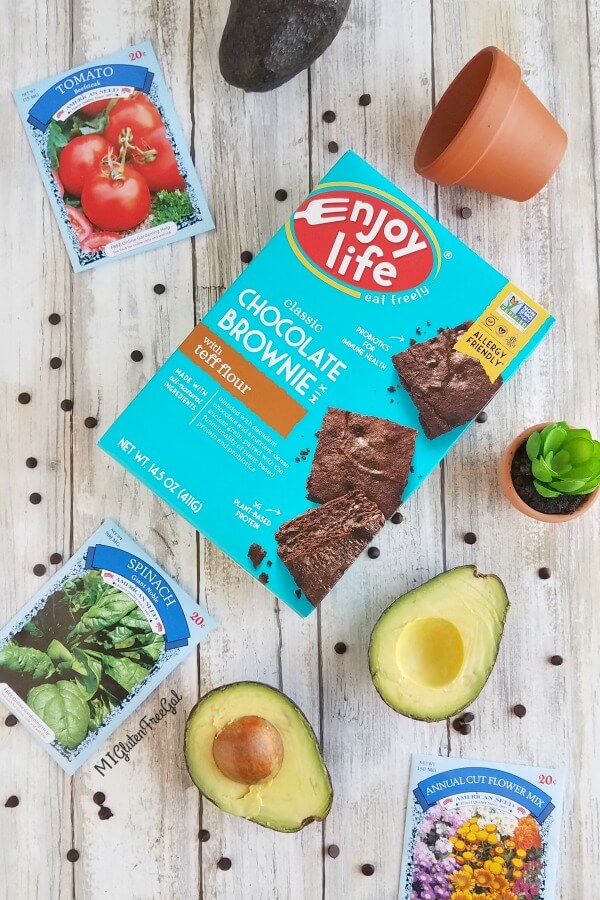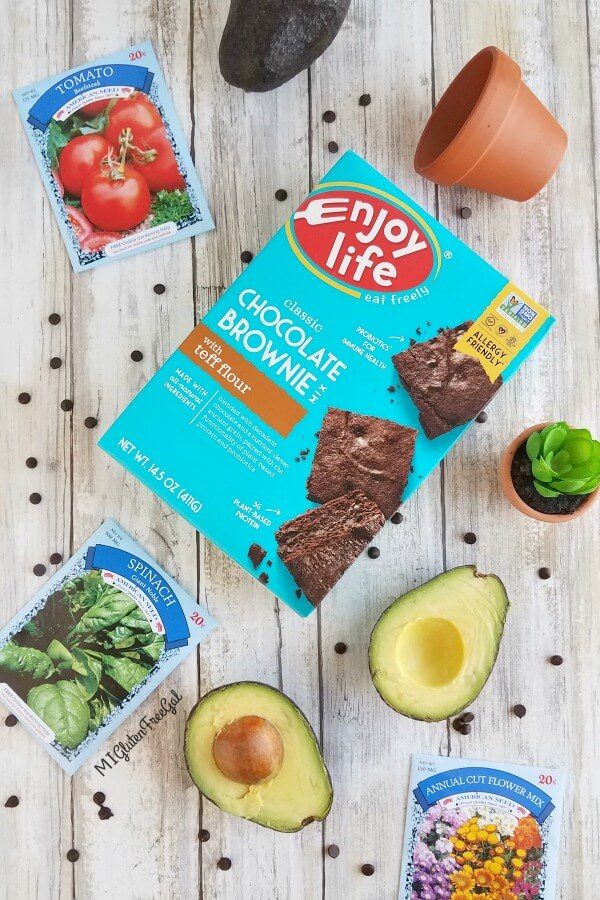 Avocados – More Than Toast and Guacamole
These gluten free dirt cups include layers of cookie crumbs, dairy-free whipped topping, and dairy free chocolate pudding. However, this is no ordinary dairy free chocolate pudding. I made it with avocados! Using a blend of avocados and Enjoy Life Foods brownie mix adds some healthy fats and fiber not found in other puddings.
Speaking of the Enjoy Life Foods brownie mix, this recipe only calls for a quarter cup. Wanna know a trick? I separate the package in two, leaving half in the bag. The other half I pour in a bowl. From that portion, I remove the quarter cup for the recipe. Then I turn the rest into waffled brownie ice cream sandwiches!
**UPDATE- Enjoy Life's Brownie Mix is discontinued. You should be able to use a different brownie mix instead. King Arthur Flour makes a gluten free brownie mix in a cup. This may be the perfect amount for this recipe.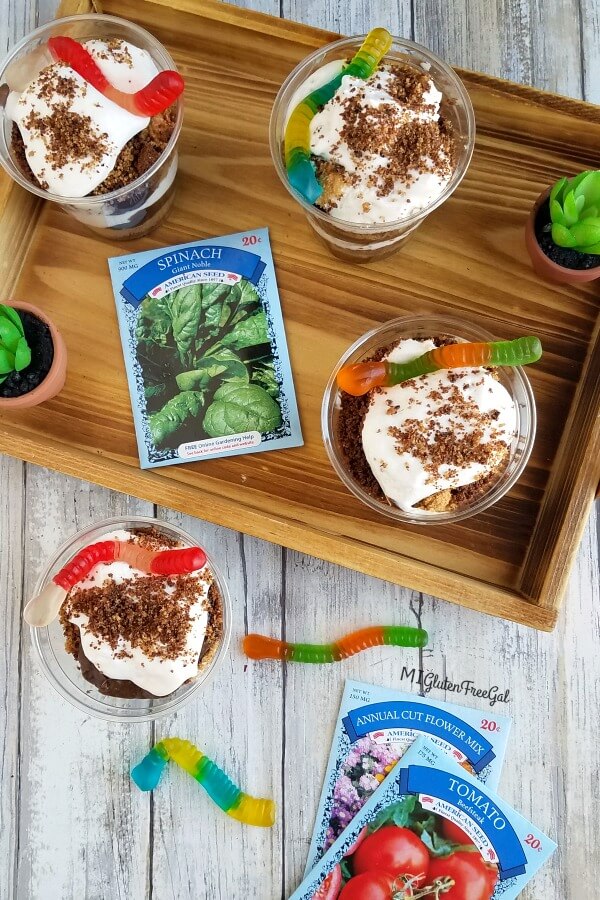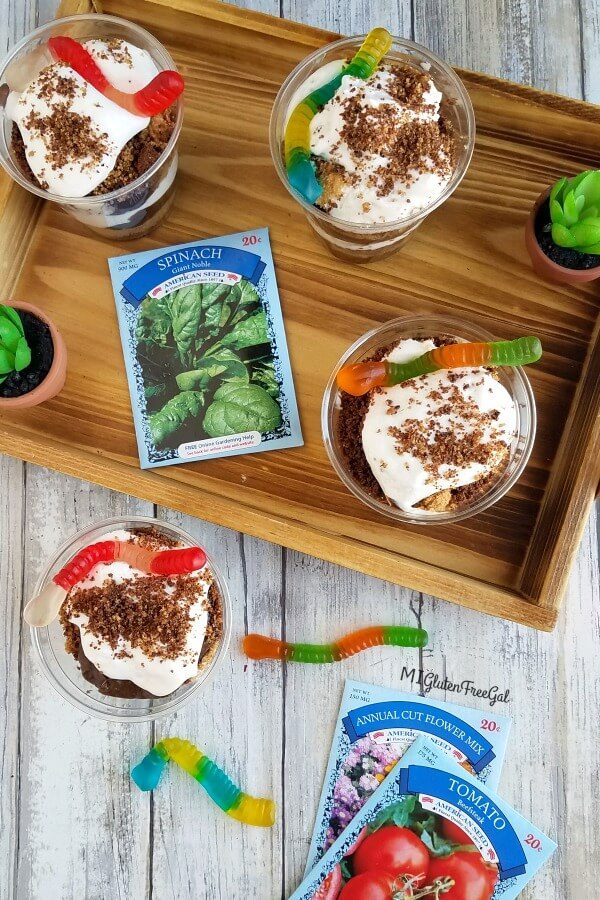 Earth Day
I originally shared this recipe for gluten free dirt cups in 2016 as part of Enjoy Life Foods' #SpringFreely campaign. However, I wanted to give this post a refresh. I felt Earth Day was the perfect time to do so! The "dirt" and "worms" lends to great discussions about composting and fertilizing the earth.
I love to pair educational topics with reading. Some great books for Earth Day discussion include The Lorax, as well as these other inspiring picture books about Earth Day. Earth Day presents a great opportunity to discuss recycling, and repurposing. Reuse the cookie boxes in various ways, from playing blocks to crafting!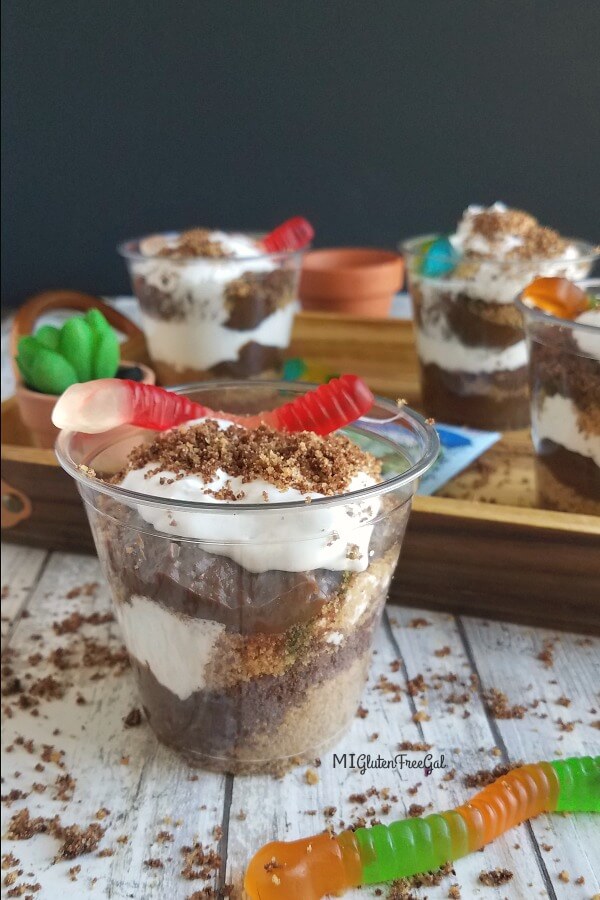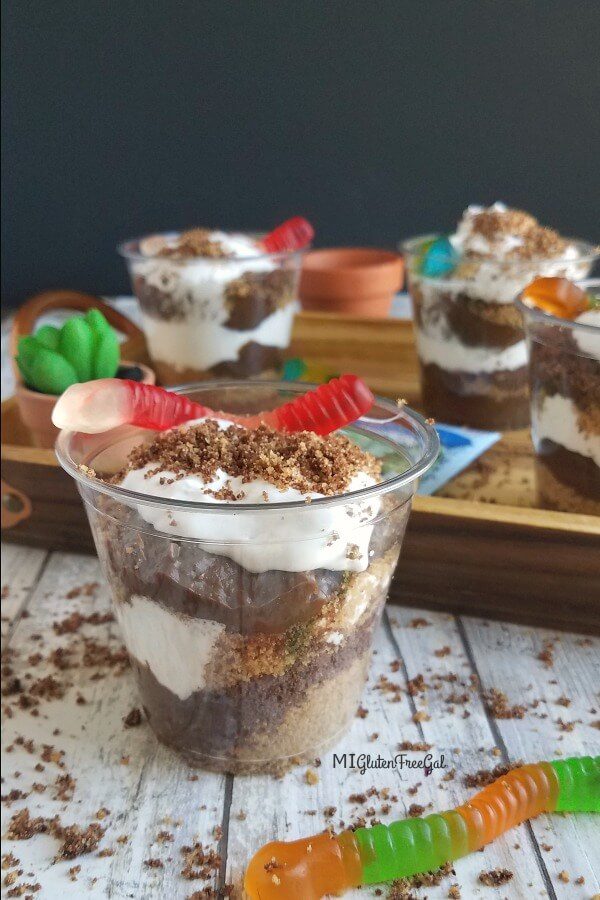 Allergen Safe Candy & Other Gluten Free Dirt Cup Ideas
This recipe for gluten free dirt cups yields 4 servings. If topping with gummy worms, make sure that they are gluten free! Surf Sweets makes great ones. Not a fan of worms? I love the "carrots" on these Easy Carrot Dirt Pudding Cups from Layers of Happiness. Or top with Peeps in these Easter Bunny Chocolate Dirt Cups, from Leggings and Lattes!
Celebrate Earth Day in other culinary ways. I love this collection of Earth Day Recipes from Fork and Beans! Her Cactus Hummus Dip jars look adorable and sound delicious!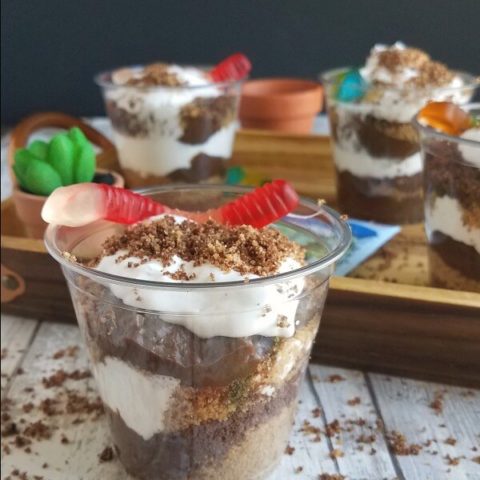 Gluten Free Dirt Cups
Ingredients
For the Pudding
1 avocado
1/4 rice milk (*possibly more)
2 tbsp maple syrup
1 tsp pure vanilla extract
1/4 c gluten free Brownie Mix ** see tip
4 tbsp Enjoy Life Foods Semi Sweet Mini Chips, melted
For the Cookie Dirt
7 Enjoy Life Foods Double Chocolate Crunchy Cookies, crushed
7 Enjoy Life Foods Vanilla Honey Graham Crunchy Cookies, crushed
1/2 c dairy free whipped topping (I used So Delicious CocoWhip)
Topping Ideas
Allergy Friendly Gummy Worms
Tinted Green Coconut for grass
Plastic flowers
Instructions
Remove coconut whip from the freezer and set on the counter to thaw.
Grind cookies in a food processor or blender. I crushed the two separate cookies individually, but you can do them together if you like. Set crumbs aside.
Melt 4 tbsp (1/4) of mini chocolate chips in the microwave or stovetop. Set aside.
In a blender, combine avocado, milk, maple syrup and vanilla extract. Pulse until completely blended.
To that mixture, add the brownie mix and the melted chocolate. This may not blend well, therefore you may have to stir it by hand. I added more melted chocolate than the original recipe called for, to cover the taste of the avocado. My pudding was a bit thick, therefore, I recommend adding a few more tablespoons to thin the pudding down some.
To create dirt cups, layer cookie crumbs, pudding mixture, and whipped cream. Repeat, and top with a gummy worm. Store in the refrigerator until ready to serve.
**Enjoy Life Foods provided the ingredients for this post. I was not otherwise paid or compensated for my time. This post does contain affiliate links.
Purchases made through those links help support this blog with no extra expense to you. Thank you for your continued support!**