Memorable DIY Christmas Activities
As an Amazon Associate and member of other affiliate programs, I earn from qualifying purchases.
What stands out as your favorite Christmas memories? Mine often involve DIY Christmas Activities shared with family and friends. Of course, a little chocolate from my friends at Enjoy Life Foods always makes the season brighter! Their new winter chocolate minis add an extra touch of sweetness to the holidays. This post is sponsored by Enjoy Life Foods.
DIY Christmas Advent Calendar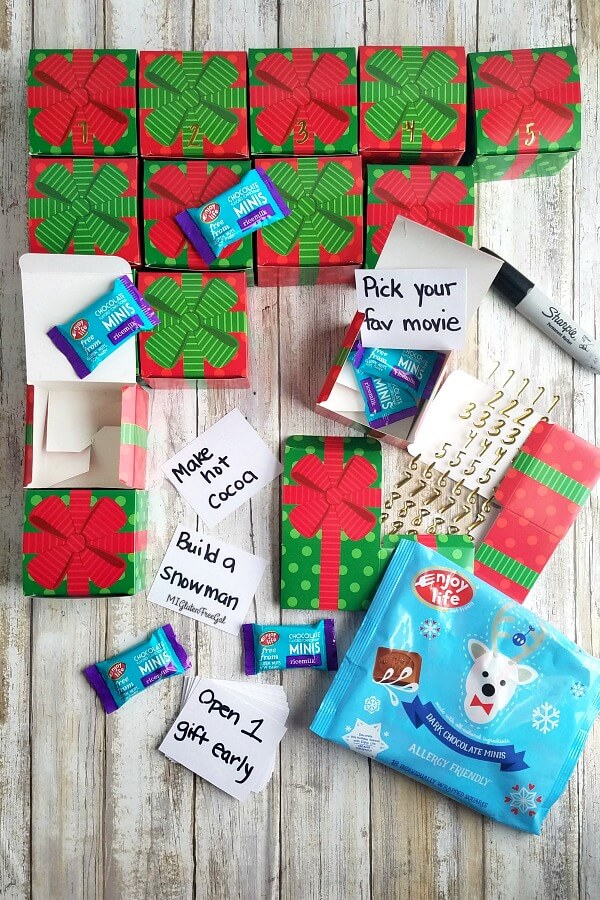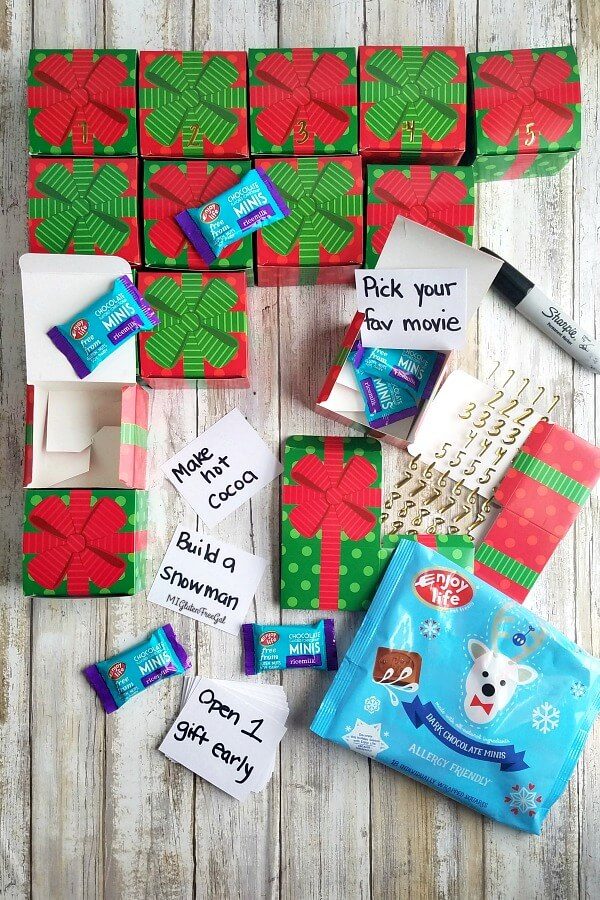 Every year, I see Facebook posts asking the same thing. Where does one find gluten free and allergen friendly advent calendars? While some are available online, I suggest making your own! Simply gather 25 containers. I snagged these small treat boxes at my local craft store. However, you can use anything you want! I've seen advent calendars made with toilet paper rolls, cups, even brown paper bags. Then add Enjoy Life Chocolate Minis inside!
I suggest adding more than just candy to your DIY Christmas Advent Calendar. Add cards that list memory making activities to each day. These activities don't have to break the bank. Simply think of things that mean something special to your family members. Cards could include "read your favorite book" or "snuggle on the couch" or "make a popcorn garland." The DIY Christmas ideas are endless!
DIY Christmas Stocking

When my husband was a child, his family decorated a felt stocking with his name on it. 40+ years later, we still have it. A decade ago, my dearest friend Sarah made a felt stocking for me. (She made one for my husband too. His says "Fuzzy.") However, children can help decorate their own stockings! This can be a fun DIY Christmas activity that they can tell their own children about, years down the road.
When it comes to stocking stuffers, always check to make sure candy is safe. Read packages, as small fun size items do not always list ingredients. I love adding Enjoy Life Foods Chocolate Minis to stockings. Why? Because they are free of the top 8 allergens that affect 90% of those with food allergies. Stuff those stockings with more than candy! Add card games the family can play (like Fluxx), jewelry, toy cars, and even crayons. Don't forget books!
DIY Christmas Ornaments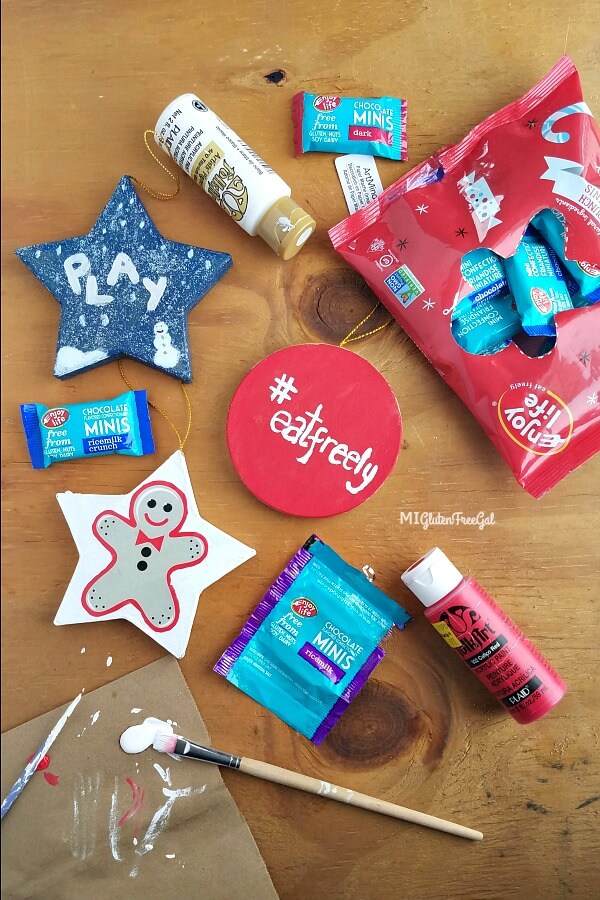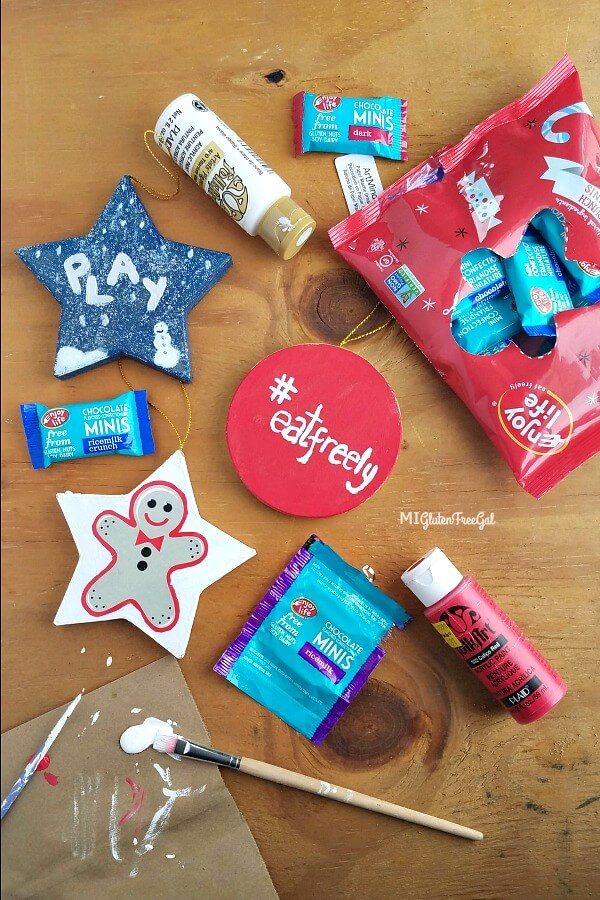 Remember my friend Sarah I mentioned earlier? She began a great DIY Christmas activity at her party one year. In the beginning, she made ornaments for each attendee. Then one year, she decided to allow us to all make our own. To this day, they are my favorite ornaments on my tree. I highly suggest starting this tradition with your own family and friends! Purchase paper ornaments from Michael's (or online), some acrylic paint and brushes, and you're on you way!
Of course, any DIY Christmas activity becomes more enjoyable when chocolate is involved! Did you know that Enjoy Life Foods sells their Winter Chocolate Minis in four separate bags? Each bag contains one of their three chocolate types, or a mix of the three. Also, each bag has a cute Christmas figure you can cut out and use for decoration. I chose to use the Gingerbread boy on the Ricemilk Chocolate Minis for this cure DIY Christmas ornament!
#EatFreely, Not Fearfully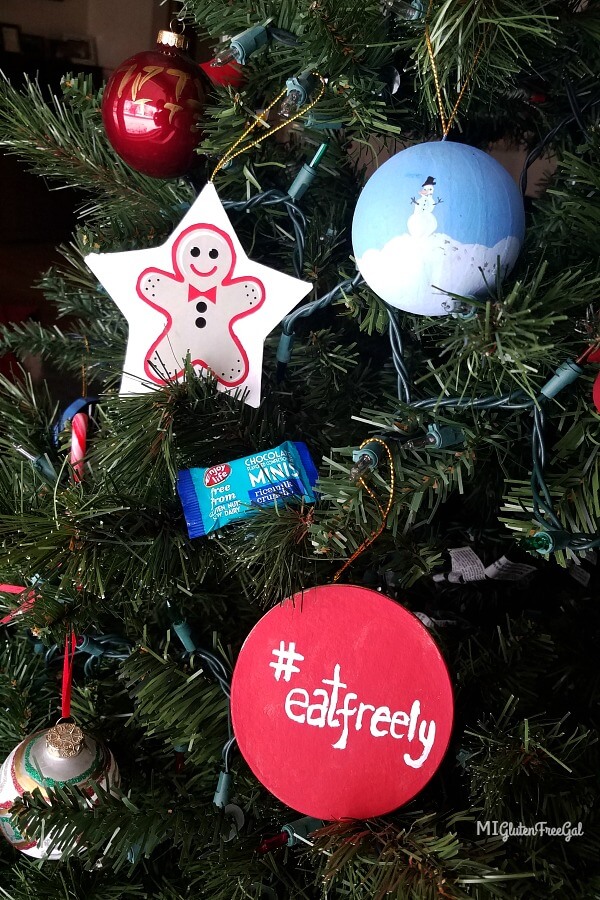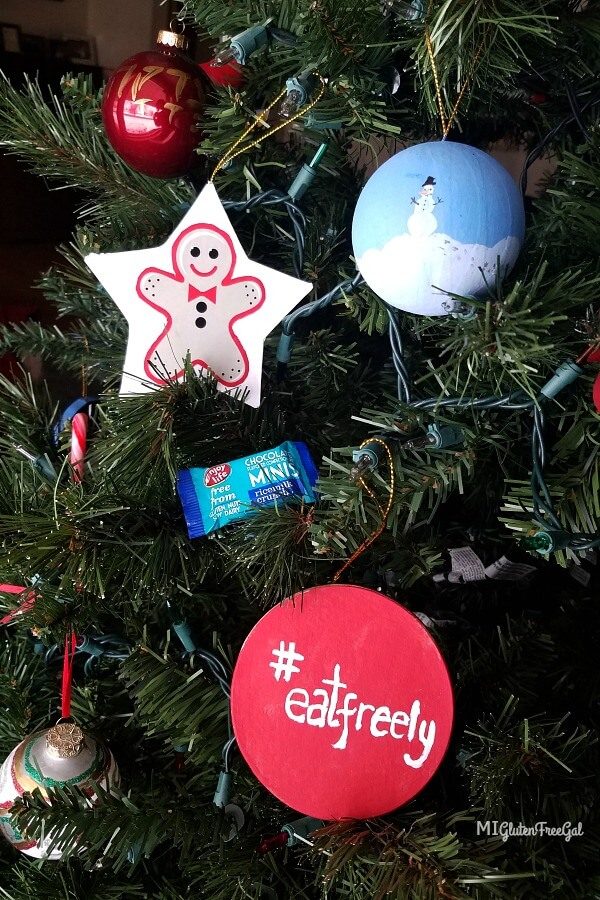 So many times, living with a food restriction hampers holiday activities. Thankfully, brands like Enjoy Life Foods help us to #EatFreely, without fear. Their holiday themed mini chocolate bars come in four different packages.
Ricemilk Chocolate Minis (Nutcracker Package)
Ricemilk Crunch Chocolate Minis (Gingerbread Man Package)
Dark Chocolate Minis (Reindeer Package)
Variety Pack of the three above (Snowman Package)
What are your favorite holiday memories? What DIY Christmas activities do you and your loved ones share every year? Please tell me in the comments below!
**Enjoy Life Foods graciously sponsored this post. I am beyond blessed to work with a brand that truly treats me like family. This page contains affiliate links. **
**Enjoy Life Foods provided the ingredients for this post. I was not otherwise paid or compensated for my time. This post does contain affiliate links. Purchases made through those links, or the Amazon search bar above, help support this blog with no extra expense to you. Thank you for your continued support!**