Dairy-Free, Gluten-Free Mud Pie
As an Amazon Associate and member of other affiliate programs, I earn from qualifying purchases.
This gluten and dairy free mud pie combines a crunchy cookie crust with creamy coffee ice cream. Whether made from homemade ice cream or store bought, it's quite a show stopper!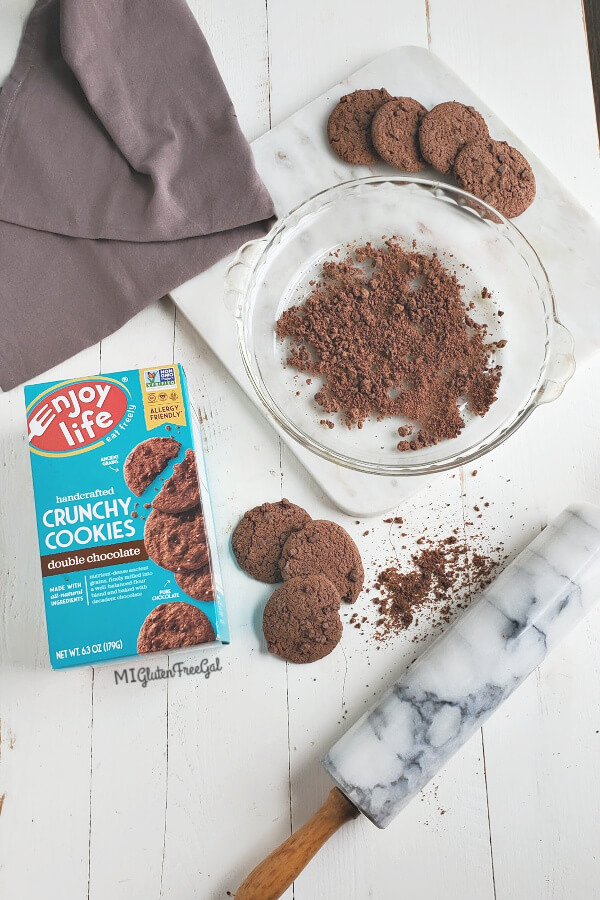 A Slice of My Youth
What was your most memorable teenage job? For me, it may have been working at Mountain Jack's. It was a fine dining restaurant in Lansing, MI, primarily known for two things. Prime Rib and Mile High Mud Pie. Ohhhh, that amazing Mud Pie. Sometimes after a long night of bussing tables, my fellow workers and I would chip in, order one for ourselves, and dig in with forks at the ready.
The combination of chocolate cookie crust, creamy coffee ice cream and decadent chocolate syrup was a welcome reward at the end of a long day on your feet. I imagined that the Mud Pie must have been difficult to make. Thankfully, this is not true! If you can crush cookie crumbs with a mallet and scoop ice cream, you too can make a dessert that you'll enjoy sharing with your friends.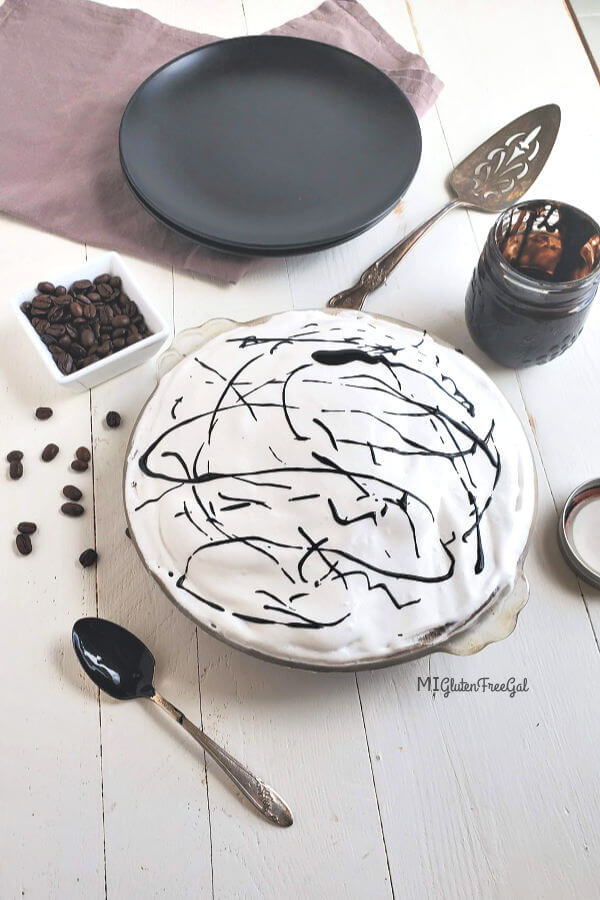 Homemade Dairy Free Coffee Ice Cream
I first wrote this recipe in 2o17, part of So Delicious' Frozen Fridays contest. However, as the dairy free ice cream market expands and changes, the ice cream I used is hard to find. I kept the dairy free Enjoy Life Foods cookie crust. I also kept the So Delicious Coco Whip. However, I felt this was an optimal time to make my own ice cream!
It's easier than one might imagine. I used Thai Kitchen Coconut Cream and Coconut Milk. From there, after consulting many dairy free coffee ice cream recipes, I came up with an easy base. From there, I put it in my Cuisinart Ice Cream maker, and 15 minutes later, I had creamy coffee ice cream! You can also use 3 pints of premade ice cream, instead.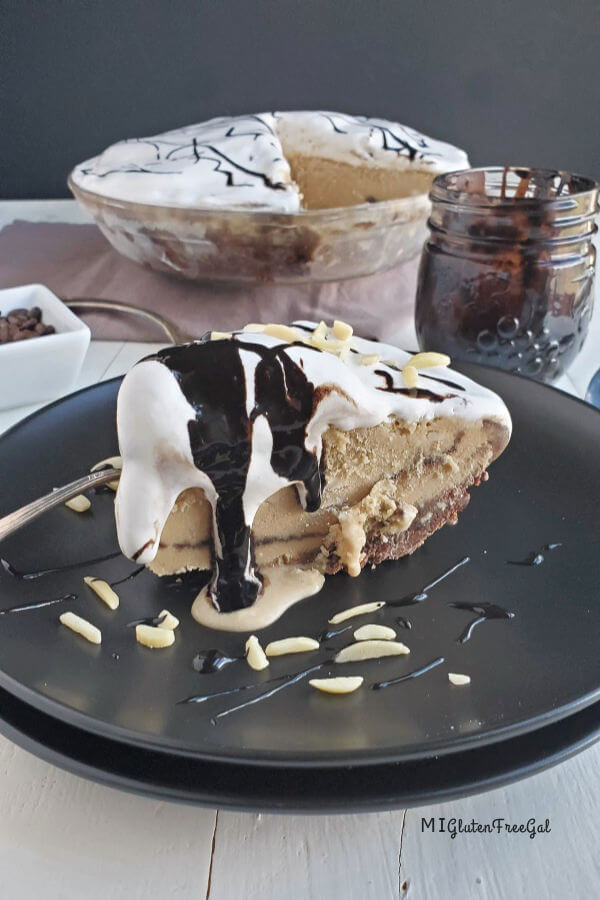 Top 8 Allergen Free, Optional
As I often mention, my husband teaches at a school where nuts are not allowed in the classroom. Therefore, I always pack his lunches without peanuts or tree nuts. In addition, I try to only send treats without those ingredients. This gluten free and dairy free mud pie uses sliced almonds as a topping, but you can leave them off.
Speaking of toppings, my homemade dairy free chocolate syrup plays an important role in this treat. It's a modification of an AllRecipes listing, which I first used on my Mexican unFried Ice Cream. It keeps well in a the fridge to use over ice cream or mix into milk.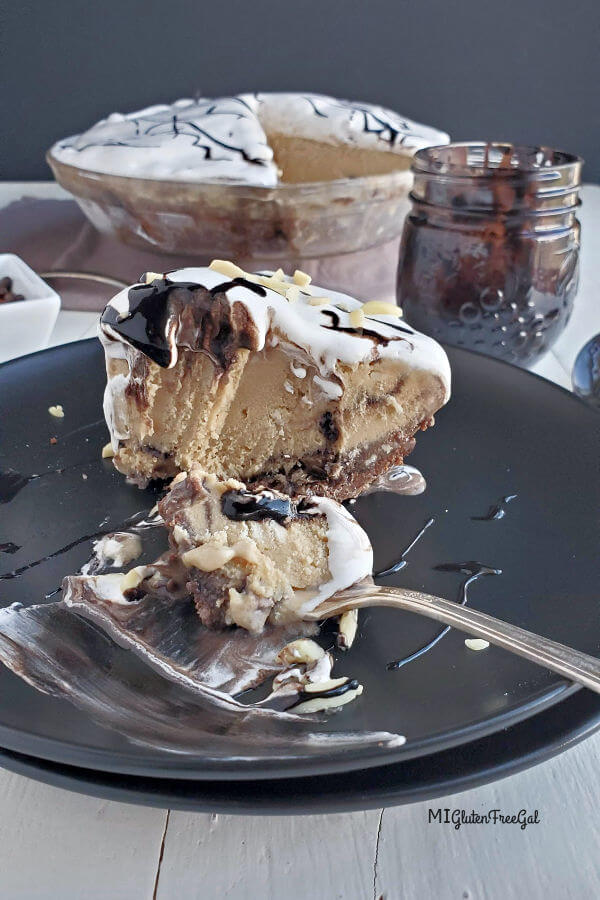 Other Pie Recipes
My blog contains many other pie recipes, for your pleasure. Grain free pies, such as this grain free apple pie or grain free blueberry pie. This Dutch Apple Pie uses a standard crust, as does my Strawberry Galette. Looking for something smaller? Make these Jam Filled Hand Pies or these Creme Filled Moon Pies!
Previously I asked for your favorite type of pie. Top answers included lemon meringue, key lime, cherry and pecan. This Betty Crocker Gluten Free Lemon Meringue Pie uses Chex as crust, and this Gluten Free Key Lime Pie from Healthy GF Family looks great. You'll also love this Gluten Free Pecan Pie from Gluten Free Palate!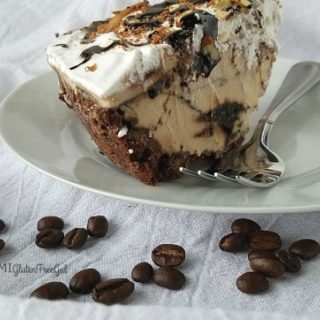 Dairy-Free, Gluten-Free Mud Pie
Ingredients
For the Dairy Free Ice Cream-
1 can Thai Kitchen Coconut Cream
1 can Thai Kitchen Coconut Milk (Full Fat)
3/4 c sugar
4 tsp espresso powder
pinch salt
1 tsp vanilla
(If using store bought, you'll need 3 pints)
For the Crust
1 box Enjoy Life Double Chocolate Chip Crispy Cookies
4 tbsp coconut oil
3 tbsp sugar
For the Dairy Free Chocolate Syrup
1/4 c. Hershey's Special Dark Cocoa
1/4 c. sugar
1/4 c. water
1/4 tsp. vanilla
Pinch of salt
To Assemble Mud Pie
2.5 oz package thinly sliced almonds
1 tub So Delicious Coco Whip
Instructions
To make homemade ice cream, combine all ingredients, except vanilla, in a medium pot. Warm on the stove until coconut fat solids melt, and sugar is fully dissolved. Remove from heat and add vanilla.
Transfer to a glass bowl, and allow to cool to room temperature. Chill for 2-3 hours. Then churn in the ice cream maker for 15 minutes. Transfer to a large container to harden in freezer, at least 2-3 hours (or overnight)
To make the crust - First, preheat the oven to 350 degrees. Next, place all Enjoy Life Cookies in a gallon ziploc bag or food processor. If using a bag, seal it, making sure to remove most of the air in the bag. Carefully use a rolling pin, smash cookies until they become fine crumbs. Dump crumbs into a small mixing bowl.
To bowl add 4 tbsp coconut oil (or vegan butter) and sugar. Next, mix thoroughly until combined. Transfer crumb mixture to pie plate. Press mixture firmly against sides and bake in 350 degree oven for 5 minutes.
Once baked, remove the crust for Mud Pie from the oven and allow to cool completely.
Once pie crust is completely cooled, remove ice cream from the freezer and let it soften. Spoon in softened ice cream. If desired, sprinkle with almonds and drizzle with chocolate syrup.
Place the whole pie in the freezer for a few hours (or overnight) to harden.
Once pie is hardened, remove and top with Coco Whip, almonds and chocolate syrup. You can refreeze or serve immediately.
What's your favorite kind of pie? Do you like fruit filled or cream filled? Leave me a note in the comments. 🙂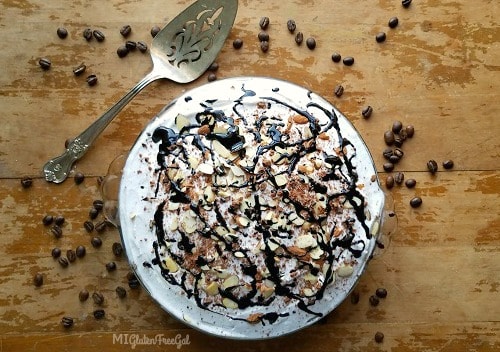 **This remade recipe is not sponsored by any of the brands named within. This post does contain affiliate links. Purchases made through those links help support this blog with no extra expense to you. Thank you for your continued support!**