Chicken Apple Sausage with Cabbage
As an Amazon Associate and member of other affiliate programs, I earn from qualifying purchases.
While you can make this Chicken Apple Sausage with Cabbage with apple juice, it really shines when made with apple cider. This dish is a comfort food you won't soon forget!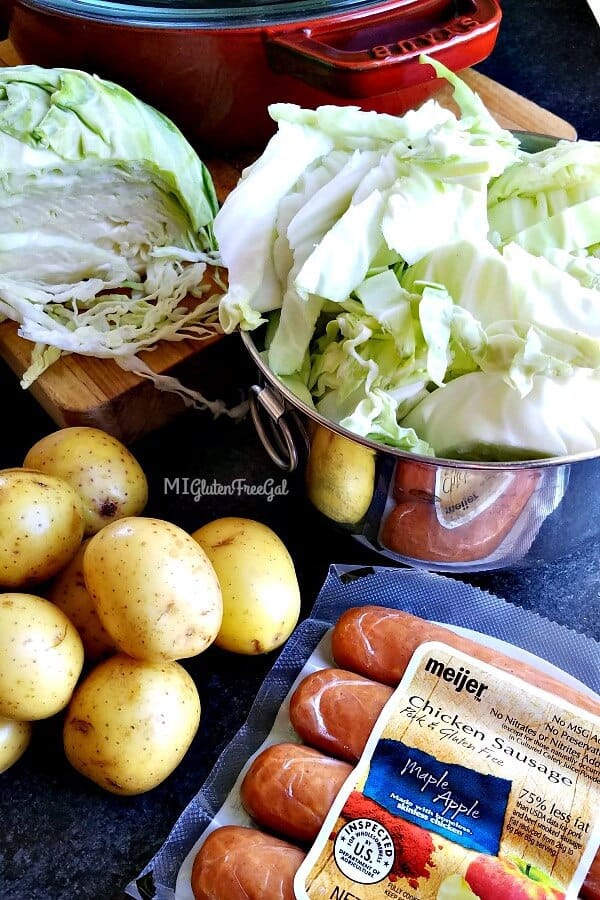 Apple Cider NOT Apple Cider Vinegar
I seem to create some of my most memorable dishes when I have things in the fridge to use up. That's how I originally stumbled upon this favorite dish years ago. A quick search on AllRecipes.com using the ingredients in my fridge returned this Chicken Apple Sausage with Cabbage. I could eat sausage and potatoes any day of the week. Throw in cabbage boiled in apple cider and I'm ALL IN!'
Please note that this is made with fresh apple cider. NOT apple cider vinegar. Someone once mentioned how awful the dish was, because of all the vinegar. I repeat, this is made with fresh apple cider, or apple juice. Not vinegar. Also, I've used Chicken Apple Sausage from Meijer, which is labeled gluten free. I also like Gilbert's Apple Chicken Sausage, as well.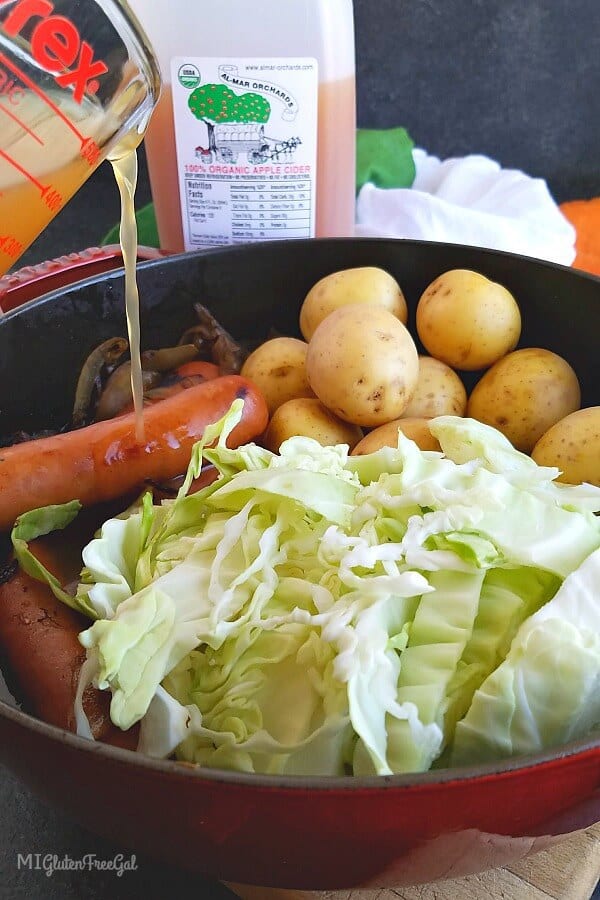 Why I Love Almar Orchards Cider
By the by, I'm not using just ANY apple cider. This Chicken Apple Sausage with Cabbage is drenched in Almar Orchards organic apple cider. While I don't eat organic frequently, I do LOVE this cider. Almar Orchards is the only 100% apple orchard I know of in Michigan. While the cider is great, what I really appreciate is the owner and his staff.
I once had the privilege of interviewing the owner, Jim Koan, for an article I wrote for The Awesome Mitten. I feel like Jim is the equivalent to a modern day Johnny Appleseed. His knowledge about apples, plants and farming is simply AMAZING. Universities complete organic research on his farm that scientific journals publish across the world. And it's all in the back corner of my county. Amazing.
Almar sells more than just cider. They also sell HARD cider! It is so amazingly delicious, and I'm not a big alcohol fan. It is sold under the name JK's Farmhouse Ciders, and they have many varieties. They recently released a Honeycrisp hard cider that is PHENOMENAL.
My favorite flavor is The Pair Perry, created from a blend of pear and apple juices. Almar Orchards also makes a beverage called switchel. Switchel contains no alcohol, although it is fermented. For those who drink apple cider vinegar for health reasons, this might be up your alley. It comes in various flavors, including cherry and berry.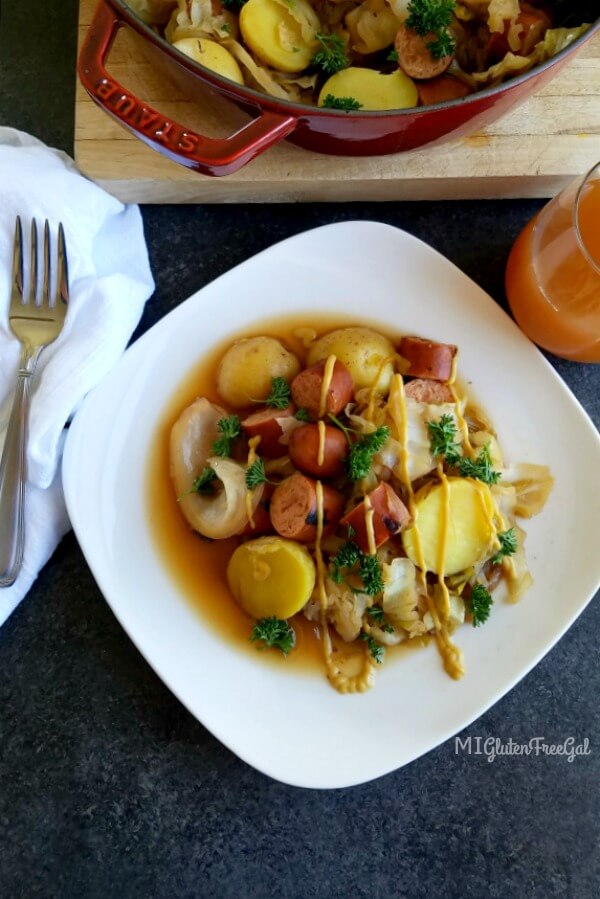 What to Pair with Chicken Apple Sausage and Cabbage
However, let's get back to the food. This dish of Chicken Apple Sausage with Cabbage is perfect with tiny Yukon Gold potatoes. They're just the right size to cook quickly and absorb all that sweet cider. Just a pinch of parsley adds a beautiful color contrast, too.
This hearty dish of Chicken Apple Sausage with Cabbage is filling. It contains plenty of carbohydrates because of the potatoes. Yet, if you want rolls, these Garlic and Onion grain free rolls pair perfectly with them! Thinking about dessert? I highly suggest pairing this dish with an apple based dessert. May I suggest my super easy Gluten-Free French Apple Cake? Better yet, how about my Gluten-Free Applesauce Bundt Cake?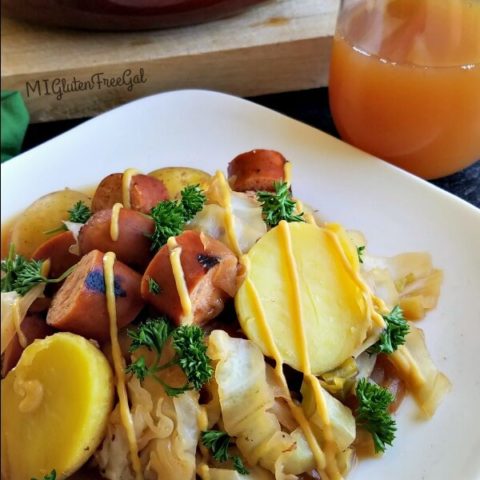 Chicken Apple Sausage with Cabbage
Ingredients
1 1/2 tsp butter
1 tsp olive oil
4 links chicken and apple sausage
1 onion, sliced
1 pinch salt
3 cloves garlic
3 cups apple cider (or apple juice)
1 lb small Yukon potatoes, washed but not peeled
1 1/2 lb green cabbage, finely shredded
salt and pepper to taste
2 tbsp Dijon mustard
2 tbsp chopped fresh parsley
Instructions
Combine butter and olive oil in a Dutch oven over medium heat; add sausages and cook until browned on all sides, 6 to 8 minutes.
Stir onion, pinch of salt, and pinch of pepper in with the sausages. Cook and stir until onions are slightly translucent and caramelized, about 5 minutes.
Stir garlic into sausage mixture; cook and stir for 30 seconds.
Pour apple cider into sausage mixture; increase heat to medium-high and stir in potatoes. Bring to a simmer.
Pour cabbage over top of sausage mixture and reduce heat to medium-low. Cover and simmer until potatoes are tender, 20 to 25 minutes. Remove sausages and potatoes from the Dutch oven and set aside.
Increase heat to high, simmer liquid until thick and reduced by half, about 5 minutes.
Return potatoes and sausages to the Dutch oven and remove from heat. Season with salt and pepper to taste. Garnish with mustard and parsley.
On a side note, please know that this post was not sponsored in any way by Almar Orchards. I simply love to support Michigan businesses who do things right. This post does contain Amazon affiliate links. I do earn a small commission from those sales. However, it does not impact the price of your purchase.