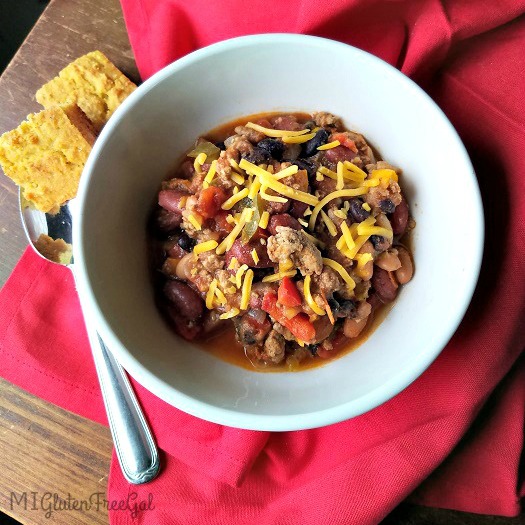 Sometimes there's nothing more comforting than a big bowl of chili. Cold weather, warm weather, on top of hot dogs. I found this recipe for cozy comfort chili in my Curves Complete recipe book. This chili is full of vegetables and fiber-rich beans and under 400 calories. It's become a frequent meal in our house and it will quickly become a favorite of yours.
While we usually prepare this dish for just two servings in our house, I wanted to increase it to feed a crowd. That makes this cozy comfort chili perfect for any party. This chili would be perfect for a Super Bowl crowd, March Madness, or the NBA playoffs. Make a batch of Bette Hagman's cornbread and you'll have a real slam dunk. Not planning any parties soon? Prepare a large batch as directed and freeze portions for meals during the week.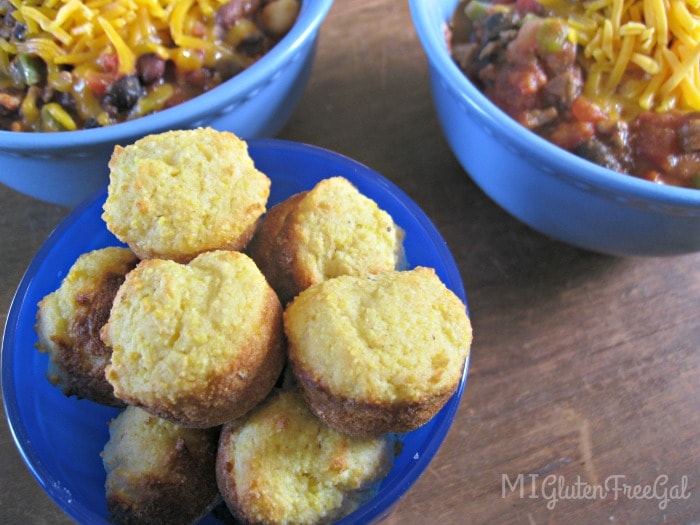 Not a meat eater? No worries. Sub one half cup cooked lentils for every 3 ounces of cooked meat in this cozy comfort chili. It would be a delicious dish for those wanting to add more meatless meals to their culinary repertoire. The great thing about this dish is that it's open to customization. No kidney beans? Sub chickpeas. Don't like spicy? Leave those spices out. (We do!) Like things hot? Spice it up how you like.
Cozy Comfort Chili – Gluten Free and Under 400 Calories
Ingredients
1 1/2 pounds of 93% lean ground beef (or 4 cups cooked lentils)
4 cans of canned beans- mix of black, kidney and pinto beans
3 cans of 14.5 oz diced tomatoes
1-2 8 oz cans of tomato sauce
1/2 each of red, yellow, green and red peppers, diced
1 large onion, diced
3-4 cloves garlic, minced
2 tsp cumin
Instructions
Saute vegetable and spices together in oil. Add meat and cook through. Stir in tomatoes, tomato sauce and beans. Stir together and cook until bubbly. Simmer for as little or as long as you like. Top each bowl with 1/2 oz shredded cheese to keep under 400 calories.
7.6.7
6
http://miglutenfreegal.com/2017/02/01/cozy-comfort-chili/
When's your favorite time to eat chili? What's your favorite seasoning to add? Share your chili commentary!