Twigs Tavern and Grille – Gluten-Free in Rochester, Minnesota
As an Amazon Associate and member of other affiliate programs, I earn from qualifying purchases.
Twigs Tavern and Grille, located in Rochester Minnesota, offers a large assortment of gluten free options. With gluten free meals prepared in a separate kitchen, you'll want to order one of everything from the menu!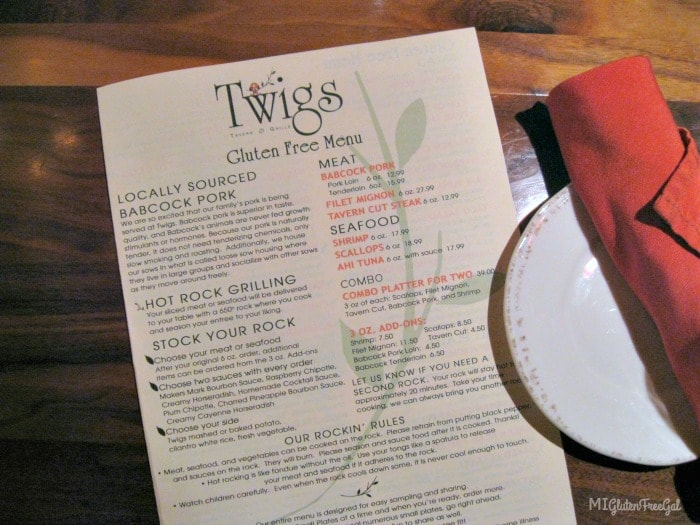 What Gluten Free Options Does Twigs Offer?
Four pages. The gluten-free menu at Twigs Tavern and Grille is FOUR PAGES long! Living on a medically required diet usually comes with restrictions. However, at Twigs Tavern and Grille in Rochester, Minnesota, one can experience amazing culinary freedom. How is this possible? This restaurant boasts the only separate, dedicated gluten-free kitchen in the city!
So how does a Michigan girl end up in a Minnesota restaurant? Rochester was one of the stops on our epic road trip from the Great Lakes State to Sioux Falls, South Dakota. As we planned our route, a lady in a gluten-free Facebook group mentioned the awesomeness that is Twigs Tavern and Grille. So I sent the staff an email inquiring about visiting their restaurant, wanting to know more about their gluten-free story.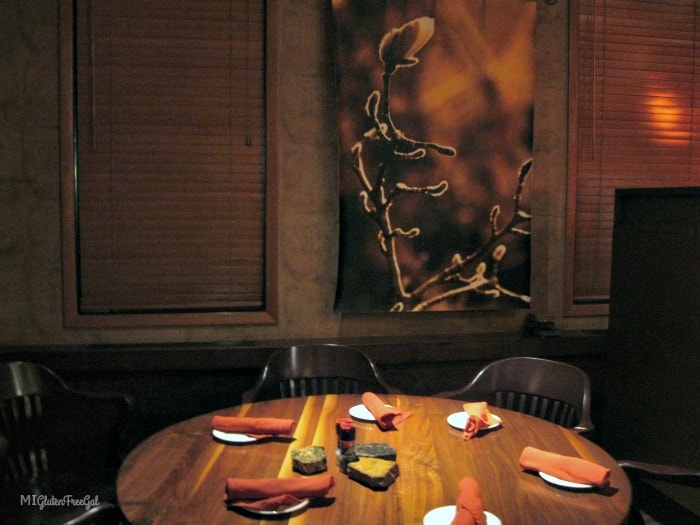 Why Did Twigs Tavern and Grille Set Up a Separate Gluten Free Kitchen?
What a story it is! Imagine that you are the lead recipe developer for a restaurant. Then imagine that you receive a Celiac Disease diagnosis. This is exactly what happened to the owner of Twigs Tavern and Grille, Michelle Salz, in 2010. Not only did it turn her own life upside down, it presented a problem for her business.
However, she turned adversity into ingenuity. The restaurant reinvented their cooking procedures. They created a separate gluten-free kitchen, complete with refrigerator, prep area, utensils, cookware and appliances. Gluten-Free guests even get fresh salt and pepper shakers.
How are Twigs Staff Trained about Dietary Restrictions?
Michelle completely retrained her staff in the proper use of cooking and handling foods for those with special diets. Front of house staff now automatically ask incoming guests if they needed a gluten-free menu. Gluten-free guests receive menus that look different from regular menus, which immediately alerts the server to the dietary needs of the diner. Gluten-free meals are served with picks that denote that it is a gluten-free dish.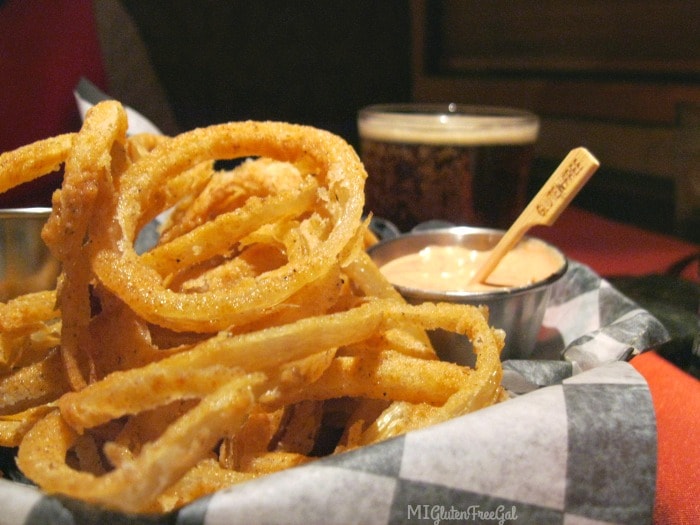 What Did You Order?
And what an amazing variety of meals they offer! After we were seated, it literally took me forever to figure out what to order. Our waitress highly recommended the onion ring frittis, so we started with those as an appetizer. They had everything from steak cooked on a hot rock, to fish tacos to shrimp on zucchini noodles.
I debated between getting their award winning Parmesan Polenta, the Applewood Smoked Meatloaf, and even the Tomato Trio with Crispy Risotto Cake. Finally, my curry loving self settled on the Country Captain Chicken. My husband ordered the Old English Fish and Chips, and we also ordered a small plate of the Twigs Tavern and Grille award winning gluten-free butternut squash ravioli.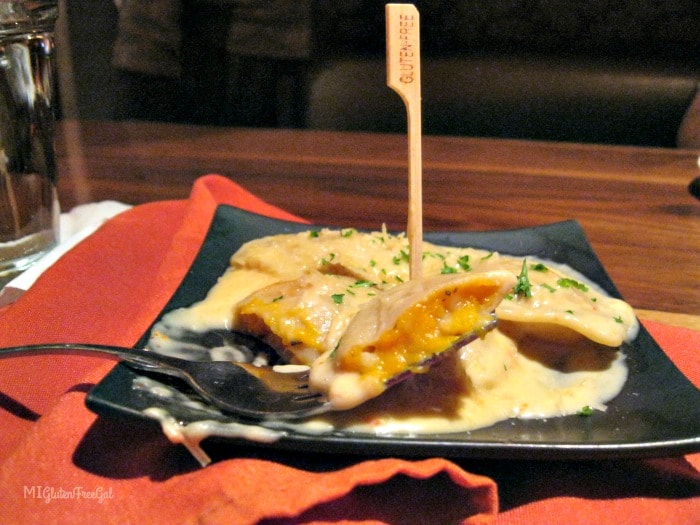 The Best Gluten Free Ravioli I've Ever Eaten
What a treat! First off, let me wax poetic about their ravioli. The pasts is tender and pillowy, not tough like some gluten-free pastas. The butternut squash filling was beyond stellar. It was adorned with a sun-dried tomato and garlic cream sauce so good I wanted to lick the plate. (As this is a finer dining restaurant, I restrained myself.) Seriously, the ravioli left me speechless. One can order this ravioli as a small plate, or as a full dinner entree.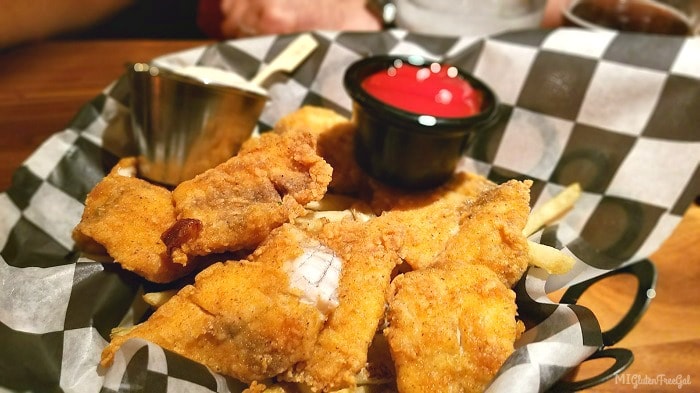 Does Twigs Tavern and Grille Offer Gluten Free Beer?
Since I stuffed myself with the majority of the ravioli, my husband enjoyed the onion ring frittis. In addition to the appetizer, he also ordered a Burning Brothers "Roasted" Coffee Ale. Like Alt Brew, Burning Brothers is a 100% gluten-free brewery. Burning Brother Brewing is located in St. Paul, about an hour and a half north of Twigs Tavern and Grille.
My husband commented that it was the second best coffee beer he's ever tasted. Not just second best gluten-free beer. My husband, who doesn't have to eat gluten-free, rated this higher than some regular gluten containing beers. That's quite a compliment! It paired well with the onion ring frittis and his fish and chips. His exact review of the fish was one word – "awesome."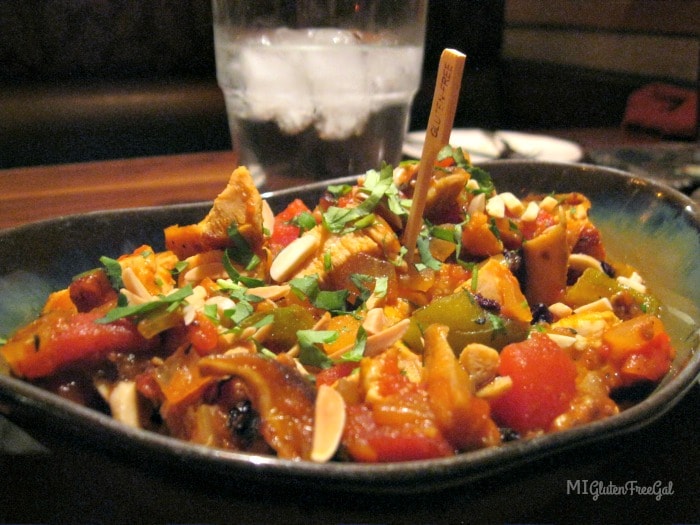 Do They Offer Gluten Free Dessert? Do They Have Vegan Options?
While the Country Captain Chicken stated it came in a curry sauce, it tasted more like a paella to me. Which I LOVE! This dish comes adorned with pan seared chicken, and loaded with a great assortment of roasted vegetables. What really makes the dish pop is the currants and toasted almonds, making a great balance of savory and sweet. As full as I was from the onion ring frittis and the ravioli, I wanted to eat every last bite of that dish.
Finally, our waitress came by with the dessert tray. Out the six desserts they offered that night, FIVE of them were gluten-free! Have you ever heard of such a thing?! Due to our full bellies, we regretfully passed on dessert. (Kicking myself. I should have asked to take one to go!) What even impressed me more is that they attempting to make vegan gluten-free desserts as well. I love that this restaurant is so accommodating to those with multiple food restrictions.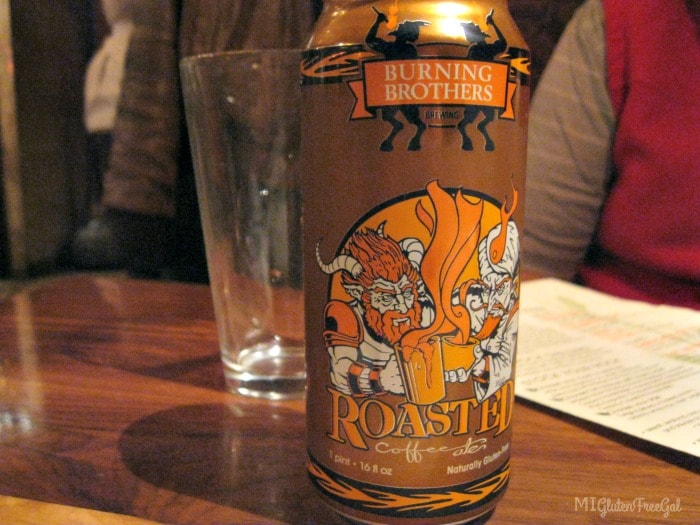 In Conclusion
If I had any complaints about our time at Twigs Tavern and Grille, it would be that the fried food seemed a tad soggy. Maybe they simply need to up the temperature on the fryer. In addition, please make sure when ordering the Burning Brothers Coffee Ale that you know it comes in tall cans.
Our waitress accidentally brought us a non-gf beer at first. I immediately noticed the difference as the beer she first brought came in a regular sized can. Mistakes happen even in the best of places during a busy dinner service. Overall, we had a great dinner and the staff provided excellent service. In conclusion, I highly recommend this restaurant to anyone!
Twigs Tavern and Grille graciously offered my husband and I both a free meal in return for an honest review. (We did pay for the alcohol and remembered to tip well!) All of my thoughts and opinions are completely my own, and I would highly recommend this place to anyone!
Twigs Tavern and Grille
401 6th Street, Southwest
Rochester, Minnesota 55902
(inside the Centerstone Plaza Hotel)
507-288-02026
Webpage | Facebook | Twitter | Instagram
Have you dined at Twigs? What is your favorite dish? Are there other locations visitors should check out while in Rochester? We had a great cup of coffee at Cafe Steam!
Twigs Tavern and Grills is one of many restaurants I've visited. Find more dining suggesions in my Michigan gluten free dining post. Please remember to always ask any restaurant about their food preparation practices. I was not paid or compensated in any way for this meal.