A Sioux Falls Gluten-Free Adventure
As an Amazon Associate and member of other affiliate programs, I earn from qualifying purchases.
Traveling to South Dakota? In 2017, my husband and I traveled cross country, in a Uhaul, to help our friends move. In this post, I share about the food I took with me, and the places we ate along the way.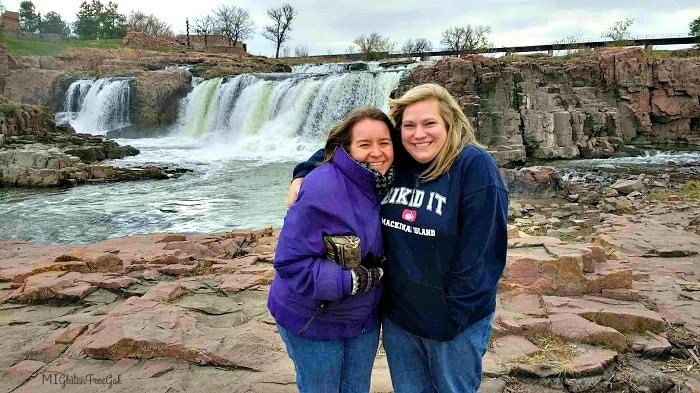 There's so much beauty in this photo. There's the visual beauty of the Falls for which the city Sioux Falls gets its name. Then there's the beauty of a deep friendship of the two women pictured. We share a decade of smiles, hugs, tears, laughter and so much more.
My husband and I recently drove a 20 ft Uhaul, loaded with our friend's possessions and treasures, 800+ miles from Michigan to Sioux Falls, South Dakota. Traveling with a food restriction makes travel a bit tricky sometimes, but it should never stop you from enjoying life and spending time with those you love. Today I'm sharing some of my travel tips and finds from our recent Sioux Falls Gluten-Free adventure.
BYOB and Other Assorted Foods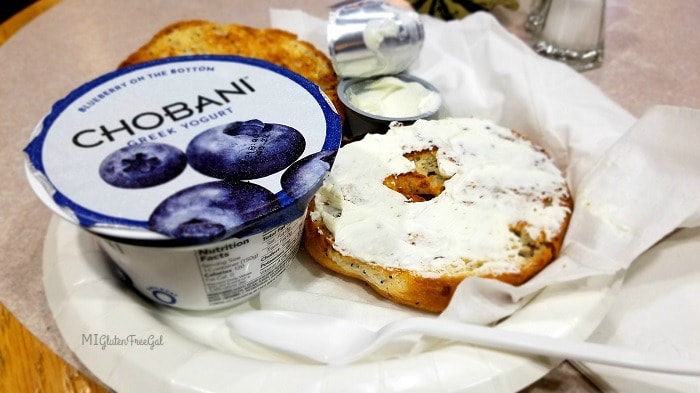 BYOB. Bring Your Own Bagel. When traveling anywhere, I highly suggest bringing your own stash of food. When we set out for our Sioux Falls gluten-free adventure, we did so with a cooler packed with food and a bag of groceries. I even brought my own toaster, along with Udi's Everything bagels. This way I knew that regardless of where we stayed, I could easily eat breakfast.
It would take a while for our friends to set up their kitchen, so I also brought a heavy duty large mug. I used it to microwave hot cereal for breakfast. I also used it to make Annie's gluten-free macaroni and cheese. In addition, I made sure to bring along a small plastic bag with a dish cloth and dish soap. I also brought along easy meals I premade at home, such as a pasta salad and calzones. Because of this, I made sure each hotel room we stayed in contained a microwave and refrigerator.
Hotel Fare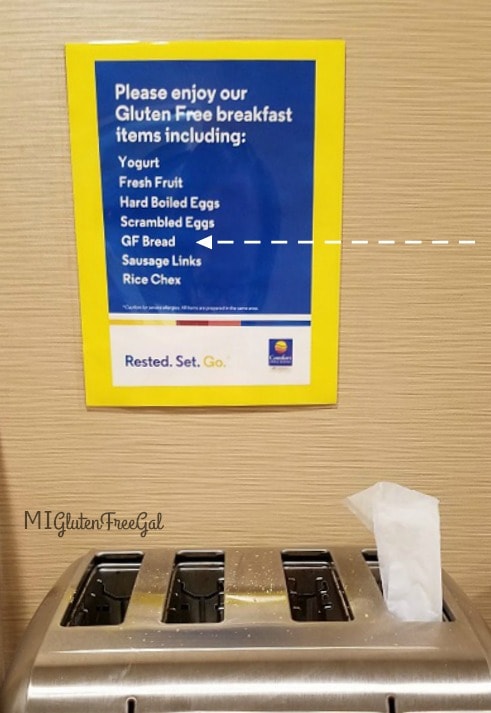 We stayed at Comfort Inn hotels throughout our entire trip. Each hotel had eggs for breakfast each morning, either hard boiled or scrambled. They also had Greek yogurt and fresh fruit, which we made sure to load up on. I was the most impressed with the Sioux Falls location.
Do you see the sign above this toaster? It says GF bread! Of course, I didn't notice this until our last day there. They stock Schar Artisan white bread that they keep in the freezer, and will thaw for you upon request. My last morning there I used one of my Toaster Bags in their toaster. These non-flammable, reusable bags allow you to put your gluten-free bread in any toaster and prevent cross-contact with crumbs from other breads. You can use them to make grilled cheese in your toaster too!
Pizza Ranch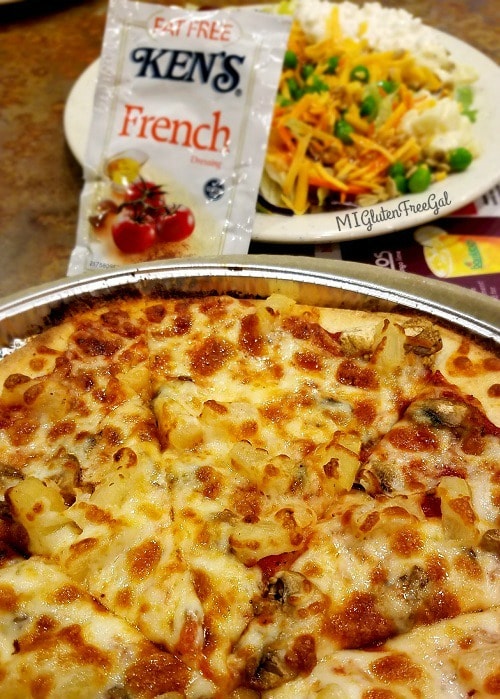 Of course, the most intriguing part of our Sioux Falls gluten-free adventure involves eating out. Prior to leaving, I made sure to do my research. One of the restaurants listed on the Find Me Gluten Free app was Pizza Ranch. This pizza buffet chain dots the midwest landscape, with locations existing in the greater Grand Rapids area all the way to South Dakota.
They assured me that all gluten-free pizzas were made in their own prep space, with their own dedicated toppings. Pizzas were made in their own pans and served with their own utensils. While it is possible to have one made and placed on the buffet, they brought mine directly to our table.
The Pizza Ranch location we visited had an extensive salad bar, and the staff provided me a gluten-free menu to see which dressings and sides were gluten-free. They served Ken's individual salad dressing packets, which provided less chance of cross-contact. I felt fine after eating there Monday night, so now I'm tempted to check out the locations in Michigan. The staff said that the gluten-free protocols should be available nationwide.
The Original Pancake House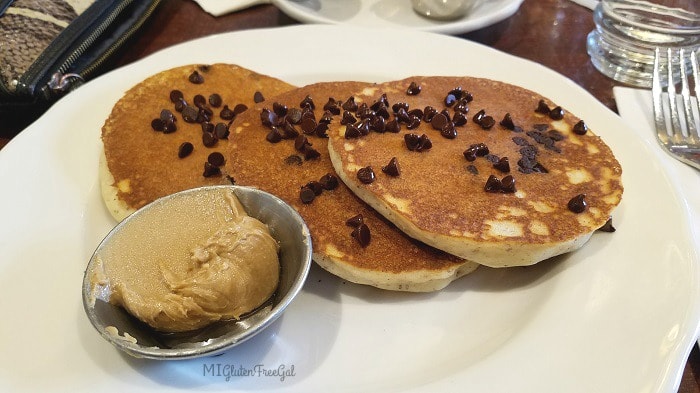 Next on our Sioux Falls gluten-free culinary adventure, The Original Pancake House. When this location was first suggested to me by others, I admit my hesitation to believe them. However, I called the restaurant and felt pleasantly surprised to learn they cook gluten-free items on a dedicated griddle. Any flavor of pancakes or omelettes were open to me. When we stopped for lunch with our friends, I eagerly ordered the chocolate chip pancakes with a side of peanut butter. Pancakes also come with maple syrup, chocolate syrup and fresh whipped cream.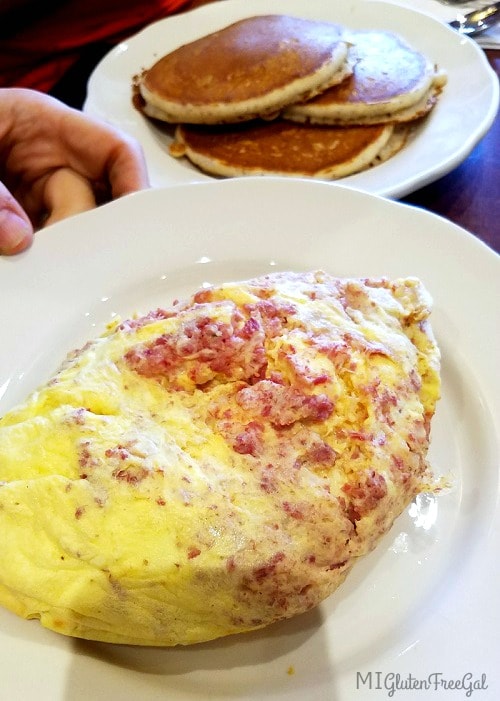 However, my husband's breakfast really impressed me! While the picture may not be a show stopper, the food definitely was! He ordered the Souffle Irish Omelette. Loaded with "homemade corned beef hash and aged cheddar," it blew my mind. Seriously, this omelette it the size of your head, and comes with 3 pancakes, all available gluten-free. I was also impressed with the care of the staff as we explained my husband's pork intolerance. They took care to make sure to not cook his omelette where bacon or other forms of pork had been.
Culver's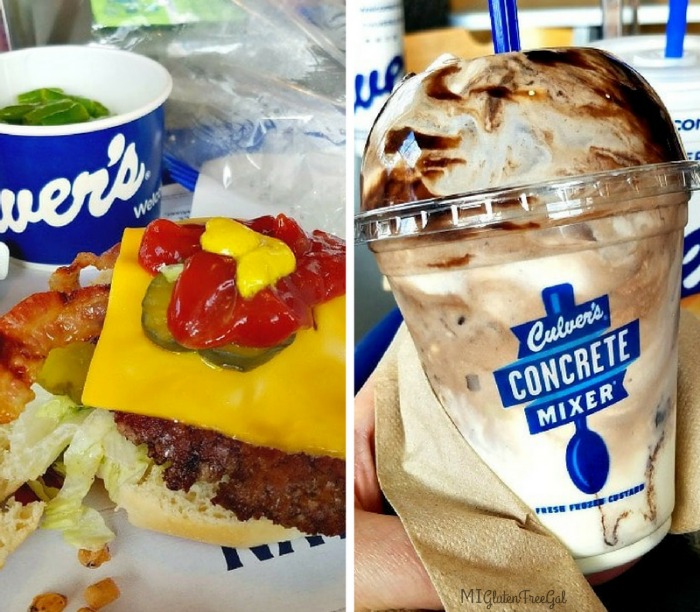 Culver's isn't really a new Sioux Falls gluten-free find. In fact, I've written about Culver's and their individually wrapped gluten-free buns before on my blog. However, it does make for a quick and safe meal where everyone can find something that they love. Especially Levi, our friends' middle child, who has a love affair with green beans. I love them too, which is good because the fries at Culver's are not gluten-free. (They use a shared fryer.)
However, the custard at Culver's IS gluten-free, and suitable for one of their Concrete Mixers. Instead of having them use the machine to blend mine, they layered my Andes Mint Chips in the ice cream and gave it a few pumps of chocolate sauce. Then I simply used my own spoon to stir it all up. (The Andes Mint Chips are made in a dedicated gluten-free and nut-free facility, and are perfect in these gluten-free triple mint brownies!)
Culver's is one of only a handful of fast food establishments where I feel safe eating. Other safe finds for me include Wendy's chili and baked potatoes, Chick-Fil-A grilled nuggets and fries, and BiBiBop Asian Grill which is 100% gluten free. One can also safely get fries at Five Guys, as they do not have a shared fryer.
Coffee, Coffee and More Coffee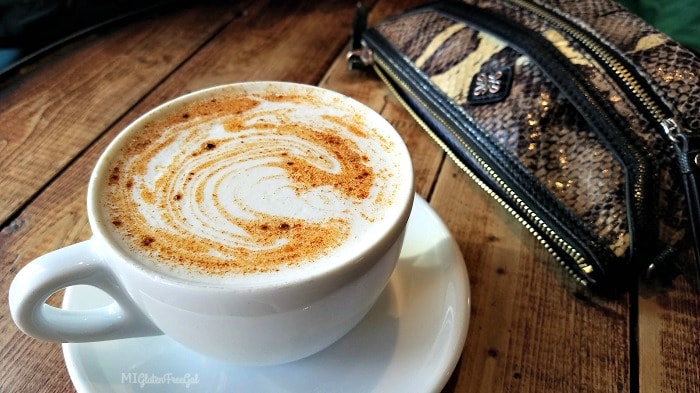 Obviously safe food is paramount for me when traveling. My husband is gracious to allow us to try new restaurants based on my needs wherever we go. In return, I try to make sure he experiences his favorite thing: coffee. So while on our Sioux Falls gluten-free expedition, we made sure to visit unique coffee shops on our trip.
In Sioux Falls we stopped at Coffea Roasterie. This third wave coffee house roasts their own beans and makes their own syrups and concentrates. Coffee and I don't like each other, so I enjoyed a chai tea latte. If you're dairy-free, you can also get it made with soy or almond milk.
Hy-Vee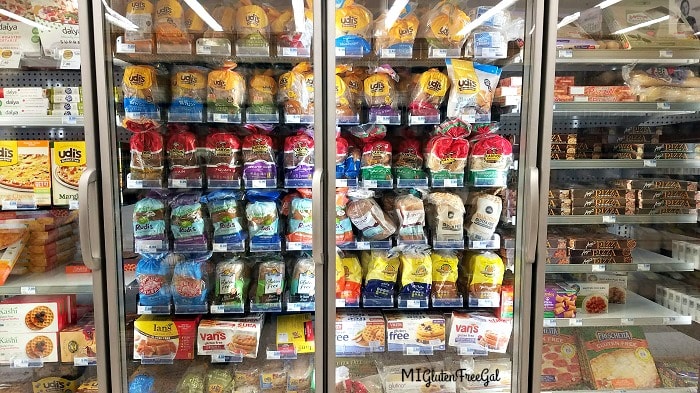 When attending multiple gluten-free food shows, people always rave about Hy-Vee. While Hy-Vee is not a restaurant, it was definitely a "must visit" for me during our Sioux Falls gluten-free adventure. Hy-Vee staffs almost every store with an actual dietitian, which is practically unheard of today.
I spoke to one as I tried to find the Heart of The City Bakery gluten-free baked goods, which are from a local dedicated gluten-free baker. She was so nice and generous with her time. Beyond that, the gluten-free selection at this Hy-Vee was amazing. Two whole freezer doors full of gluten-free bread?! You'll find that and so much more, including Michigan-made Full Flavor Foods sauce mixes. If your travels put you near a Hy-Vee, stop just for the fun of it.
Other Gluten Free Bakery Options
Since our travels, a new gluten free bakery has opened in Sioux Falls. Sinless Sweets is a dedicated gluten free and vegan bakery. There you'll find delicious gluten free pastries like apple turnovers, Cookies + Cream Cheesecake, layered cakes and more. Another new business is Gluten Free, Please, which sells gluten free mixes. They are made in a gluten free and peanut free facility, and are gluten free, soy free, dairy free, nut free and yeast free. Find them at local farmers markets.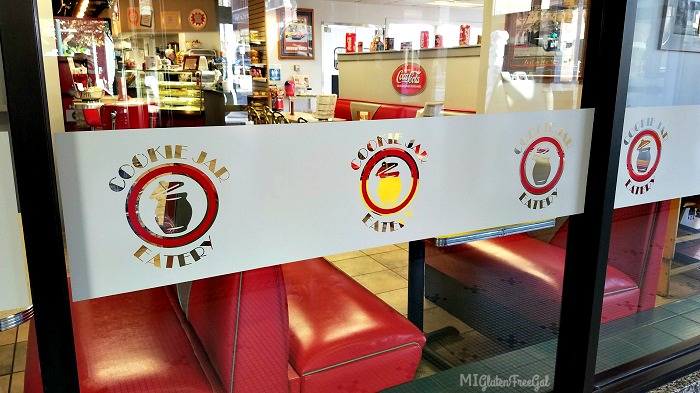 Honorable Mentions
Our trip focused mainly on our time with friends, so we didn't have an extensive amount of time to eat out. We spent a morning wandering downtown, and stepped into The Cookie Jar Eatery. The Find Me Gluten Free app stated that they have gluten-free baked goods.
I briefly talked to the baker on duty and they explained that gluten-free baking takes place on a dedicated day after they have extensively cleaned everything. They also test all of their gluten-free baked goods to make sure they meet the definition of under 20 PPM. Not being a dedicated gluten-free facility, you would have to decide on your own level of safety. However, it may be worth a stop while on your own Sioux Falls gluten-free escapade.
Other Gluten Free Dining Options in Sioux Falls, SD
The Sioux Falls Visitors Bureau also suggested the following places, although I have not contacted them to verify their preparation methods.
Sanaa's, Minerva's, Phillips Ave. Diner, Camilles's, and MacKenzie River Pizza
Other Gluten Free Eateries We Visited During Our Travels
On our way to Sioux Falls, we also stopped at Alt Brew in Madison, Wisconsin. This dedicated gluten free brewery has wonderful beer and a great atmosphere. We also stopped at Twigs Tavern and Grille in Rochester, Minnesota. This amazing restaurant has a separate gluten free kitchen, and a FOUR page gluten free menu. Including ravioli and dessert!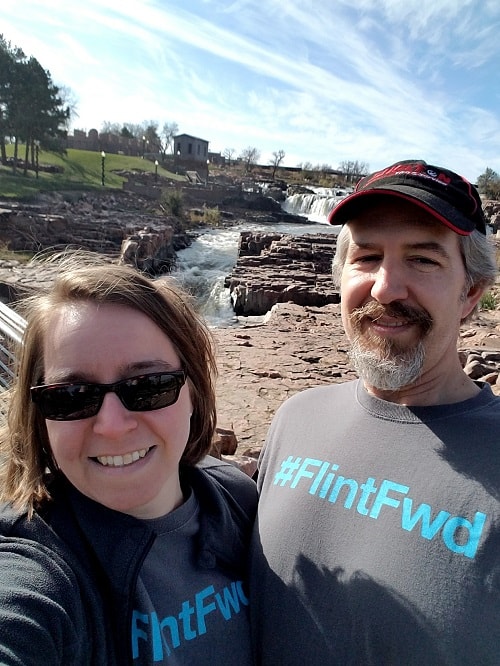 So thus ends our South Dakota gluten-free adventure. Now we're back home, fighting the good fight in Flint. Now Sioux Falls gains a family, fighting for grace, love and mercy in their community. From Michigan to South Dakota, may we all come to know how loved we are. And may we be the ones brave enough to love others with abandon, showing them the beauty they hold within.
I was not paid or compensated in any way by the businesses mentioned on this list. All thoughts and opinions are my own.
Have you been to Sioux Falls? What gluten-free finds have you experienced there? What are your tips for traveling with Celiac Disease? Leave me a note in the comments below!