Gluten-Free Sweet Potato Gnocchi
As an Amazon Associate and member of other affiliate programs, I earn from qualifying purchases.
Thank goodness potatoes are gluten free. I will eat them mashed, baked, roasted or fried. They're also the foundation of some amazing dishes, like this gluten free sweet potato gnocchi. It only requires 7 ingredients, and it's so easy to make!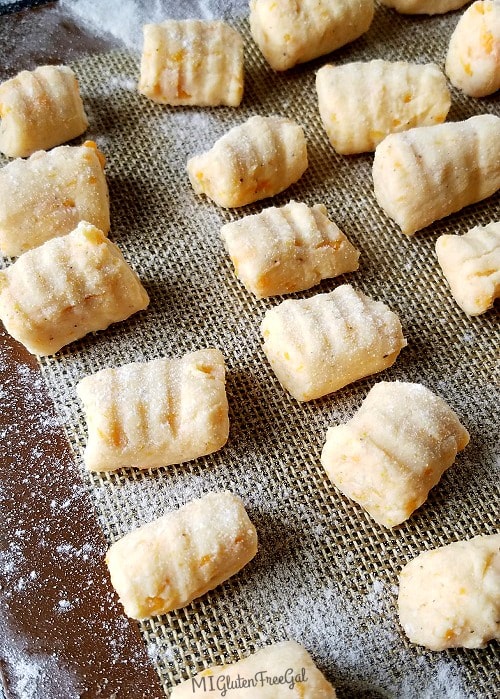 What is Gnocchi?
If gluten-free gnocchi is delicious, gluten-free sweet potato gnocchi is divine. "What's gnocchi" you ask? I think of them as pillowy soft, grown-up tater tots. Technically, gnocchi is a pasta. While made with potato, it also contains flour. I first made this with a blend I received in a Savorfulll box years ago. This time, I'm making it with Cup 4 Cup flour.
I did not create this recipe on my own. I have recently fallen in love with the non-gluten free website, Dessert for Two. Don't be dissuaded by the title. It contains more than dessert recipes. For example, author Christina Lane has a recipe for Pumpkin Gnocchi. If one can swap potatoes for pumpkin in pie, one can surely do so in gnocchi! Which is exactly what I did.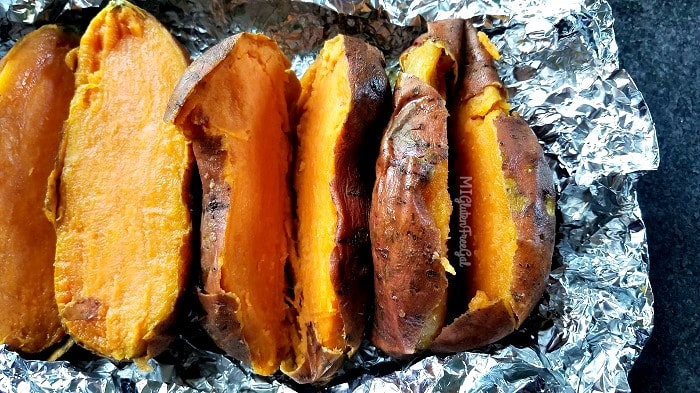 How Do I Prepare the Sweet Potatoes?
The night before I planned to recreate my gluten free sweet potato gnocchi, I wrapped my sweet potatoes in foil and baked them in the oven. Probably at 350 degrees. Probably for 30 minutes. I'm terrible at remembering some of these things. Sorry. I'm sure you can do a Google search for how to make sweet potatoes and find a myriad of answers. To keep my sweet potatoes moist, I cooled them and stored them in previously mentioned foil. Why clean more dishes than you need to, am I right?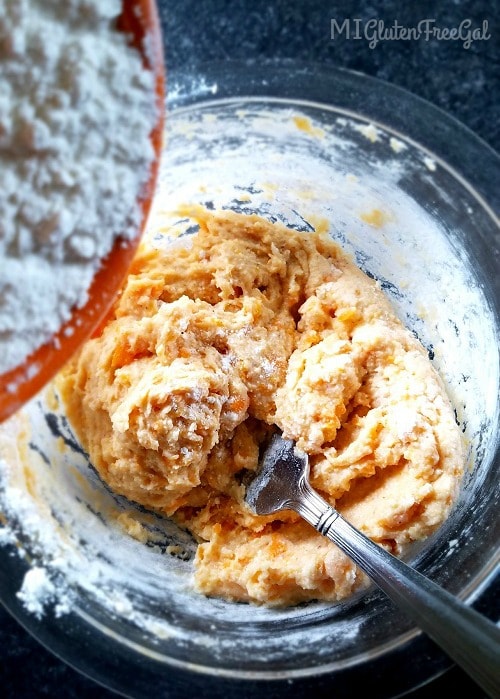 Secret Ingredient? Ricotta Cheese
Standard gnocchi contains potato, flour and egg. However, Dessert for Two's Christina Lane also uses Ricotta cheese. In addition to the egg in the recipe, it helps the dough hold together. It rolled so incredibly well. It required very little extra flour for rolling. Which if we're honest, is one other reason gnocchi is great. It's like reliving your childhood days of playing with Play-Doh. Except these are made with wheat-free ingredients and you actually get to eat it when you're done.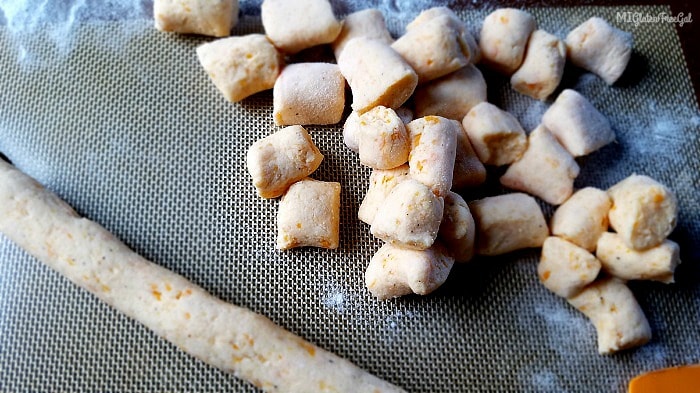 How Do You Shape Fresh Gluten Free Gnocchi?
Roll gluten-free sweet potato gnocchi dough into 3/4 inch snakes, cut them into 3/4 inch pieces, and then roll them down the back side of a fork. That creates the really cool grooves that you find in traditional gnocchi. Thanks Lidia Bostianich for that tip!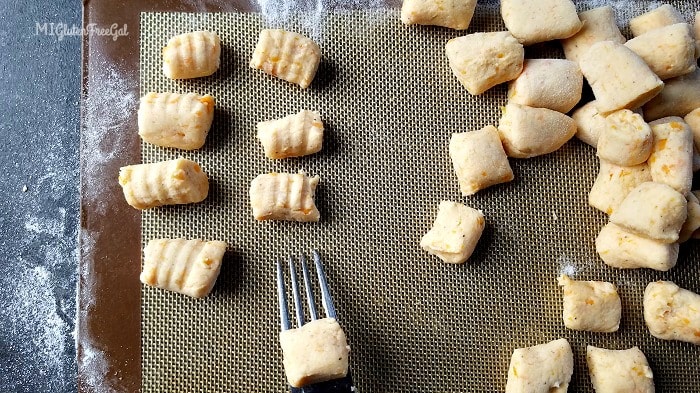 How Do You Cook Gluten Free Sweet Potato Gnocchi?
The directions from Lane's original recipe instruct you to cook / fry these in melted butter. I did. And they were everything I longed for. Soft. Decadent. And totally worth keeping ALL to myself. (I did end up sharing. Because my husband has an adorable smile. He's lucky.)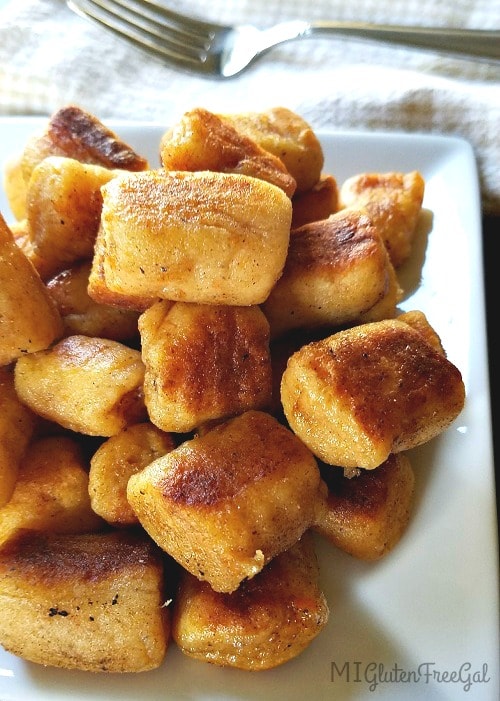 Can I Freeze This Gnocchi?
You can also boil these in water. When I originally made these gluten-free sweet potato gnocchi years ago, we then froze them on a cookie sheet. We did this because it wouldn't be served until the next day at my aunt's house. When it was time to cook them, I cooked them in straight chicken broth. No prior thawing, and no diluting with water.
I wasn't very exact on the cooking times. I just cooked them until I thought they were done. (Traditionally you cook them until they rise to the surface.) They tasted fantastic and my uncle even had seconds. They were a great compliment to the roasted Cornish game hens and wild rice stuffing of our Christmas dinner. These gluten-free sweet potato gnocchi would be great for Thanksgiving too! Click here to get other Thanksgiving menu ideas, from A to Z!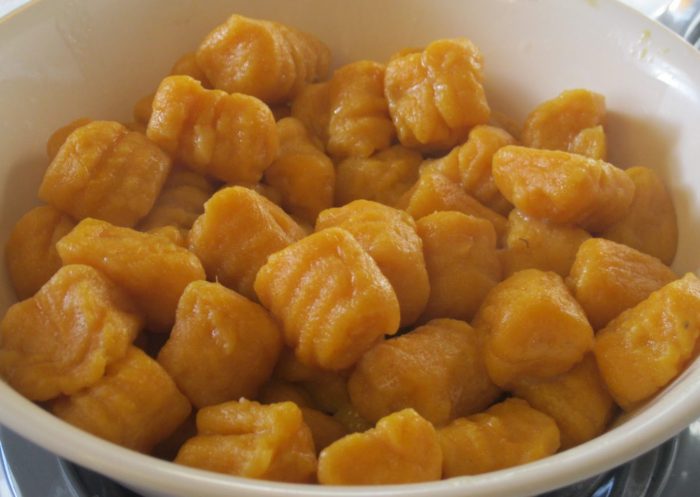 Have you ever made sweet potato gnocchi? What recipe do you follow? What are some of your favorite dishes to make for Christmas? Leave me a note below!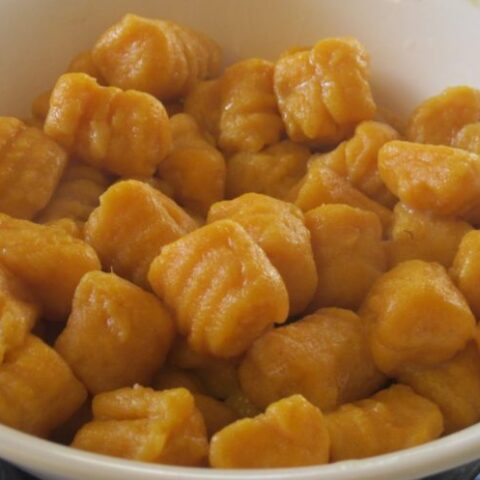 Gluten Free Sweet Potato Gnocchi
Ingredients
4 oz ricotta cheese
1/3 c cooked and mashed sweet potatoes
1 tsp minced garlic
3/4 tsp salt
1/2 tsp pepper
1 egg
1 c Cup 4 Cup gluten-free flour
Instructions
Preheat the oven to 350. Roast sweet potatoes, whole, for 30-45 minutes. Store in foil and allow to cool overnight in the fridge.
Prepare the gnocchi dough. Combine all ingredients EXCEPT for the flour. Christina Lane says to do this to prevent the formation of gluten. Which won't theoretically happen due to the use of gluten-free flour, but let's follow directions for the sake of matter.
After the "wet" items have been thoroughly blended together, slowly add the flour. Mix together until just combined.
Flour a board (or I use a Silpat) and dump dough onto a floured surface. I find it best to divide the dough in half or thirds. This makes it easier to roll and cut.
Roll dough into long strips. (Let's be honest childhood friends, we're making edible dough snakes here.) Cut into 3/4 to 1 inch portions.
Melt butter in a skillet. Cook gluten-free sweet potato gnocchi in melted butter in batches. Cook 2-3 minutes on one side, then flip and repeat. Allow to drain on a paper towel.
Alternate cooking method - Bring water or broth to boil and drop gnocchi in liquid. Cook approximately 3 minutes or until gnocchi floats to top.
**This post is not sponsored by the brands mentioned in this post. However, this post does contain affiliate links.
Purchases made through those links help support this blog with no extra expense to you. Thank you for your continued support!**