Gluten-Free Coconut Crusted Chicken Breasts
As an Amazon Associate and member of other affiliate programs, I earn from qualifying purchases.
There's more than one way to bread a chicken breast. The touch of sweetness from dried coconut makes these gluten free coconut crusted chicken breasts a new favorite meal idea. I promise, even your kids will love it!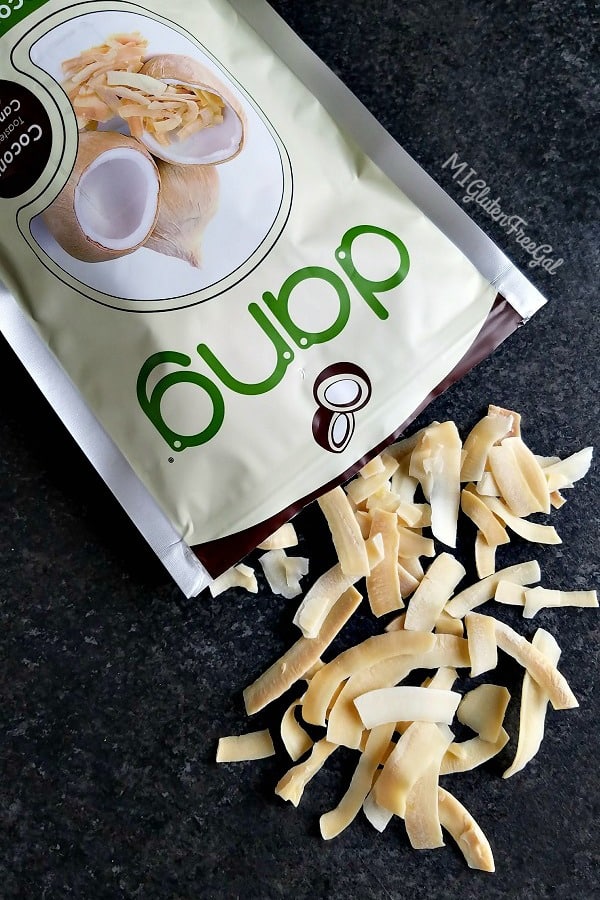 Dang Foods Coconut Chips
When I first wrote about this gluten-free coconut crusted chicken recipe in 2013, I titled it "Some Dang Good Chicken." It was a play on words, because I just discovered Dang Foods original coconut chips. At that time there were a new company, and the latest craze. Fast forward four years and Dang Foods are more readily available and involve more than just coconut!
When I recently scored a bag of the original coconut chips on clearance, I knew it was time to remake this recipe. I imagine they were on sale due to a new packaging change. When searching them out in the store, they now have bright packaging with a large coconut drawn on the front. Just letting you know in case you've never tried them. And if you haven't, you need to. They'll TOTALLY blow your mind. Anyway, back to my gluten free coconut crusted chicken.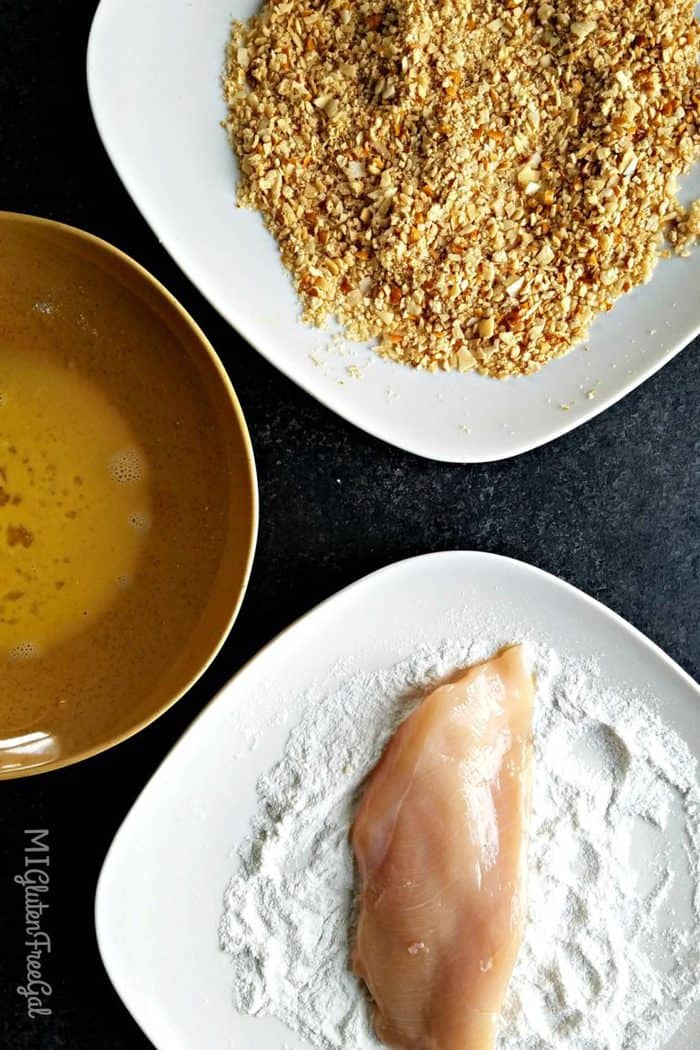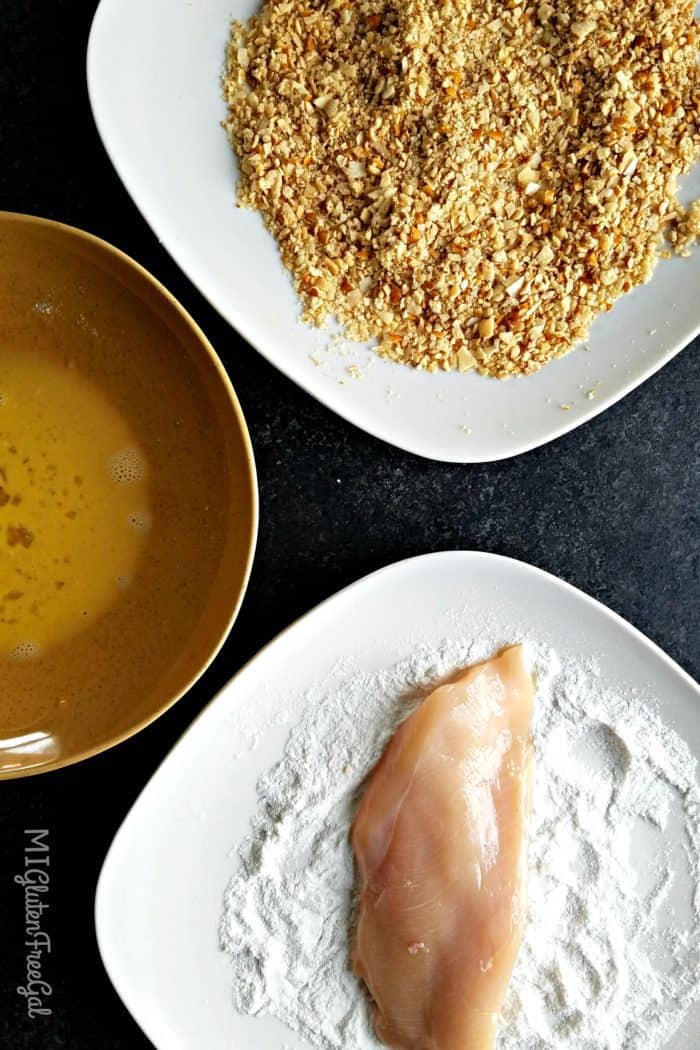 Tips on Breading Chicken
There are many recipes on the internet for chicken coated in coconut. However, mine is different because they use flaked coconut. However, I use ground Dang Foods coconut chips. Totally different, right? Of all the recipes on the 'net, I felt this recipe for Baked Coconut Crusted Chicken Tenders was a good starting point.
Andie used chicken tenders, I used chicken breast. (The first time I tried this gluten free coconut crusted chicken I used chicken thighs. Those retain more moisture, and may be better for this recipe. Your choice.) I did however use her method for breading the chicken. (Which I used to make mozzarella sticks!) I use Bob's Red Mill White Rice Flour for the first step, then dipped it in egg, then coated it in the coconut crumb mixture.
Other Ingredients in my Gluten Free Coconut Crusted Chicken
Now, these gluten-free coconut crusted chicken breasts aren't coated in coconut chip crumbs alone. Andie's recipe called for additional bread crumbs. However, I had leftover pretzel crumbs from my White Chocolate Chip Cookie Pretzel Bark I needed to use. You know me, waste not – want not, right? (You could use Aleia's gluten free bread crumbs, instead.)
So I combined the pretzel crumbs with the coconut chip crumbs. You could use bread crumbs or cracker crumbs or probably even crushed Rice Chex if you want. You could probably even be crazy bold and do ALL crushed coconut chip crumbs. If you do, let me know. I like people who also live on the wild side, lol.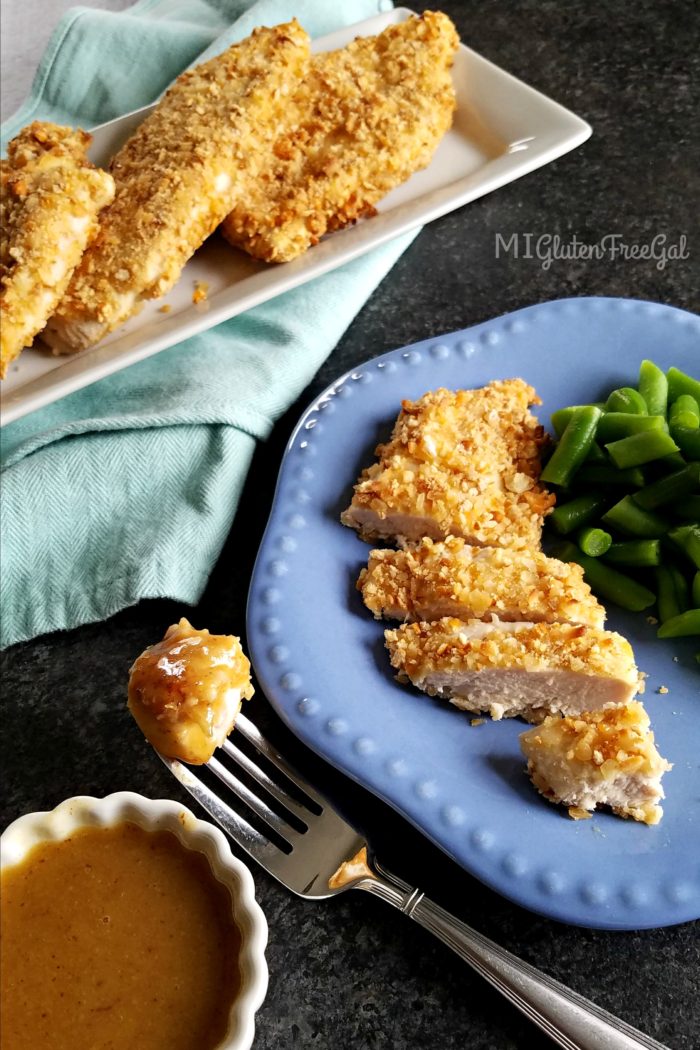 How Long Do I Bake This Chicken?
I baked the chicken for 20 minutes at 400 degrees, per Andie's website recommendations. However, it was a tad overcooked. Therefore, I'm going to suggest baking it a lower temperature, say 350 degrees. While looking at Pinterest for similar recipes, they all suggested serving it with a honey mustard sauce. Dozens of people can't be wrong, so I made some. SO GLAD I DID! It was totally the perfect pairing to this dish. Of course, I can't remember which recipe I followed. Typical. Feel free to make your own favorite recipe.
There you have it. A simple, delicious way to jazz up boring chicken breasts. You should totally put this on your meal plan for this week. Not a fan of coconut? Try this One Pan Cranberry Balsalmic Roasted Chicken from Cotter Crunch. That dish has me drooling too! Loving the idea of gluten-free pretzels as a coating? Then try this recipe for gluten free pretzel chicken with honey mustard from Flippin' Delicious. No need for boring chicken ever again!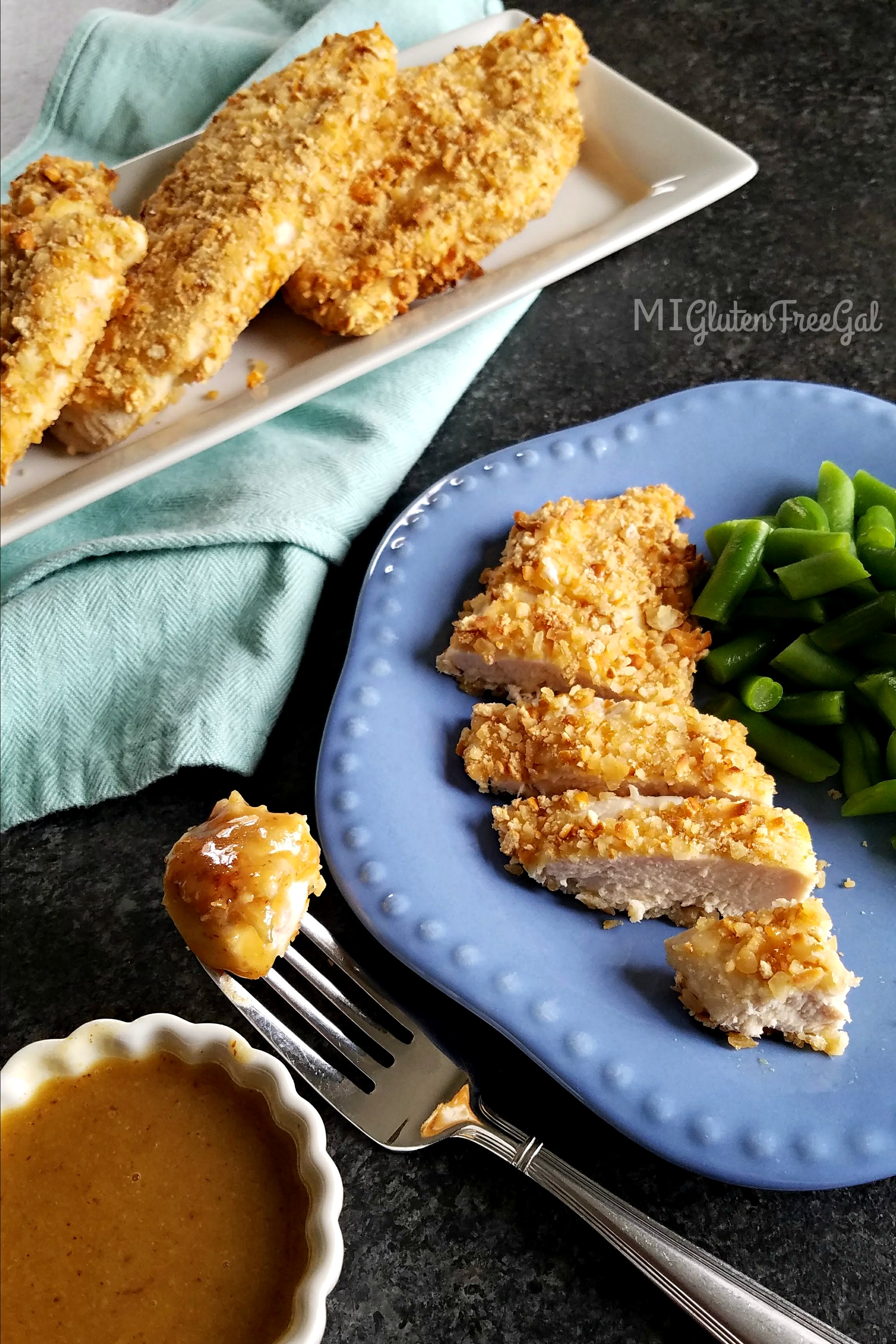 Gluten-Free Coconut Crusted Chicken Breasts
Ingredients
1 lb boneless skinless chicken breasts, cut to make 4 thin filets
1 egg, beaten
2 oz Dang coconut chips, crushed into crumbs
1 oz cracker or pretzel crumbs
white rice flour for dredging
honey mustard sauce for dipping
Instructions
Preheat oven to 350*. Line a cookie sheet with aluminum foil.
In a food processor, combine Dang Coconut chips and crackers (or pretzels) and pulse until broken down into crumbs. Place in a shallow, wide bowl and set aside.
Butterfly and cut 2 large chicken breasts in half to make 4 filets.
Dredge chicken filets in white flour, then dip in egg so that the whole filet is covered. Finally, dip in the coconut and cracker crumb mixture. Lay coated chicken breast filet on aluminum-lined sheet.
Bake at 350* for 20 minutes or until a meat thermometer reads 165 degrees.
What's your favorite way to prepare gluten-free chicken breasts? Feel free to drop a link below. If you make my recipe, tag your photo with #miglutenfreegal on Instagram and I'll share it to my Instagram stories!
**This post is not sponsored, and I purchased all ingredients on my own. This post does contain affiliate links. Purchases made through those links help support this blog with no extra expense to you. Thank you for your continued support!**