400 Calorie Gluten Free Quesadillas
As an Amazon Associate and member of other affiliate programs, I earn from qualifying purchases.
Have you tried Rudi's gluten free tortillas? They contain no wheat, dairy or eggs. In addition, they come loaded with whole grains and deliciousness. What would you choose to make with them?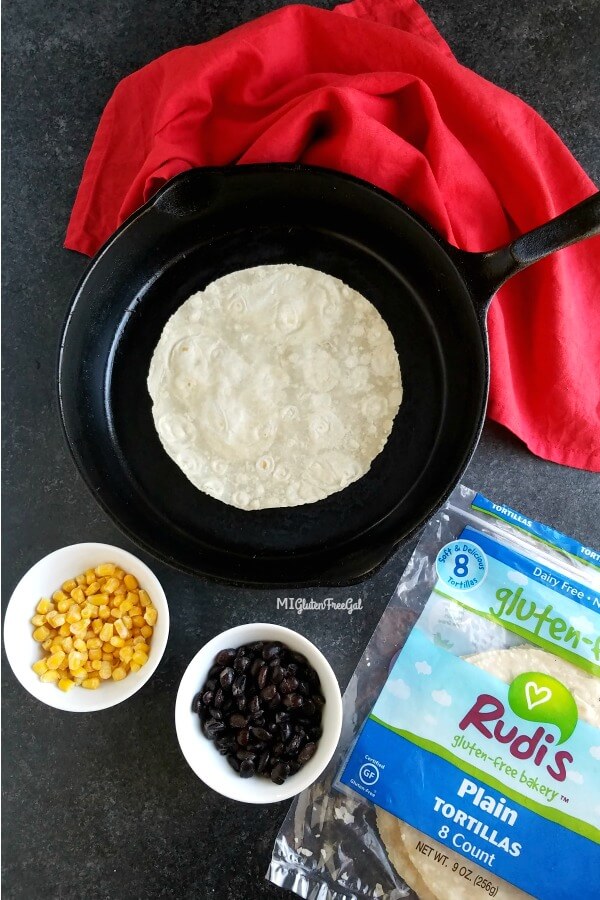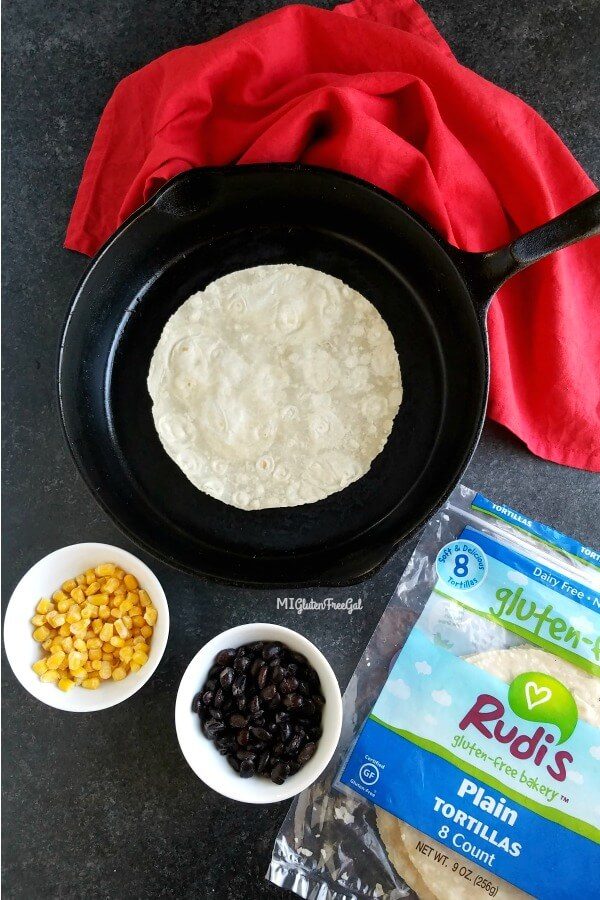 Carbohydrates as Part of a Healthy Diet
I despise diet trends. I realize I may lose a reader or two (or ten) by saying this. However, I cringe when people demonize an entire food group. For example, carbohydrates. Our body needs them to function properly. (If a pediatric doctor at the hospital reinforces why this is true, as your Type 1 Diabetes kid lays in the peds unit with ketoacidosis, you listen.) While it's true that too many refined carbohydrates do not help our system, one doesn't need to cut carbohydrates completely. Whole grains, with B vitamins, maintain important systems in our body, such as metabolism and our ability to sleep.
Rudi's gluten free tortillas supplies another key nutrient. Fiber. "Most Americans don't get enough fiber to begin with and when they make the switch to a gluten-free diet, it only gets worse," says Anne Lee, MSEd, RD, LD." These tortillas boast 5 grams of fiber per tortilla. In addition, these tortillas remain low in sodium. I highly recommend warming these tortillas in a warm skillet.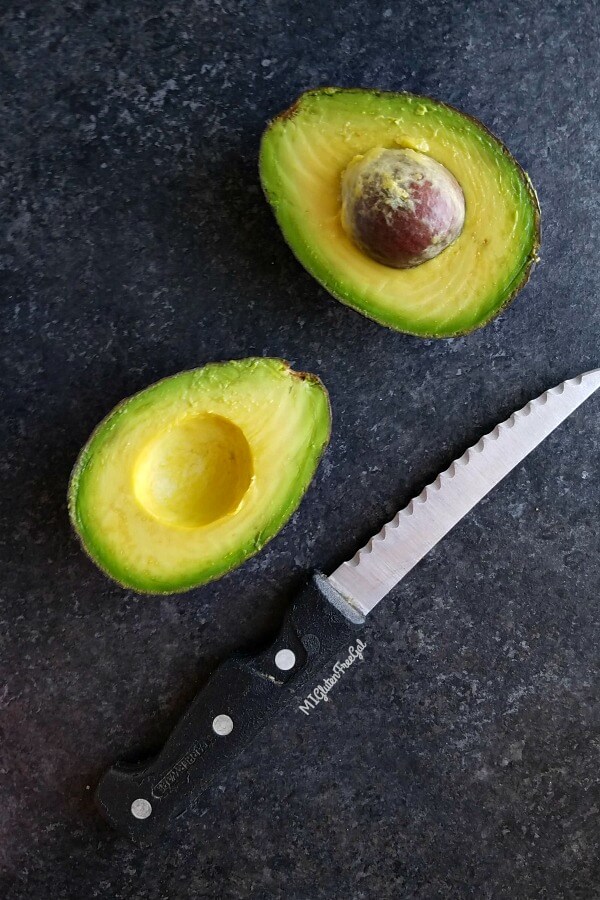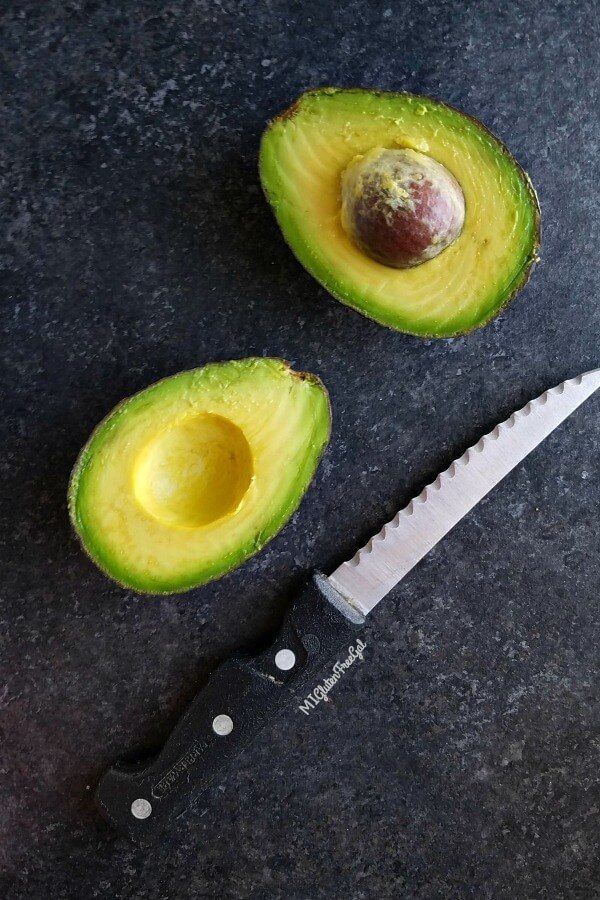 Monounsaturated Fats and Avocados
This recipe calls for avocados. While avocados do contain fats, monounsaturated fats can help lower cholesterol. In addition, avocados contain fiber, vitamins and minerals, and helps satiate hunger. WebMD states "In one study, people who added a fresh avocado half to their lunch were less interested in eating during the next three hours."
Looking for ways to add avocado to your diet? Try some of these recipes from trusted friends! This Roasted Avocado & Bacon Guacamole from Life After Wheat adds a new taste to a standard favorite. Flippin' Delicious adds avocado to her Gluten Free Southwest Pasta Salad, and What the Fork makes Easy Avocado Truffles your kids will love! A tip on cutting your avocado. I cut mine in half by laying it on the counter, inserting the knife along the side, and spinning the avocado until cut in half. Twist the two sides apart and you're ready to get cooking!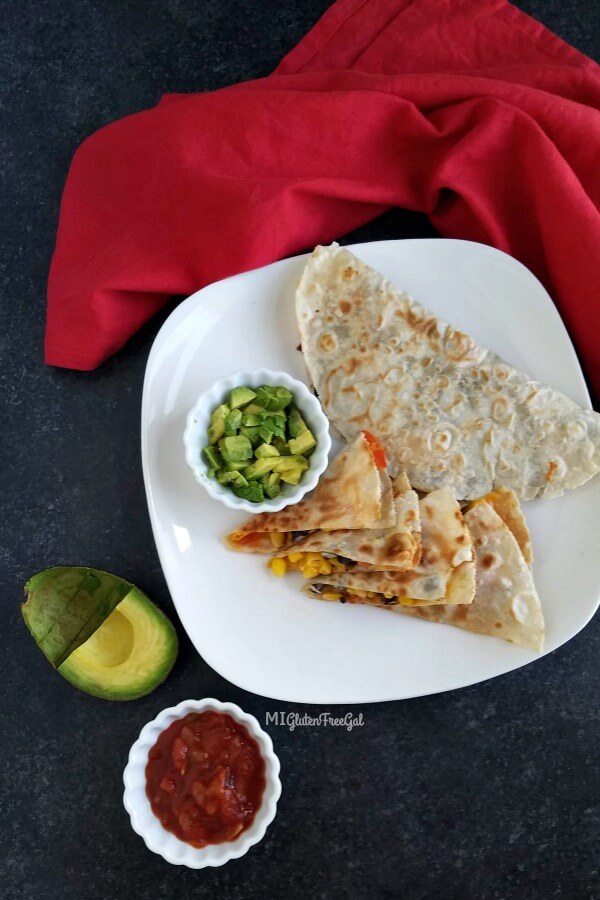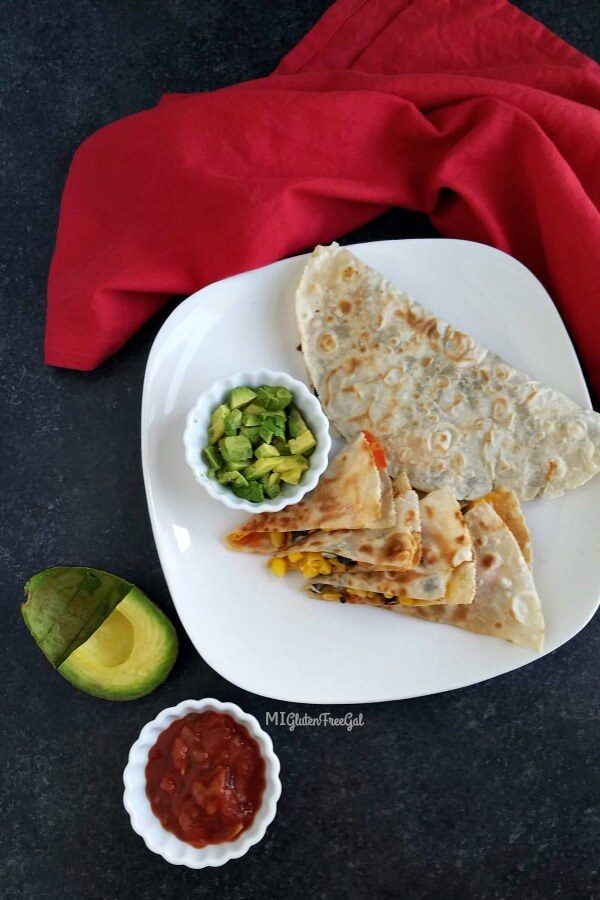 Adding Beans and Fiber to Your Diet
But let's get back to these quesadillas. They require few ingredients and come together in a snap. You can use either of the Rudi's gluten free tortillas for these, but I chose to use the plain variety. (They also make spinach tortillas.) Why? Because they were on sale and a gluten-free-girl needs to save where she can, right? This recipe utilizes corn and black beans, thereby boosting your fiber intake. Just one half a cup of beans per day contains about half of a woman's recommended daily intake for fiber. (Women should consume at least 25 grams of fiber per day. Most consume only 12-13 grams.)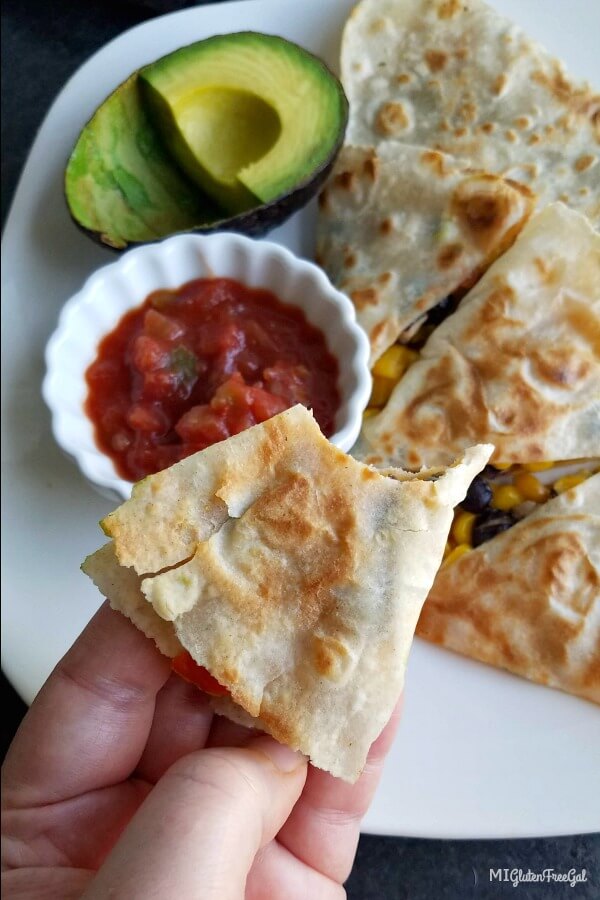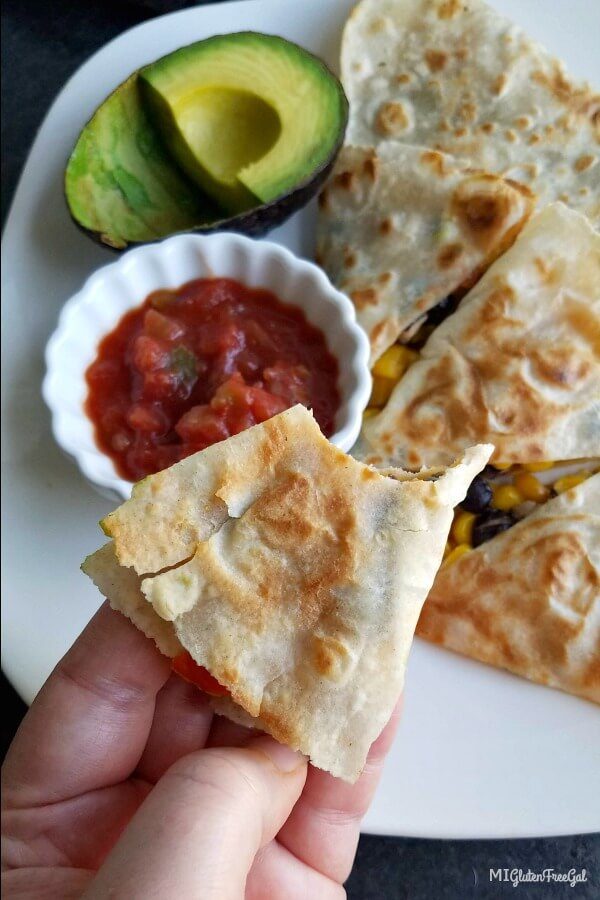 How Many Calories in a Serving of Grains?
As previously stated, I based this recipe on a burrito recipe I had in a diet book. The original recipe called for one whole wheat tortilla. One whole wheat tortilla contains 160 calories, which is two servings of grains. However, Rudi's gluten free tortillas contain only 90 calories, allowing me to have TWO tortillas instead of one. (I don't know who said less is more, but they couldn't have been talking about food.)
Therefore I simply used the same filling suggested in the book, and placed it between two Rudi's gluten free tortillas. Then I cooked them on the skillet and cut them into wedges. Then, I served them with two tablespoons of salsa, and two tablespoons (1 ounce) of avocado. Lots of flavor that keeps you filling full throughout the day is always a win in my book!
Looking for more recipe ideas that don't pack on the calories? Check out these Healthy Meals Under 400 Calories from Ambitious Kitchen! You may also like my recipe for Gluten Free Black Bean Enchiladas!
(Please note that this recipe is for one serving.)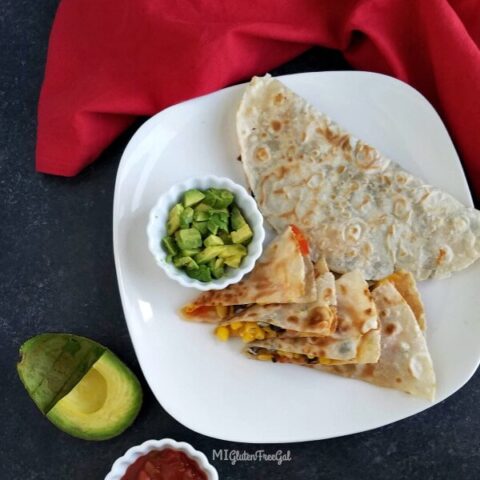 Gluten Free Black Bean Quesadillas
Ingredients
2 Rudi's gluten-free tortillas
1/4 c. black beans
1.5 oz. corn
1/4 medium tomato- diced
1 oz. shredded cheddar (or dairy free cheese of your choice)
2 tbsp. salsa
2 tbsp. mashed avocado
Instructions
Chop tomato
Heat black beans until warmed through.
Stuff tortilla with black beans, corn, tomato, and shredded cheese. Heat in the toaster oven or microwave until the cheese is melted.
Slice avocado and mash with a fork. Measure 2 Tbsp. of the mashed avocado.
Serve burrito with salsa and mashed avocado for dipping.
Have you tried Rudi's gluten-free tortillas? What do you like to make with them? What's your favorite gluten-free burrito recipe?
**This post is not sponsored by Rudi's Gluten Free Bakery. All thoughts and opinions are my own. This post contains Amazon affiliate links. Purchases made through those links help support this blog with no extra expense to you. Thank you for your continued support!**"