Mexican Meatloaf – Full of Flavor, Light in Calories
As an Amazon Associate and member of other affiliate programs, I earn from qualifying purchases.
Add this Mexican Meatloaf to your menu planning rotation. Loaded with beans and corn, it increases fiber intake. All while keeping the calorie intake on the lighter side!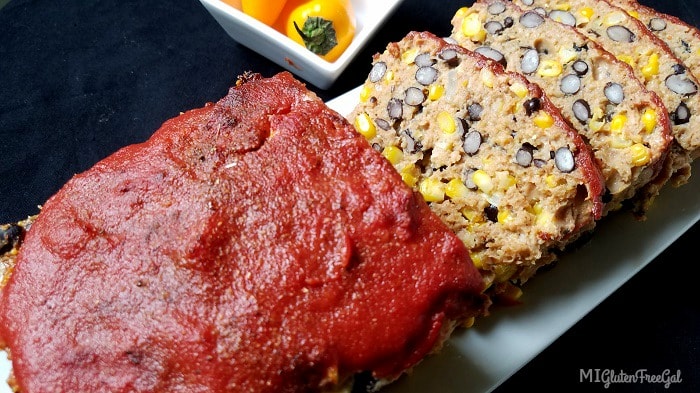 I've been slowly updating old posts that needed a little extra love. I originally wrote this recipe for Mexican Meatloaf back in 2014. That's before I learned more about better writing, better picture taking, and better recipe creation. I'm glad to spruce it up for you. Even more so, I'm glad that I was able to enjoy this Mexican Meatloaf again. It's better tasting that I remembered!
#MeatloafMonday
Many days of the week have their own hashtag. There's #MeatlessMonday, #TacoTuesday, #WellnessWednesday and more. I hereby suggest that we should have #MeatloafMonday. This Mexican Meatloaf is full of fiber, yet lighter on calories. The addition of corn and black beans provide fiber which fills you up, in addition to adding great flavor. The original recipe, from the Curves website, states that this this meatloaf makes 4 servings. For me, I cut it into 8 slices and allow myself another serving of starch.
Best Substitutes For Bread Crumbs
This Mexican Meatoaf is easy to make gluten-free. The only "questionable" ingredient would be the bread or cracker crumbs. I often substitute crushed Chex, but this recipe works especially well with crushed tortilla crumbs. Just add them to a mini food processor, take them for a spill until they're pulverized, and voila! (Or should I say, Ole?)
Homemade Taco Seasoning
Make sure to check your taco seasoning, or create your own blend with this recipe on AllRecipes.Com. I love how this particular recipe can be easily scaled up or down. I skipped buying enchilada sauce like the recipe calls for, and simply substituted plain canned tomato sauce. Then I sprinkled extra taco seasoning on top. One thing's for sure, Mr. GF Gal really loved it!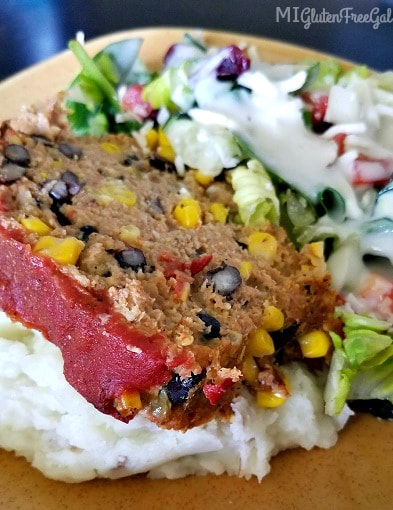 Here's the recipe!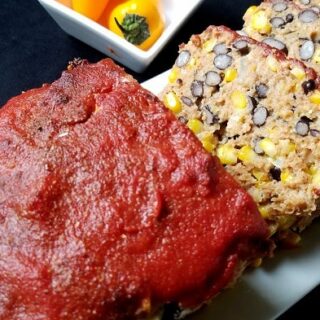 Mexican Meatloaf
Ingredients
8 oz turkey - ground
8 oz chicken - ground
8 oz. black beans
8 oz. corn
1/2 cup(s) salsa
0.5 oz seasoning - taco
2/3 cup(s) bread crumbs (or crushed corn Chex)
2 egg whites
14 oz Enchilada Sauce
4 cup(s) beans - green (fresh)
Instructions
Preheat oven to 400. Spray a 8 x 4 inch baking dish with cooking spray. Drain and rinse beans.
In a large bowl, mix together meat, beans, corn, salsa, taco seasoning, bread crumbs and egg whites
Place mixture into a loaf shape in the baking dish and pour half of the enchilada sauce over the loaf.
Bake for 45 minutes.
Pour the remaining sauce over the loaf and return to the oven until the meat is cooked through- about 10-15 more minutes. Meanwhile, steam green beans.
Slice and serve with free veggies! Pour sauce from pan over the loaf.
What's your favorite meatloaf recipe? Share your favorite #MeatloafMonday tips with me!
**This post is not sponsored. However, it does contain affiliate links. Purchases made through those links help support this blog with no extra expense to you. Thank you for your continued support!**